Grand Theft Auto 5 is a very famous and widely played virtual game. This action-adventure game has seen many advancements. With time, many new options have been introduced into the game. You can now drive your dream car in the game or play your favorite songs on the radio. However, if your playlist is on Spotify, we have some bad news. Sadly, Spotify in GTA 5 is still not possible.
The Spotify streaming feature is still not integrated into the game. Therefore, users are unable to link Spotify to GTA V. Plus, the Spotify music encryption also poses a problem. This is why we are here to help.
In this article, we will present the easiest way to play Spotify on GTA 5 and walk you through a step-by-step guide. Without further delay, let's dive in.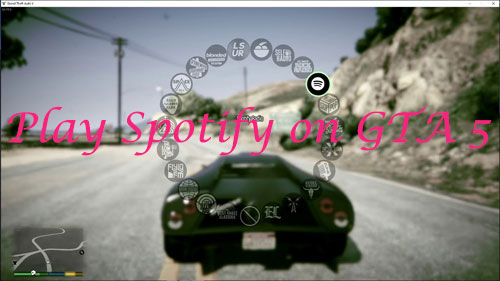 Part 1. Best Tool to Get Spotify GTA V Work
Are you wondering how to play Spotify on GTA 5 PC? As we know that Spotify's music collection is protected, it is unavailable for use on other devices. The OGG format restricts playing the music on other apps. Plus, GTA V and Spotify are not integrated, which is why you cannot directly link Spotify to Grand Theft Auto 5. However, there is always a way out. Here we will introduce a way to use Spotify on GTA 5 by using an external tool.
DRmare Music Converter is a powerfully incredible music downloader. With an easy-to-use interface, this tool allows users to download any kind of audio from a variety of Spotify sources. And even if the music is protected in OGG format, it can be easily converted into MP3 format. Not only MP3, many other formats such as FLAC, WAV, AAC, and many more are also supported. Plus, with DRmare, the output settings such as format, channel rate, conversion speed, and sample rate can also be customized to user preferences.
Furthermore, the music is converted at a 5x times faster speed. Despite the quick conversion rate, the audio quality is not compromised. The music is converted to 100% original quality. Better yet, even the metadata and ID3 tags are safely retained.
At one time, you can easily convert multiple songs as the batch download is available. This makes the process super easy and quick for users. The converted files can be transferred to any device and can be streamed limitlessly. Plus, even the users without a premium subscription can also download any song now.
DRmare Music Converter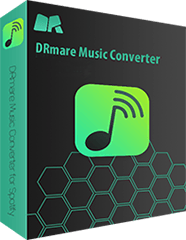 Convert Spotify audios at 5X faster speed.
Download Spotify for GTA 5 for playback
Transfer OGG Vorbis to MP3 for GTA V
Keep Spotify ID3 tag info and parameters
Part 2. How to Convert Spotify Music for GTA 5
So, how to link Spotify to Grand Theft Auto 5 via DRmare Music Converter? To play Spotify on GTA 5, you will first have to bypass the limitations and encryptions of Spotify's music.
Here is a step-by-step guide on how to play Spotify on GTA 5 PC using DRmare Music Converter.
Step 1

Download DRmare Music Converter

First of all, download and install DRmare Music Converter. You can download either the Windows or the MAC version depending on your system.
Step 2

Import Spotify audio files to DRmare

There are 2 easy ways to feed audio files for conversion into the DRmare Converter. One way is to drag and drop the audios onto the main interface. Other than that, you can also copy and enter the audio link or URL into the search bar. Then click on the plus sign to import Spotify music.
Step 3

Set Spotify output parameters for GTA V

Before starting the conversion process, you can change the output settings as per your needs. Open Menu and select Preferences. Open the Convert tab. Now, you can change the output format, conversion speed, bit rate, etc. After customization, click on Ok to close settings.
Step 4

Start converting audio files for GTA 5

Once you have made the adjustments, click on Convert to start the process. And all files will immediately begin converting at 5 times faster speed. This way, all your favorite music for Spotify on GTA 5 will be saved as local files on your device.
Part 3. How to Put Spotify on GTA 5 for Listening
After you convert and download your Spotify songs to your device, you can easily import Spotify playlist to GTA V and start playing them in your car. If you don't know how to play Spotify on GTA 5 PC, read ahead and follow the guide.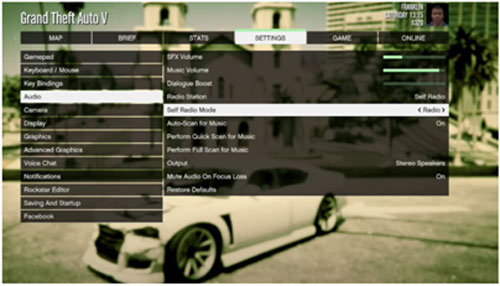 Step 1. Launch GTA 5
Open the Grand Theft Auto 5 game. Go to the Settings menu.
Step 2. Open Audio Settings
In the Audio tab, change the Radio Station setting to Self Radio. Then, go for either a quick scan or a full scan. This way, you will be able to play Spotify GTA V without any limitations automatically.
The Verdict
If you did not know how to play Spotify on GTA 5 PC, you must have mastered it by now. Thanks to the introduction of innovative tool DRmare Music Converter that make easy access to protected music possible.
Finally, you can enjoy your favorite songs from Spotify on GTA 5. And as you see, it's not at all hard to set this up. Just a few simple steps and you are good to go. Whatever your mood or likes, you can enjoy it in your dream car while you stroll through the city roads in the game. Isn't that cool? Go on and step up your gaming experience with Spotify GTA V. Good luck.