"Is Spotify free on PS4?" There is an integration of Spotify PS4. Also, it supports streaming Spotify music for both premium and free users. But sometimes, users might complain about Spotify not working on PS4. When opening the Spotify Music app on PlayStation 4, it often freezes or shows a black screen. So, how to solve such issues?
In this case, here we will show you how to download, link, connect and play Spotify on PS4. Please check out the detailed steps in this post and learn more about how to do that.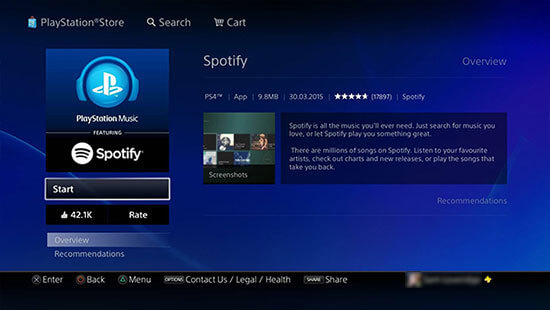 Part 1. How to Use Spotify PS4 Online
The PlayStation Music app is a brand-new audio service from Sony. It cooperates with the exclusive partner Spotify and offers a unique console-based experience. You can either sign up for a new Spotify account or connect an existing one to download music on PS4.
Now, you couldn't subscribe or renew to Spotify premium plan through PlayStation Store. To do that, you should go to the Spotify website to finish it. After that, you can link your Spotify account to PlayStation. Here, let's see how to install Spotify on PS4 and link Spotify to PS4 for playback. Also, you will learn more tips of Spotify on PlayStation 4.
Download Spotify App and Connect Spotify to PS4
Step 1. Navigate to 'PlayStation Store' on your game console. And then find 'Spotify' to get Spotify download for PS4.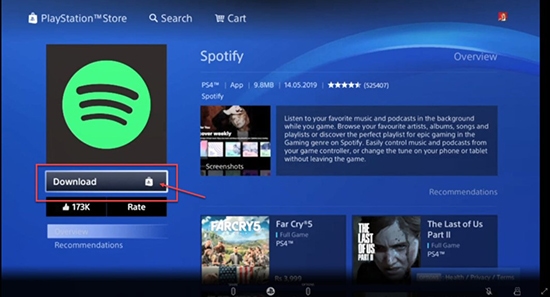 Step 2. Fill in your Spotify account detail. Then hit on 'Link Accounts' to get Spotify connect to PS4.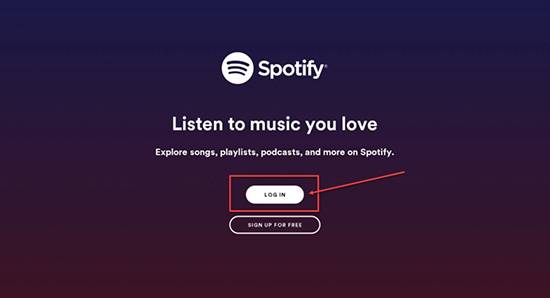 How to Use Spotify on PS4 while Playing Games
After linking Spotify to PlayStation 4, now let's learn how to listen to Spotify on PS4 online. There are two ways for you.
Way 1. Via Spotify App on PS4
Step 1. Power on your PS4 game console. Then you will get the menu on the screen and choose Spotify.
Step 2. Go to use the directional buttons. And then press 'X' to choose to stream Spotify songs.
Step 3. Then you can control Spotify PS4 music playback. You can use the directional buttons to control the volume and skip tracks by L1 and R1.
Way 2. Via Spotify Connect
Step 1. Make sure that your mobile phone and your PS4 are connected to the same WiFi network.
Step 2. Start the Spotify app from your mobile device. Then play a song.
Step 3. Go to the Now Playing screen of the track. And then hit on the 'devices' icon to choose your PS4 in the list.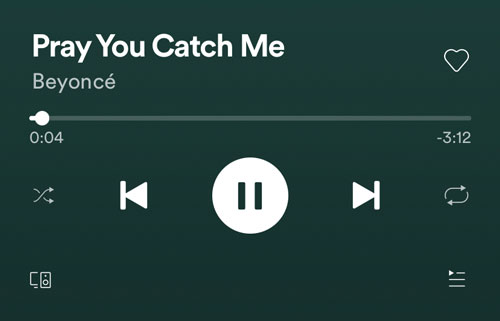 At last, you can link Spotify to PlayStation 4 to enjoy Spotify music in the background while gaming.
How to Unlink Spotify from PS4
If you'd like to disconnect Spotify from PS4, please refer to the following ways.
Way 1. From PS4 Console
Step 1. Launch the Spotify app on your PS4.
Step 2. Hit on the 'Settings' icon at the left side on the screen. It will show you a new window.
Step 3. Then choose 'Log out' to log out of your Spotify account. After that, you won't connect to Spotify for PlayStation anymore.
Or,
Step 1. Open the Settings app on your PlayStation 4.

Step 2. Hit on 'Account Management' from the options.
Step 3. Then click on 'Link with Other Services'.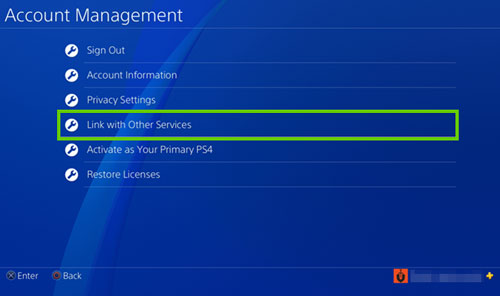 Step 4. After that, choose 'Spotify' from the list.
Step 5. Press the 'Sign Out' button to remove Spotify from your PS4.
Way 2. Via Web Browser
Go to Spotify Account Overview webpage on the web browser. Then go to 'Apps' > 'Remove Access' next to PlayStationNetwork to unlink Spotify to PS4.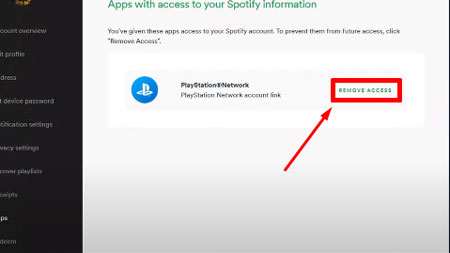 Or, sign in to PlayStation Music with your account. Then hit 'Unlink' next to your Spotify account.
Part 2. How to Get Spotify on PS4 Offline without Premium
There is not an "offline mode" on PlayStation. So, you can't download music to PS4 from Spotify for offline playback. Also, streaming is not so stable sometimes when lots of apps are running in the background. So, to play Spotify on PS4 better, here, we will introduce the best way for you.
You'd better use a well-crafted tool to download Spotify music offline for PS4. Here, we'd recommend DRmare Spotify to PS4 Converter. It can download Spotify songs to PS4-compatible audio files, like MP3 with a free account. It also supports output other audio formats such as WAV, FLAC and more. Also, it allows users to change audio bit rate, channel and more for Spotify tracks.
After that, songs from Spotify are saved as local files on your computer. Then you can transfer Spotify music to a USB flash drive. Under this circumstance, you can listen to Spotify on PlayStation 4 for free. You can also play Spotify music on PS4 and other devices offline.
DRmare Spotify Music Converter
How to Download Spotify Music for PS4
DRmare Spotify Music Converter only works on computers. You can either use it on a Windows PC or Mac computer to download Spotify songs for PS4. It takes only 4 steps. Please look at the steps below.
Step 1

Run DRmare Music Converter

Download, install and launch this DRmare software from the application folder on your Mac. Later, you will see the main screen of it. Together, the Spotify app will be opened as well.
Step 2

Import the songs/playlist you want to play on PS4

Head to the Spotify app to find your favorite songs or playlist. You can drag & drop them to import to the DRmare software screen. Or you can copy and paste the link to the search box of DRmare. Then hit '+'.
Step 3

Define an output audio format of Spotify for PS4

The only audio files supported by PS4 are MP3 or AAC. You can go to the "Preferences" window of the software to pick up the format as AAC or MP3. By the way, you can also customize other related parameters like bit rate, and sample rate in the same window. After that, press 'OK'.

Step 4

Download Spotify songs for PS4
Click "Convert" once, it will convert and download Spotify songs to MP3 or AAC you selected. You don't need to worry about the converting time because the speed can reach up to 5X. Besides, all the data such as title, author, album cover, and more will completely be kept.
How to Play Spotify on PS4 Offline without Spotify Premium
Now you got the downloaded Spotify AAC or MP3 tracks. You can start to get Spotify on PlayStation 4. Please follow the steps to make it.
Step 1. Insert the USB drive to your computer and copy Spotify songs to a USB flash drive. Instead of putting all the files on the root folder, please create a folder with the name "Music" first. You can transfer Spotify files to that music folder.
Step 2. Plugin the flash drive to the USB port of your Sony PlayStation. You can do that anytime when the system is on or off.
Step 3. Find and open the PlayStation Media Player app. Otherwise, it will prompt you to download the app from the PlayStation after you click the icon.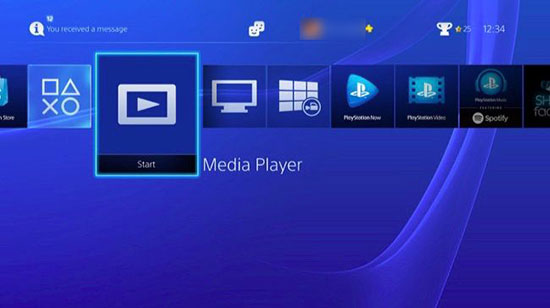 Step 4. Use the media player to browse the Spotify music files from the USB.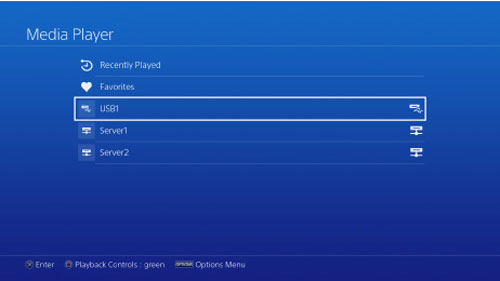 Step 5. Start streaming them as background music. You can listen to Spotify music on PS4 while playing games without depending on an extra device.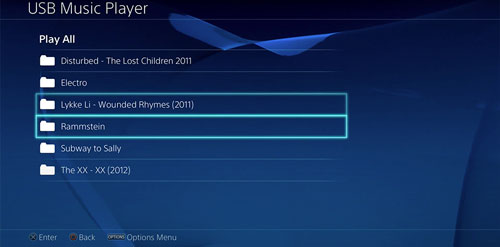 Part 3. How to Fix Spotify on PS4 Not Working
Why Spotify not working on PS4? There are lots of reasons why this issues happen. But no worries. You can get PS4 Spotify not working issue fixed with the tips below when Spotify can't play songs, can't connect or else. Before starting, please check the PSN server status first.
Fix 1. Check Internet Connection
If PS4 Spotify app doesn't work well, you can first check the network connection. If the network is poor, then they don't work properly. So, check and reconnect the network. Also, you can restart the network devices.
Fix 2. Restart Spotify App
You can also try to force close the Spotify app on PS4 and then re-open it. Check the steps below.
Step 1. Press the PS button on the controller to enter the 'Home' screen of your console.
Step 2. Locate and highlight the Spotify icon.
Step 3. Press the 'OPTIONS' button on your controller.
Step 4. Choose 'Close Application' option. Then press 'OK'.
Step 5. Restart Spotify app to check if it can work well.
Fix 3. Reboot PS4
When Spotify PS4 not working, you can try to refresh your console by rebooting it. It will help clear cache on PS4 and solve some minor bugs on the device.
Step 1. Power off the PlayStation 4 console.
Step 2. Disconnect the power cable from the PS4. Then wait for 30 seconds.
Step 3. After that, plug the cable back in PS4 and turn it on.
Step 4. Start the Spotify app and check whether it can work.
Fix 4. Uninstall and Reinstall Spotify App
Step 1. Go to the 'Home' screen on PS4.
Step 2. Find the Spotify icon and highlight it.
Step 3. Press on the 'OPTIONS' button on PS4 controller.
Step 4. Choose 'DELETE' > 'OK'.
Step 5. Once uninstalled, head to 'PlayStation Store' and find Spotify. Then download and install it on PS4.
Step 6. Open the Spotify app and enter your account.
After that, check whether the Spotify on PS4 doesn't work issue is fixed or not.
Part 4. In Conclusion
Now, you know how to get Spotify PS4 download and install on the console. And you learn how to link Spotify account to PS4 to listen to music online. Besides, you get a better way to help play Spotify songs on PS4 offline without premium. That's to use DRmare Spotify Music Converter to get Spotify for PlayStation 4 for free. You can also use those Spotify audio files on other devices for playing offline.