Got a Spotify error code 30 message when going to listen to Spotify music? Why it happens and how to resolve it? Please don't worry. Error code 30 on Spotify is a common error that Spotify users may encounter. And there are some reasons that cause this error.
In this post, we will illustrate the key factors that cause the error code 30 Spotify. Also, we will introduce some practical methods for you to solve this issue. Now, please check out the following parts and learn more in detail.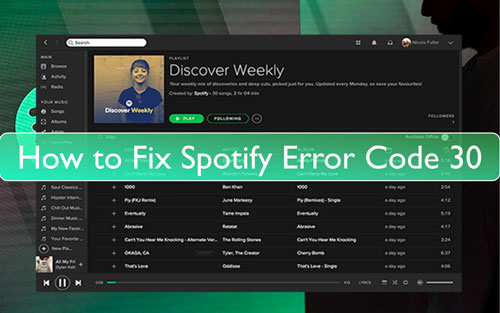 Part 1. What Causes Spotify Error Code 30
Why error code 30 Spotify happen? In fact, there are several factors that will cause Spotify error code 30. Here we list some of them for you and you can check them out below.
1. Spotify Proxy Might Be Enabled
There is a proxy and 'AutoDetect Settings' selected by default in Spotify's advanced settings. If you enable the proxy in the Spotify app, then you may meet the error code 30 on Spotify.
2. Spotify App Might Be Blocked by Firewall
If you activate the firewall settings on your computer, you may get the error code 30 Spotify issue.
3. You Are Using a Third-party VPN
If you are using a VPN, then the Spotify app might think you are in another country to use the app.
4. Location Mismatch
Spotify will detect your location via your IP address. If the current country doesn't match your profile, it will refuse you to log in. In this case, you may get the Spotify error code 30.
5. Host File Entry
The computer has a host file. This contains mappings of the IP addresses to the host or domain names used to connect to the Internet. If you change the map entries, it will affect your connecting and cause the error code 30 Spotify.
Part 2. How to Get Spotify Error Code 30 Fix
Since you knew what causes the error code 30 on Spotify, then you may wonder how to fix it. In this part, we will show you how to solve Spotify error code 30 in detailed steps.
Fix 1. Disable the Proxy Server Option on Spotify App
The error code 30 Spotify will show if you turn on the Proxy Server settings on the Spotify app. So, try to disable it to fix the issue.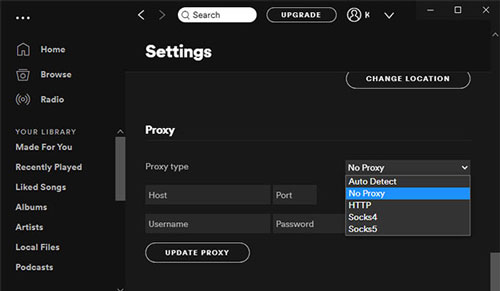 Open the Spotify app on your device.
Tap the 'Menu' icon and select 'Settings' from the list.
Scroll down to find the 'Show Advanced Settings' and then locate 'proxy'.
Click on the down icon next to the 'Proxy type' and choose 'No Proxy'.
Reopen the Spotify app and play a track to check whether the Spotify error code 30 issue is solved or not.
Fix 2. Allow Spotify through Firewall
Firewall is used to block malevolent software and website. If your Spotify app is mistaken as malware by firewalls and get the error code 30, then you can whitelist your Spotify app first. Here you can follow the steps below on how to do to fix error code 30 on Spotify.
On Windows: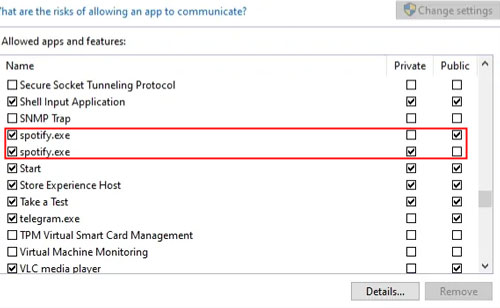 Head to the firewall section on your computer's settings.
Select 'Windows Defender Firewall' and tap 'Allow an app through firewall'.
Find the 'Change settings' option and then locate Spotify.
Confirm to enable the Spotify app to be allowed on both the 'Public' and 'Private' networks. And then, hit 'OK'.
On Mac: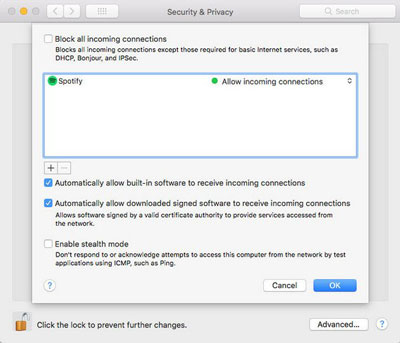 Launch 'System Preferences' > 'Security' > 'Security & Privacy'.
Choose the 'Firewall' option. And then hit on the lock icon to turn on firewall.
Go to 'Firewall Options' and tap the '+' icon to add the Spotify app to the whitelist.
Once done, click on 'OK'.
Fix 3. Disable Third-party VPN
If you use any third-party VPN, then try to disable it. You can open the VPN app and hit on the 'disable' option to disable it. After that, you can go back to the Spotify app to see if the Spotify error code 30 issue shows again. If it still happens, then you can try to uninstall the VPN app from your device.
Fix 4. Change the Country Option in the Spotify App
If you change your location from one country to another, the error code 30 on Spotify will show up. So you can try to change the country location in the Spotify app to solve this issue.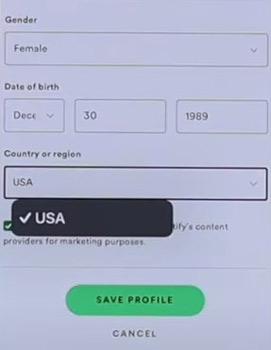 Start the Spotify app on your device and log in to your Spotify account.
Tap on the 'account' icon and then choose the 'Account overview' option.
Hit on the 'Edit Profile' option under the 'Account overview section'.
Try to locate the 'Country or region' option and choose the country that you are currently shown.
At last, hit on the 'Save Profile' button to keep the changes.
Fix 5. Remove Entries from Windows Hosts File
If you use Windows 10, you can try to delete Spotify entries from your hosts file. Now, let's learn how to make it.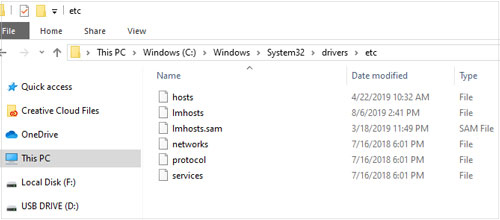 Search 'Notepad' on your computer and open the Notepad on your Windows.
Click 'File' > 'Open' and then follow C:\Windows\System32\drivers\etc.
Hit on the down button of 'Text Documents' to choose 'Add Files'.
Now, you are in the 'hosts properties' section. Go to open the hosts.ics and remove all Spotify entries.
When done, touch 'OK' and restart the Spotify app.
Fix 6. Try to Connect Your Computer to a Mobile Hotspot
Go to try to connect your computer through your mobile hotspot to use Spotify. If the Spotify server works, then there will be something wrong with your WiFi connection. Then you need to reboot your router or restart your router and try again.
Fix 7. Uninstall and Reinstall Spotify App
To fix the Spotify error code 30 issue, the easiest way is to uninstall and reinstall the Spotify app. Just find the Spotify folder on your device and then uninstall it completely. After that, go to App Store to reinstall it on your computer.
Part 3. How to Avoid Error Code 30 on Spotify
With the fixes above, you may solve the error code 30 Spotify issue. If you still can't get it resolved, you can try to download Spotify songs for offline listening. Here we will introduce the DRmare Spotify Music Downloader to you.
DRmare Spotify Music Converter is a kind of music converter. And it is aimed at Spotify music. It can convert and download songs, playlists, albums and more from Spotify via link address. And it can output Spotify audio to plain MP3, FLAC, M4A and so on so that you can use Spotify music on any device.
Besides, it will keep the original quality of the Spotify music tracks. And the ID3 tags will be saved after the conversion. With this tool, Spotify music files will be stored on your local device. And then you can enjoy Spotify music anywhere without the Spotify app and won't meet the Spotify error code 30 issue anymore.
DRmare Music Converter for Spotify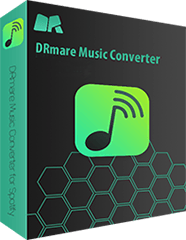 Download Spotify music files to plain audio formats
Get rid of digital protection from Spotify tracks
Convert Spotify to WAV, MP3, FLAC and so on
Support to enjoy Spotify music anywhere without any issue
Now, you can follow the tutorial below and see how to use DRmare Spotify Music Converter to get Spotify songs as local files. And then you can avoid the error code 30 on Spotify issue while listening to Spotify songs.

Step 1

Import Spotify music to DRmare Spotify Downloader

Start the DRmare Spotify Music Downloader. And then head to the opened Spotify app to drag any song you want to the DRmare program. Also, you can get the track's link and put the link to the search bar on the DRmare tool. Next, tap the plus icon to import Spotify songs for conversion.
Step 2

Choose output format for Spotify songs

To make Spotify audio work well on any device, you need to change its output format to the correct one. To do that, you can find the Preferences window of the DRmare program. Then you can go to change the output audio format and other audio parameters for Spotify music files.
Step 3

Convert and download songs from Spotify

When setting the output format, you can click on the 'Convert' button. Then DRmare tool will start the process. A while later, you can view the converted Spotify music tracks in the 'history' window. Then you can move and use Spotify music files on the device you want. And you won't encounter the Spotify error code 30 when listening to Spotify songs.