Set-top boxes are popular today are they are at low price. If you'd like to save some money, you can cut the cord and buy one of the streaming boxes such as Chromecast Ultra, Amazon Fire TV, Apple TV, Roku and so on. They will enable you to stream video and audio from a lot of streaming platforms Netflix, VUDU, YouTube, Spotify, iHeartRadio, Amazon Music.
Among them, I'd prefer Amazon Fire TV for its powerful processing hardware and the integration of gaming features. Also, if you are an Amazon Prime user, you can stream the prime music and video contents for free. But what if you are subscribing to Spotify music? Can you still play Spotify on Amazon Fire TV? Please just take it easy and and let find me the solutions for you here.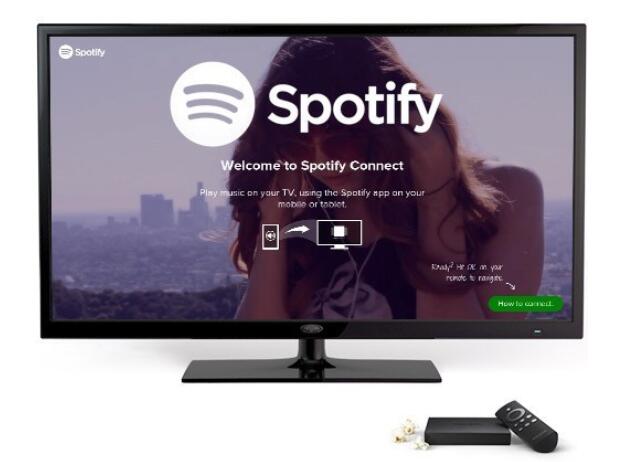 Part 1. How to Set Up and Connect Spotify on Fire TV
Amazon's streaming media box had added the support for Spotify many years ago. To get started to use Spotify on Fire TV, you just need to set up it.
Step 1. Power on the Amazon Fire TV.
Step 2. Scroll down to the "Apps" panel..
Step 3. Type in "Spotify" to search and install it.
After that, you can login Spotify with account directly or by using the Spotify Connection.
Login With Your Spotify Email and Password
It supports both Spotify free and Premium account. On the free account, you will get access to the same songs like Premium account, but you will have to bear with the random Ads which will pop up time from time.
Step 1. Start the Spotify app on your Amazon Fire TV.
Step 2. Click "LOG IN".
Step 3. You can input your email or user name and the password to log in.
Login With Spotify Connect
If you have subscribed to the premium account, you can login Spotify from Fire TV in a more easier way. And you can control the songs playback from your mobile phones, tablets and so on.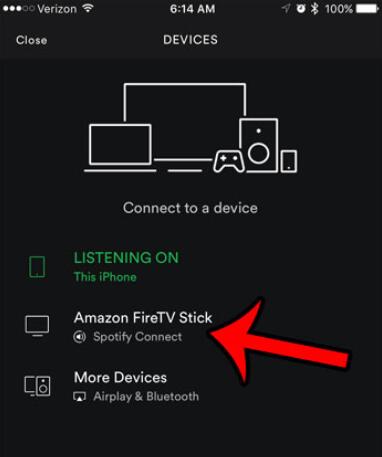 Step 1. Make sure your device using Spotify and the Amazon Fire TV are on the same Wifi network.
Step 2. Launch the Spotify app from your phone, tablet or computer.
Step 3. Play a song you like.
Step 4. Click the "Devices Available" menu from the bottom and choose "Amazon Fire TV" as the destination device.
Step 5. Your songs will start to be streamed to the Fire TV. And you can even ask Alexa to control the playback.
Part 2. Download Spotify Songs to Play On Amazon Fire TV Smoothly
"My network is not stable, sometimes I can't login Spotify, even if I can the audio is skipped. Is there a way to fix it?"
"The Ads always show up when I listen to Spotify on my Amazon Fire TV. I am living with the social insurance so I can't afford the premium membership. Is there a way to solve this issue for free?"
These are the common problems encountered by Spotify users from the online forums.
As a streaming music, Spotify requires a good Internet connection to play smoothly. To play Spotify offline without Internet connection, you can either subscribe to the Spotify Premium or use the third party tool to convert the onling DRM tracks to DRM free songs by DRmare Spotify Album Downloader for Mac/Windows. The latter one is highly recommended. It is an once and for all solution.
After downloading and converting by DRmare software, you can cancel Spotify Premium account but still keep the songs forever. You can check the top features of it and follow the steps to do that right away with the trial version.
Best Spotify Music Converter from DRmare
Step 1

Add Spotify songs to DRmare

DRmare supports all kinds of audio files from Spotify such as songs, playlists, artists, albums. You just need to drag & drop the items you want to the DRmare main screen.
Step 2

Customize the output format

Next, you can customize the output parameters on the preference window by clicking the top "Help" menu and choose "Preferences". If you have no idea about the output format, it is OK to keep the default MP3 file which is a universal formats supported by almost any players.
Step 3

Download Spotify tracks offline

Finally, you can click "Convert" button, DRmare software will start to tear apart the DRM protection and encode the Spotify music to common audio files to save on your computer quickly. With the batch converting technology, it will save you a lot of energy and time.
Step 4

Transfer songs to Fire TV

You can copy the songs to an USB flash drive first and then you can plug it into the Amazon Fire TV to transfer the songs. When it is done, you can launch a player from Fire TV and browse the converted Spotify local songs to play. That is it. One thing you need to note is that not all Fire TV devices supports internal storage such as Fire TV stick. So please make sure you have got a compatible device.