Music streaming platforms like Pandora, Spotify or iHeartRadio, all are now in a tough race as the industry is now growing at a faster rate. Though all of these platforms have the same purpose of delivering music content, they all are different with different features and methods to deliver their content.
There is no doubt that the demand for on-demand music streaming platforms has gone up, and iHeartRadio and Spotify have emerged as two leading players in this industry. But which one should you choose from Spotify vs. iHeartRadio to get a better music experience? Well, this is something that can be very confusing for you.
Launched in the year 2008, until now, iHeartRadio has managed to get around 48 million users, whereas Spotify has above 20 million users, and the number is growing. Here you will find detailed information about Spotify vs iHeartRadio covering different aspects.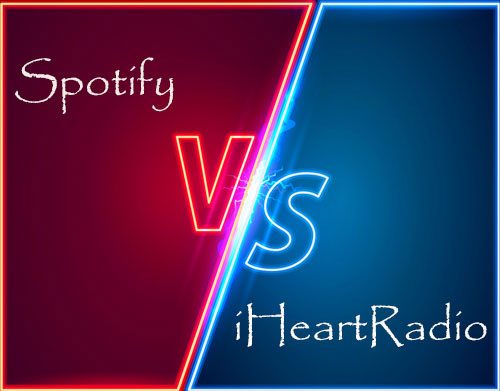 Part 1. Spotify vs iHeartRadio - A Brief Introduction
Before diving deep into the Spotify vs. iHeartRadio compression, let's know about them in short.
Talking about iHeartRadio, it is a cost-free online radio and broadcast platform and is operated by iHeartRadio Inc. Starting from the year 2008, it has generated millions of users. The company also launched different marque events starting from the iHeartRadio Music Festival 2011.
On the other hand, Spotify is a popular video streaming, podcast, and a music streaming platform which was launched in the year 2008. Spotify is quite popular for offering DRM protected content from different media companies.
Part 2. Spotify vs. iHeartRadio: Which One to Choose
To come with a better decision, you will have to know about the difference between Spotify and iHeartRadio covering different aspects. So, let's get started with this.
1. Cost Factor
Which one is better in terms of cost? Let's discuss this by considering Spotify premium vs iHeartRadio all access. Even though it has a premium option, you can use iHeartRadio for free.
With this, you can listen to all the radio stations but can't choose the on-demand songs. So, this is where you may need to go for its premium plan, which costs USD 4.99 (web or Google Play Store sign up) and USD 5.99 (iOS App Store sign up) per month. With iHeartRadio Plus, you can play any on-demand songs, unlimited skips, and can also reply to the songs.
While discussing this, it is also important to talk about Spotify vs iHeartRadio all access. With iHeartRadio, you can go for the All-access pack, which is not there in Spotify. This pack lets you create unlimited playlists, access to millions of songs, and more. The cost is USD 9.99 (web or Google Play Store) or USD 12.99 (iOS App Store) per month.
On the other hand, Spotify offers all the basic services for free. But for advanced features, you will have to buy the premium subscription pack. It's a premium plan, which will cost you around USD 12 per month, is quite costly than its competitors. But you will enjoy a better experience.
2. Offline Listening in iHeartRadio and Spotify
When it comes to offline listening in Spotify vs iHeartRadio, you will find Spotify quite helpful. iHeartRadio doesn't support offline download feature. But you can create your own playlist and radio station for faster access. However, you can't use this without any internet connection.
On the other hand, Spotify lets you download songs for offline listening. But for this, you will have to buy the premium pack. With the premium plan, you can download the songs and can also enhance the audio streaming quality. Besides, this will enable you to use Spotify Connect functionality. But for some users paying USD 12 can be quite confusing.
Note: As for Spotify offline listening feature, it only allows premium users to do that. What if you are the free Spotify user and want to listen to Spotify offline? Please don't worry, with the DRmare Spotify Music Converter, you can easily enjoy Spotify music on multiple devices offline on the go. Besides, it supports both Spotify premium and free users.
3. Music Library
Well, when it comes to the music library section, you will find Spotify has more to offer than iHeartRadio. Spotify comes with a huge collection of music along with above 20 million tracks.
On the other hand, iHeartRadio has15 a million tracks. Spotify also features different categories, like New Releases, Concerts, Podcasts, and more. It adds new music every day. So, if you want to explore different types of music, then Spotify can be a good option for you.
4. Device Compatibility
Which platform is the best? Well, while iHeartRadio has more the 48 million users across the world, Spotify says it has above 50 million subscribers (Paid) all over the world. So, that clearly shows that Spotify is quite popular among users.
There is another important factor to consider to know which one is better, i.e., the iHeartRadio app vs Spotify app. In terms of compatibility, iHeartRadio can be used on platforms like Android, Windows, iPhone, iPad, mobile app, and Blackberry.
On the other hand, Spotify covers all most all the platforms like Android, web-player, Palm devices, Symbian devices, iPods, iPhone, Windows, Mac OS, and more. So, here Spotify has more advantages than iHeartRadio.
5. Audio Quality
If you want outstanding audio quality, then go for Spotify. Based on your subscription pack, you can choose between 96kbps, 160kbps, and 32kbps. Well, there is something more. Spotify is also planning to add lossless audio quality with 1411kbps. However, this will only be available for paid users.
On the other hand, iHeartRadio supports 64kbps audio quality. There is no Hi-Res Audio tracks feature. So, you may not feel that amazing level of sound experience with this platform that Spotify offers you.
6. Spotify vs iHeartRadio: Other Features
Talking about other options, using Spotify, you can get access to Radio Option to play songs that will match your song preference, considering your favorite artist. iHeartRadio hosts different online music festivals and concerts along with guest artists and DJs. Spotify doesn't offer this.
Part 3. Conclusion
If you are wondering which is better Spotify premium vs iHeartRadio, it can be said that Spotify can be the best option as its music library is huge and offers the highest audio quality. Besides, you can also enjoy offline listening without any internet connection. Well, it's all up to you. Just make your decision based on this in-depth comparison.