"Hi, there, I am a high school student. Am I eligible for the Spotify student discount plan? How can I get it? I have checked the official website carefully but can't find the option to do that. " - From Alyssa Hill
Spotify launched a discounted premium subscription for students back in 2014. At at time, it is only available in the US, UK and Germany. Now it is available in 33 more countries across differnet continents Euro, Asia, America and Oceania. The new countries and regions include Canada, France, HongKong, Indonesia, Mexico and so on. As a public company, Spotify is not profitable yet. But Its subsription users have been increaing in a fast rate.
If you are are a student who enjoy Spotify and want to save money, you can follow this page to learn more about the Spotify student discount program and find the best way to subscribe to it.
View also: Tricks to Get Spotify Premium for Free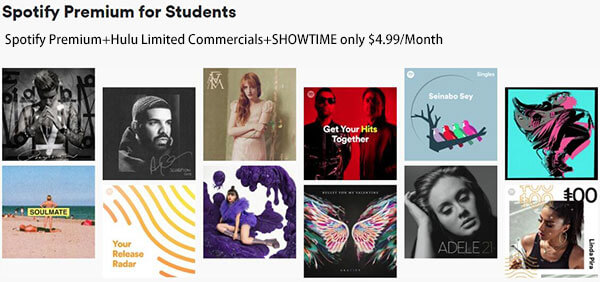 Part 1. Everything about Spotify Premium for Students
What Is Spotify Student Discount?
It is a program that Spotify has rolled out for students since 2014. Any eligible students can enjoy 50% discount as well as getting the free Hulu and SHOWTIME subscription.
To get started, you just need to go to the Spotify student verification page. And then input the related info such as name, colleague, Date of birth. Spotify will automatically verify your enrollment status via a service called SheerID. If you failed in this verification process, you can also submit your documents such as student ID card to Spotify contact. Spotify will manually verify your status.
How Long Can I Enjoy Spotify Student Discount?
After subscribing, you can enjoy the discount for up to 12 months. If you want to keep the same subscription after 1 year, you need to re-verify that you are still a student. And you can extend only a maximum of 3 additional 12 months periods. Else your subscription will switch to regular Spotify Premium at $9.99/month.
How To Use Hulu and SHOWTIME that Come with Spotify Student?
After taking the Spotify student offer, you will receive the instruction to activate your account on Hulu and SHOWTIME. You can either login to your existing accounts or create a new one.
How Much Will I Be Charged?
If you are a verified student, you just need to pay $4.99/Month for the Spotify Premium. And pay the tax if there is any. Both the Hulu and SHOWTIME subscriptions are free. It will save you a lot if you are a person who enjoy both video and audio files.
Part 2. How to Get Spotify Student Discount Without Being a Student?
Spotify Premium removes all advertisements and provides higher quality audio. Also, you can listen to all the songs from the full catalog offline. As a student, you can enjoy great 50% discount to get it. But if you are going graduate, the Spotify student discount will be not working. So is there other ways to hack Spotify student discount? The answer is yes.
The first way is that you can sign up an online course. Groupon offers couples of cheap online courses of which the price are as low as a few dollars. Then you can just apply for a NUS card online.
Another way is to download Spotify Premium songs offline by a third party software. After downloading, it will enable you to listen to all the songs you like offline as well as get rid of all the commercial ads.
DRmare Spotify Playlist Downloader for Mac/Windows supports to get access to the premium contents of Spotify. It use a 1:1 copy technology to extract all the songs. The audio quality as well as the ID3 tags, metadata, album cover, title, author will be kept. Also, the downloading speed is quick since there is no unnecessary bells and rings.
View also: Top 5 Free Streaming Audio Recorders
Best Spotify Music Converter for Students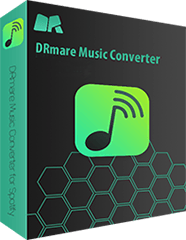 Full Spoitfy music category support, download any playlist, track, album you like
Batch convert OGG songs to MP3, M4A, M4B, AAC, FLAC, WAV quickly
Full customization features, help you enhance the audio bit rate, sample rate
The converted files can be played on unlimited Android/iOS mobile devices on the go
DRmare Music Converter is not a freeware. It charges $19.95. But it is totally worth it if you are a heavy user of Spotify. Considing that all the fantastic features it will offer to you. With it, you don't need to pay a fee for any songs. This is much better than Spotify student discount offer.

What is more, the free tiral versions are totally free for both Windows and Mac systems. So why not try it out by yourself now?

Step 1

Import the Spotify albums

DRmare supports to download music from both the free and premium account. You can launch DRmare software and login Spotify app with your account name and password. After that, you can drag and drop the albums, playsts from Spotify app to DRmare software.
Step 2

Set the output parameters

DRmare set the output format as MP3 by default. In general, you don't need to change it. And If you are using the Spotify Premium account, DRmare software will automatically capture the songs with highest bit rate up to 320Kbps. Else if you are using the free account, you can adjust the bit rate and sample rate to a higher vaule. DRmare software will help to enhance the songs.
Step 3

Download Spotify music offline

In the end, you can one click on the "Convert" button. DRmare software will promptly expoerts the Spotify Songs to MP3 as you want. You can enjoy the songs anywhere forever.
You don't need to pay a dime for the subscription anymore. And it is 100% legal. Way better than Spotify student discount, right? One thing you need to keep in mind is that this is only for personal use. So please don't try to selling the downloaded songs for making money.