With technological advancements, there are options to choose from for listening to music. With smartphones, people can listen to their favorite music on streaming platforms. The question is how to choose the best streaming service because there are many streaming services, including Apple Music, SoundCloud, Spotify, and SiriusXM. Every streaming service offers some different and similar perks and some disadvantages as well. The things one should consider important are sound quality, features, availability and compatibility, and much more.
This article will provide you with a detailed comparison of SiriusXM vs Spotify streaming services. These two services are the top platforms providing good quality output music. The comparison will include a brief introduction of their features, compatible devices, and the pros and cons. Go through the article, and have a deep comparative study of both streaming platforms and choose which one is best for you.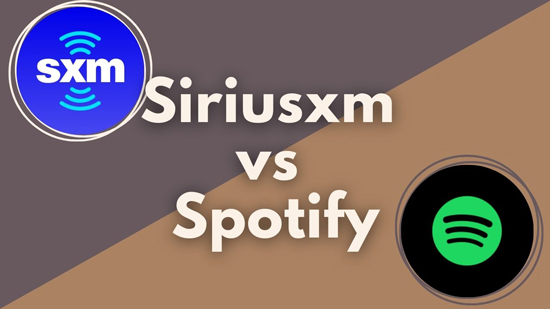 Part 1. SiriusXM vs Spotify: Brief Introduction
Before we start to compare Spotify vs SiriusXM, here we would like to introduce Spotify and SiriusXM to you. Let's move on to read below.
SiriusXM
SiriusXM is a music streaming service that presents an old radio look. It is performing as a radio satellite for radio broadcasting in North America. But it provides good quality as compared to traditional radio stations. SiriusXM offers a wide range of songs, podcasts, live sports matches, and many radio programs to users with its premium subscription.
Spotify
Spotify is a worldwide music streaming service compatible with Android and Apple devices. It offers a wide range of songs, playlists, albums and more. Users can also enjoy its desktop version on Mac or Windows PC. Besides, Spotify has its free and premium subscription. The Premium version will cost you $10 monthly, and you can enjoy Spotify freely. Whereas its free version is good for the start, it gets a lot of ads with time. With its free version, you are not allowed to search for an album, and songs will play with shuffle mode.
Part 2. Spotify vs SiriusXM Sound Quality
Both music streaming platforms, Spotify and SiriusXM, provides users with a piece of good quality music and sound. SiriusXM works like a radio, providing a good sound experience in remote areas. At the same time, Spotify offers its coverage without any issue with the heights and depths of surrounding miniatures. For both Spotify and SiriusXM, you only need a good and speedy internet and satellite connection.
Part 3. SiriusXM vs Spotify Music Library
SiriusXM has a lot of audio content for its users, like music, sports matches, and comedy shows. It also offers you the opportunity to choose content from 165 audio channels.
While Spotify has one of the largest music libraries but does not offer more audio content. It offers podcasts, soundtracks, and albums to its users.
Part 4. Spotify vs SiriusXM: Availability and Compatibility
Spotify is a music streaming service that is available all around the world. You can use the Spotify application on smartwatches, game consoles, cars, and other media players. Spotify is compatible with Bluetooth, Alexa, Apple AirPlay, and Spotify Connect.
SiriusXM offers its coverage only in the United States. SiriusXM is compatible with Apple TV, LG, Google, Comcast, Tablet, Mobile, and Web.
Part 5. SiriusXM vs Spotify: Cost and Plans
When comes to SiriusXM vs Spotify Premium, you should know that SiriusXM does not offer free service; users can only use it with its premium plans.
It charges $1 for the first four months and then $13 per month if you want base-level membership. This membership will allow you to listen to the streaming only.
It charges $5 for the first year and $16.99/month if you want standard membership. This membership will allow you to listen to streaming, car radio, and other perks.
Another premium version charges $8.25 for the first year and $21.99 for a month. This membership will offer you all the features of all packages of SiriusXM.
Spotify is not only a music streaming platform that provides a huge library but is people's most used application because it offers premium subscriptions and free services. Spotify Premium subscription offers you good sound quality, ad-free music, and much more.
As an individual, you can buy the premium plan for $9.99 per month.
For a family plan, you can buy a $14.99 family membership and will have access to 5 Spotify accounts.
Part 6. Pros and Cons of Spotify vs SiriusXM
Here are the pros and cons of SiriusXM vs Spotify. You can check them out and learn more below.
Spotify
Pros:
It has an easy-to-use and user-friendly interface.
Premium users can download Spotify music to listen offline.
It offers all types of music and soundtracks.
It has availability of podcasts.
Users get suggested music tracks per their searches.
Free users can listen to Spotify music with a 160 kbps bitrate, and for premium users, it supports a 320 kbps bitrate.
It offers both free and premium subscriptions.
Cons:
Free Spotify users cannot download Spotify music for offline listening.
It does not have the availability of live programs.
SiriusXM
Pros:
It provides users with a wide range of audio content.
It offers a lot of recorded programs.
Users can choose audio content from 165 different channels.
It is cheaper than Spotify if you only want to have music streaming.
It works like a radio technology connected to a satellite, so it is available in all parts of the world.
Cons:
It does not have a free service. Users have to buy its premium subscription.
It provides a bit low sound quality.
Extra Tip: How to Download Spotify Songs for Use Offline on Any Device
Now that you have known all the main features and important things like pricing, the pros and cons of Spotify vs SiriusXM. Sometimes, these services can charge you high premium amounts. So if you use Spotify, you need a third-party tool for converting and downloading Spotify music for use freely on any device and platform.
We highly recommend you use DRmare Spotify Music Converter to download Spotify music offline for free. It allows you to alter the output audio parameters for your Spotify songs as you like. Once you have downloaded the Spotify music, you can have the best listening experience without the premium subscription. And then you can move them to any platform you want to enjoy the Spotify songs with ease.
Main Features of DRmare Spotify Music Converter
Now, let's see how to use DRmare Spotify Music Converter to convert and download songs from Spotify. The process is very easy. Please follow the provided steps below.
Remember: Ensure to download the DRmare Spotify Music Converter and the Spotify app on your PC or Mac device in advance.
Step 1. Open the DRmare Music Converter software, and you will see the main interface. Once you have launched the software, it will automatically connect to Spotify.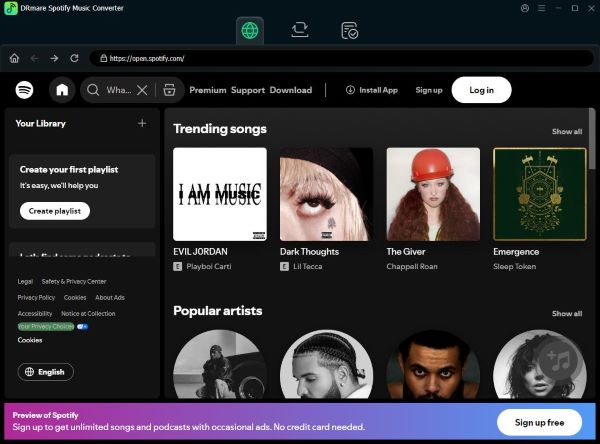 Step 2. You can drag and drop the Spotify music tracks from Spotify app to DRmare tool or copy and paste the link at the search bar on the top of DRmare program. Then hit on the '+' icon to get the Spotify songs in DRmare's main window.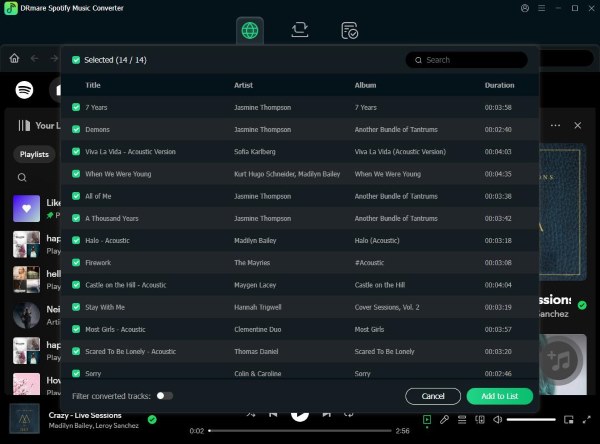 Step 3. Click on the Menu icon and choose the Preferences option in the shown list. Then it will open the settings window. There you can start to set the output parameters like channel, bit rate, sample rate, and audio format for your Spotify music.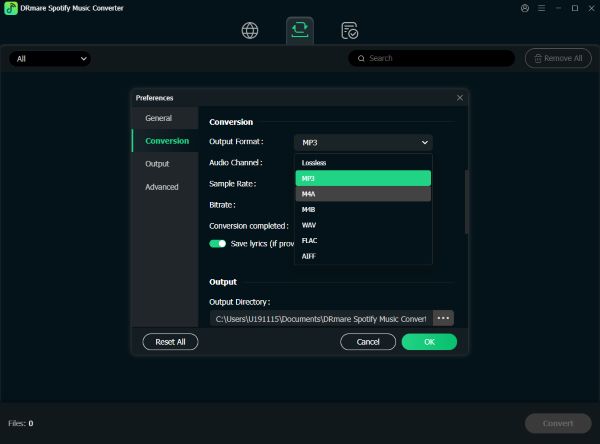 Step 4. Touch the button 'Convert' on DRmare program to start to download music from Spotify to computer. Once the downloading process is complete, you can locate the Spotify music in the local folder of your computer. Or you can view the downloaded Spotify audio tracks by clicking the 'history' icon at the bottom bar of DRmare prorgam.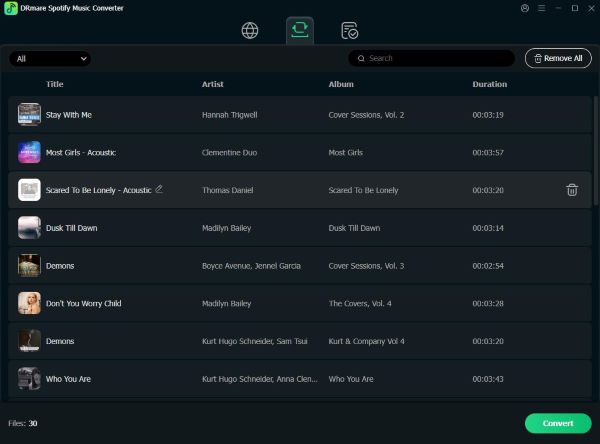 Conclusion
In this article, we have provided a deep comparison of SiriusXM vs Spotify streaming services. The comparison of Spotify vs SiriusXM in this article includes sound quality, pricing, key features, pros and cons, and many other things. Thoroughly read the article above and choose the best music provider for you.
If you choose Spotify, you can use it along with the DRmare Spotify Music Converter. With this tool, you can get Spotify songs as local files on your computer. And then you can listen to Spotify music offline anywhere and anytime without any restriction.