Nowadays, more and more people like to listen to audiobooks while walking, doing exercise or else. And most people know Audible - the largest audiobooks provider and retailer and it is popular. On Audible, users can listen to any audiobook and even purchase books they like. Yet, in September 2022, Spotify launched audiobooks for users to listen to. This lets users has more options to choose and enjoy audiobooks.
So, what's the differences between Spotify audiobooks and Audible? And which one should you pick up? In this post, we will compare Spotify audiobooks vs Audible in some aspects in detail. You can check out the article and learn more about them.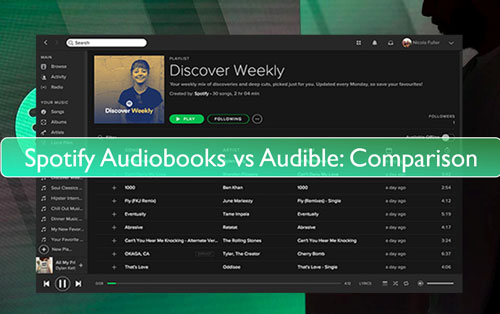 Part 1. Spotify Audiobooks vs Audible: Overview
Before comparing Spotify audiobooks and Audible, here let's check the brief introduction of them below.
Spotify audiobooks is just a limited selection of audiobooks offered by Spotify. We know that Spotify is a popular music streaming platform and it provides kinds of audio content like podcasts, albums and so on for users. The audiobooks in Spotify app requires users to buy and unlock them before listening to them. Also, Spotify adds the 'speed listen' feature to the audiobooks at a faster rate. And users can listen to Spotify audiobooks for free with ads, or with a Spotify Premium subscription.
While Audible is a large audiobooks producer and retailer owned by Amazon. It offers a vast titles of audiobooks to users, and users can buy and download Audible audiobooks via the Audible app. And it provides membership subscription to users as well as offers discounts on purchases.
Part 2. Audible vs Spotify Audiobooks: Comparison
In this part, we will compare Spotify audiobooks vs Audible in different aspects. Please check them out and learn more.
1. Audiobooks Selection
Audible offers a large selection of audiobooks, which is over 425,000 titles. And Audible audiobooks has a large range of genres and kinds of audiobooks like bestsellers and exclusive titles. While Spotify audiobooks has a more limited selection with a wide range of genres.
2. Audible Membership vs Spotify Premium
Both Spotify and Audible offers a 30-day free trial service to users. Spotify allows users to listen to audiobooks with ads with their free plans. Or, users can subscribe to Spotify Premium to enjoy audiobooks without ads. While Audible provides a membership service to let users to access one audiobook per month. Also, users can enjoy discounts on purchases.
Overview of Spotify Premium vs Audible Membership plan:
Audible Plus: $7.95/month, users can access the Plus Catalog.
Audible Premium Plus 1 Credit: $14.95/month, supports to access the Plus Catalog and 1 credit per month to select from their premium selection titles.
Audible Premium Plus 2 Credits: $22.95/month, access the Plus Catalog and 2 credits each month to choose titles from premium selection.
Audible Premium Plus Annual 12 Credits: $149.50/month, access the Plus Catalog and 12 credits a year to select from premium selection titles.
Spotify Premium: Starts from $9.99/month for individual, listen to audio on Spotify without ads.
So, if you are an audiobooks addict, then you can pick up Audible as its membership service is cost-effective. Otherwise, you can choose Spotify and use its free plan to enjoy audiobooks if you listen to audiobooks less frequently.
3. Audio Quality
Both Spotify and Audible offers high-quality to its audiobooks. But Audible provides a better sound quality for its audiobooks as it is a professional audiobooks producer and retailer. It also provides 3D audio to give listeners an immersive listening experience. Yet, the quality of Spotify audiobooks may be varied from the subscription you get.
4. Device Availability
You can enjoy audiobooks from Audible and Spotify in a vast range of devices and platforms like web, Windows, Mac, iOS device, Android, smart TVs, smart speakers and so on. You can play audiobooks online and download them for offline listening with your premium account. Yet, you can't move downloaded Spotify audiobooks or Audible audiobooks to other devices for listening. That's because they are protected and can't be recognized by most devices.
5. Other Features
There is a Whispersync for Voice feature on Audible. It allows users to switch between listening and reading a book and sync the position of your audiobooks with ease. In this case, you can go on reading and listening to your audiobooks in the position you left previously.
Spotify has a 'Speed Listen' feature that allows users to listen to audiobooks on Spotify at a fast rate. And Spotify has more features like social sharing, create playlists and so on.
Both of them supports to download audiobooks for offline listening once you have their premium subscriptions.
Extra Tips: How to Convert Spotify Audiobooks for Listening Anywhere
From above, we learned more about Spotify audiobooks vs Audible. And in this part, we will focus on Spotify audiobooks and show you how to get them as local files for playing anywhere. To access Spotify audiobooks, you need to purchase them first and then you can play them. Moreover, you can download them if you have a Spotify Premium account. Yet, those downloaded audiobooks can't be moved and used on other devices or platforms. In this case, we'd like to share a tool with you to convert Spotify audiobooks to common audio files.
DRmare Spotify Music Converter is such a program on the computer to help you. It can convert audiobooks from Spotify to MP3, WAV and other plain audio formats. Also, you can reset audio channel, bit rate and more for your Spotify audio books. Besides, this program can run fast for the conversion and keep the original quality as well as the ID3 tags.
In addition, you can use this tool with both your Spotify Free and Spotify Premium account. With it, you can then get Spotify audiobooks to local files on your computer. Then you can transfer them to any device and platform for offline playing if you want.
Now, let's check how to use DRmare Music Converter to make Spotify audiobooks to common files step by step.
Step 1. Click on the 'Download' button below to download and install DRmare Music Converter on your computer.
Step 2. Once installed, open the program and it will display its main interface to you. Also, the Spotify app will be launched at the same time.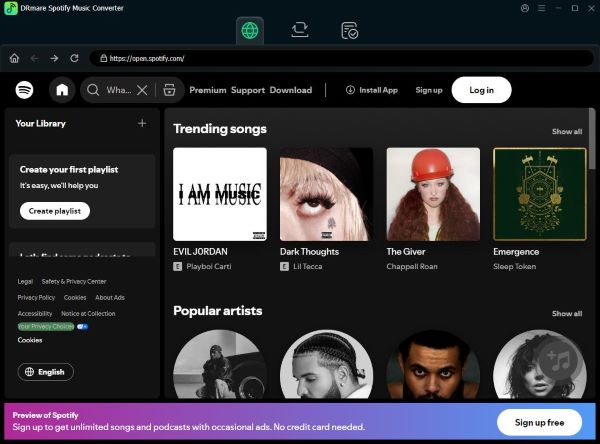 Step 3. Head to the Spotify app. Then locate the audiobooks you want to convert. Next, buy it with your Spotify account. After that, drag the audiobooks to the main screen of the DRmare tool.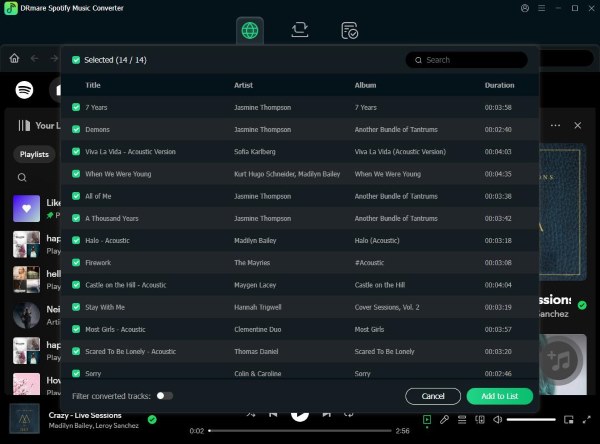 Step 4. Touch the Menu icon on the DRmare tool. Then choose 'Preferences' and hit 'Convert' in the new window. And then you can start to change audio format, sample rate and so on for Spotify audiobooks. Next, press 'OK'.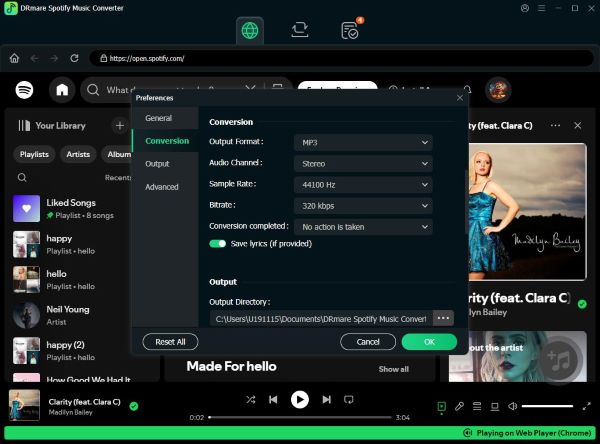 Step 5. Tap the 'Convert' button to begin to convert Spotify audiobooks as local files. After a while, you can go to the 'converted' section on the DRmare program to check them out.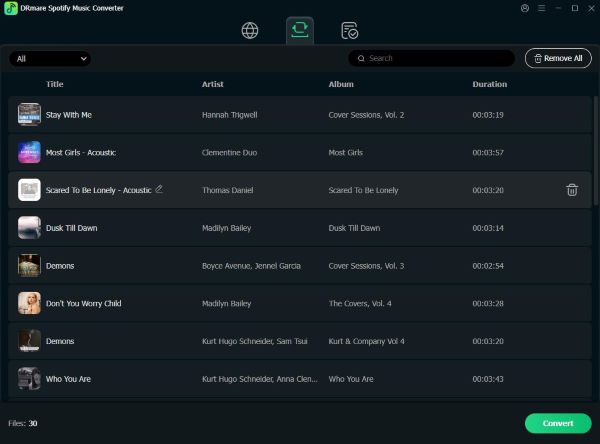 Step 6. Locate the converted Spotify audiobooks on your computer. And then move them to the device you want for offline listening.
The Verdict
Audible or Spotify audiobooks, which one to choose from? Before that, you can check out their differences from above and then make up your mind. In a word, both of them allows you to enjoy audiobooks you like. But if you want to access a vast library of audiobooks, then Audible is your first choice. If you just want to listen to some audiobooks, then you can go to Spotify audiobooks. Besides, you get a tool to help convert Spotify audiobooks to local audio tracks via DRmare Spotify Music Converter. Then you can play audiobooks from Spotify anywhere and anytime with ease.