Music Visualizer lets you enjoy music with animated images according to the rhythm and beat of the song. Typically, music visualizers are displayed within an audio player. So, does Spotify have a visualizer?
Originally, there was a spotify:app:visualizer trick. However, Spotify has removed it and you cannot enjoy this feature directly on the Spotify app. Therefore, many Spotify lovers are looking for a workable Spotify visualizer. Not all music visualizers are compatible with Spotify, so today we've found the 14 best visualizer for Spotify online, desktop and mobile. You'll also learn a way to download Spotify music and add it to any music visualizer for use.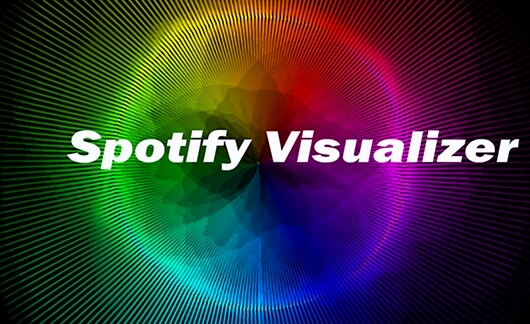 Part 1. Top 5 Online Music Visualizer Spotify
#1. Kaleidosync Spotify Visualizer
Three years ago, a Reddit user named itsappleseason made an online visualizer for Spotify, Kaleidosync. It is a web-based Spotify music visualizer application.
Kaleidosync covers eight different but wonderful visualizer modes. You can display Spotify track information and Spotify album artwork in the Kaleidosync Spotify music visualizer. It also has some other fascinating features. With it, you can enjoy Spotify music with beautiful pictures. You can test them by playing Spotify songs.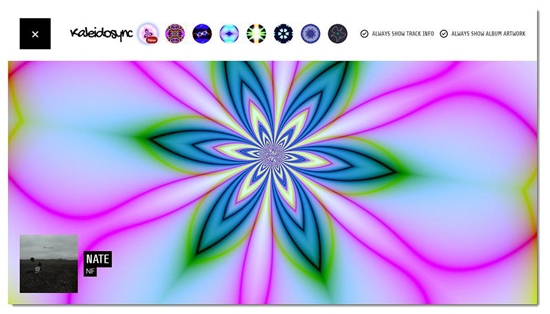 How to Use Kaleidosync Spotify Visualizer Online
Step 1. Launch Kaleidosync online music visualizer for Spotify in your web browser.
Step 2. You will be required to log in to your Spotify account. If you don't have one, you can try to get Spotify Premium free. Then create a premium one.
Step 3. Play Spotify songs that you want to visualize. Then you can get Spotify visuals.
#2. Wavesync
Wavesync is another online music visualizer Spotify after Kaleidosync. It was also created by Itsappleseason.
However, there are some differences between Wavesync and Kaleidosync. Wavesync's animations have changed from geometric patterns to lines. With equally fresh and stylish animations, Wavesync is another great option for Spotify visualization lovers. When streaming Spotify songs, you can see all kinds of wave ripples.
#3. Jamescastells
Jamescastells Spotify 3D Music Visualizer is an online Spotify audio visualizer on GitHub. It was made by lost_james. This visualizer has amazing 3D visualization and animations. It has many different effects. Plus, it's easy to use. To use it, log into your Spotify account. Then all your Spotify music and playlists will be synced to it. Then you can enjoy music visuals while playing Spotify songs.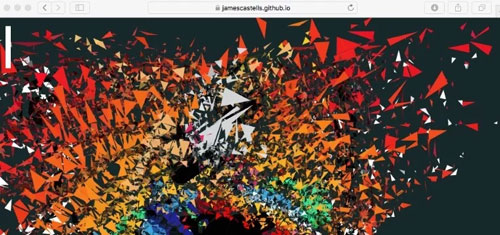 #4. Tessellator
Tessellator Spotify Visualizer is a 3D audio visualizer. It has animated pictures of many shapes. When you play Spotify music in 3D, you can see multiple shapes. Plus, it supports Spotify web player, Spotify desktop and mobile apps. Also, it works with Chrome and Firefox. However, it requires a Spotify Premium account. It doesn't work with the Safari web browser. Here let us learn how to use it.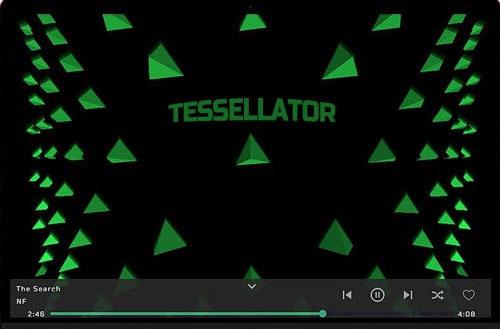 Step 1. Launch the Tessellator Spotify music visualizer on your browser.
Step 2. Sign in with your Spotify account.
Step 3. Play Spotify music from the Spotify app. Then you can see the visuals.
Note: Tessellator requires lots of authorizations of your Spotify. For example, view your account data and your activity on Spotify. You can skip this tool if you mind.
#5. Razer Keyboard Audio Visualizer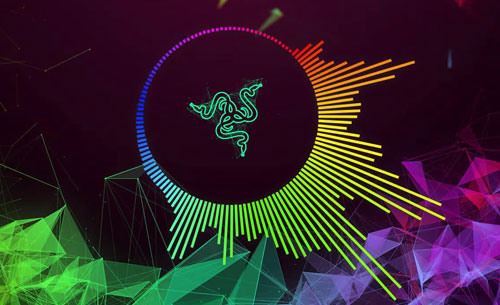 Razer Keyboard Audio Visualizer is a Chrome extension. And it is for Razer keyboards. When you play the music in the Google Chrome browser, Razer keyboards will show the music visuals. Also, this Spotify visualizer offers six themes by default. Here is how it works.
Step 1. Search for the Razer Keyboard Audio Visualizer on the Google Chrome browser.
Step 2. Once found, click on the 'Add to Chrome' button. Then it will be added to your Chrome extension.
Step 3. Play Spotify music via the Spotify web player. Then click on the Razer extension icon on Chrome's toolbar.
Step 4. Now, you can see the music is reflected visually in the Razer keyboards.
Part 2. Top 6 Spotify Visualizer Mac/Windows
Besides the online Spotify visualiser, you can also get help from third-party tools. However, note that you need to download Spotify songs to unprotected music files and import them to these music visualizers. For detailed tutorials, you can navigate to Part 4.
#1. PotPlayer - Windows/Mac Spotify Music Visualizer
PotPlayer is a free music visualizer for Spotify. It is encompassed with powerful algorithms for the utmost visualization for Spotify. So, depending on the loudness of your music, PotPlayer has a unique way of controlling its visuals.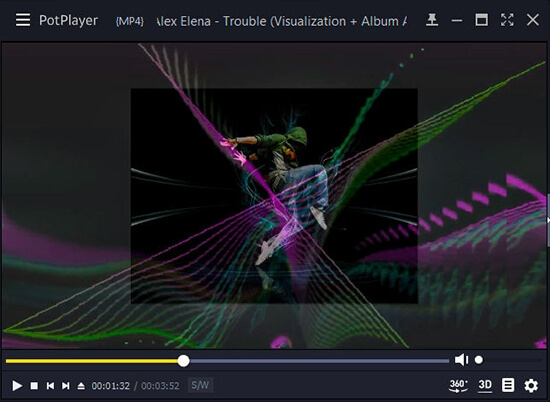 Besides real-time visuals, it offers you great visual effects of different styles of music. You can get Floating ball, Slideshow, WMP visualization and so on. So, whether you want to use a visualizer for Spotify on Mac or Windows, PotPlayer can meet your need.
Moreover, PotPlayer is a great alternative to the VLC media player. It can play lots of audio tracks, not only Spotify tracks.
#2. Kauna - Best Spotify Visualizer Windows/Xbox One
Kauna is a popular Spotify audio visualizer for Windows and Xbox One. Besides, it can capture audio from a microphone.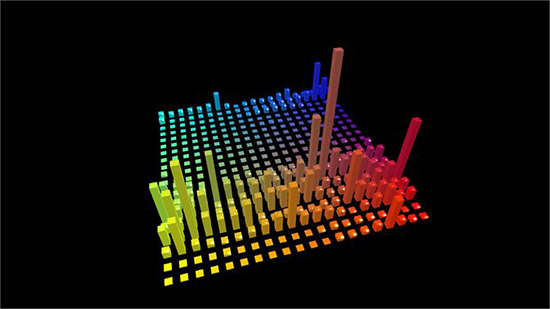 Visualizations on Kauna Audio Visualizer for Spotify:
Get waves which are frequencies as fine lines
Bars for a rainbow spectrum analyzer
Burning clouds or a light ring with background triangles
Colored discs and change their size
Adjust your sound level sensitivity and select your desired sound card
#3. MilkDrop - Spotify Music Visualizer Windows
MilkDrop is a music visualization plugin for Winamp. But is has a unique way of giving you all that it takes for that amazing visualization. This Spotify visualizer desktop uses DirectX and intelligent beat selection criteria. This will bring you the most iterated images. The end result is a constantly changing experience of visuals that blend seamlessly.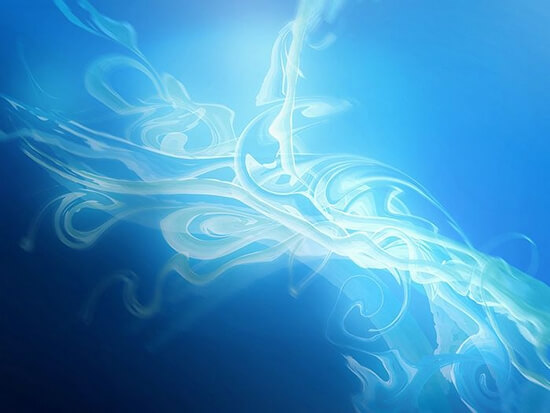 On top of that, it comes bundled with Winamp although you can as well use it as a separate package. Its present pack comprises over 700 visuals, a number that is here to keep you locked up.
#4. Synesthesia - Best Spotify Music Visualizer Mac/Windows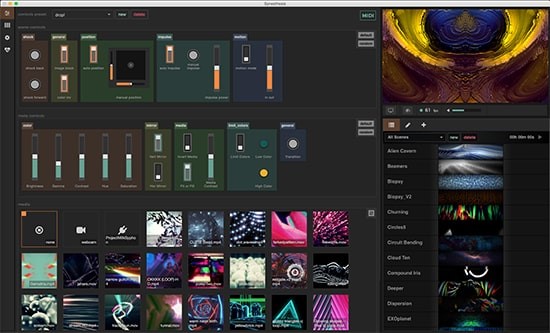 Synesthesia is suitable as an audio visualizer for Spotify for its built-in effects. Besides, it also has many controls for video and audio effects. All make it a creative app for a great music experience. The pre-installed orientation is a plus. This enables easy navigation of this app as you play any Spotify track in its deserving visual form.
#5. FullCovered - Spotify Visualizer Mac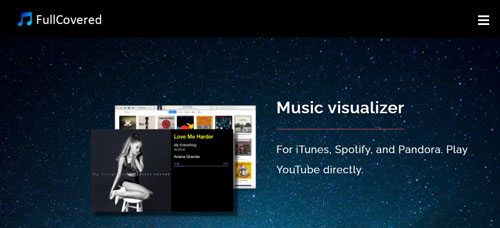 FullCovered is a tool that can let you browse and play YouTube. It can also be used as a Spotify music visualizer. This is because it comes with Spotify and iTunes support.
The FullCovered supports full-screen streaming. It can display multiple artworks if the track has multiple artworks. You can control audio tracks via keyboard shortcuts.
#6. Plane9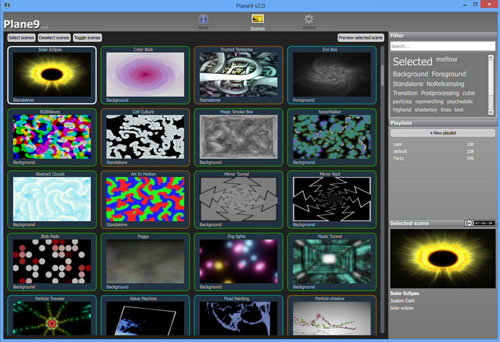 Plane9 is a music visualizer on Windows. It can create 3D graphics and animates them along with the music beats. You can stream any music from your computer. Then Plane9 tool will sync and visualize the music for you. If you want to use Plane9 as a visualizer for Spotify on PC, you can refer to the post: How to Use Spotify with Plane9.
Part 3. Top 3 Best Spotify Visualizer Android/iOS
In this section, we will list the top 3 best visualizer for Spotify on Android/iOS. Please check them out and learn more.
#1. AIMP Visualizer
AIMP Visualizer is one of the music visualizers for Spotify. It works across many operating systems. According to the desktop operating system, it is for Spotify visualizer Windows. Besides, you can use it on Android, or iPhone devices.
It does have the capacity to visualize audio tracks. Also, it gives you up to three options for Spotify visualization. They are Analog Meter Night, CoR's Aorta 1.1 and Analog Meter Classic. Just download, install, and activate this tool on your device. Then enable it to visualize your Spotify tracks offline.
#2. Spectrum
Spectrum is a Spotify visualizer app for Android and iOS devices. You can directly download it on your mobile device. It will show the psychedelic images according to the music and play them on the screen. You can open the Spotify music app and then play the songs you want. Then go to launch the Spectrum app on your device. And then it will show the visual images of the music.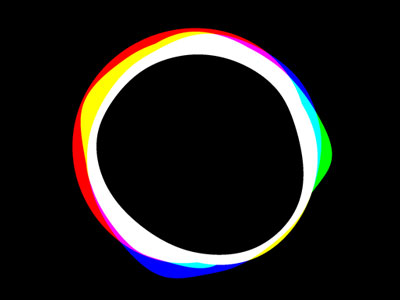 The Spectrum app has a free and paid version. In the Spectrum free version, you will get the app's watermark and ads after playing a song. Also, only some content can be accessed. While in the Spectrum paid version, you won't face these issues.
#3. AudioVision Music Player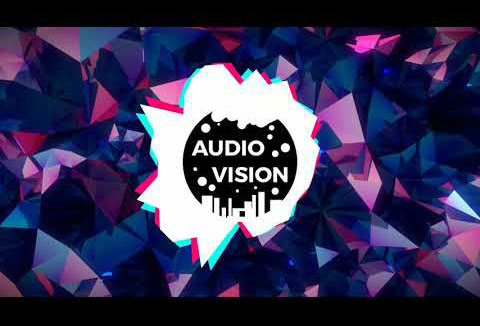 AudioVision Music Player is also a great visualizer for Spotify Android/iPhone. This tool can play all media formats at up to 32-bit 192 kHz. It can also support DSD128 files. And it plays the files without transcoding or converting them. There are 10 bands of parametric equalizers with full graphics in AudioVision Music Player. So, you can control the music playback with your touch screen. Or you can press the volume keys on your device. By the way, it offers 6 different and customizable visuals.
Part 4. How to Import Spotify Music to Any Music Visualizer
A good Spotify visualizer can let you listen to Spotify music with a better experience. However, not all music visualizers are compatible with Spotify music because all Spotify songs are protected.
Therefore, to play Spotify with a visualizer, you need to convert Spotify songs to common audio files first. Here, DRmare Spotify Music Converter is the best tool to help you.
It can download and convert Spotify music to formats like MP3. The software works by removing the limitation of Spotify music streaming. After that, you can add the converted Spotify music to any music visualizer or other devices for use. It is worth mentioning that this tool works at 5 times higher speed and can preserve the original sound quality. So you can enjoy lossless Spotify tracks with any Spotify music visualizer.
DRmare Music Converter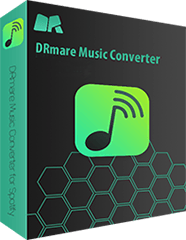 Convert Spotify music at 5X faster speed
Download Spotify for all music visualizers
Transfer Spotify OGG to MP3, FLAC, AAC, etc.
Keep Spotify ID3 tag info and sound quality
Step 1. Download and install the DRmare Music Converter
Download DRmare Spotify Music Converter via the "Download" button above or from DRmare's official website. Then install it on your device. Once you launch it, Spotify will then kick-off.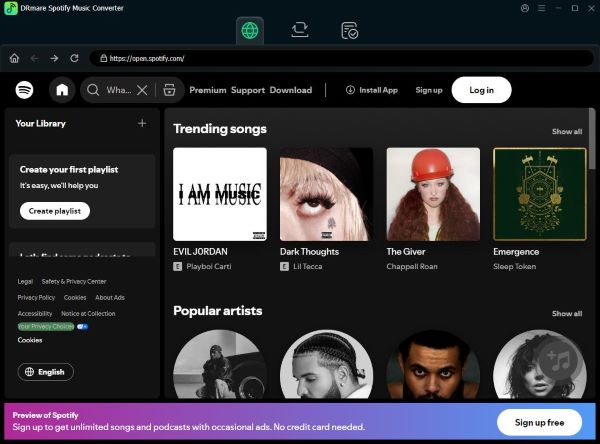 Step 2. Import Spotify songs to DRmare
Drag all the Spotify songs that you wish to download to the DRmare screen from the Spotify app. Alternatively, you can copy and paste the link of Spotify songs into the search box of DRmare Spotify Downloader and then click on "+".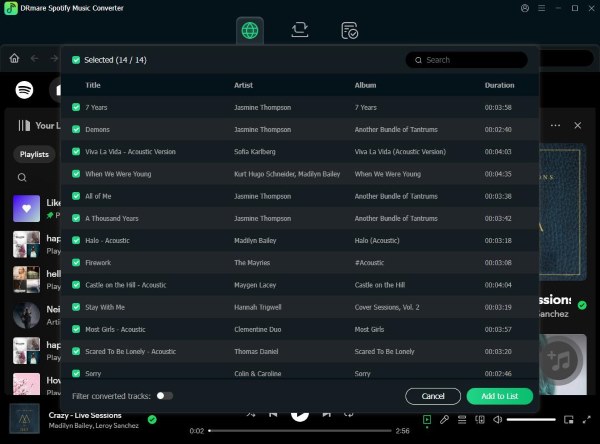 Step 3. Set output format for Spotify songs
Hit on the "menu" icon on the top right corner of the DRmare program. Then choose "Preferences" from the list. And then in the new window, touch the "Convert" tab. Then you can start to reset the output formats and other parameters for Spotify music.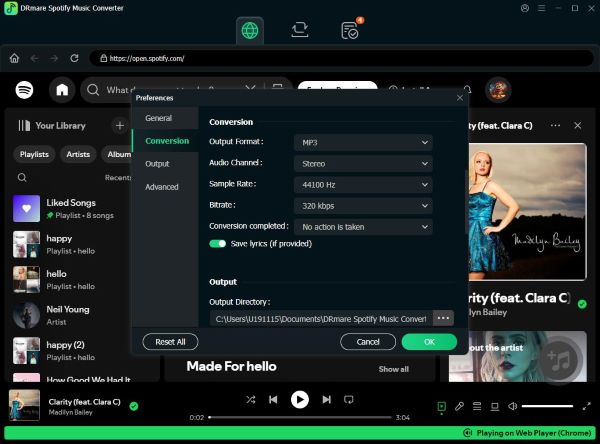 Step 4. Convert Spotify to MP3 with one click
With the hit of the "Convert" button, your Spotify playlist or songs will be converted to the desired format. You can then export Spotify to any other playback device for playing offline. And you can use Spotify on any music visualizer you want.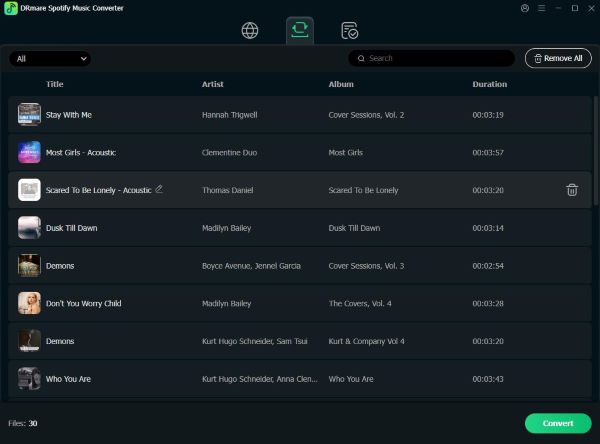 In short, Spotify doesn't have a built-in music visualizer. This is why you need a third-party Spotify visualizer for your favorite tracks. Use DRmare Spotify Music Converter to convert and extract music from Spotify without Premium. After that, you can make Spotify music compatible with any Spotify music visualizer.
Part 5. FAQs about Spotify Music Visualizer
Q1: Did Spotify Remove the Visualizer?
A: Yes. There was a spotify:app:visualizer trick but has been removed.
Q2: Is There a Visualizer for Spotify?
A: Yes. In this post, we have introduced the top 14 best Spoify visualizers for you. You can use them online, on your desktop, or on your mobile devices.
Q3: How Do I Use an Online Spotify Audio Visualizer?
A: The steps to use an online music visualizer for Spotify are almost the same.
Step 1. Open Spotify web player and start to play a song.
Step 2. Navigate to any online music visualizer Spotify.
Step 3. Log in to your Spotify account.
Step 4. Once connected, music visualization should start.
Q4: Why Is Spotify Visualizer Not Working?
A: If you're using a visualizer for Spotify and find it doesn't work, it's possible that the song you're using is copyrighted. The only thing you need to do is remove Spotify protection and download Spotify songs. The recommended tool is DRmare Spotify Music Converter. It is suitable for downloading and converting Spotify music as well as removing copyright protection. Best of all, it doesn't require a Spotify premium subscription.
Part 6. Conclusion
Today we have shown you 14 of the best Spotify visualizers. If you don't want to install an extra app, you can try an online Spotify music visualizer. If you want to enjoy the visualization experience on mobile devices, you can choose a third-party visualization tool. But please note that you need to download Spotify music as popular audio first because Spotify songs are protected. And the recommended tool is DRmare Spotify Music Converter, which allows you to download Spotify music as local files without Premium.