Music visualization is a music feature. It lets you enjoy the music with an animated image based on the song's rhythm and beat. The music visualizer mainly shows in the audio players.
Nowadays, some online music streaming services have the music visualization feature. Today, we will focuses on Spotify. And we will list top 8 best Spotify visualizer for Android, Mac, iOS, PC and online for you. Just follow the post as below and learn more.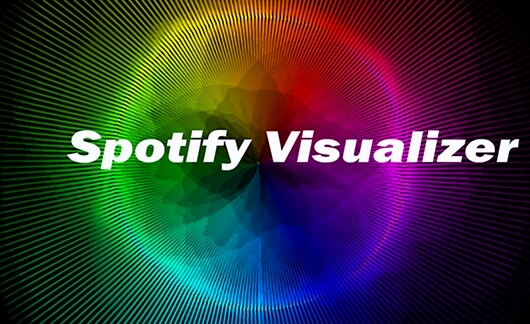 Part 1. Does Spotify Have a Visualizer
Does Spotify have a visualizer? As the popular streaming music service, it would be great if there is a Spotify visualizer. Spotify has got a built-in music visualizer before. You can activate and use as desired. This will allow you to play music visuals on your screen. But it's a pity that Spotify visualizer not working now. This feature was pulled out for some unexplained reasons by Spotify. Now, you can't type 'spotify:app:visualizer" and search in Spotify to get the audio visualizer.
Thus, to get Spotify visuals effects, you need to use a third-party visualizer. But how to get visualizer on Spotify? There are lots of Spotify music visualizer app. Some are nice while others are not so perfect. You can search for spotify:app:visualizer or Spotify visualizer on the web to get a one.
But today, we will collect the top 8 best Spotify visualizer for you after doing some searches. You can directly select the most satisfying one to visualize your Spotify music. Here you are.
Part 2. Top 2 Online Spotify Visualizer - Kaleidosync and Wavesync
Is there any online music visualizer Spotify? As we all know, music is an important tool when it comes to entertainment. It may, however, feel awkward when you use this tool without much enhancement. One such way to bring on some jilters to your music is to use music Visualizer online. It brings some sort of animated imagery depending on the frequency of the track you are playing.
No need for an official music visualizer for Spotify to make music visualization. There are still other tools to achieve it. In this part, we will show 2 best music visualizer online for Spotify for you. It is Wavesync and Kaleidosync Spotify visualizer online.
#1. Kaleidosync Spotify Visualizer Online
Two years ago, a Reddit user called itsappleseason has posted a message. It said 'I made a Spotify visualizer'. The online Spotify visualizer is named Kaleidosync. It is a web-based Spotify music visualizer app.
The Kaleidosync covers eight different but wonderful animated pictures to make Spotify visualizations. You can display Spotify track info and Spotify album artwork in Kaleidosync Spotify music visualizer. It also has some other charming functions. With it, you can enjoy Spotify music with beautiful pictures. You can test them by playing Spotify songs to get started.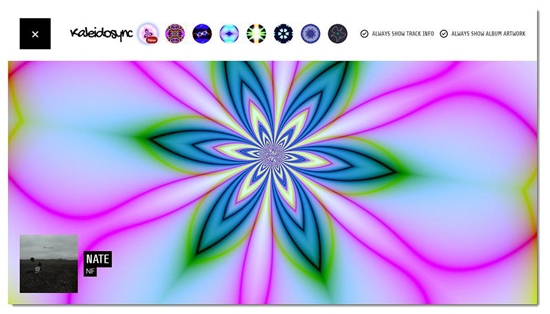 How to Use Kaleidosync Spotify Visualizer Online
Step 1. Launch Kaleidosync online music visualizer for Spotify in your web browser.
Step 2. You will be required to log in to your Spotify account. If you don't have, you can try to get Spotify premium free. Then create a premium one.
Step 3. Play Spotify songs that you want to visualize. Then you can get Spotify visuals.
#2. Wavesync: A Spotify Visualizer Online
Wavesync is another online music visualizer Spotify after Kaleidosync. It is also created by Itsappleseason. It is the same to use Wavesync as Kaleidosync.
But, there is something different between Wavesync and Kaleidosync. The animations of Wavesync have changed from geometric patterns to lines. With the same fresh and trendy animations, Wavesync is another good choice for Spotify visualizer addicts. When streaming Spotify songs, you can see a variety of wave ripples.
Part 3. Top 5 Best Spotify Visualizer for Windows / Mac / Android
Besides online Spotify visualizer, you can also get help from third-party tools. Also, you need to connect to Internet to use online Spotify visualizer. It is quite inconvenient sometimes. And the animations are quite simple.
To enjoy wonderful Spotify visuals effects, then a third-party Spotify visualizer is needed. Below we have summed up the top 5 best visualizer for Spotify. You can use them to continue enjoying your Spotify music.
#1. Best Spotify Visualizer Android / iOS / Windows - AIMP Visualizer
AIMP Visualizer is one of the music visualizers for Spotify. It works across many operating systems. According to the desktop operating system, it is for Spotify visualizer Windows. Besides, you can use it on Android, or iPhone devices.
It does have the capacity to visualize audio tracks. Also, it gives you up to three options for Spotify visualization. They are Analog Meter Night, CoR's Aorta 1.1 and Analog Meter Classic. Just simply download, install, and activate this tool. Then enable it to visualize your Spotify tracks offline.
#2. Spotify Desktop Visualizer - PotPlayer
PotPlayer is a free music visualizer for Spotify. It is encompassed with powerful algorithms for the utmost visualization for Spotify. So, depending on the loudness of your music, PotPlayer has a unique way of controlling its visuals.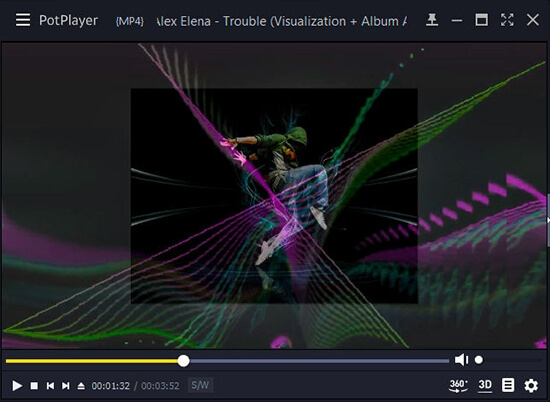 Besides real-time visuals, it offers you great visual effects of different styles for music. You can get Floating ball, Slideshow, WMP visualization and so on. So, whether you need Spotify visualizer Mac or Windows, PotPlayer can meet your need.
Moreover, PotPlayer is a great alternative to VLC media player. It can play lots of audio tracks, not only Spotify tracks.
#3. Best Spotify Visualizer Windows / Xbox One - Kauna
Kauna is a popular Spotify audio visualizer for Windows and Xbox One. Besides, it has the ability to capture audio from a microphone.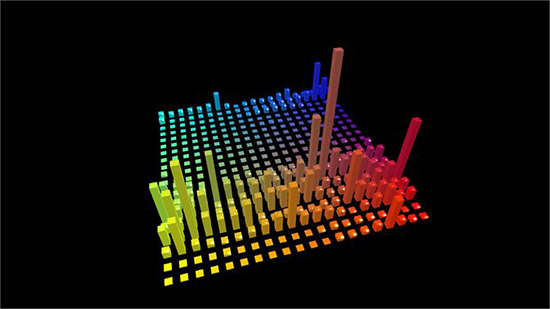 Visualizations on Kauna Audio Visualizer for Spotify:
1. Get waves which are frequencies as fine lines
2. Bars for a rainbow spectrum analyzer
3. Burning clouds or a light ring with background triangles
4. Colored discs and change its size
It also enables you to adjust your sound level sensitivity and to select your desired sound card.
#4. Spotify Music Visualizer Windows - MilkDrop
MilkDrop is a music visualization plugin for Winamp. But is has a unique way of giving you all that it takes for that amazing visualization. This Spotify visualizer uses DirectX and intelligent beat selection criteria. This will bring you the most iterated images. The end result is a constantly changing experience of visuals that blend seamlessly.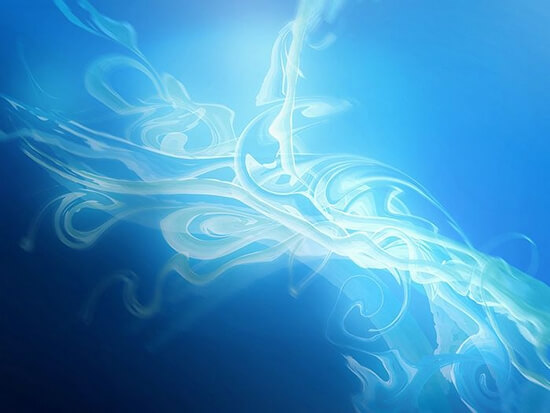 On top of that, it comes bundled with Winamp although you can as well use it as a separate package. Its present pack comprises of over 700 visuals, a number that is here to keep you locked up.
#5. Best Spotify Visualizer Mac / Windows - Synesthesia
Synesthesia is extremely suitable for audio visualizer for Spotify for its built-in effects. Besides, it also has lots of controls for both video and audio effects. All make it a creative app for great music experience. The pre-installed orientation is a plus. This enables easy navigation of this app as you play any Spotify track in its deserving visual form.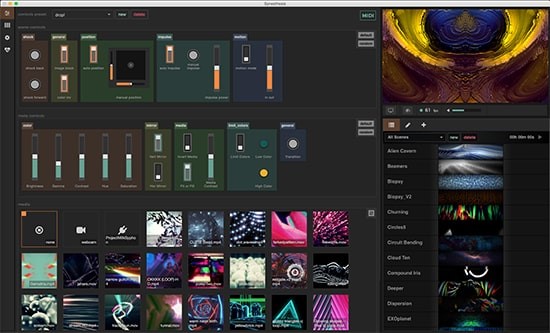 #6. Spotify Visualizer Mac - FullCovered
FullCovered is a tool that can let you browse and play YouTube directly. It can also be used as a Spotify music visualizer. This is because it comes with Spotify and iTunes support.
The FullCovered supports full-screen streaming. It can display multiple artworks if the track has multiple artworks. You can control audio tracks via keyboard shortcuts.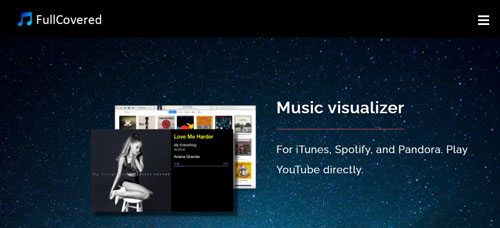 Part 4. Play Spotify Music with Popular Spotify Visualizer
The best visualizer for Spotify is with tons of explicit features to enhance your music. However, you should consider that Spotify music is under protection. Hence, the visualizer download format is not generally compatible with it. This calls for the converting of Spotify songs to plain audios.
To play Spotify with a popular Spotify visualizer, you need a reliable tool. It can convert Spotify music to compatible formats supported by music visualizer. DRmare Spotify Music Converter is the best tool to help you. It can download and convert Spotify music to MP3 and more. This software works by eliminating restrictions from Spotify music streams. As a consequence, you can enjoy Spotify tracks with any Spotify music visualizer.
Step 1. Download and install the app
Download DRmare Spotify Music Converter. Then install it on your device. Once you launch it, Spotify will then kick off automatically.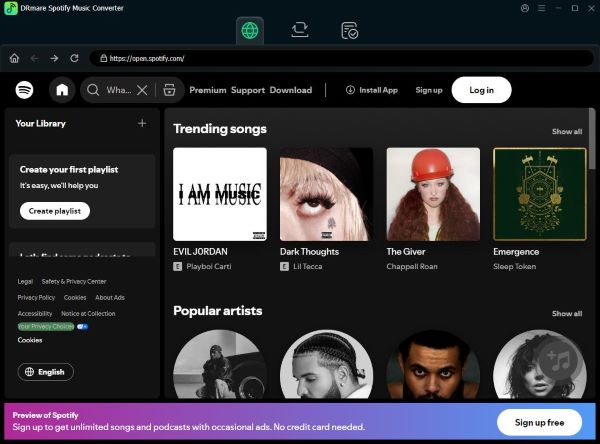 Step 2. Import Spotify songs to DRmare
Drag all the Spotify songs that you wish to download to the DRmare screen. Once all the tracks have been added, you will have to confirm whether they are the ones you need to download.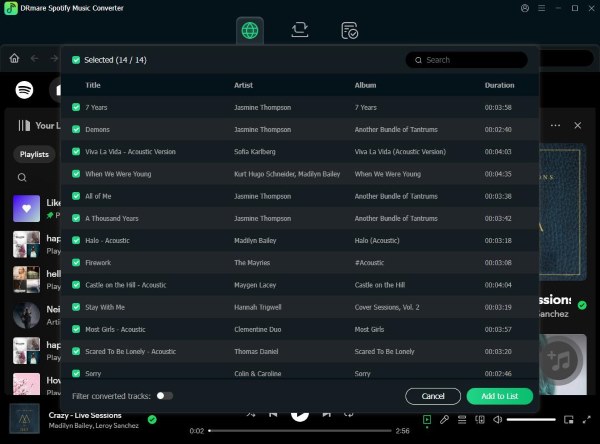 Step 3. Convert Spotify to MP3 with one click
With the hit of the 'Convert' button, your playlist or songs will be converted to the desired format. You can then export Spotify to MP3 players, MP4 players, or any other playback device.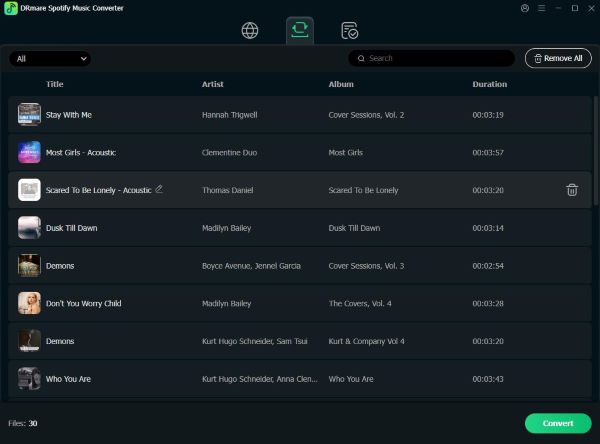 In short, music from streaming services doesn't have their default setting for songs as visual. This is the reason why you need a third-party Spotify visualizer for your favorite tracks. Use DRmare Spotify Music Converter to convert and download Spotify songs without premium. After that, you can make Spotify music compatible with Spotify music visualizer.
Part 5. Conclusion
Besides the above top 8 best Spotify visualizer, there are still some other professional tools. For example, the Rainmeter Spotify visualizer could also be a tool you can't miss. It could be a fully functional Windows audio visualizer for Spotify.
Anyway, no matter which Spotify music visualizer you choose, it will bring excellent Spotify music visuals. Besides, use DRmare Spotify Music Converter, you can easily enjoy Spotify on any Spotify audio visualizer.