Spotify is a really enjoyable software with millions of music tracks to keep users entertained. Songs in several languages are also available. Spotify offers a broad variety of playlists found depending on your interests in a given genre, artist, or album.
One such music compilation based on personal tastes is Spotify Daily Mix. It provides six mix playlists of various genres and musicians you've listened to. It curates music based on your viewing history and suggests additional songs in the mix playlist.
The longer you listen to the Daily Mix on Spotify, the more songs appear in the playlist. If you keep listening to songs from the Daily Mix playlist, you will obtain an infinite amount of music. However, if you don't know how the Daily Mix works and how to find and download it, don't worry. In this article, you'll discover what the Spotify Daily Mix is and how to download the songs from it. Let's get started!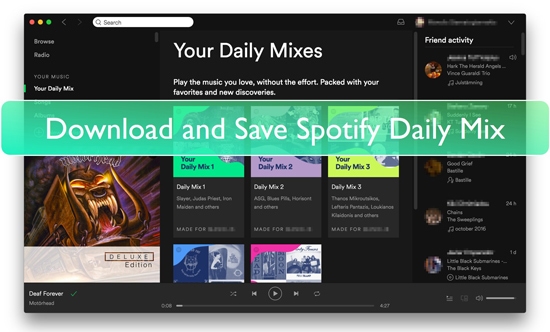 Part 1. Spotify Daily Mix Overview
Before we get into details of how to find and download Spotify Daily Mix, you need to understand what it is and how it works. Please learn more details below.
What Is Spotify Daily Mix?
Spotify Daily Mix is a reliable service that provides customers with both Spotify Premium and Free music for their mobile and desktop devices. The Daily Mix is a collection of more than six pre-mixed playlists created for users to listen to their favorite music. It may be found under "Your Library" on desktop, the radio tab on subscription mobile, or the home screen for users of the new free app experience.
How Does Spotify Daily Mix Work?
Spotify Daily Mix serves out familiar, pleasant, and calming music to its customers based on their listening habits and preferences. It sought to create a high-quality musical experience. Rather than matching consumers' selected music against predetermined genres, it reflects their listening moods.
Daily Mix will detect which artists are listened to the most and place them at the top of each playlist by analyzing users' listening history. Then it will choose comparable songs that users have already played and mix the playlist with fresh suggestions. So, the song position in the playlist is determined by how many times the track has been played. After the playlist is finished, it will play an endless number of songs with a similar style or mood to keep the music running.
Part 2. How to Find Daily Mix on Spotify
The Spotify Daily Mix algorithm works wonders. Most people tend to switch over to the Daily Mix on Spotify when they get dissatisfied with their own playlists since it is focused on the music they like the most.
"How do I find my Daily Mix on Spotify?" If you have no idea where Daily Mix Spotify can be found, follow this tutorial and enjoy Spotify music like never before.
How to Find Your Daily Mix on Spotify
Step 1: Launch the Spotify app on your computer or mobile phone.
Step 2: Hit the Search button or touch on the Spotify app.
Step 3: Click on the Made for You option.
Step 4: Scroll down to the bottom. And then you will find the daily mixes there.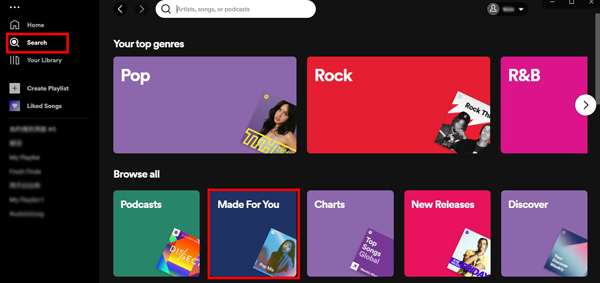 Part 3. How to Save Spotify Daily Mix on Computer/Mobile Phones
"Do Daily Mixes change on Spotify?" Yes. The playlists that makeup Spotify's Daily Mix are automatically changed regularly, meaning that songs on those playlists may vanish from your timeline after a short period.
If you wish to listen to your favorite songs repeatedly, you can add them to your playlist or save them to your Like Songs collection by clicking the heart icon next to each song. However, if you aren't sure how to get Spotify Daily Mix on your PC or mobile phone, follow the methods below.
Save a Daily Mix on Spotify on Computer
Step 1: Launch the Spotify program on your computer, and click on the Search button.
Step 2: Go to Made for You and scroll down to Your Daily Mix.
Step 3: Select the song you like and right-click on it. Select Add to Playlist from the menu that appears.
Step 4: After that, select either the existing playlist name or hit the Create New Playlist option to save the song.
Note: You can also save the song and find out the song in your Liked Song Playlist later.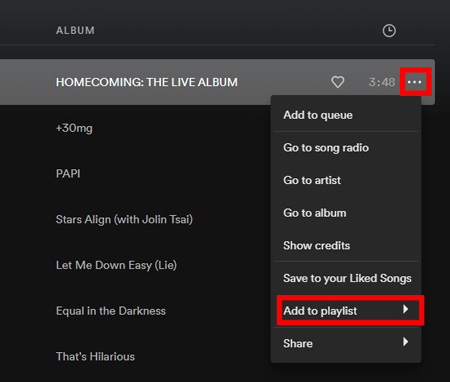 Save Spotify Daily Mix on Mobile Phone
Step 1: Launch Spotify on your mobile phone, and click on the Search button.
Step 2: Go to Made for You, scroll down to Your Daily Mixes, and click on it.
Step 3: Pick the song you wish to save, click on three dots and either hit the Like button or Add to Playlist to save the Daily Mix.
Note: You can save the whole Daily Mix by clicking on the Like button in the Mix.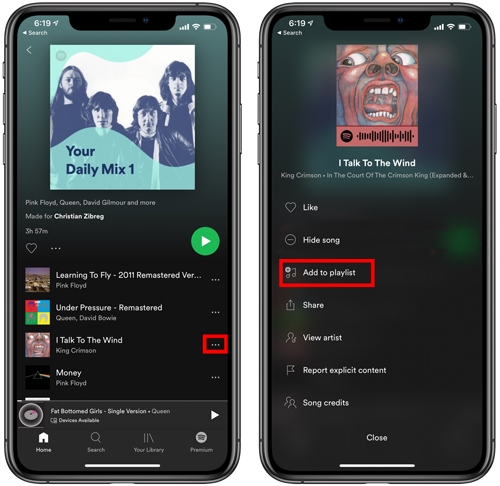 Part 4. How to Refresh Spotify Daily Mix
Spotify Daily Mix adapts to your music tastes. If you hate or ban a song, it will no longer count in your Daily Mix, and Daily Mix Spotify will not broadcast it again or include this in future mixes.
The more tracks you hear, the more frequently your Daily Mixes will change, and the better and more diverse they will become. According to your listening habits, each Daily Mix is focused on a different genre of music.
In this section, we will guide you how to refresh Spotify Daily Mix. The tutorial is shown below.
Step 1: Close your Spotify app and relaunch it.
Step 2: Hit the Search button, and go to Made for You.
Step 3: After that, scroll down to Your Daily Mixes, and click on it. You'll find the new tracks based on the genre you listen to.
Part 5. How to Get Spotify Daily Mix Offline
Wondering how to download Spotify Daily Mix to listen to offline? Well, you can only download Spotify Daily Mixes if you have a premium account. But here, you'd be surprised to know there's a way to download Daily Mix Spotify without paying. For that, you need a third-party Spotify music converter.
DRmare Music Converter is one of the finest streaming music conversion options for Spotify free and premium users. It allows you to download and convert any Spotify track, playlist, or album to MP3, FLAC, WAV, M4A, and other formats. This powerful tool has the ability to download Spotify music at 5X speed. Also, it is customizable and lets you adjust the output parameters such as bit rate, sample rate, etc., according to your need. Moreover, it preserves the ID3 tags and other metadata info so you can manage your Spotify songs for a better listening experience.
Key Features of DRmare Spotify Music Converter
Here you can learn how to download Daily Mix on Spotify by the DRmare Spotify Music Converter. To do that, you have to download and install the Spotify app and this DRmare program on your computer first.
Step 1

Open DRmare Music Converter and add Spotify Daily Mix songs

Launch the DRmare Spotify Music Converter. The Spotify app will be opened then. Go to the Spotify program. Locate the Daily Mix playlist you want to download. Then drag it to the main screen of DRmare program. Or get and paste the link of the playlist on DRmare tool's URL tab and hit the + icon.
Step 2

Reset output format for Daily Mix playlists on Spotify

Now, hit the Menu icon and go to Preferences. Now, select Convert tab in the new window. And then you can start to set the output audio parameters of your daily mixes music. Here you are able to reset the audio channel and more you want.
Step 3

Download Spotify Daily Mix to computer

To download Spotify songs free, hit the Convert button to download and convert Daily Mixes Spotify song to your computer for offline use. Once is done, head to the History icon to find and check the converted Spotify Daily Mix audio tracks. After that, you can move these music files to the device or platform you want to play offline.
Part 6. In Conclusion
In a word, in this post, we learned what Spotify Daily Mix is and how to save songs from it. Moreover, we recommend using DRmare Spotify Music Converter if you wish to download the Daily Mix music on Spotify for offline use for free. Not only that, this tool can download any other content from Spotify to computer. And it can save the Spotify songs with original quality and allows you to adjust the output audio parameters you want. After then, you can get the Spotify music to computer for saving and using anytime and anywhere.