"Why did my Spotify log me out? When I try to log in to my Spotify account from my Windows PC or iPhone, it keeps logging me out. This makes me impossible to listen to Spotify songs anymore. I never had this problem before. Does anyone know what causes it and is there a way to prevent it? Thanks for any help" - Question from Reddit.
When you encounter such a problem, what will you do? Well, you are not alone. The issue Spotify keeps kicking me out is common. You can find couple of discussions online from many forums. In general, you can search online to see if others have experienced the issue and find the magic solutions. Since some solutions are not proven correct, it may take you a large amount of time to test the solution yourself.
In this case, we collect some best solutions here for you which are guaranteed to work 100%. Now let's get started and see how to fix Spotify keeps logging me out of my account issue.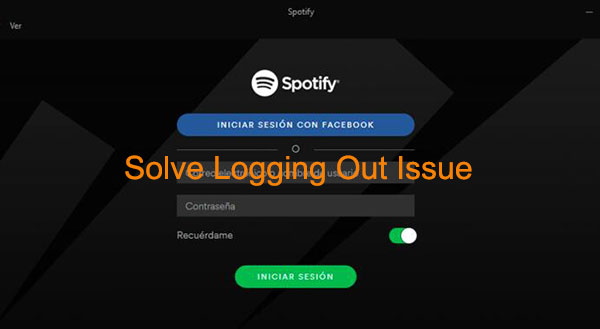 Part 1. Why Did Spotify Log Me Out of My Account
"Why did my Spotify account log me out?" There can be lots of reasons that cause Spotify logged out issue on multiple devices. Here we list some of them for your reference. Please check them out below.
1. Spotify Account Issue: If you are signed into Spotify account on too many devices, then you may be logged out. Besides, if your Spotify account information doesn't match the server side, you will be also kicked out.
2. Using an Old Version of the Spotify App: If you use an outdated Spotify app on your device, then it won't work well. In this case, you will face the log out of Spotify account issue.
3. Spotify Server Error: If the Spotify servicers were down, you will also meet the Spotify sign me out error.
4. Sign Out Everywhere: If the Spotify account you are using now is borrowed from others, then it will cause the Spotify kicked out issue. Maybe the owner of the Spotify account has signed out everywhere. In this case, you need to get a new Spotify account yourself.
5. Spotify Is Not Available in Your Region/Country: Spotify still doesn't work in some countries or regions. If your country is not in the supported list, then you can't use Spotify.
Part 2. How to Solve Spotify Sign Me Out of My Account Issue - Common Solutions
In Part 1, you learned some reasons why has Spotify logged me out randomly. Now, it is time to get fixes on how to resolve it. Please check them below and learn how to make it.
Fix 1. Check the Status of Spotify Servers
The server error may also cause sign out of your account. So, when you face Spotify log out your account issue, you can check its servers' status first. You can go to Spotify's Twitter account to check it.
Fix 2. Sign Out Spotify on All Devices and Sign In Again
Spotify doesn't allow to login Spotify account the same device repeatedly. Yet, due to the cache issue, it may mistakenly thought your account is logged in even you have already logged out. In this case, you can try to force logout of Spotify from all your devices and start over again.
Step 1. Go to Spotify official website, then login with your account and password.
Step 2. Next, scroll the account overview page down to find the button "SIGN OUT EVERYWHERE".

Step 3. You can click it to sign out anywhere including the web, desktop, mobile or any other devices.
Step 4. At last, you can sign in your account again from your device. It should solve the Spotify keeps logging me out well.
Fix 3. Reset Spotify Account Password
Still get the same issue after signing out from all devices? If so, your Spotify account maybe hijacked and used by someone else. You can change your account password according to your account type. If you previously used Facebook account to sign in, then you need to change your Facebook password. Else, you can follow the steps below.
Step 1. Go to Spotify password change page and login it.
Step 2. On the password change page, please input your current password, new password and confirm the new password.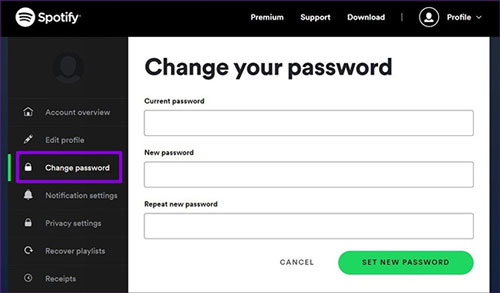 Step 3. Click the button "SET NEW PASSWORD".
Or, you can also try to sign up and log in with a new account. This will cause your curated songs & playlists lost though.
Fix 4. Reinstall Spotify Latest Version
Spotify has great compatibility, but that doesn't mean there is no bug. If you get "Spotify kicked me out of my account", you can also try to reinstall the latest version of Spotify to fix it.
On Windows/Mac Desktops
On the Spotify main screen, you can check the update icon to see if there is a new version available. If yes, you can click it to update automatically. Else, you can reinstall it manually.
Step 1. Go to the Spotify official website and click the "Download" tab menu.
Step 2. From there, you can download the latest version and update it manually.
On Android/iOS Mobile Phones
For iPhone, you can click "Settings" > tap "iTunes & App Store". Then switch "Updates" on.
For Android phones, go to the Play Store to find the Spotify app. Then tap the three vertical dots icon and check "Auto-Update".
To update manually, you can install Spotify from your Android/iPhone first and then start over to restart it.
Step 1. Go to the Apple App store or the Google Play store to search for the Spotify app.
Step 2. Choose the Spotify app and follow the screen wizard to install it.
Fix 5. Remove System Cleaning Apps from Your Device
If you have installed some system cleaning software on your device, they may delete your saved Spotify account info. Also, the cached songs or playlists from your computer or mobile phones will be removed.
To prevent Spotify from logging you out, please make sure the system cleaning software doesn't run automatically. Or, you can uninstall it so that to get rid of the problem forever.
The instruction may vary on different system cleaners. But the usual way is to go to the settings page of it and then you should find the option stop it from running automatically. And you can uninstall it directly just like any other apps.
Fix 6. Remove Access for Third-party Apps
If you have connected third-party apps with your Spotify account, then you may get the sign out of Spotify account error. In this case, you can try to disable access to these third-party apps on Spotify.
Step 1. Head to the Spotify website on your device and log in to your account.
Step 2. Find and click on the 'Apps' option from the left menu.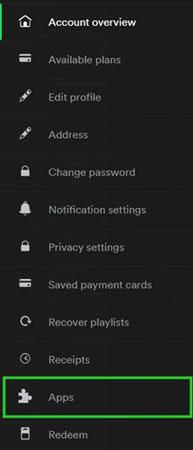 Step 3. Then hit on the 'REMOVE ACCESS' button next to each app to disable Spotify from other apps.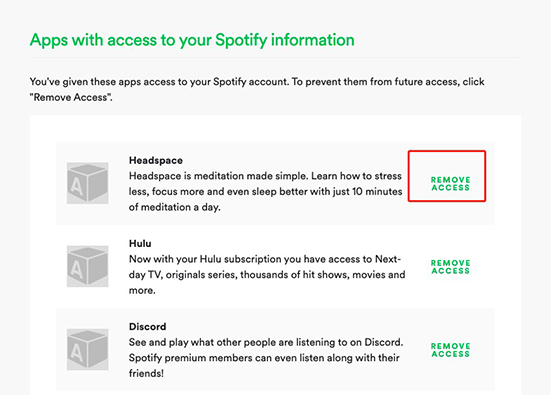 Fix 7. Contact Spotify Support Team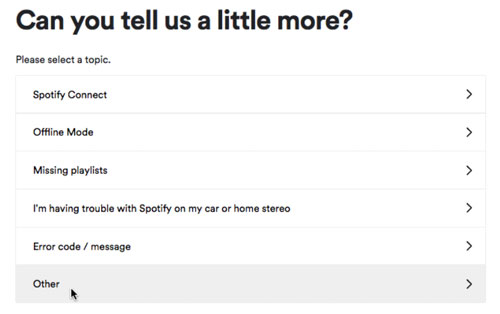 If you try all the solutions above and still can't fix my Spotify account logged me out error, then you can ask for help from the Spotify Support team. You can head to the Spotify Support Page and explain the issue you met. Then they will assist you.
Part 3. How to Avoid Spotify Keeps Logging Me Out - Best Solution
Here we'd like to introduce the best way to you to solve Spotify sign me out issue. That's you can download songs from Spotify for offline listening without using the Spotify app. If you subscribe to Spotify Premium, it allows you to download 10,000 songs to up to 3 devices for offline listening. But you will still be involved with the Spotify signs me out issue.
Also, due to the protection of Spotify OGG songs, even after downloading, you can still only play them with the official Spotify player. And you need to log in to Spotify at least once every 30 days to let Spotify know you are still a valid subscriber.
Now there is a better solution to avoid any Spotify account issue. You can turn Spotify songs to MP3 by using the DRmare Spotify Song Downloader. It is an efficient tool which can batch convert Spotify to MP3, M4A, AAC, WAV, and FLAC within 1 click. Also, you can adjust output channel, bit rate and so on. And this program can work in a fast rate. After that, you can get local Spotify files and play Spotify offline forever.
DRmare Spotify Music Downloader
No matter if you have a Spotify premium account or not, DRmare software works great. Now let us show you how to grab Spotify songs offline with ease. But before starting, you need to download and install this tool on your computer in advance.
Step 1

Drag & drop Spotify song/playlists to DRmare Music Converter

Open DRmare Music Converter and the Spotify app will load at the same time. And then you can start to add Spotify songs to it. The most intuitive way to import Spotify songs is by dragging & dropping the songs from Spotify to DRmare main screen. Or, you can copy the Spotify song URL and put it in the blank box on the DRmare tool. Next, you have to touch the '+' icon to import Spotify tracks.
Step 2

Set Spotify music format

Unless you have a special requirement, you can keep the default preset MP3 profile. It will help you get the most universal Spotify to MP3 songs. If you want other output formats, you can find the Preferences section in the DRmare tool. Then you can begin to reset audio format and other audio parameters for Spotify audio files. After that, click on the 'OK' button.
Step 3

Save Spotify songs as MP3

Finally, click on the "Convert" button, it will turn your Spotify songs to MP3 songs. When it is done, you can enjoy Spotify MP3 songs on your computer and transfer them to other devices for playing.
This is the 100% work guarantee solution to solve Spotify logging out issue.
Part 4. The Verdict
"Why does Spotify kick me out?" Here in this post, you get the reasons and solutions for Spotify sign me out error. You can check and follow the fixes above to resolve this issue on your device. Besides, you get the best method to Spotify logged out. That's to use DRmare Spotify Music Converter to download Spotify music as local files on your computer. Then you can listen to Spotify songs offline on your device without using the Spotify app and logging to your account. In this case, you won't meet the Spotify keeps logging me out issue.