When it comes to listening to some good music then the giant music streaming services like Spotify and YouTube throng your mind almost instantly. You, however, don't expect these services alongside others to offer equality. Where there is an array of choices, there definitely has to be distinctions. And that's where we want to kick off with Spotify vs YouTube Red comparison.
Remember that YouTube is too big to probably offer all the flavors in one package. From YouTube Gaming, YouTube Kids to YouTube Music, and now YouTube Premium! The later is dedicated to ad-free music-related videos and is currently the YouTube Red. This YouTube option is designed to be easy to play and encompasses a personalized collection.
But speaking of Spotify, the Swedish music streaming service seems to be scaling the heights with every additional subscriber to its already over 150 million. Let's get into finer details of these two music streaming services.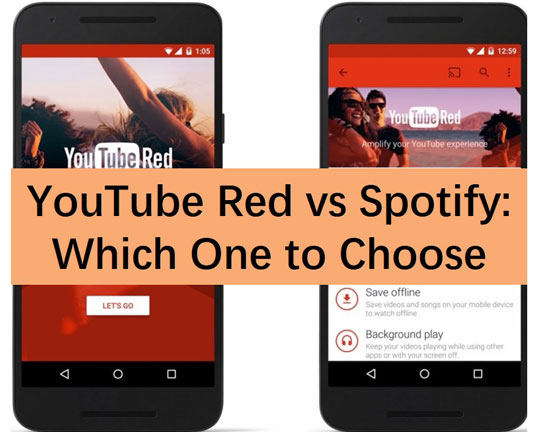 YouTube Red vs Spotify User Base
Spotify knows how to offer everything in one package. Its larger user-base gives it an upper hand in user experience and search mechanisms. It reports over 150 million subscribers and is still out for more catch.
YouTube Red, on the other hand, has an eye for detail. Even though it is still not yet available in many countries, it has included Google Play Music at no additional cost for various countries. In a matter of time, it probably could lock in both its users and Googles' in one basket.
Winner: Spotify, because of its larger user base and availability in about 100 countries.
Music Discovery
Spotify cares about what you feel and lets you find music for any mood. And whether it's the old school hits or newly fresh hits that you need to discover, worry less because 'Fresh Finds' opens doors to the new kids on the block. Use this feature to discover the newest artists in town. And when it comes to the artists you most love then 'Focus' is the in-thing for you. Additionally, don't forget about the 'Discover Weekly' for your weekly treat.
YouTube Red, on the other hand, echoes background play so even with a closed app, you still continue listening to your audio. It also incorporates 'Offline Mixtape' that brings you what it thinks you like. Alongside, 'Siri' shortcut is a good point to kick off those forgotten tunes.
Winner: It's a tie.
Spotify vs YouTube Red Audio Quality
This will depend on the sensitivity of your device. Either way, you'll definitely feel the difference. Spotify offers you up to 320kbps if you are on Premium subscription while free-plan users would get a 128kbps. Likewise, it can turn down its saver mode to 96kbps. For YouTube Red, you can enjoy a bit rate of 256kbps and a stream at 48kbps AAC.
Winner: Spotify. Not only does it offer a higher audio quality but it can also steam at higher beats per second for better sound production.
Note: If you are using Spotify free account, you have to use an additional DRmare Spotify Music Converter to improve the sound quality from 160 kbps to 320 kbps. Besides, this tool enables you to download Spotify playlists for offline playing without Premium.
Music Library
On Music Library, YouTube Red vs Spotify data has a lot in place. Spotify gives its users access to over 40 million songs, together with free podcasts and the curated playlists that they love. Furthermore, you can play your favorite music on any device like your computer, mobile, or tablet either offline or online.
Alike, YouTube Red cares for background and offline listening. Also, watch millions of videos and music that are uninterrupted by ads. Likewise, get hooked to the Google Play Music streaming service that comes as an offer with YouTube Red.
Winner: It's a tie for the two.
Price
A close look at Spotify Premium vs YouTube Red is likely not going to give us a major difference in terms of the bucks. However, what matters are the in-details of what you get. Both YouTube Red and Spotify Premium cost $9.99 per month for a single user. Even though YouTube Red has a single option, Spotify has a bit more considerations for students and a family package. Students enjoy a monthly cost of $4.99 while a family of six users can get a monthly package of $14.99.
While Spotify offers on-demand music, YouTube Red goes a notch higher to offer everything on YouTube. And it doesn't end there! YouTube Red gives direct access to Google Play Music streaming service.
Winner:YouTube Red. Even though Spotify offers three different packages, YouTube Red gives free access to Google Play Music for the same costing as Spotify Premium single-user subscription.
User Interface
YouTube Red gives you a head-on approach with its easy user-interface. Once you hit the 'Let's go' button, it directly leads you to its major functionalities. With 'Ad-free videos', you directly watch any videos for free as well as save them for offline use. Heading to 'background play', you'll play and enjoy your videos in the background without interruption even when another app is open.
Spotify also has its share of a user-friendly interface. Even though it may appear busier for a first-timer, it shows more functionality by a simple glimpse. Besides, all of these are categorically arranged on the left-side of your home screen. The 'Home' feature shows you any new thing that Spotify has in place. When you go to the 'Browse' section, you can search for songs according to the genre, playlist, and so on. Hitting the 'Your Library' will populate much more stuff like the recently played songs, favorite songs, 'Made For You' selection besides Podcasts, Stations, Videos, and many more.
Winner: Spotify. With this music streaming service, you get almost everything in a single view making it easy to locate your music files.
The Bottom Line
The tough battle between Spotify vs YouTube Red has finally come to an end. On the Music Discovery and the Music Library, these two giants scramble for equal capacities. That is not all that matters though as many users will run towards a superb user interface and excellent audio quality, which Spotify stands a better chance of providing.
So going by the popularity, many users would still hang on to Spotify even as they await for better things ahead from YouTube Red other than the free leeway to Google Play Music streaming service and a user-friendly interface.