If there is one thing that speaks loud about Tidal, then it's got to be the hi-res sound quality. Tidal is continuing to widen its wings, currently covering 80+ million songs and over 350,000 videos all over the world.
Additionally, it keeps on attracting more users with available integrations like a free trial for 30 days once you subscribe to the Tidal Plus option. Tidal has also integrated with mobile platforms for Boost Mobile Tidal to provide Tidal free trial for up to 6 months. Many users are still sourcing for answers on how to activate the Boost Mobile to enjoy such free streams from Tidal. Now, you can check below for an in-depth guide.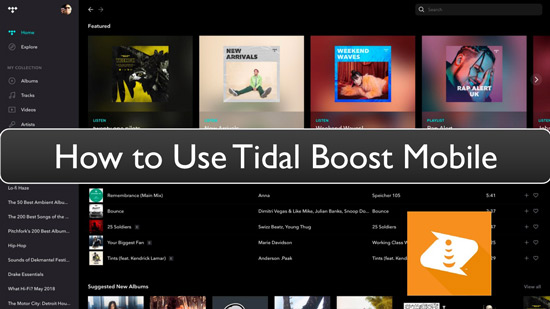 Part 1. What Is Tidal on Boost Mobile
Boost Mobile is a virtual network operator that Tidal has integrated with to help users listen to Tidal on assorted mobile devices. The operator has extraordinary services including mobile hotspots, unlimited talk, and text. More so, you'll enjoy free Tidal music for 6 months before you upgrade your account.

Part 2. How to Activate Tidal Boost Mobile
You may already be thinking about how to connect Boost Mobile and Tidal to enjoy Tidal 6 months free Boost Mobile. First, please ensure you have updated both Tidal and Boost Mobile app running on your device before you activate Tidal Boost Mobile. After that, check out the steps below.
Step 1. First, log in with your Boost account. Then hit on the "Manage Add-ons" icon to access the Tidal 6-month add-on.
Step 2. Next, navigate to the "Other" section and press on the "NOW and GO" icon. Then choose the "Tidal 6-month trial" option.
Step 3. Now add the Tidal 6-month option to your cart and submit for review. Immediately the Tidal offers are included in your Boost account, you will then receive a text message that has a Tidal app download link.
Step 4. Download and install the Tidal app on your phone to enable listening to Tidal songs for free.

Please note that you are not entitled to create a Tidal account when playing music from Tidal on your phone. The best option is to cancel Tidal in advance so that you can use Tidal free with Boost Mobile.
Part 3. How to Cancel Tidal on Boost Mobile
In this part, we will show you how to cancel subscription to Tidal Boost Mobile in detailed steps.
Step 1. Launch the Boost Mobile app on your device and click on the "Account" tab.
Step 2. Then click on the "Manage plans and add-ons" option located at the top of your screen.
Step 3. Select the "6 Months Tidal HiFi ON US" add-on and choose the "Manage add-on" option to remove it. After that, you just cancelled Tidal on Boost Mobile.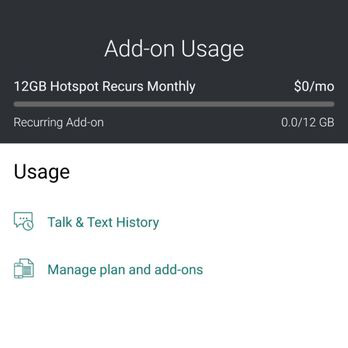 Part 4. How to Save Tidal Music Forever before Canceling Boost Mobile Tidal
It is noted that you will lose your saved Tidal music once you cancel your Tidal Boost Mobile subscription. However, you can opt to keep Tidal songs forever with the top-notch converter tool. DRmare Tidal Music Converter is at your service to download and convert Tidal music, albums, and playlists in several audio formats. It supports FLAC, AAC, WAV, M4B, MP3, and M4A audio formats.
The conversion speed for Tidal tracks is good and fast, managing your Tidal tracks at a 5X speed on Windows computers and 1X on Mac operating system computers. DRmare will also classify your Tidal songs and other Tidal content by album or artist. The output quality of Tidal songs is incomparable as it maintains the 100% originality ID3 tags including the title, cover, year, and genre. Most importantly, it gives you the freedom to listen to Tidal on any media player or device offline without further restrictions.
How to Convert and Keep Tidal Audio on the Computer Forever by DRmare Tidal Music Converter
Please visit the official webpage of the DRmare Tidal Music Converter and choose your computer's version as DRmare supports both macOS and Windows OS computers. And then download and install this DRmare converter on your computer.
Step 1

Log into your Tidal account

Once you installed DRmare Tidal Music Converter on your computer, open it and let the Tidal music app show automatically. And then you need to log in to your Tidal account to access your Tidal music library.
Step 2

Define output format and parameters for Tidal music files

Go to the "Menu" tab, select the "Preferences" option and wait for the "Settings" window to pop up. Next, click on the "Convert" tab and begin to adjust the output format for Tidal audio files. Nonetheless, you can also customize other parameters such as audio channel, bit rate, sample rate, etc. according to your needs.
Step 3

Import Tidal music to DRmare

Locate the Tidal playlist that you want to convert and touch it. Then click on the "…" icon to choose the "Share" option. Next, select the "Copy Track Link" option to copy the playlist's link address. Next, paste the link on the DRmare's interface search bar and click on the "+" icon to add the songs. They'll then be loaded into DRmare's program for conversion.
Step 4

Convert Tidal songs to computer

After that, hit on the "Convert" button and let the conversion process go on. Once the conversion process is completed, locate the "Converted" Tidal songs on your computer's local disk. Just click on the "Converted" icon > "Search" icon to locate the local Tidal songs. Then you can keep them to your computer forever. Also, you can transfer and listen to Tidal offline on any device and platform.
Part 5. Conclusion
You now know how to activate Boost Mobile free Tidal trial. But there comes a time when you want to cancel your Boost Mobile Tidal subscription but also fear losing your loved songs. In such a case, DRmare TidiKit Music Converter has the perfect solution. It will convert your Tidal tracks into several common audio formats and allows you to listen to your Tidal music track offline on any device forever.