Now you can use Tidal with Sprint, as we all know that the Sprint corporation bought 33% of Tidal on 23 January in 2017.
Tidal is a subscription-based service that offers music, podcast, and video streaming with lossless audio and high-quality videos. Sprint corporation was an American telecommunication company. It was one of the largest mobile network operators.
There were rumors and reports that Tidal was facing some problems about managing the payments and their service was going down. So, they were looking for a partner that can invest in their service so that they can keep up with many music labels. Sprint Tidal partnership which was worth $200 million was formed to stabilize the company and to improve the service.
Following were the changes we noticed after this Tidal Sprint partnership: high fidelity, lossless audio quality and high definition music videos.

Part 1. How You Can Avail Tidal with Sprint
As we all know that Sprint and Tidal are now partners, which will benefit both the partners in different ways:
As Tidal was facing many problems, the investment of $75 million for marketing funds by the Sprint corporation will help the Tidal service to stabilize and improve. It will also help Tidal to increase its subscribers as Sprint corporation already has 45 million subscribers. And they will buy the subscription if both the companies make good deals.
And Tidal can also expand its marketing and business by using good strategies. And the CEO of the Sprint corporation will also be able to take part in the board of meeting of Tidal.
Now Tidal has created an attraction for its customers by proposing two different plans for its customers. Here are the plans:
Through Sprint Unlimited Plus plan, you can get Tidal free with Sprint and there are other services you also get, like expert's playlists, 60+ million songs, exclusive artists content, 250000+ music videos, and giveaways.
Through Sprint Unlimited Premium plan, you can get a free HiFi membership of Tidal through the Sprint. There are other offers also with this plan, like giveaways and songs with high fidelity.
Part 2. How to Get Tidal for Free with Sprint
Here are the following steps for how to get Tidal for free with Sprint:
First, you should go to the Sprint website and then select the sign-in option. Then write your username and the correct password. And make sure to remember it.
Then you have to select the manage plan option by scrolling down to the desired PTN or you can also choose the device.
While you are on the same device or the PTN, go to the next page and select the manage services option.
To avoid any kind of mistakes and inconvenience, you should double-check your PTN whether it is right or not.
After all this process, there comes a page on which you have the option of a service add-on where you can select the Tidal option. And you can also uncheck the services that you want to be removed.
To make sure that your changes are saved, you must click on the Save button.
After doing all the work, you must click the OK button to end the subscription process.
Then you have to wait for some time like 1 to 2 hours so that the changes are made. Logout from the account and login after 1 to 2 hours to check. After doing all this, you will receive a text message and you will also get a link to download the application.
If you are an iPhone user, then there will be a slight difference that you have to connect to the Sprint network and the rest of the process is the same.
This is how you get Tidal with Sprint as it is a quite simple process.
Part 3. How to Cancel Tidal Sprint
If you have an account registered through Sprint device, then this is how to cancel Tidal Sprint:
Go to the Sprint website and then log in to it with the correct username and password.
Then you have to click on my selection and after clicking on it you have to click on the settings.
Then go and select the option to edit my profile. There comes the option of manage subscription.
After that, you have to click on the subscription form where you can cancel the Tidal Sprint by clicking on the cancel subscription button.
Part 4. How You Can Avail Tidal for Free
After knowing that what is Tidal on a Sprint, you must be thinking about getting a subscription. As Sprint is offering a 6-month trial after choosing its one of the two plans. What will you do after this 6-month subscription as you do not have the resources to afford the subscription? We can also get a free trial of 30-days by Tidal service. But the problem with these trials is that:
We cannot access the music videos and podcasts after the free trial ends. Now you have to buy a subscription to get the videos.
There is no chance of watching videos, music, or podcasts that you even have downloaded after the subscription ends.
But every problem has a solution and in this case, your solution is DRmare Tidal Music Converter. You can download any video or music from Tidal after downloading this application.
The good thing about this application is that you can convert your video to your desired format like MP3, FLAC, and WAV etc. Another good point about this app is that there will be no compromise in the quality of the video after you download it through this app. Last but the most positive side of this app is that you can watch and listen to the music that you have downloaded through this app even after the subscription ends.
DRmare Tidal Music Converter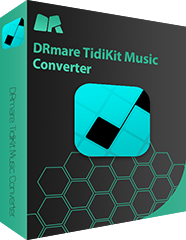 Download Tidal audio files offline with no quality loss.
Convert Tidal to FLAC, WAV, MP3, AAC, etc.
Play Tidal on any devices with no network connection.
Save Tidal songs on your computer for using forever.
Here are the steps on how it works.
Step 1

Add Tidal audios to DRmare program

After installing DRmare Tidal Music Converter on your computer, please open it. Then go to Tidal app to copy the track's link. And then paste it to the search bar of DRmare program and touch on '+'.
Step 2

Set output format

Go to the menu option and click 'Preferences' > 'Convert' to start to set the output format for Tidal music you like. You can also set the bit rate, channel, sample rate, etc. for Tidal music.
Step 3

Convert Tidal music

Touch on 'Convert' button to convert Tidal music at once. After then, you can check the files on your computer via the 'Converted' button. Then you can keep Tidal music on your device for using offline forever.
Part 5. Conclusion
If you feel good to listen to music, then why not listen to it in its purest form or as the artist intended. The Tidal service which has a partnership with Sprint will allow you to listen to music and watch music videos in extremely good quality. Now you can also avail of free trials so that you know the difference in the quality of music.