"Is Tidal free with Sprint?" Tidal is a subscription-based service that offers music, podcast, and video streaming with lossless audio and high-quality videos. Sprint corporation was an American telecommunication company. It was one of the largest mobile network operators. And we know that Sprint corporation bought 33% of Tidal on 22 January in 2017. In this case, you can use Tidal with Sprint.
Here in this post, we will introduce you more about Sprint Tidal. And we will show you how to get free Tidal through Sprint. Also, we will show you how to enjoy Tidal music for free forever with the best tool. Now, follow the parts below and begin.

Part 1. What Is Sprint Tidal
There are two plans of Tidal Sprint. They are Sprint Unlimited Plus and Sprint Unlimited Premium. With them, you can get a free Tidal HiFi and HiFi Plus membership separately. Also, you will access different services.
By getting a Sprint Tidal account, you can access more than 90 million tracks and 450,000 videos. You can also get live events and ticket giveaways. With Sprint Unlimited Premium, you can even enjoy Tidal MQA audio on mobile and desktop.
Part 2. How to Get Free Tidal with Sprint
Now, we learned what is Tidal on Sprint. So, how to use Tidal with Sprint? Don't worry. Here are the following steps for how to activate Tidal with Sprint:
Step 1. Go to the Sprint website and then select the sign-in option. Then write your username and the correct password. And make sure to remember it.

Step 2. Select the manage plan option by scrolling down to the desired PTN. Or, you can also choose the device.
Step 3. While you are on the same device or the PTN, go to the next page and select the manage services option.
Step 4. To avoid any kind of mistakes and inconvenience, you should double-check your PTN whether it is right or not.
Step 5. After all this process, select the Tidal option on the page. And you can also uncheck the services that you want to be removed.
Step 6. To make sure that your changes are saved, you must click on the Save button.
Step 7. After doing all the work, you must click the OK button to end the subscription process.
Then you have to wait for some time like 1 to 2 hours so that the changes are made. Log out from the account and log in after 1 to 2 hours to check. After doing all this, you will receive a text message and you will also get a link to download the application.
If you are an iPhone user, then there will be a slight difference that you have to connect to the Sprint network and the rest of the process is the same.
That is how you activate Tidal Sprint as it is a quite simple process.
Part 3. How to Cancel Tidal on Sprint
After signing up for free Tidal with Sprint, you may want to cancel it for any reasons. Here in this part, we will show you how to cancel Tidal Sprint. Please check the steps below.
Step 1. Go to the Sprint website and then log in to with your Sprint account.
Step 2. Then you have to click on your device. Then pick up 'Change my services' from the drop-down list.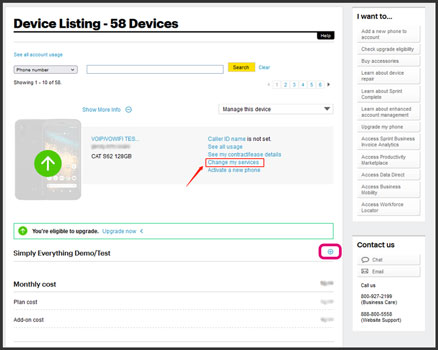 Step 3. Next, click on the 'Unsubscribe' option. At last, you will cancel Tidal on Sprint.
Part 4. How to Get Tidal for Free Forever
After knowing that what is Tidal on Sprint, you must be thinking about getting a subscription. Sprint offers a 6-month trial for Tidal after choosing one of its two plans. What will you do after this 6-month subscription as you can't afford the subscription later? Besides, you can't access downloaded Tidal songs any more once the subscription ends. And you can't move Tidal music files to other devices for use offline. Also, sometimes you may face Tidal Sprint not working issues. So, how to remove these limits?
No worries. Your solution is DRmare Tidal Music Converter. With it, you can download any music from Tidal and save them to your computer forever. By using this tool, you can convert Tidal music to MP3, FLAC, AAC and more plain audio formats. Besides, it won't touch the original quality of the Tidal tracks. In this case, you will get a better output audio quality of Tidal files after converting.
In addition, this tool can run at a fast speed and you can save time for the conversion. After that, you can save Tidal music on your computer for free forever. At last, you can transfer Tidal audio files from computer to other devices or platforms for playing offline. Moreover, you don't need to subscribe to a Tidal premium account and use the Tidal app to enjoy Tidal songs.
DRmare Tidal Music Converter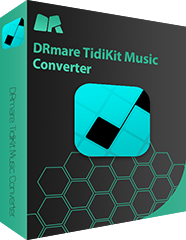 Download Tidal audio files with no quality loss
Convert Tidal to FLAC, WAV, MP3, AAC, and so on
Play Tidal on any device with no network connection
Save Tidal songs on your computer for use forever
Here let's check how to use DRmare Tidal Music Converter to convert and store Tidal music to computer for free. To start, please download and install the DRmare Tidal Converter on your computer. Then you can move on.
Step 1

Add Tidal audio to the DRmare program

After installing DRmare Tidal Music Converter on your computer, then open it. After that, go to the Tidal app to copy the track's link. And then paste it in the search bar of the DRmare program and touch '+'. Besides, you can drag and drop Tidal music tracks from the Tidal app to the DRmare tool one by one.
Step 2

Set output format for Tidal songs

Go to the menu option and click 'Preferences' > 'Convert' to start to set the output format for Tidal music. You can also set the bit rate, channel, sample rate, and more for Tidal music. After then, hit 'OK' to finish.
Step 3

Convert Tidal music

Touch the 'Convert' button to convert Tidal music at once. After then, you can check the files on your computer via the 'Converted' icon. Then you can keep Tidal music on your device for use offline forever.
Part 5. FAQs about Tidal Sprint
Q1: Will I Keep My Tidal Playlists If I Have an Existing Tidal Account and Sign up via Sprint Unlimited Plus?
A: Yes. If you pay via your Sprint account, then your playlists will be migrated automatically. Or, if you pay via credit card, PayPal or Apple Pay, then you need to cancel your current payment. Then contact Tidal Support to help transfer your playlists to your new account.
Q2: How Do I Get Tidal Free with Sprint?
A: You can subscribe to Sprint Unlimited Plus or Sprint Unlimited Premium to get Tidal for free. Then you will get a 6-month free trial of Tidal HiFi or HiFi Plus.
Q3: Can I Cancel Tidal on Sprint?
A: Yes, you can cancel Tidal Sprint at any time you want. You can check the detailed steps in Part 3 to make it.
Q4: Can I Keep Tidal Files Forever?
A: With a Sprint Tidal subscription, you can stream and download Tidal music. Yet, you can't save them forever. The downloaded songs from Tidal will disappear when the subscription ends. So, if you want to keep Tidal music tracks forever, you can use DRmare Tidal Music Converter to convert and store files on your computer. Also, you can use them anywhere and anytime you want.
Part 6. Conclusion
With Tidal and Sprint, you can access Tidal free for 6 months and you can download Tidal music for offline listening. Also, you learned the process of Sprint Tidal activation and knew how to cancel Tidal on Sprint.
Besides, if you want to keep Tidal songs on your device forever, then you can get help from the DRmare Tidal Music Converter. With it, you can download Tidal tracks without subscribing to Tidal HiFi or HiFi Plus. Also, you can listen to Tidal music offline on desktop and other devices with ease.