Yamaha products include receivers, soundbars, and wireless speakers. They bring studio-grade sound to your home. It would be a great listening experience by playing music through Yamaha products. What's more, some of them are integrated with the Tidal app. We know that Tidal is a global entertainment platform to listen to music and connect to artists in multiple ways. In this music service, users can access more than 60 million songs and 240,000 high-quality videos.
With the Yamaha Tidal integration, users can access Tidal music with HiFi quality through the MusicCast app. This app lets you stream all your music and other audio content in your home with easy control. But first, you need to get the Tidal music on your computer to listen to.
But how to get Tidal music to computer? To make it, you can get help from the DRmare Tidal Music Converter. It can help convert Tidal songs and then you can play Tidal on Yamaha receiver. Now, let's learn more about this tool and get Yamaha Tidal connect.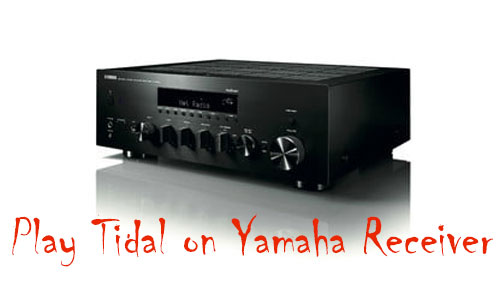 Part 1. How to Get Tidal Yamaha Receiver Work - Best Tool
To get Tidal connect Yamaha receiver, you can use the DRmare Tidal Music Converter. It allows you to convert and download the protected Tidal songs for use on any device. And it has the best features such as offline listening, lossless sound quality, high-speed conversion, and many more. It lets you save music tracks, playlists, and albums so that you can use Tidal on Yamaha receiver. You don't do any subscription to avail of this feature.
To download the Tidal songs, this converting software will show you multiple options in a drop-down menu. You are free to choose any of the formats compatible with your devices, such as MP3, FLAC, WAV, AAC, M4A, or M4B. You can also edit the ID3 tags and output parameters such as title, artist, album, year, or genre.
If you play Tidal on a Yamaha receiver, then you demand high-quality music. DRmare Tidal Music Converter offers you to convert and download high-quality music, HiFi music and MQA audio. Even you don't have to wait to download a large queue. Its 5X conversion speed converts the Tidal music at once.
When you have downloaded Tidal music, you can transfer them to any device and play them on the local music player.
DRmare Tidal Music Converter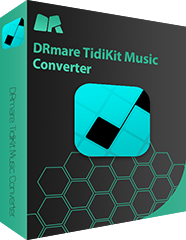 Convert and download music from Tidal for Yamaha receiver
Get Tidal music to MP3, AAC, WAV and other audio formats
Support to connect Tidal to Yamaha receiver and other devices
Keep full metadata and the original quality of Tidal songs
Part 2. How to Play Tidal on Yamaha Receiver
DRmare Tidal Music Converter is available for both Windows and Mac users. So, you can choose the right version of this tool for your computer. To get Tidal on Yamaha receiver, follow our below user guide and enjoy the Tidal music for free.
Step 1

Get the DRmare Tidal Music Converter

To test the features of this converter, you can get its free trial version. Download it from its webpage or click on the 'Download' button above. Also, you need a Tidal music app installed on your computer. After that, open the DRmare Tidal Music Converter. It will also load the Tidal app.
Step 2

Import playlists from Tidal to DRmare

Now search for the Tidal music tracks, playlists, or albums that you want to download in the Tidal app. Click on the three dots icon next to the title of the tracks. Then hit on 'Share' and 'Copy Tidal Track Link'. Now paste the link to the search bar of DRmare software. And then choose the '+' icon to load Tidal files.
Step 3

Choose the output formats for Tidal Yamaha receiver

When you have added the songs to convert, now go to the menu bar to choose 'Preferences' and then the 'Convert' option. Here you can choose the output format from the drop-down menu such as MP3, FLAC, AAC, WAV, M4A, or M4B. You can also customize the sample rate, bit rate, and so on for Yamaha Tidal connect.
Step 4

Start downloading Tidal music for Yamaha receiver

Once you have finished all settings, click on 'OK' to confirm. Then you will go back to the main window where you can see all the added Tidal playlist. Tap on the 'Convert' button at the bottom right corner to begin the conversion. After this process, you can locate the converted files by choosing the 'Converted' > 'Search' option.
Step 5

Transfer and connect Tidal to Yamaha receiver

Now you can transfer Tidal music files to Yamaha receiver via USB cable from your computer. Or you can use Bluetooth to stream Tidal music on Yamaha receiver. After that, you can play Tidal on Yamaha receiver offline without any issue.
Extra Tips: Best 3 Yamaha Receiver for Your Choice
In this part, we will list the top 3 Yamaha receiver for you to choose from. Please check out the detail of them below and learn more.
Top 1. Yamaha RX-V6A
Yamaha RX-V6A should be the best choice for you. It is a 7-channel device with an output of 100 watts/8 ohms power. And it supports Bluetooth and WiFi connection and works well. Also, it allows music playback via Spotify, Pandora, AirPlay2 and MusicCast. Besides, it supports Dolby Atmos and DTS:X. Yet, it won't show the current sound codec on the screen.
Top 2. Yamaha RX-V385
Yamaha RX-V385 has a power output of 70W/8 Ohm. It is easy to use and can do the instant setup via the on-screen menu. Also, it has lots of settings to alter the core parameters and you can label inputs. Yet, it supports the Bluetooth function no WiFi connection is supported. Also, there are no dedicated input buttons with it. Moreover, it doesn't support any music streaming services.
Top 3. Yamaha RX-V685
Yamaha RX-V685 supports the latest HDMI standards. So, it is a nice choice if you want to watch 4K content in good quality. It supports video functions are 4K/60 Hz pass through, upscales HD video signals to 4K Ultra HD. And it can stream media files via Bluetooth and WiFi. For the streaming services, it supports Tidal, Deezer, Spotify, and Pandora. And it allows to stream music via the AirPlay2 feature.
FAQs about Tidal Yamaha Receiver
Q1: How Long Should a Yamaha Receiver Last?
A: In general, a Yamaha receiver can last over 5 years and longer.
Q2: How Can I Play Tidal on Yamaha Receiver?
A: To connect Tidal to Yamaha receiver, you can use the DRmare Tidal Music Converter. It can help convert and store Tidal music as local files on your device. Then you can transfer Tidal songs to Yamaha receiver or other devices for playing offline.
Q3: Which Is the Bes Yamaha AV Receiver?
A: The Yamaha AVENTAGE series would be the best line of Yamaha AV receiver. They have different design features and build quality. Also, they provide advanced music features to improve the overall sound experience.
Conclusion
Now, you learned the steps on how to play Tidal on Yamaha receiver. To do that, you can convert and download Tidal songs by the DRmare Tidal Music Converter. And then you can play Tidal music offline with lossless quality on a Yamaha receiver. Not only that, you also can enjoy the converted Tidal songs on multiple devices with ease offline.