Streaming music is one of the ideal and best way to listen to all your favorite music. When it comes to listening to music or songs, you can't choose a source that is incapable of offering goof good quality sounds and music collections.
In the industry of music streaming, you will find a lot of music service providers, but which one is the best for you? Everyone has their own streaming partner choice, but for some people, Tidal and Pandora are two major music streaming platforms. Both platforms offer a huge library of podcasts or songs, a user-friendly interface, and an affordable subscription plan.
But both the streaming platforms are different from each other. So, which one can be better for you? To know more, let's have a look at the detailed comparison of Tidal vs Pandora.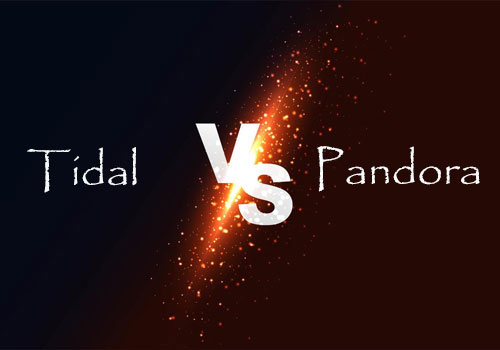 Part 1. Music Library
Made for Jay Z fans and owned by The Jay Z, Tidal may have received a slow start, but now the things have completely changed. Now the music library of Tidal has prominently skyrocketed. If you see, it now has more than 60 million songs covering the world's best R&B, Hip Hop, and some exclusive content.
As per the 2019 report, this platform has more than 240,000 videos. Now, coming to the music library of Pandora, it has more than 40 million songs. This platform is ideal for passive listening. So, when in this Pandora vs Tidal comparison, it is quite difficult to tell which one is the best. Both are doing a great job.
Part 2. Audio Quality
Talking about Tidal vs Pandora sound quality, you will find both are offering good sound quality, and the quality can vary with your subscription base. But Tidal outperforms Pandora in terms of sound quality. Why? Both platforms offer the same sound quality under their cheapest packages.
But when you look at the premium packages, you will witness some differences. Tidal provides you with 1411kbps CD-quality FLAC audio quality with HiFi under its premium subscription. Besides, it also enables you to download songs (Tidal MQA) for offline listening. Coming to Pandora, it offers 192Kbps audio quality.
Data related to actual bitrates on this platform is a little sketchy. Some users even reported poor audio quality on smartphones. So, if you are a person who loves to listen to music with better sound quality, you can go for Tidal. This can be a major differentiating factor between Pandora and tidal.
Part 3. Music Discovery Feature
Even though both Tidal vs Pandora is quite good when it comes to the discovery of music, but you may find Pandora is quite better in terms of AI and music discovery factor. Here is why. Pandora has an advanced algorithm that can effectively suggest the users newly added tracks or songs based on their previous songs and taste.
So, with this, you can now easily locate all your favorite songs, and you will listen to the songs that are pleasing to the ears. What's more? You are free to select artists based on your preference. The platform can curate the songs for you. But in Tidal, its algorithm is quite slow and only offer you a few suggestions. You may not find it very satisfactory. So, this where some may prefer to choose Pandora over Tidal.
Part 4. Ease of Use
Even though they are highly used streaming platform, when it comes to Tidal vs Pandora ease of use, they are completely different.
Talking about Pandora, it comes with easy to navigate feature and lyrics feature. With this, you can read the lyrics while playing the tracks. Additionally, the interface and appearance are also very clean.
Tidal's user-interface may look a little messy. However, some people prefer to use it. So, it's completely up to you when it comes to which one to use.
Part 5. Payment Plans
Talking about Tidal premium vs Pandora, Pandora offers free ad-based radio. To enjoy ad-free radio, you will have to pay USD 5 per month. The cost of on-demand ad-free music streaming is USD 10 per month. It also offers subscriptions for military members at USD 8 per month, families at USD 15 per month, and for students at USD 5.
Now, coming to the Tidal, for 320kbps audio quality, you will have to pay USD 10 per month. For 1411kbps audio quality, the monthly subscription amount is USD 20. Its family subscription packages start at USD 15 or USD 30. For a student's subscription, you will have to pay USD 10. It also offers subscription packages for first responders and veterans that cost USD12.
So, if you look in detail, Tidal has the best plans. After all, getting 1411kbps audio quality at USD20 is not a bad thing.
How to Get Tidal Premium Free?
For Tidal users, here we would like to introduce a way for you to get Tidal premium free. By the way, you could use the DRmare Tidal Music Converter to help you get Tidal music on your computer forever after the trial. And with this tool, you can convert Tidal music to FLAC and more other plain audio formats with high quality. After then, you can listen to Tidal music on any other devices you like on the go offline.
Part 6. Supported Platforms
Both Tidal and Pandora are available for Android, iOS, web, and Windows phones. On the other hand, Pandora is also available on other platforms such as Apple TV, Sonus, Roku, PlayStation, Direct TV, TiVo, Pebble Watch, and Amazon Echo. Tidal covers around 53 countries across the world, but Pandora limits the users to only some selected countries.
This can be a major drawback factor of Pandora. Well, you can use it using a proxy service to hide your IP address and making yourself appear in the right country. However, this factor has not affected Pandora users from using this platform. After all, music is all that matters at the end.
Part 7. Which One Should You Choose?
Well, both the streaming platforms are quite good and matched in different aspects, except music quality and cost.
However, if you make a closure look, you will find Tidal as a better option. Tidal offers 1411kbps sound quality that you will not get with Pandora. Besides, it has a good music library, and you can also enjoy some exclusive content in Tidal.
But you can't completely ignore Pandora for this because it has a better algorithm than Tidal that works great in the music discovery task.