Dolby Atmos Music is an advanced audio technology that provides an immersive and three-dimensional listening experience for music enthusiasts. Dolby Atmos Music improves the levels of detail and depth of music, allowing listeners to hear songs with a greater sense of depth, clarity, and spatial awareness.
"Does Tidal have Dolby Atmos?" Yes. Tidal is dedicated to offering high-quality audio to its users. Since 2019, there has been Tidal Dolby Atmos in the playlists for Tidal HiFi Plus users, who can enjoy music with spatial and 3D audio effects. Today, we will focus on a comprehensive review of Tidal Dolby Atmos Music, including its introduction, supported devices, artists in Dolby Atmos, easy tutorial to explore it, and more. Without further ado, let's dive into it.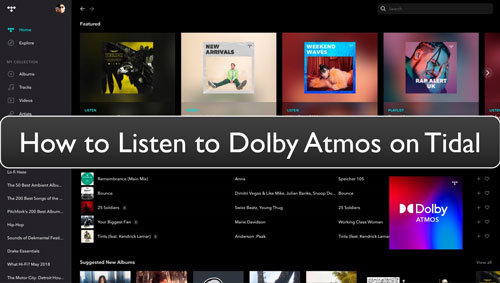 Part 1. Tidal Dolby Atmos: Full Introduction
What Is Tidal Dolby Atmos
It offers a whole new way for audiophiles to feel music. It provides an immersive breakthrough spatial sound experience with a full audio atmosphere. The sounds from Tidal will be with a three-dimensional spatial effect. It offers audio sounds from guitar, bass, and other musical sources. With it, you can feel more of the songs and artists you love on Tidal without limitations.
Prerequisites to Play Dolby Atmos on Tidal
To listen to Dolby Atmos Music on Tidal, you have to subscribe to the Tidal HiFi Plus plan. Because only this tier enables you to access music in Dolby. Besides, it's important to note that not all songs have Dolby Atmos format. Please check whether the music you want to play is mixed in Dolby Atmos. Then, to keep a 100% lossless experience, you should prepare a device enabled with Dolby Atmos to stream it.

Devices Enabled with Dolby Atmos
Now, Dolby Atmos in Tidal can be accessed on TVs, iOS devices like iPhone, Android devices, cars, soundbars and AVRs.
| Types of Supported Devices | Device Models |
| --- | --- |
| Mobile phones | Samsung Galaxy S20 Series, Sony Xperia 1, Samsung Galaxy Note 10, Oppo Reno Ace |
| Tablets | Lenovo Yoga Smart Tab, Amazon Fire HD 10, Samsung Galaxy S5e, Galaxy Fold |
| TVs | Sony BRAVIA Z9G, Sony BRAVIA A9G |
| Streaming media players | Apple TV 4K, Fire TV Cube, Fire TV Stick 4K, MagentaTV One (Germany), MagentaTV Stick (Germany) |
Artists in Dolby Atmos
The availability of artists and albums in Dolby Atmos on Tidal may vary, but many well-known artists and their albums have been remastered to take advantage of this technology. Some of the artists that mix it include Ariana Grande, Post Malone, Blondie, Sheryl Crow, Shawn Mendes, Nelly Furtodo, and Meredith Brooks. And you can find best Dolby Atmos albums on Tidal via the 'Explore' section in the Tidal app.
Part 2. How to Listen to Dolby Atmos on Tidal Online
To play Dolby Atmos albums on Tidal, you need to have a Tidal HiFi Plus account. Also, you need to have a device that is supported by Dolby Atmos and the Tidal app. After that, you can follow the steps below to explore it.
On Android and iOS Devices: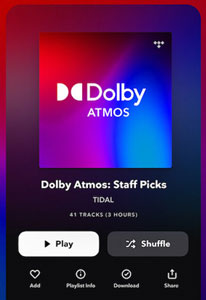 Step 1. Open the Tidal music app on your mobile device. And log in to your Tidal HiFi Plus account.
Step 2. Go to the 'Settings' section and find the 'Sound quality and effects' part, now you can turn on the 'Dolby Atmos'.
Step 3. Head to the 'Explore' section and click on it.
Step 4. Then locate the music in Dolby Atmos. And then you can open and start to play Tidal Dolby Atmos songs.
On TVs: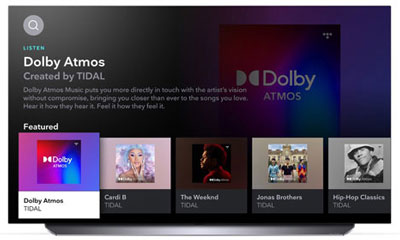 Step 1. On your smart TV, launch the Tidal app. And then sign in to your Tidal HiFi Plus account.
Step 2. Locate and head to the 'Available in Dolby Atmos' option on the Home screen.
Step 3. Click on the 'Dolby Atmos' option and start to listen to Tidal Dolby Atmos tracks.
Notes: If you are using a TV that doesn't support the official Tidal app, you can use the Tidal Connect feature to stream music in Dolby Atmos.
Part 3. How to Experience Tidal Dolby Atmos Music on All Devices
With a Tidal HiFi Plus plan, you can enjoy Tidal tracks on Dolby Atmos-supported devices. Yet, what if you want to listen to them on other devices that support Dolby Atmos but are not compatible with the Tidal app? Tidal allows users to download music for offline playing on selected devices. But they can't be moved to other devices for use. Moreover, if your Tidal subscription expires, then you won't enjoy these features anymore. So, how to fix these issues?
No worries. Here DRmare Tidal Music Converter is to help you out. It supports to download Tidal music on computer with and without a Tidal subscription. So, you can use it to download Dolby Atmos on Tidal to local audio files. Then you can transfer these music files to other devices you like for playing offline. In this case, you don't need a Tidal HiFi Plus subscription and even the Tidal app.
What's more, this program can convert Tidal music to different audio formats like MP3, FLAC and more. Also, it will keep full ID3 tags and the original quality from Tidal. So, you will have a better audio listening experience on your device. Besides, it runs fast to save you time to finish the conversion process.
DRmare Tidal Music Converter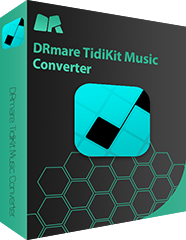 Get Tidal music as local files on Windows and Mac computers
Save high-quality Tidal songs and full ID3 tags
Support to play Tidal on multiple devices offline without a Tidal app
Output Tidal music to WAV and other common audio formats
How to Download Tidal Dolby Atmos Albums
Now, you can check the steps to see how to download Dolby Atmos albums and tracks from Tidal via DRmare Tidal Music Converter. After that, you can stream Tidal music on any device and platform offline.
Step 1

Add Dolby Atmos music from Tidal to DRmare Tidal Converter

First, you need to download, install and start the DRmare Tidal Music Converter on your computer. Later, you will see the Tidal app pop up at the same time. Then you can head to it and log in to your Tidal account.
Once logged in, you can go to find Dolby Atmos tracks or albums that you want to download on Tidal. And then drag and drop the music file to DRmare's main screen. Or, you can copy its link and put it in the search box on the DRmare screen. And then click on the 'plus' icon near it.
Step 2

Set output format for Dolby Atmos albums on Tidal

Now, find and click on the 'menu' icon on the DRmare program. And then pick up 'Preferences'. Then click on 'Convert' in the new window. Then you can reset output audio parameters for Dolby Atmos Tidal songs. You can change audio format, sample rate and more if you want. To listen to Tidal music anywhere, you can choose to convert Tidal to MP3 as it is widely used. Once set, click 'OK'.
Step 3

Convert Tidal music to local files

After the settings, you can go to hit on the 'Convert' button. Then DRmare program will start to download and convert Tidal music at once. After then, you can go to the 'converted' section to locate them on your computer. Then you can move and stream Tidal songs anywhere and anytime.
Part 4. FAQs about Tidal and Dolby Atmos
Q1: What Tidal Subscriptions Include Dolby Atmos?
A: Tidal now only offers Dolby Atmos Music to its HiFi Plus subscribers. Please upgrade your subscription to it via account.tidal/com.
Q2: Can I Enjoy Tidal Dolby Atmos over Headphones?
A: Yes. Android and iOS headphones like AirPods Pro can work with it if you are a Tidal HiFi Plus user and your phone supports Dolby technology.
Q3: What Are the Differences between Dolby Atmos vs Master Tidal?
A: Dolby Atmos in Tidal has a 3D surrounding audio effect. And it is lossless and at a 16-bit rate. While Tidal Master lacks this feature. But its bit rate is 2,304 to 9,216 kbps. Also, Tidal MQA can support more devices compared to Dolby Atmos.
Q4: How to Fix Tidal Dolby Atmos not Working on My Device?
A: First, you need to check whether you are a Tidal HiFi Plus subscriber and check if your plan is still valid or not. Then you could check whether the device you use is compatible with Dolby Atmos.
Part 5. In Conclusion
This article covers complete information about Tidal Dolby Atmos. Tidal, the popular HiFi music streaming service, has embraced Dolby Atmos Music to provide a revolutionary and immersive way to enjoy music for its members. If you care more about the listening experience, you can't miss it. By subscribing to the Tidal HiFi Plus plan, you can start to get a three-dimensional audio experience that surrounds you with sound from all directions.