The undeviating growth of the music industry has concurrently lead to the expansion of the music streaming platforms. Tons of music streaming media have emerged, giving each other unrelenting competition. Among the most authentic ones is Pandora and Amazon Music.
Amazon Music is a two-in-one music streaming platform and an online music store that gained its operation from Amazon. Amazon Music, having lasted for less than two decades, boasts of being the first music store to sell music without the right protection.
Pandora is a music streaming service that offers subscription-based services. This hulking music streaming service is American based that is owned by Sirius XM Holdings. Pandora boasts for its peculiar 'Music Genome project' that classifies songs by musical traits individually.
When uncertain of the music streaming platform to use, Amazon Music or Pandora, consider going through this article. It provides a detailed comparison between Amazon Music vs Pandora premium, thereby getting you off the hook.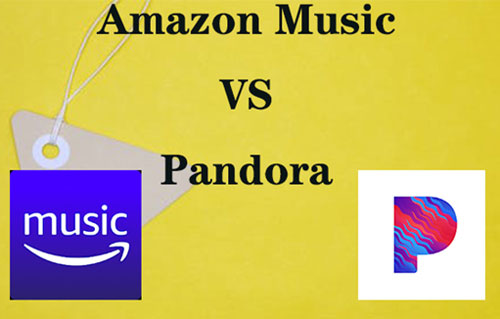 Part 1. Amazon Music vs Pandora Premium
Now, in that you cannot use both Amazon Music and Pandora simultaneously, you need to come up with one that will relishingly allow you to stream music with much ease.
In bringing out the differences between these two great streaming platforms, you need to consider their qualities and features such as the audio quality, music library, price, music discovery, etc.
1. Music Library
There is a distinguishable difference between Pandora vs Amazon Music by looking at their prospective music libraries.
Amazon Music Unlimited offers about 60 million songs. It also includes various song albums. It is with the inclusion of the hottest and newly released songs from multiple music artists. You can therefore enjoy a wide range of music anywhere, anytime on all your streaming devices, that is, smartphones, PC, Mac, tablets, Amazon Echo or Fire TV.
Pandora Premium, on the other hand, offers over 40 million songs with a wide range of song albums. This award-winning music streaming platform uniquely handles its catalog. To improve its search, it curates its catalog to get rid of duplicate tracks, tributes, and karaoke. Pandora also does not have pre-generated playlists, which advantageously allows you to listen to the music that you want by enabling you to create your playlist.
2. Audio Quality
When comparing Pandora vs Amazon Music in terms of the audio quality, a discernable difference gets unearthed.
Amazon Music HD provides lossless audio in HD and Ultra HD quality ranges.
The HD tracks in Amazon Music are 16-bit audio with a bit rate of 850kbps and a minimum sample rate of 44.1 kHz that is 16/44.1 CD quality.
Still in the Amazon Music, the Ultra HD tracks have a bit depth of 24 bits, an average bitrate of 3730 kbps, and sample rates of ranges between 44.1kHz and 192kHz.
In the Pandora premium, subscribers get offered three different audio options from which they are supposed to choose.
High Audio Quality: 192 kbps mp3
Standard Audio Quality: 64kbps AAC+
Low Audio Quality: 32 kbps AAC+
3. Price
When looking at the price differences in Amazon Music vs Pandora, distinctive differences get disentombed.
Amazon Music has varying subscription charges:
Unlimited monthly subscription for prime members – $7.99/month
Annual subscription for prime members - $79/year
Unlimited monthly subscription for non-prime members - $9.99/month
Unlimited monthly family subscription - $14.99/month
Annual family subscription - $149/year
Pandora Premium also has varied subscription charges:
Monthly subscription - $9.99/month
Annual subscription - $109.89/year
Monthly Family subscription - $14.99/month
Annual Family subscription - $164.89/year
Students and the military group stand at a chance of getting a good discount on their subscription plans.
There is a 30-day trial for both Amazon Music and Pandora. Thus, they allow you to enjoy its free trial before continuing with the premium subscription model.
Tip: If you still want to enjoy Amazon Music after the free trial, you can get the tool DRmare iMazonKit Music Converter to help you. It can convert and download Amazon Music with lossless quality. You can save the Amazon Music files on your devices for offline listening forever.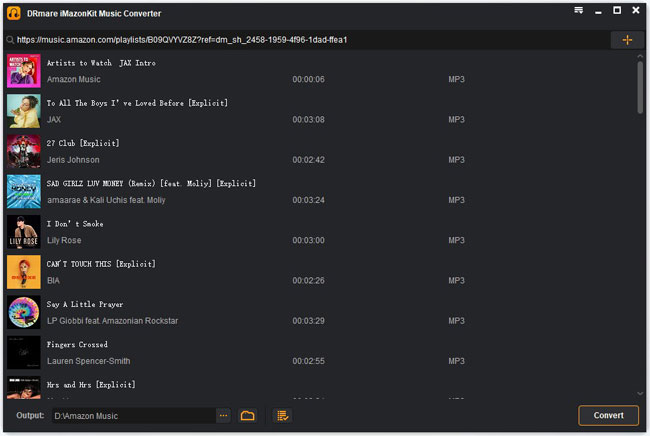 4. Supported Regions and Platform
When giving closer scrutiny to the regions, there is also a distinguishable difference in Pandora vs Amazon Music.
Amazon Music is available in many countries in the world. Amazon Music is also compatible with a wide range of devices, including Windows, macOS, iOS, Android, FireOS, Automobiles, Smart TVs, and Alexa devices.
Pandora Premium is only available in the US only. Other regions tend to be significantly disadvantaged by the use of Pandora. Pandora gets a wide range of displayable devices such as the iOS, Android, Amazon Fire TV, Google Home devices, Xbox One, Pandora's desktop app, Pandora's website, XFINITY X1, Sonos devices, and some Roku devices.
5. Music Discovery
Amazon Music's simplicity allows you to discover music by searching the artist, albums, playlists, and songs.
Pandora has excellent features that do not only allow you to remember what you listened to, but also it calculates how to incorporate various styles in your listening. To some extent, this seems like a disadvantage since it limits your listening to your favorite music since most people love it when it gets a repeat play.
6. User Regulatory
Pandora has parental control settings that only allow parents to take complete charge of the music playlist. It is a great advantage to parents who want to raise their children up rightly with the best parental assistance.
The Parental Control settings are unavailable for Amazon Music. For parents who want to raise their children holistically, Amazon Music becomes a disadvantage for them.
Part 2. Similarities between Amazon Music and Pandora
Besides the differences between Amazon Music vs Pandora, there are some common features of them. You can check them as below.
They both offer offline downloads.
They both have a free 30-day trial.
In both, they have a wide range of playable devices, including the Android and iOS mobile devices.
They both have an ad-free feature on their radio station.
Part 3. Bottom Line
Amazon Music or Pandora, which is the best streaming platform to use?
There is a plethora of differences in the Pandora vs Amazon Music comparison. This article expounds on the most relevant ones, giving you a discernible difference between these two excellent platforms.
It is, therefore, quite clear that Amazon by far outweighs Pandora when it comes to the streaming of music. It is a result of the backed-up discernible differences.