When it comes to Hi-res music streaming services, you may think of Tidal and Qobuz. How much you know about Tidal vs Qobuz? And you may wonder that is Qobuz better then Tidal? Which one to choose?
Please don't worry. In this post, we will compare Qobuz vs Tidal in different aspects. You could read on it and make your decision on which one to choose. Let's go.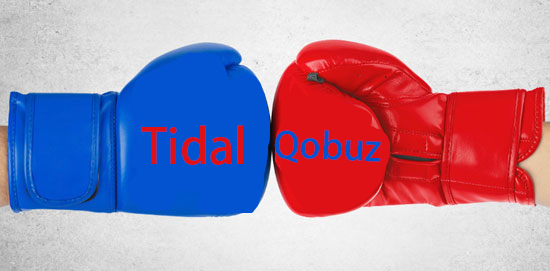 Part 1. Tidal vs Qobuz: Overview
Tidal was founded in 2014 by Norwegian public company Aspiro. And it currently owned by Jay-Z. It is a subscription-based music streaming service. It combines lossless audio and Hi-Fi music videos with exclusive content. Until now, Tidal has operated in more than 54 countries and has over 3 million subscribers.
Qobuz is a French commercial music streaming and downloading service. It was launched in 2007 and has expanded to a limited range of overseas markets.
Now let's take a deep look at Qobuz vs Tidal in the following part.
Part 2. Qobuz vs Tidal Library
First, the most important aspects is the music library.
For Tidal, it offers more than 70 million tracks and 240,000 music videos in its library. Users can find music on the Tidal sections like albums, explore, etc.
While Qobuz owns a million Hi-Res tracks and over 60 million tracks in CD resolution. And you can search on Qobuz for the tracks you want to listen to.
According to the data, it seems that Tidal has a bigger music library for users to enjoy music.
Part 3. Tidal vs Qobuz Sound Quality and Output Format
Now is output audio format and sound quality between Tidal vs Qobuz. Sound quality is one of the factors to consider when choosing Qobuz vs Tidal.
Tidal uses MQA format to encode its Masters series release. They are generally 24-bit and either 44.1 or 48kHz. To play Masters series, you are required to install Tidal desktop app on your computer.
While Qobuz uses the FLAC format. Its premium service Sublime+ offers material at up to 24/96 without MQA decoding. You also need to use the desktop app on a PC or an audio hardware to access to it.
Part 4. Qobuz vs Tidal Price
Qobuz currently offers music streaming services like Qobuz Studio Premier and Qobuz Sublime.
While Tidal provides 8 price plans for its users. But the sound quality of each plan is different. Premium offers standard sound quality and the bit rate is 320 kbit/s or 96 kbit/s in AAC. HiFi provides a lossless High-Fidelity audio quality. Students' plan and the Military's plan are not available in all geographies.
You could take a glance at the chart below to learn more details.
Qobuz
Tidal
Founded
2007
2014
Price Plans

Studio Premier (Annual): $12.49/month

Studio Premier (Monthly): $14.99/month

Studio Sublime (Annual): $20.83/month

Studio Premier Family (Annual): $22.49/month

Studio Premier Family (Monthly): $24.99/month

Studio Sublime Family (Annual): $41.66/month

Premium: $9.99/month

HiFi: $19.99/month

Family Premium: $14.99 per month (for 6 accounts)

Family HiFi: $29.99 per month (for 6 accounts)

Student Premium: $4.99 per month

Student HiFi: $9.99 per month

Military Premium: $5.99 per month

Military HiFi: $11.99 per month

Audio Quality

Studio Premier: FLAC 24-bit, up to 192 kHz

Studio Sublime: FLAC 24-bit, up to 192 kHz streaming

Premium: 320 kbit/s or 96 kbit/s

HiFi: High-Fidelity
Part 5. Tidal vs Qobuz: Compatibility
As for the compatibility of Qobuz vs Tidal, both Tidal and Qobuz have the mobile and web version.
Tidal can work on Microsoft Windows, OS X, iOS and Android compatible devices. The devices that it is compatible with are Apple TV, Roku, etc.
And Qobuz is available for Microsoft Windows, macOS, Android, iOS and Sonos.
Extra Tip: If you want to listen to Tidal music without Tidal app, then please check as below. Here we would like to recommend a powerful and professional tool for you. It is DRmare Tidal Music Converter. It can download and convert Tidal music to audio formats. You can save them as AAC, FLAC, WAV, MP3 and other audio formats.
After converting, you can stream Tidal music on other devices offline with ease.
Part 6. Qobuz vs. Tidal: User Experience
In the desktop apps for both Tidal vs Qobuz, you can create playlists, save tracks you like. On Tidal, you can head to 'My Collection' to group your albums, etc. While on Qobuz, you can click on the little head icon. Then you can start to group the contents you favorite.
For discovering new music on both two services, it is quite different between them. On Tidal, you could hit on the 'Explore' and then you can browse and find new albums, etc. as you like. And Tidal will recommend new music to you based on the tracks you have listened. Besides, Tidal also offers exclusive concerts and podcasts. And it has a separate section, "Tidal Riding".
In Qobuz home interface, you can check new contents via the 'New Releases' menu. As for the New Releases menu, it has a feature named Press Awards. It will list albums that have received awards or high ratings from publications.
Part 7. Which to Choose? Qobuz or Tidal?
Here we had studied on Tidal and Qobuz in some aspects. So here comes to the question: which one is suitable for you, Tidal or Qobuz?
If you want to discover more music and play music anywhere, then Tidal is a nice choice for you. And you could enjoy more music freely with DRmare Tidal Music Converter.
Or if you would like to enjoy high quality songs, then you could consider to choose Qobuz.