Do you want all the details related to Tidal vs SoundCloud? If yes, then you can find all the info here. In this post, you can lay your hands on all the help here, and at the end, compare both tools and get to know which ones are the most suitable for you.
Though users will find many such tools online, it is hard to choose the best option as the competition is tough, and it is not easy for people to find out which one is good if they are new in the IT-related field. Don't worry, and we have sorted out everything for you here. Just have a look at it and find out which one suits your needs in the best way.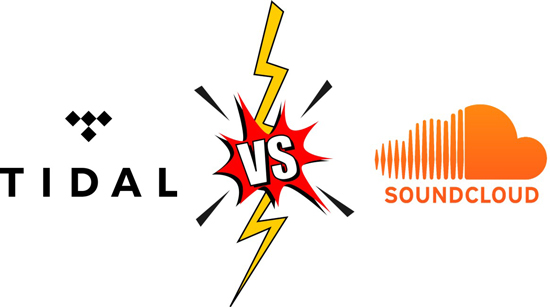 Part 1. Compare Tidal vs SoundCloud: Differences
Before we move towards comparing Tidal vs SoundCloud Go, users must know a bit about both of them.
As far as SoundCloud is concerned, it is a music and podcast streaming service that lets you listen to unlimited songs around the world. You can even upload, promote original music or new artists.
Tidal is the first subscription-based platform that provides high-quality music and videos with detailed content. You can't use it for free and have to spend a few bucks to gain its subscription first. Here you will find numerous popular artists with famous songs.
If you want to go for one tool when it comes to Tidal vs SoundCloud quality and else, then the following features will help you in getting to know which device suits you the best according to your requirements. Have a look and find out from the given comparison and make your decision.
Tidal vs SoundCloud: Music Library
Tidal is accessible in 53 states, and has 60 million songs and over 250,000 videos in its catalog. They also provide podcasts, thousands of playlists organized by professionals and artists.
On the other hand, SoundCloud has a more extensive music library because it guides many independent artists to upload their original music on their websites. If you search for a free music streaming service that has a fantastic range of songs from different artists and encourages new talent, then SoundCloud is a better choice for you.
SoundCloud vs Tidal: Audio Quality
When it comes to comparing SoundCloud Pro vs Tidal, the major issue with SoundCloud is its audio quality. Most of the music on SoundCloud streams in 128kbit/s and 256kbit/s AAC format, and even these are available only for SoundCloud Go+ subscribers only.
Compared to SoundCloud, Tidal offers an excellent streaming quality when we talk about the audio quality. Most of the music here gives you a significant bitrate of 1,411 kbps with FLAC format, so the one with HiFi can make the most out of the audio experience as the artists decide to deliver. The premium version of Tidal allows you to access the songs available here with 320 kbps AAC.
Tidal vs SoundCloud: Music Discovery
If your primary concern is discovering new music with new artists, there is no other option better than SoundCloud. This platform depends mainly on its creative users to upload cover songs or original ones. With this advantage, you are allowed to upload music in multiple ways, and the one who is searching can gain access to it quickly without any trouble.
Tidal provides you with more range in rap and hip hop music genres. It has a lot of music range, and you will find older music for quite a long time. You can gain easy access to the music based on your previous listening history through this platform. You can try it for a few weeks, and its algorithm helps you serve something that will amuse you in the best sense. Here you can also find favorite playlists, mood-based playlists, and from its rising section, you will discover new artists as well.
SoundCloud vs Tidal: Price
Talking about price, SoundCloud has a free version in which you can easily gain access to a tremendous amount of music. Just visit their official website, and you can cherish the best music experience from SoundCloud, as it doesn't take time for buffering.
The only downside of SoundCloud free music is that you have to watch ads. You can check this out and save your time in the mess of signing up for a new account first. The platform offers two subscription plans, and if you are a new user, you can have a 7-day free trial for SoundCloud Go and 30 days for SoundCloud Go+.
Tidal doesn't offer free music to its users, but you can avail of its 30-day free trial on all subscription plans. Users can have Tidal for free for a specific period. Its Premium subscription costs $9.99 a month, while Tidal HiFi costs $19.99/month. There is a plus for students as they can avail of a discount at $4.99 and $9.99 per month after verification and have to verify every 12 months.
Extra Tip: For users who use Tidal and you want to save your budget, then you can try to download Tidal music offline via DRmare Tidal Music Converter. With your Tidal subscription, you can download and convert the Tidal music you want with this tool. And it can convert Tidal songs with lossless quality and save them as local files on your computer. Then you can use them on any device you want without Tidal subscription anymore.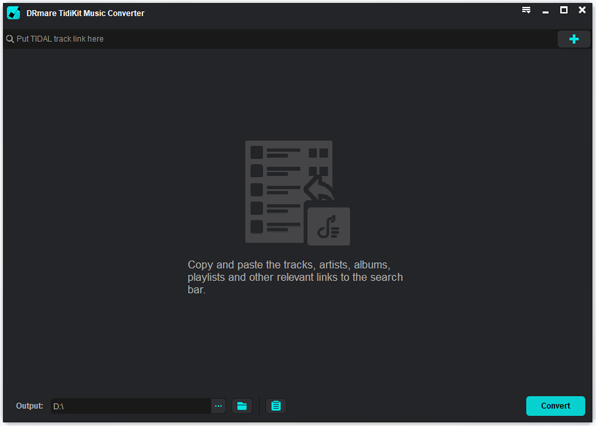 Tidal vs SoundCloud Go: Subscription Plans
SoundCloud has two subscription plans: SoundCloud Go and SoundCloud Go+. The former costs $4.99/month, and the latter comes into $9.99/month. With both of these subscription plans, you can access offline playback and try them without seeing ads. However, SoundCloud Go+ lets you access an entire catalog without previews and high-quality audio, and that's on the good side.
Tidal has two subscription plans. With Tidal Premium, you can use songs with standard sound quality and HD music videos. The other one is Tidal HiFi, where you can enjoy songs without fearing losing the quality of the songs.
Part 2. Common Things between SoundCloud vs Tidal
From above, we got the differences between Tidal vs SoundCloud. Following are the commonalities that we can see in SoundCloud and Tidal, so have a look.
Music Sharing
SoundCloud and Tidal both have some common characteristics for sharing music. Both services have embedded Facebook and Twitter, so you can share songs with your friends and family if you like. On SoundCloud, you can share songs on Tumblr and Pinterest. On Tidal, you need to copy the URL of the song first to share it with others through text messages on social media platforms.
Lack of Advanced Search and Loading
In SoundCloud, users can never go for an advanced search and check out the popular songs they are looking for. This kind of issue is relatable in Tidal as here you can't find many songs by new artists, and if you search for them, it will take a while to upload the music.
Part 3. Final Words
All the above points will be helpful for you to decide which one do you think is best for you when we compare SoundCloud vs Tidal. You can now easily decide which tool you would love to try out. If your primary preference is to try out free music that doesn't cost you much, then SoundCloud is your best call.
On the other hand, if you need to find all the popular music genres and artists, then Tidal is the best shot you should go for. Besides, with the DRmare Tidal Music Converter, you can use it to convert Tidal to FLAC and more plain audio formats so that you can enjoy Tidal songs anywhere and anytime.