"Is Tidal better than YouTube Music?" When facing Tidal and YouTube Music streaming services, most people don't know which one to choose. In today's review, we will show you more about Tidal vs YouTube Music. Here you will learn their price plans, audio quality and more. Also, you will get a tool to help download music from Tidal to use anywhere and anytime. Now, let's move on and start.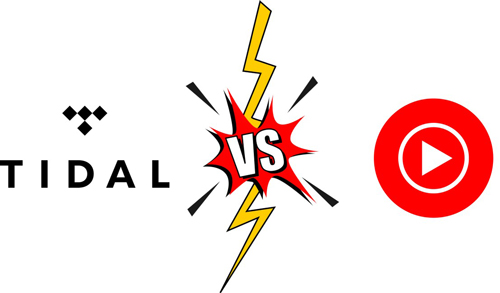 Part 1. YouTube Music vs Tidal: Brief Introduction
Tidal and YouTube Music are two latest streaming music services in the market. Before comparing them, now, let's check more about them below.
What Is Tidal?
Tidal refers to a high-definition music streaming service featuring over 350,00 videos and 80,000,000 songs. This service has mainly focused on offering high-quality tracks. It also gives music surpassing CD standards and a pleasant tummy feeling if you have a HiFi/HiFi Plus account.
Moreover, Tidal ensures each artist receives full payment for their songs and videos. It provides an unparalleled insight into how its members personally support artists. This service vows to offer 10% of a 4-weekly HiFi Plus contribution straight to the artist you streamed most.
Also, Tidal focuses mainly on the audio mark and delivers three plans for users. They are Free, HiFi and HiFi Plus plans. Users can get different services according to the plan they use. With a Tidal Free plan, users can listen to Tidal music online but with ads. While using Tidal HiFi, users can enjoy high-quality audio tracks and download HiFi music. With a HiFi Plus subscription plan, users can get Tidal MQA download to 9,216 kbps Master audio quality and lossless FLACs. Besides this, Tidal HiFi Plus members can also check how their progressive streams amount to the artist's earnings in the "activity feed section".
What Is YouTube Music?
YouTube Music is the music streaming service created by YouTube. It offers an interface similar to the YouTube page's interface. So, users can easily find YouTube music videos and songs as per recommendations, playlists & genres. There are more than 100 million songs in its music library. Also, it is available in 101 countries and gains over 80 million users now. Moreover, this streaming service provides a premium plan for users. With a YouTube Music Premium plan, users can play ad-free music, download music for logged-off streaming and so on.
Part 2. Tidal vs YouTube Music: UI and Available Platforms
YouTube Music and Tidal work great on iOS & Android devices, Apple CarPlay, Windows, Android Auto, macOS, Android TV, wireless speakers and so on. Moreover, these services support AirPlay, Chromecast, Siri, Alexa, or Google Assistant. You can also access Tidal or YouTube Music via its own web player. But please note that there is no YouTube Music desktop app now.
YouTube Music mobile application features a user interface nearly similar to the YouTube application's interface. Besides the three tabs featured on YouTube Music, you can also find the subscriptions in the library section. You can get your recommended song/video on the 'home' tab and the news releases and trending music on the 'Explore' tab. Finally, use the media player option to switch quickly between the videos and songs.
Tidal's user interface features older but unique icons & fonts. It allows you to use the separate tab to find your desired music. Also, this streaming service features a search tab, making it easy for you to discover your favorite music. The "My Collection" section is where you can locate all your videos and songs. Another unique feature of Tidal is its media player. It displays some additional details that you can't encounter when using the YouTube Music application. Besides this, Tidal shows the playing music's streaming quality.
Part 3. YouTube Music vs Tidal: Music Library and Discovery
Tidal features over 350,00 videos and 80,000,000 songs with 25 genres for your entertainment. Also, this streaming service comes with a 'curated playlists' support that allows you to select music according to a specific theme. Moreover, you'll find the top twenty charts, where you'll rate the remarkable song or video for the week.
YouTube Music offers 100 milllion songs with 28 genres for users to enjoy. Also, it has well-arranged live concert videos and official albums for you to listen to and watch. YouTube Music premium's 'home' section features live performances, recommendations, and your favorites. Also, you can get four sections - 'New releases' , 'Charts', 'Podcasts' and 'Moods & genres' on the 'Explore' section. Moreover, the 'library' section features your saved songs and playlists.
Part 4. Tidal vs YouTube Music Quality
Here comes to YouTube Music vs Tidal sound quality. YouTube Music service is streamed from 128 kbps to 256 kbps, while Tidal's present audio quality is 320 kbps. Yet, for Tidal HiFi vs YouTube Music sound quality, Tidal HiFi offers a CD streaming quality of 1,411 kbps. And Tidal HiFi Plus plan will offer MQA audio quality at up to 9,216 kbps. Besides MQA, there are Dolby Atmos, Sony 360 Reality Audio and more in Tidal HiFi Plus plan.
So, when comparing YouTube Music quality vs Tidal, Tidal wins. Tidal HiFi and HiFi Plus subscriptions provide higher quality in audio than YouTube Music.
Music Service
Tidal
YouTube Music
Output Format and Quality
Normal: AAC, 160 kbps/320 kbps
HiFi: FLAC, 1,411 kbps
Master: MQA, 24 bit/96 kHz
AAC/OPUS: 128 kbps - 256 kbps
Part 5. YouTube Music vs Tidal: Social Sharing Features
When it comes to social sharing feature, Tidal loses. That's because it only allows users to share music on FB and find colleagues who subscribed to the application.
However, YouTube Music offers several social sharing features, starting with collaborative playlists. This streaming service gives you three options when drawing up your new playlist.
Public, allowing to view
Unlisted, allowing only those with the link to view
Private, allowing only you to view
Besides this, you get a channel automatically when you begin using YouTube Music. And this is where your public playlists will appear. Any individual can view your YouTube Music profile, search your playlists or even follow you.
Part 6. Tidal vs YouTube Music: Price Plans
Both Tidal and YouTube Music offer free and paid plans to users. Also, there is a 30-day Premium free trial on Tidal & YouTube Music. After the trial, individuals need to pay 9.99 USD per month for YouTube Music Premium. The family plan goes at 14.99 USD per month. The premium option gives you access to offline playback, ad-free content, and an extra 2 USD per month to enjoy YouTube videos with zero ads.
For Tidal, individuals need to pay 9.99 USD per month for the HiFi option and 4.99 USD per month for students. Also, you can opt for the Tidal HiFi Plus plan at 19.99 USD per month. Choose this plan if you want to listen to higher-quality songs.
Music Service
Free Plan
Individual
Famliy
Student
Military & First Responders
Tidal
Yes
HiFi: $9.99/month
HiFi Plus: $19.99/month
HiFi: $14.99/month
HiFi Plus: $29.99/month
HiFi: $4.99/month
HiFi Plus: $9.99/month
HiFi: $5.99/month
HiFi Plus: $11.99/month
YouTube Music
Yes
$9.99/month
$14.99/month
$4.99/month
/
Tip: If you want to save budget to enjoy Tidal music, here is way to help you. It is to use DRmare Tidal Music Converter to download Tidal playlists, albums, or songs for offline listening for free.
This Tidal song downloader is the most recommended. It can preserve ID3 tags and maintain Tidal music quality. Also, it can convert Tidal audio to MP3, FLAC, WAV, M4A, AAC, and M4B. After using it, you can enjoy Tidal audio files offline on any device and platform.
Now, let's see how to use DRmare Tidal Music Converter to download and convert music from Tidal as local audio files.
Step 1. Download and install the DRmare Tidal Music Converter program on your computer. Then you will get its main screen. Next, you need to sign in your Tidal music account in the pop-up Tidal app. If you haven't had a Tidal account yet, please hit on the 'Sign up' button to get a new one.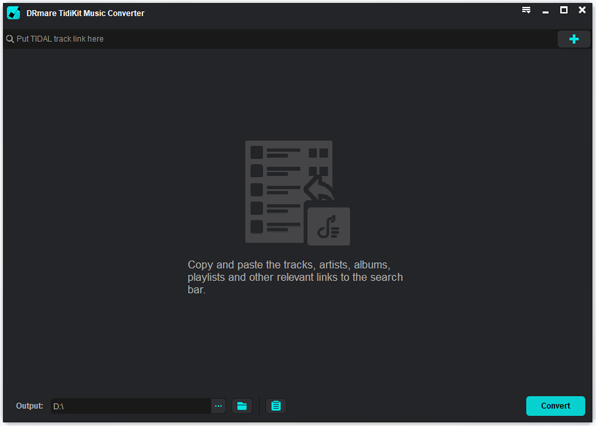 Step 2. Go to the menu icon and click on it. Then from the drop-down list, choose the 'Preferences' option. It will then launch a new window. Here hit on the 'Convert' tab and then you can start to reset the output audio formats for Tidal songs you want. You can change music from Tidal to FLAC, MP3 or else. Also, you can alter the audio channel, bit rate and so on according to your own requirements.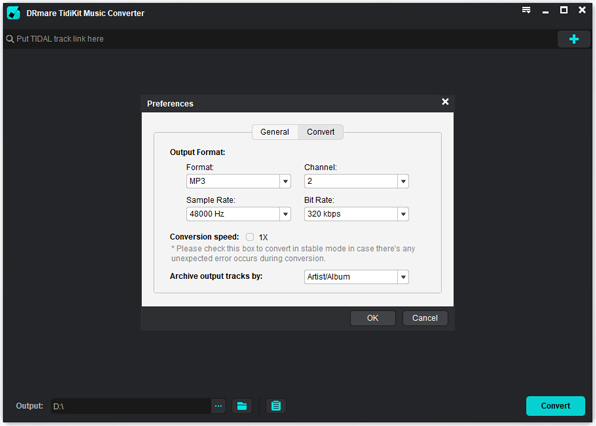 Step 3. Click 'OK' and back to the main screen of DRmare Tidal Music Converter. Go to the pop-up Tidal music app to find and locate the Tidal music playlist you want to download and convert. Then touch and hold the track to drag it into the main window of the DRmare tool. Or, copy its link and put it into the blank bar on DRmare. Then click '+'.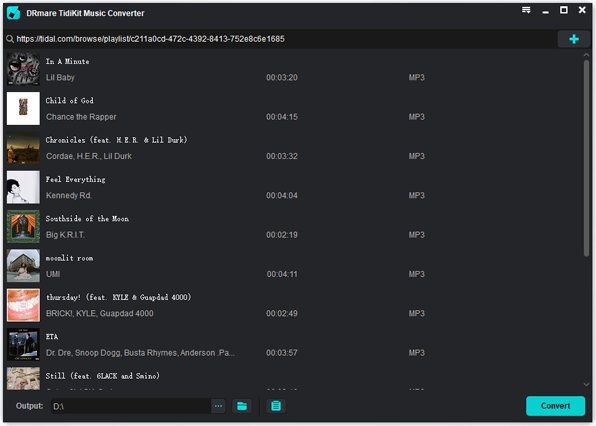 Step 4. Press on the 'Convert' button to start to download Tidal songs to computer. After the conversion, please click on the 'converted' tab on the DRmare program. Then you can check all the downloaded Tidal music files. Also, you can locate them on the target folder on your computer. At last, you can transfer Tidal music to any device or platform for playing offline with ease.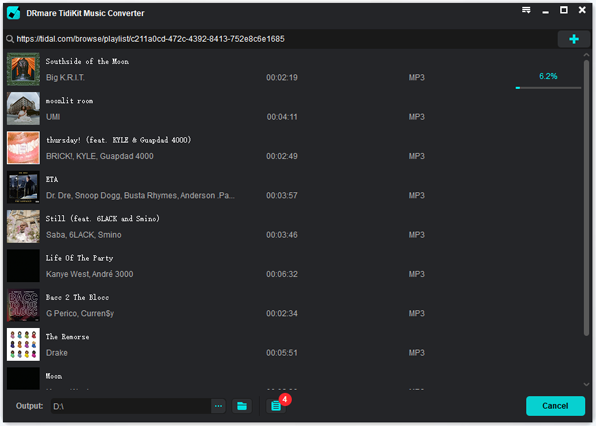 Part 7. Additional Features between YouTube Music and Tidal
On Tidal, there is a Tidal Connect feature. This allows users to stream music from phone to Tidal Connect-compatible devices. And the songs will be played in HiFi Plus, Dolby Atmos, MQA and more formats.
Besides, both apps offer lyrics feature. In this case, users can view lyrics while listening to music. Users can search for songs via lyrics in YouTube Music. Yet, Tidal doesn't offer such a function and you can't get lyrics with a Tidal free plan.
Also, both apps support offline mode once you subscribed to their premium plan. But please note that there is no offline mode for Tidal on desktop.
Part 8. In Conclusion
This review has presented minor distinctions between YouTube Music vs Tidal. Therefore, selecting the streaming service will depend entirely on your individual preferences. You can check out the comparison table below before picking up the service.
Tidal
YouTube Music
Music Library
100+ million songs
100+ million songs
Supported Platforms
iOS, Android, Windows, macOS, Web
Android, iOS, Window Phone, Web
Audio Quality
HiFi: 1,411 kbps FLAC
HiFi Plus: 9,216 kbps
from 128 kbps to 256 kbps
Subscription Plan Price
Individual - HiFi: $9.99/month/HiFi Plus: $19.99/month
Family - HiFi: $14.99/month/HiFi Plus: $29.99/month
Student - HiFi: $4.99/month/HiFi Plus: $9.99/month
Individual: $9.99/month
Family: $14.99/month
Student: $4.99/month
Availability Countries
60+ countries
101 countries
Free Plan
Yes
Yes
Social Connection
Facebook/Twitter
Twitter/Facebook/WhatsApp, etc.
Offline Mode
Yes (only available on mobile)
Yes
From the table, you knew the differences of both apps. If you want to enjoy music in high quality, you can opt for Tidal as it offers high music quality. By the way, if you'd like to listen to Tidal music anywhere and anytime, you can use the DRmare Tidal Music Converter for help. With this smart program, you can easily get Tidal music as common audio tracks on your computer. After that, you can move and enjoy them anywhere offline. Also, you can share Tidal music with friends or families with ease.