"Does Tidal have an equalizer?" Tidal is a popular music platform that offers high-quality audio. Yet, many users also want to personalize their favorite Tidal music quality. Unfortunately, there is no built-in equalizer on the Tidal app. Besides, Tidal music files are encrypted. That's to say, you can't use Tidal music on other unauthorized devices or platforms.
If you want to find an equalizer for Tidal, then you can move on to reading. In this article, we will list the best 12 Tidal equalizers Android/iOS/Windows/Mac for your reference. You can learn more about them and select the one you like to use. They will help you get a better listening experience when enjoying Tidal songs. Also, we will show a great tool, DRmare Tidal Music Converter, to help you get Tidal music for use on Tidal equalizers.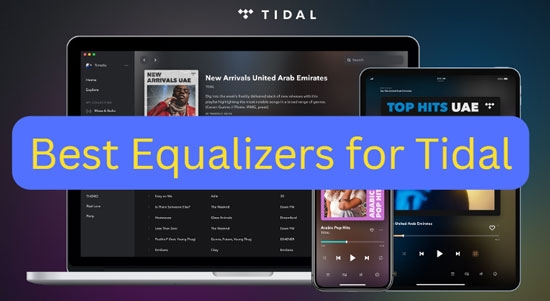 Part 1. Tidal Equalizer Android/iOS
It could be a tedious task to choose the perfect EQ for Tidal. In this part, we will show the Tidal Android equalizer and Tidal equalizer iOS for you.
1. Sennheiser CapTune (Android/iOS)
CapTune by Sennheiser is a very powerful and simple equalizer for Tidal Android/iOS. It is a two-in-one player plus equalizer, allowing users a hassle-free listening experience. Also, it has an easy-to-use user interface. The locally saved playlists are automatically imported to CapTune. With an intuitive interface, it makes music optimization effortless.
CapTune Tidal Android equalizer also offers equalizer presets and effects. Users can tweak and customize according to their liking with ease. It allows users to enhance their listening experience using a real-time spectrum analyzer. Various sound profiles can also be created to fit different moods. Different color themes enable users to choose the theme they like.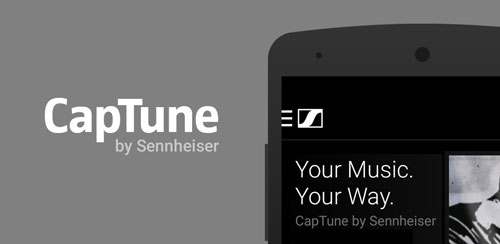 Pros:
A good player and equalizer
Available for Sennheiser devices
Work with Tidal
With an easy-to-use UI design
Can customize music by choosing from pre-installed sound effects
Cons:
Not support other music streaming services
Sometimes crashes
2. Boom: Bass Booster & Equalizer (Android/iOS)
As for the Tidal equalizer iPhone, here we will introduce the Boom: Bass Booster & Equalizer to you.
This Tidal EQ is an iPhone and iPad equalizer for Tidal and Spotify. It functions as 8 bands or 16 bands equalizer. It is also a 29 handcrafted equalizer presets to let you enjoy Tidal music in a new way. Also, with advanced technology, you can enjoy the wonderful 3D surround audio sound on your headphones.
This tool is easy to operate as it has a simple UI design. Also, it doesn't offer free service. Yet, it has a 7-day free trial version. If you want to access all its features, you can pay for its full version.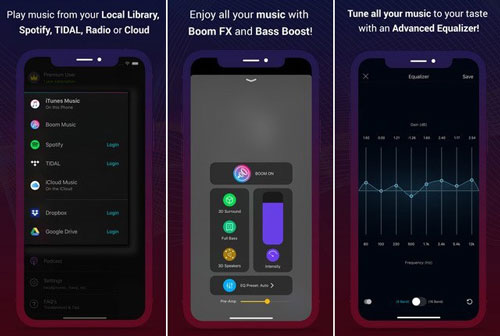 Pros:
3D sound surround
16-band equalizer
29 EQ presets
Support to stream Tidal and Spotify
Cons:
3. Equalizer FX (Android/iOS)
Equalizer FX is a versatile tool to help users enhance their music streaming experience. It is packed with various tools to make your music sound better. This five bands equalizer Tidal Android is simple to use owing to its user-friendly interface.
Equalizer FX is compatible with the most popular music players. They include Tidal, Pandora and more. Also, it comes with a bass booster, visualizer, and even a loudness enhancer. There are 12 presets, and custom presets can also be created. Besides, it offers a paid version and a free version. If you want to enjoy the ad-free experience, you can get the premium version of this equalizer for Tidal. Then you can stream enhanced Tidal music limitlessly.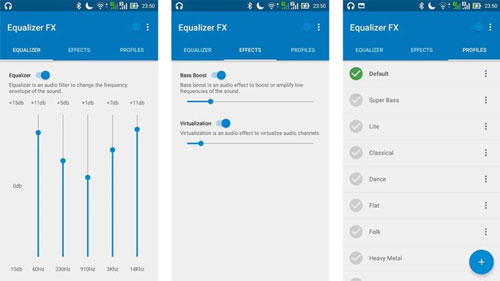 Pros:
Support several music streaming apps
Can custom or choose presets
User-friendly interface
Can auto-detect presets
Cons:
Has ads in the free version
Only a 5-band EQ for Tidal
4. 10 Band Equalizer (Android)
Compared to the other equalizer for Tidal music, this one makes it to the top as it offers 10 bands to customize. Most equalizers only offer 5.
Apart from this, there is also an in-built music player. But 10 Band Equalizer is compatible with other third-party players too. It also allows users to create custom presets and save them for later.
You can adjust the frequency from 31Hz to 16Hz to enhance your listening experience. The volume booster, bass booster, and treble booster allow you to tweak up the Tidal EQ settings. Some of the presets include classic, dance, flat, heavy metal, and many more. All in all, this Tidal equalizer Android is simple yet versatile enough to level up your listening environment.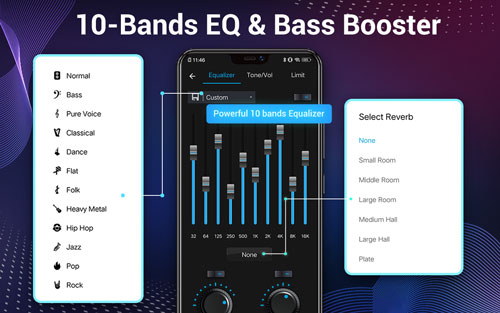 Pros:
Work for all music player
Control music playback
Adjust 10 bands equalizers
Keep custom preset
Adjust volume label
Cons:
Doesn't work on Galaxy S5, One Touch, and Galaxy Core
Contain ads and no Pro version to bypass ads
5. Music Volume EQ (Android)
The useful Tidal equalizer Android we will discuss is Music Volume EQ. It is free to use. And it is a perfect tool to enhance Tidal music streaming. It has a bass booster and a 5-bands equalizer. And it can work with most audio players. So, you can enjoy high audio quality tracks via lots of apps. Also, you can get volume control, bass boost and so on in this tool.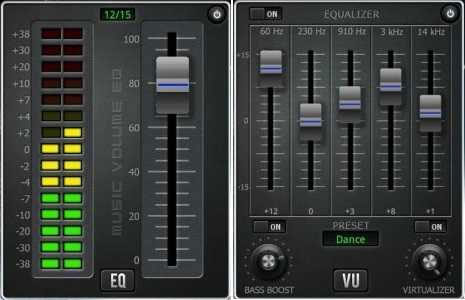 Pros:
Home-screen widget supported
Easy to control bass booster and 3D virtualizer
Visual audio spectrum
Offers 9 equalizer presets and custom presets
Available on most music players and video players on Android
Cons:
Less presets
Has on-screen banner ads
6. Poweramp Equalizer Tidal (Android)
As an excellent Tidal equalizer for Android users, Poweramp provides some presets for personalization. You can use it to set the Mono/Stereo or Bass & Treble controls of Tidal music. In addition, you are able to crossfade Tidal by using this app.
View also: Best Way to Use Poweramp with Tidal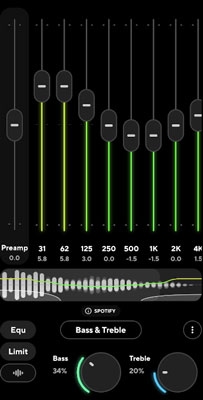 Pros:
Customizable number of EQ bands
Save custom settings for different headphones
Available on Android
Lots of practical functions
Cons:
Part 2. Equalizer Tidal Windows/Mac
This part will list Tidal equalizers Mac and Windows for you. Please take a look and learn more about them.
7. Equalizer for Chrome browser (Windows/Mac/iOS)
There is a convenient eq extension to adjust Tidal audio quality. It is an Equalizer for the Chrome browser. You are able to use it on your web player. Just add the extension to your Chrome and then apply it. You will adjust the songs from Tidal easily.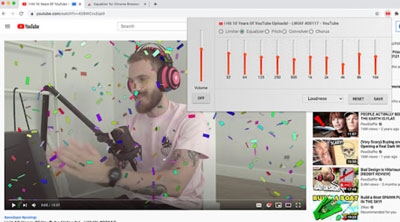 Pros:
Do not need to download an app
Set the sound quality or Tidal handily
Only for the Chrome browser
Cons:
Need to connect to the Internet
8. Amarra (Windows/Mac/iOS)
Amarra is the equalizer for Tidal for Mac computers. There are Amarra sQ+ for Mac, Amarra Play for iOS and Amarra Luxe for Win/Mac. Among them, most users would like to recommend Amarra sQ+ for Mac.
With this Tidal app equalizer, you can reset the sound for your devices. And you can control the sound you want and get the best audio quality for the music.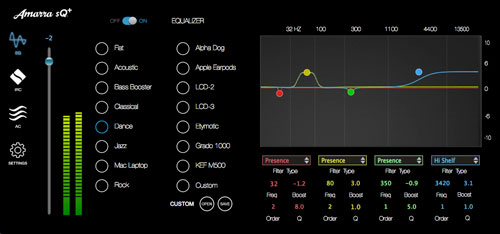 Pros:
Available with many sources
Flexible control from Mac or using an App
Sounds Great
13 filter types
4 bands, full parametric EQ
Cons:
9. iTunes (Windows/Mac)
You can find and use the equalizer function on your iTunes. eq for Tidal on iTunes includes over 20 features for users to customize Tidal audio. You are able to use it on Windows as well as Mac. To apply it, you should go to iTunes and click 'View' > 'Show Equalizer'. Then, hit the 'On' button to start to use it.
View also: How to Download Music from Tidal to iTunes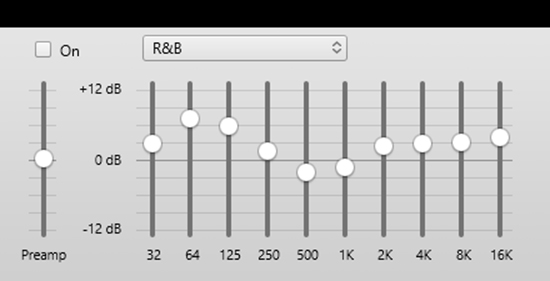 Pros:
Concise operations and beautiful interface
Free to use
Sounds Great
Cons:
10. Equalizer APO (Windows)
Equalizer APO is the free graphic/parametric equalizer on Windows. It has lots of features like unlimited filters. And it can work with multiple channels, has a rapid response time and is easy to use. Also, it is small, does not require memory and processor and uses minimal system resources.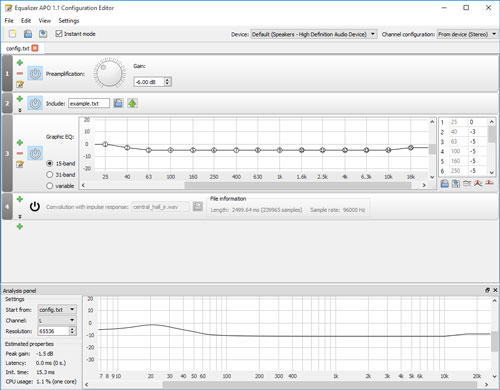 Pros:
Many filters
Supported with lots of channels and devices
Easy-to-use interface
Cons:
No more advanced equalizer features
11. Equalizer Pro (Windows)
Equalizer Pro offers the bass boost feature which helps you get more wonderful Tidal music. Also, it gives you some common presets, like R&B, Pop and more. If you have no idea how to set your songs, you can pick a preset that the Equalizer Pro provides for you.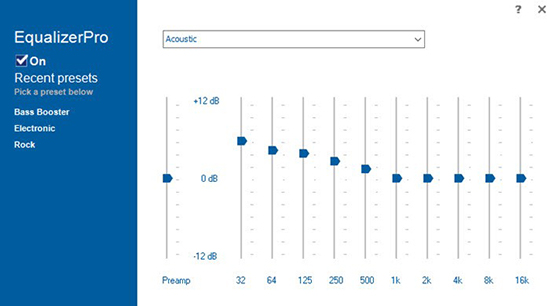 Pros:
Provided presets
10-band equalizer
Bass boost featuret
7 days free trial
Cons:
12. Audio Hijack (Mac)
As a professional equalizer for Tidal, Audio Hijack not only can help you edit your Tidal audio but also can record sound from your Mac device. What is more, you are able to get industry-standard VST and AudioUnit audio effects. The functions from Audio Hijack are more than other extensions and apps.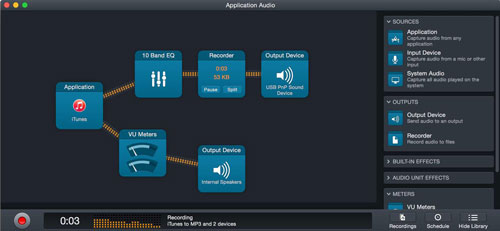 Pros:
More professional settings
Supports customizing audio output
Cons:
Part 3. How to Convert Tidal Music for Any Tidal Equalizer
The equalizer for Tidal above is quite better for you to enjoy Tidal music. You can check them out in detail at the parts above. Yet, what if you use other Tidal equalizers or meet issues with EQ for Tidal? What can you do? The best way is to play Tidal music on other media players with a built-in equalizer. But how?
DRmare Tidal Music Converter is an easy-to-use tool for you to do that. With an intuitive interface, it is simple to convert Tidal files into common formats. The formats supported by DRmare are MP3, FLAC, WAV, AAC, and many more. The 5 times faster music conversion speed makes the process quick and hassle-free.
It also allows the users to convert multiple songs with a single tap, making batch conversion easier. The built-in music organizer arranges the music on the basis of artists and albums. This lets you access Tidal music more easily and smoothly.
DRmare Tidal Music Converter supports Tidal playlists and more. Better yet, the converted Tidal files are of 100% original quality without any loss. The metadata and ID3 tags are also retained for easy organizing of music files.
Also, DRmare Tidal Converter enables users to set the output parameters they want. The adjustable parameters include the bit rate, format and so on. The converted music can then be moved to other Tidal equalizers and streamed offline.
DRmare Tidal Music Downloader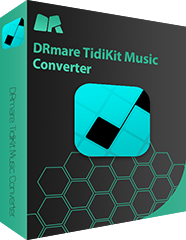 Download podcasts, playlists, and so on from Tidal
Convert Tidal to FLAC, and more with high quality
Work at a faster speed, save much of your time
Play converted Tidal songs on other players with an equalizer
How to Download Tidal Music for Use on Any Equalizer for Tidal
Before you hop on to use a Tidal equalizer, you must first convert and download Tidal music into a common format. Here are the quick steps to save Tidal music as local files by DRmare Tidal Music Converter.
Step 1

Install and launch DRmare Tidal Music Converter

Download and install the DRmare Tidal Music Converter on your device. Depending on the system you are using, you can choose the Windows or Mac download version. DRmare is compatible with both. After that, launch the program.
Then the Tidal music app will pop up. And then you need to choose 'Sign up' or 'Log in' to access your Tidal account. After that, you can use the DRmare program to convert Tidal music.
Step 2

Adjust Tidal output parameters for any Tidal equalizer

You can adjust all the output parameters through the DRmare program to meet your requirements. Click on the 'Preferences' tab on the menu list in the top right corner. In the Convert tab, you have various parameters. Here, you can tweak up the conversion bit rate, or output format. You can also select how you want your converted music files to be organized in the converter library.
Step 3

Import Tidal music to DRmare

Now, you can find any Tidal tracks you like to convert on the Tidal app. Once found, you can click on it and touch on the 'three-dot' icon. Then you can get its link address and put it on the search box on DRmare. Next, click on the 'plus' icon. Or drag and drop your favorite Tidal tracks to the DRmare tool.
Step 4

Convert and locate Tidal files on computer

After that, hit the 'Convert' button to start to download Tidal music on computer for Tidal equalizer. At last, the converted files will be saved to the folders specified by you. You can go to the 'Converted' icon to find the local Tidal music files on your computer.
Step 5

Transfer Tidal music to Tidal music equalizer

Now, you can transfer or import Tidal music to any equalizer for Tidal you wish to use. The converted files can be played or enhanced using a Tidal EQ without any limitations.
Part 4. Comparison of 12 Best Tidal Equalizers
From what we conclude above, you can get the 12 best equalizers for Tidal. If you still cannot select a suitable tool to use, here we are going to make a table to show all Tidal equalizers. You will find it easy to choose a helpful one.
| | Price | Presets | Supported OS | Band |
| --- | --- | --- | --- | --- |
| Sennheiser CapTune | Free | n/a | Android/iOS | 7 |
| Boom Bass Booster & Equalizer | No Free | 29 | Android/iOS | 16/8 |
| Equalizer FX | No Free | 12 | Android/iOS | 5 |
| 10 Band Equalizer | Free | Custom | Android | 10 |
| Music Volume EQ | Free | 9 | Android | 5 |
| Poweramp Equalizer Tidal | No Free | n/a | Android | n/a |
| Equalizer for Chrome browser | Free | 21 | Windows/Mac/iOS | 10 |
| Amarra | Free | 6-16 | Windows/Mac/iOS | 4 |
| iTunes | No Free | 20+ | Windows/Mac | 20 |
| Equalizer APO | Free | n/a | Windows | 5 |
| Equalizer Pro | No Free | 20+ | Windows | 10 |
| Audio Hijack | No Free | n/a | Mac | 10 |
Part 5. FAQs about Tidal Equalizer
Q1: Does Tidal Have an Equalizer?
A: No. There is no Tidal music equalizer in the Tidal music app now. But you can check out the equalizer for Tidal in Part 1 and Part 2 to learn more.
Q2: How Can I Make My Tidal Music Sound Better?
A: You can use some Tidal app equalizer to get your Tidal music sound better. You can find the Tidal EQ iOS/Android/Windows/Mac in this post to make Tidal sound better.
Q3: How Do I Use Tidal Music on Any Media Player with Equalizer?
A: To use Tidal music on other media players with equalizer, you need to first keep Tidal music as local files. They are protected now and can't be used on other platforms. So, to do that, you can use the DRmare Tidal Music Converter to download and save Tidal songs to local audio files. Then you can move Tidal audio to other music players with an equalizer for use with ease.
Part 6. In Conclusion
Here you get the top 12 Tidal equalizers for Android, iOS, Windows and Mac. You can choose the one you want to listen to Tidal music offline with a better listening experience. Also, you can use the DRmare Tidal Music Converter to save music from Tidal with high-quality audio. And then you can tweak up the Tidal audio settings using an equalizer Tidal with ease. Moreover, you can upload local Tidal resources to any device or platform you like for offline playback.