Spotify is partnering with the tech giant Google to give away Google Home Mini speakers to family plan users for free, the primary streaming service Spotify announced on Wednesday on Oct 31.
This promotion will be available from Nov. 1 to Dec. 31. Any users with a Spotify Family account $14.99/month in the USA can redeem the free voice assistance smart speakers. It is a quantity and limited offer, so please go ahead to get it as soon as you can.
View also: Play Spotify Songs on Google Drive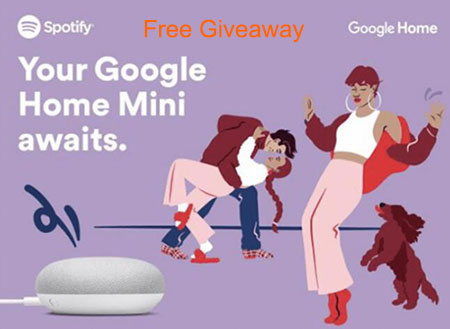 Part 1. How to Get the Google Home Mini Free Giveaway
For a long time, Spotify has been making great effort in improving its listening experience for users. In April, when it goes public, Spotify has added the feature for free subscribers to skip any tracks during listening. And it also cooperates with hardware producers such as Samsung to integrate Spotify to the new mobile phones and Facebook to add Spotify to the upcoming voice-controlled portal speaker.
This partnership with Google will make it easier for users to access the streaming music service on the smart speakers. It will benefit both Google and Spotify. On one hand, Google want to promote its smart speakers to complete with Amazon's echo speakers. On the other hand, Spotify also want to attract the casual listeners to subscribe to the family plan.
Steps to Get the Free Google Home Mini from Spotify
Step 1. Log into the Spotify website with your account.
Step 2. Make sure you have already subscribed to the Spotify Premium for family. If not, just simply choose and subscribe to it.
Step 3. Go to the website to reserve your free Google Home Mini.
Step 4. You should receive an email notification when your device is available. You can click the "GET IT NOW" button to place the order.
Step 5. You can pick up the color, input your shipping info to check out, a $50 coupon will be applied automatically.
Step 6. Wait for your Google Home Mini to arrive. Generally it takes 3~10 business days.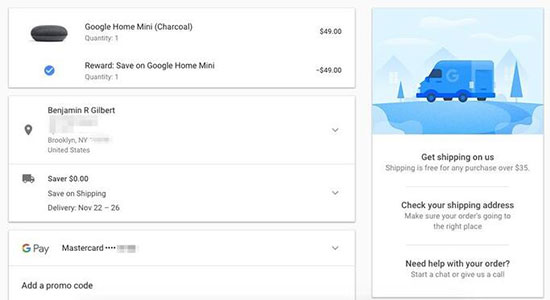 Part 2. How to Listen to Spotify Music on Google Home
With the Spotify Premium for family, your household can sign up 6 separate accounts. This is great. It costs only $14.99 which is only $5 more compared to the personal premium subscription. What's more, Google Home mini will be able to distinguish the different accounts easily.
Connect Spotify to Google Home
Step 1. Download Google Home app on your mobile phone and open it.
Step 2. Tap the menu from the top-left corner > "Account preferences" > "Linked media accounts" > "Spotify".
Step 3. Tap "Link Account" menu and then input your own account and password.
Step 4. Tap "OK" to confirm.
Step 5. Now you can ask Google Assistant to play music for you. For example, you can ask "OK, Google, play my Discover Weekly on Spotify".
Can You Listen to Spotify without Premium
Unfortunately, if you cancel the subscription, you won't be able to listen to Spotify songs from Google Home any more. But don't worry, you can download Spotify songs forever by a third party music downloader before you cancel the subscription.
DRmare Music Converter for Spotify is such as tool. It supports to batch convert all the songs, playlists, albums on Spotify from original OGG to new format MP3. The output quality are kept 100% so you can have the best listening experience.In addition, you can transfer the Spotify songs to Google Drive and you can play them on your Google home speakers too.