Amazon Music is no doubt an amazing music streaming service providing thousands of songs and hundreds of playlists to music lovers all across the world. Along with a free trial period, the streaming app offers various subscription plans to facilitate users in every way.
The family plan connects 6 devices at once, costing you $14.99 per month. And if you want to become a member on Amazon Prime, the app will cost you $9.99 per month. With the subscription plan, you can enjoy Amazon Music on any device you have. From Mac/Windows to Amazon Echo, enjoy your favorite songs on your favorite device.
However, due to some unknown reasons, you want to cancel Amazon Music Unlimited subscription and want to know how to carry out this process, we have answers for all your queries. Below we have discussed how to cancel Amazon Music Unlimited subscription using various devices. Let's check them out.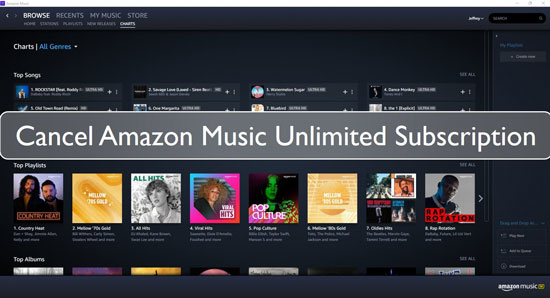 Part 1. How to Cancel Amazon Music Unlimited Subscription
Being an Amazon Music subscriber, you have enjoyed millions of songs and tracks on multiple devices. But now you are thinking, how do I cancel my Amazon Music Unlimited subscription? So here you can learn how to cancel Amazon membership on your smartphones and PCs.
1. Cancel Amazon Music Unlimited Subscription on PC/Mac
Whether you are a Mac or Windows user, the following way will allow you to get your Amazon Music Unlimited subscription cancel.
Step 1. Go to the web browser using your Mac/Windows PC. And open Amazon.com and use your account details to login into your membership account.
Step 2. Go to Amazon Music Settings to manage your Amazon Music subscription plan.
Step 3. Click on the "Amazon Music Unlimited" section to find the details of your subscription plan.
Step 4. Within this section, select "Cancel Subscription", which is available under the subscription renewal section.
Step 5. State the reason for your cancelation or choose one from the available options. Then select "Continue to cancel". Finally, select "Confirm Cancellation".
Step 6. Finally, select "Confirm Cancellation".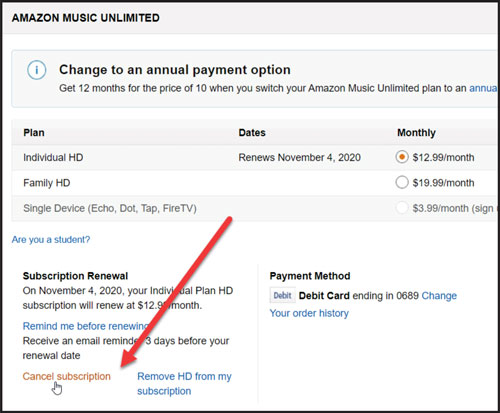 2. Cancel Amazon Music Unlimited Subscription via Amazon Music App
Canceling Amazon Music on your mobile app is a straightforward process. Go through the following steps on how to cancel Unlimited Amazon Music subscription.
Step 1. Open the Amazon Music app on your smartphone.
Step 2. Using the gear icon on and go to Settings.
Step 3. Within your account details, click on "Amazon Music Unlimited".
Step 4. Now, click on "Cancel Subscsription" to terminate your subscription plan.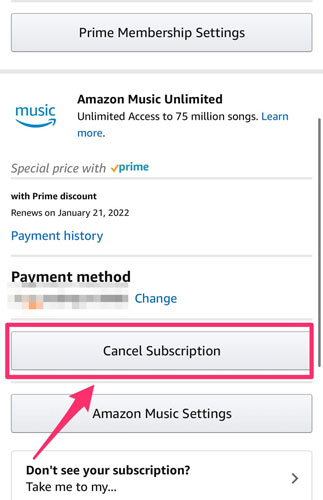 3. Cancel Amazon Music Unlimited Subscription with Amazon Shopping App
You can also use the Amazon Shopping app to cancel your subscription plan. Here let's learn how to do that.
Step 1. Open the Amazon app on your phone or your desktop.
Step 2. Go to the top right corner of the screen and select "Accounts and List".
Step 3. From the drop-down menu, select "Membership And Subscription".
Step 4. Click on the "Cancel Subscription" button in front of the Amazon Music option.
Step 5. Finally, confirm cancellation to unsubscribe to Amazon Music.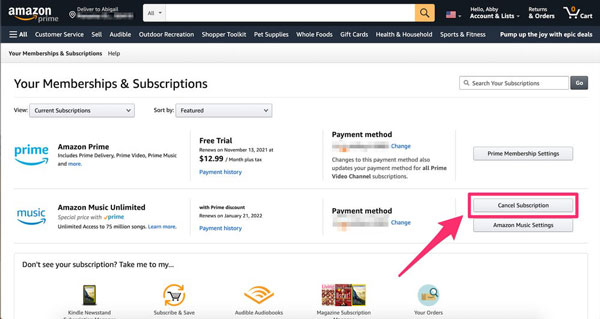 Part 2. How to Save Amazon Music Forever after Canceling Subscription
You have gone through the methods and formats informing you how to cancel Amazon Music Unlimited subscription. But as soon as the subscription ends, you will lose all the songs, tracks, and playlists that you so joyfully downloaded via Amazon Music.
To keep those songs with you even when you no longer have an Amazon membership, you must save those files with you as local folders. However, Amazon files are saved as cache, and to keep them as physical files, you need a highly advanced music converter. This is where DRmare iMazonKit Music Converter comes in.
DRmare Amazon Music Converter is an amazing Amazon Music converter that allows you to convert Amazon Music into any format that users find suitable. From making sure you get an easy and fast conversion, the converter utilizes advanced technology allowing you to listen to amazing Amazon Music while being offline. It supports audio transfer to a wide range of devices from iOS to Android. Besides having a simple user interface, the converter has all the features you want in a music converter.
DRmare Amazon Music Converter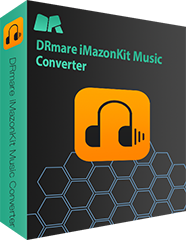 Converts Amazon Music to FLAC, WAV, MP3, AAC, M4A, and M4B standard output formats.
Preserves the quality of your Amazon Music audio format to give you music that is high in quality.
Converts the Amazon Music files at a superfast speed and enables you to convert hundreds of songs altogether.
Retains high-quality and lossless music with a full ID3 tag containing all the details about the downloaded Amazon Music files.
How to Download Amazon Music using DRmare iMazonKit Music Converter

First, install DRmare iMazonKit Music Converter on your device. After downloading the converter, you need to sign in to the app to register your account using your licensed email address and registration code. After setting up a paid account, follow the given instructions to download Amazon Music to computer.

Step 1

Customize output format and other parameters for Amazon Music

Go to the "Menu" on the top of the search bar and select "Preferences". Within the preference, select the "Advanced" setting option. This will open a new window where you can adjust the output format of your audio. Besides modifying the output format, you can also customize the audio channel, bit rate, sample rate, and archive settings of your converted Amazon Music audio files.
Step 2

Start adding Amazon Music files to DRmare for conversion

You can add tracks and even complete Amazon Music playlists to DRmare to convert. To do so, you have to choose tracks and albums in the converter. From the main interface of the converter, touch the target playlist and select the "Add File" option which is a yellow color button on the bottom of the page. Then DRmare will start adding tracks and music files to your list.
Step 3

Move on converting Amazon Music to local files

After adding all the songs from Amazon Music to DRmare Amazon Music Converter, all you have to do is click on the "Convert" option and start the converting and downloading process. All the music files will be saved as locally saved files and you can move on with your decision to cancel your Amazon Music subscription.
Part 3. Final Thoughts
If you want to switch to another music streaming app or maybe you have suddenly become too occupied, then listening to music has become less of a priority. Whatever your reasons for canceling an Amazon Music subscription are, you would surely like to save a few of your tracks before you cancel Amazon Music Unlimited subscription. DRmare Amazon Music Downloader will help you save your favorite songs on Amazon Music without affecting their originality.