Apple Music streaming service is among the popular services that users continue to throng. Since its launch in 2015, it has continued to hook its members in various sections. And when it comes to streaming songs, users get more than 50 million tracks from both the old and new artists. Furthermore, listening to curated music as well as tuning in to the 24/7 Beats 1 radio station are among the hooks that no one wants to miss.
Forget about subscribing yet. Apple Music offers you its services for free for up to three months. But perhaps you've had a good taste and wondering how do I cancel Apple Music? Even though Apple Music provides top-notch services, many other reasons may still push you to think of canceling your subscription. Maybe another streaming service has stolen your heart, or perhaps you feel you are parting with a lot of bucks. Whatever the reason, there are various solutions to cancel Apple Music but still keep your music forever.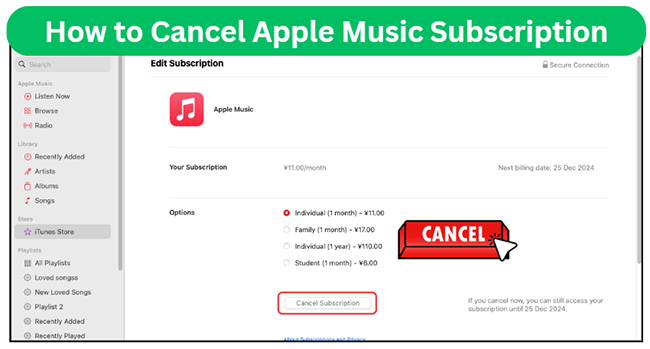 Part 1. How to Cancel Apple Music on iPhone / iPad
Follow these steps to learn how to cancel Apple Music on iPhone.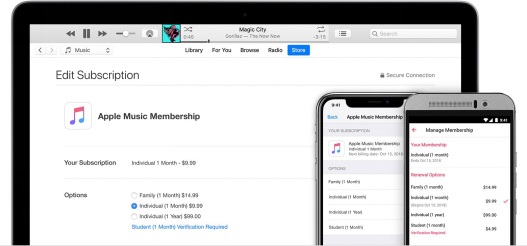 Step 1. Launch the Music app
Launch the Apple Music app and tap on the 'For You' tab. Next, tap on your profile icon. You'll find this icon at the top-right corner of your iPad/iPhone screen. Scroll down to view the account by tapping the 'View Account' option. Then tap the 'View Apple ID' option.
Step 2. Manage subscriptions
Once you are on the 'Accounts Settings' page, select the 'Manage Subscription' option. Then head to the 'Active Subscriptions' and select the 'Apple Music Membership'. Then tap on it to change Apple Music subscription options.
Step 3. Cancel your Apple Music Membership
Go to the 'Edit Subscription' page and select the 'Cancel Subscription' button. You'll find this at the bottom of the last page of your home screen. Tap the 'Confirm' tab when asked to confirm your choice to complete the process.
Part 2. How to Cancel Apple Music on Mac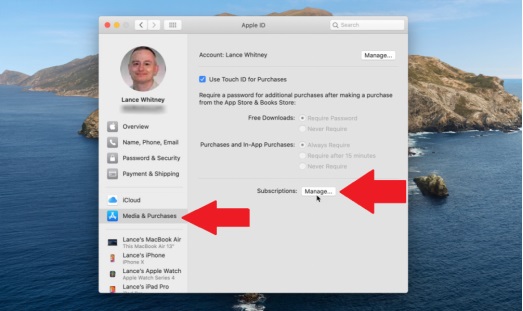 Step 1. Log into Apple Music account
To cancel Apple Music via Mac, first open the 'System Preferences' then click the 'Apple ID' icon. Once at the Apple ID screen, click the 'Media & Purchases' option. Next, click on the 'Manage' button to enable you to manage your subscriptions.
Step 2. Manage Subscriptions
The next step will let you manage your subscriptions. Just go to the 'Settings' option then find the entry for 'Subscriptions' and click the 'Manage' tab.
Step 3. Cancel Apple Music Membership
Finally, head to the 'Subscriptions' window and click on the 'Edit' link. This should now allow you to make the necessary alterations including how to cancel Apple Music membership. To do this, select the 'Cancel Membership' option. The system will automatically return you to the 'Your Membership' page. You'll suddenly realize that the auto-renewal option is gone. With that, you'll be sure that you have successfully canceled Apple Music.
Part 3. How to Cancel Apple Music Free Trial
Remember that Apple Music offers a free trial for 3 months. Some users may feel the need to cancel the free trial at will. Perhaps you are in the middle of this and wondering how do I cancel Apple Music? Follow these steps.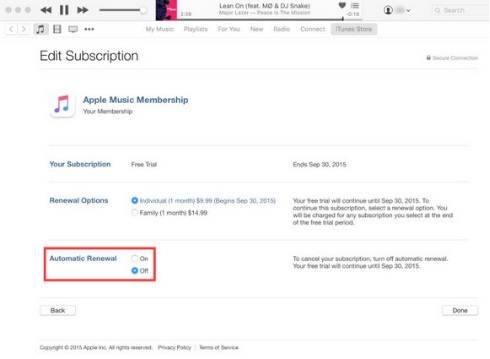 Step 1. Launch the Apple Music app
Launch the app on iTunes and log in with the Apple ID that is associated with your Apple Music free trial. Next, click your user account avatar and when a drop-down menu appears, select 'Account Info' and input your account password.
Step 2. Manage Subscription
To manage your free trial subscription go to the 'Settings' page then choose the 'Subscriptions' option and click on 'Manage'.
Step 3. Turn off auto-renewal
A list of your subscriptions will be populated. Look for the 'Edit' button at the right of your Apple Music subscription. Next, look for the 'Automatic Renewal' tab and toggle it to 'OFF'. Confirm that you want to turn off the auto-renewal by clicking the 'Turn Off' option.
Part 4. How to Keep Apple Music Forever After Free Trial
After you cancel the Apple Music subscription, your music doesn't just disappear in thin air. You are still able to access it until the next billing day. But as soon as this period elapses, your songs will be removed from all your devices. But wait a minute.
There is a way out! You can still listen to your downloaded Apple Music streams even after the free trial period elapses. DRmare Apple Music Converter is capable of downloading and converting Apple Music as common audio files. With this, you'll manage to keep Apple Music forever after free trial. Follow these steps.
Step 1. Launch DRmare Audio Converter on your computer
Once you have downloaded and installed the app on your device, click the app icon to launch it. You'll then see DRmare Audio Converter main interface.
Step 2. Import your music to DRmare Audio Converter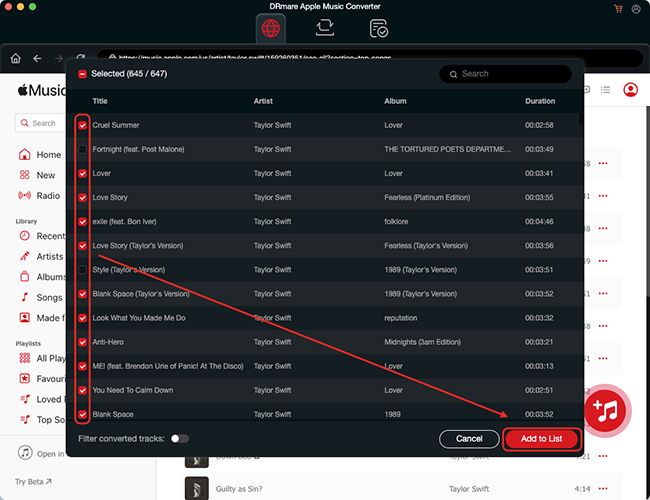 At this stage, you need to upload your audio files in the main interface by the drag-and-drop option. Alternatively, you can click on the 'Add Files' button to add more files for imports.
Step 3. Customize your settings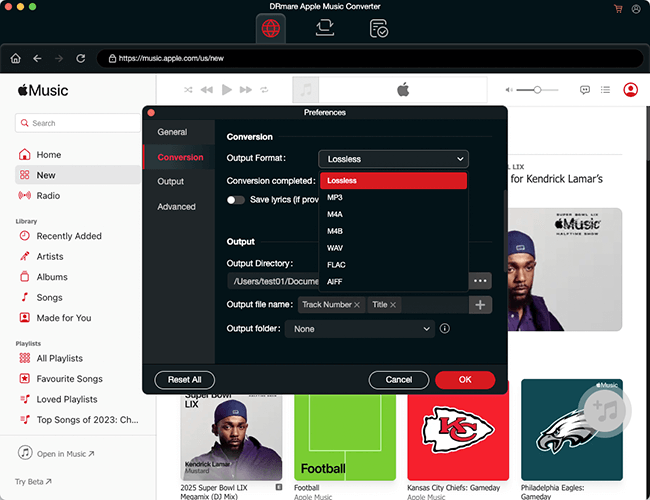 DRmare Audio Converter lets you customize the output settings. Click the 'Format' tab to automatically open up a list of formats such as WAV, FLAC, MP3, and much more. You can also set the audio code, bit rate, among many other adjustments to make your music more personalized.
Step 4. Convert your Apple Music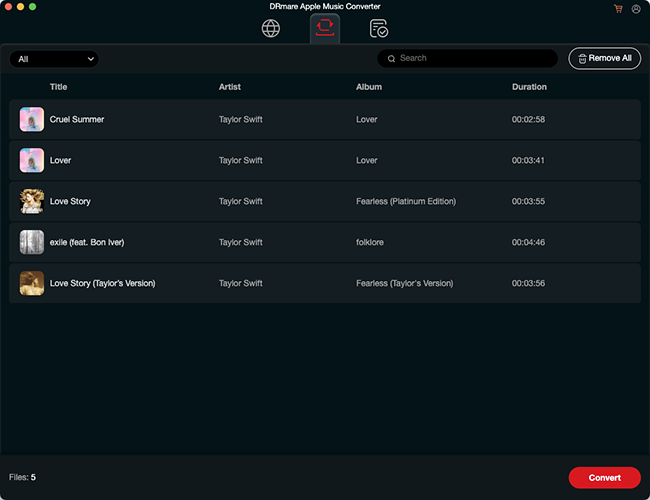 Finally, you can convert your Apple Music to the desired format to enable you to keep Apple Music forever after free trial. Just click the 'Convert' button at the bottom left of the screen and the app will automatically convert your music. Once converted, you can now move and freely play your audio files on any of your mobile devices as you keep them forever.
Part 5. Conclusion
If you've already had your good share of the free trial from Apple Music and think that your time is up, you can end the game. Many users have been wondering how to cancel Apple Music before they start paying for its services. Well, this article has provided various ways to cancel Apple Music subscription. Above all DRmare Apple Music Converter offers you the leeway not only to download and convert Apple Music as common files but also to keep your Apple Music forever even after the free trial.