"Does Amazon Music work on Android Auto?" Most modern cars come with an Android Auto feature designed to help you access Android features on your car's infotainment system. Through the Android Auto application, you can integrate your phone's functions to your car. This way, you can access your phone applications such as map navigations, Google Assistant, receive and make calls and play music while driving. Fortunately, Amazon Music is compatible with Android Auto.
If you are an Amazon Music fan, you could make the long boring trip far shorter and incredibly exciting. Also, Android Auto technology supports you to enjoy your drive without necessarily carrying your phone - keeping you safe and happy with your favorite playlist from Amazon Music. This article will, at a glimpse, provide you with a few flexible ways to play Amazon Music on Android Auto and some professional solutions to solve Amazon Music Android Auto problems.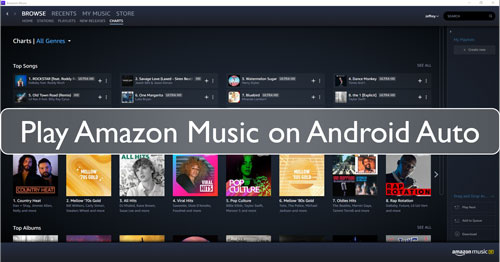 Part 1. How to Add Amazon Music to Android Auto Directly
The Android Auto is a Google safety solution for drivers that enables them to access their phone service without using their phones. It will mirror services on your Android phones onto the display screen within your car. In this case, you can easily play Amazon Music in the car via Android Auto. Before doing this, it's necessary to setup Android Auto well and add Amazon Music to Android Auto. Below is a simple guide.
Set Up Android Auto and Amazon Music on Your Android Phone
Step 1. Make sure that your Android phone runs an Android 6.0 or above version with a data plan.
Step 2. Search for the Android Auto app and download it from the Google Play Store on your Android devices.
Step 3. Search for the Amazon Music app and install it from the Google Play Store on your Android phone.
Notes: If you are using an Android phone running Android 10 or above, you will get Android Auto pre-installed on your device.
How to Add Amazon Music to Android Auto
After preparing Android Auto and Amazon Music, you can refer to the following steps to get Amazon Music on Android Auto.
Step 1. Open the Settings on your smartphone and then navigate to the 'Searching Setting' option to choose Android Auto.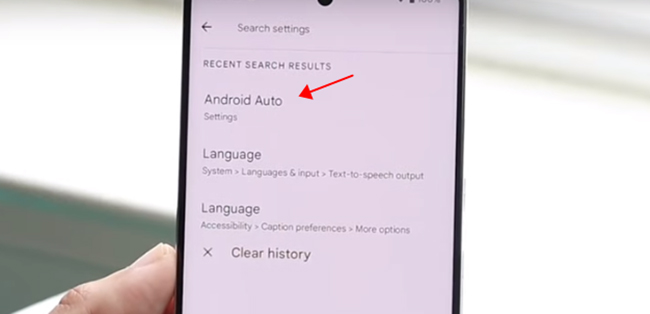 Step 2. In the Settings window, you can scroll down to select the 'Customize launcher' button. It will allow you to choose which apps show on Android Auto and how they appear in the car screen launcher.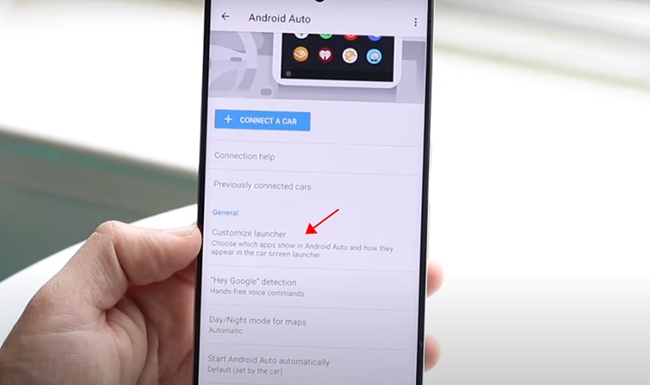 Step 3. Now, you can check the mark next to Amazon Music option and customize how Amazon Music appears in your car display.
How to Set Amazon Music as Default on Android Auto
If you'd like to play podcasts and playlists on Amazon Music Prime and Amazon Music Unlimited, it's highly recommended to set Amazon Music as the default music service below:
Step 1. Fire up Android Auto on your smartphone and then tap the menu icon to choose the "Settings" option.
Step 2. In the settings window, please choose the "Media" > "Media apps" buttons to choose and customize Amazon Music as the default player. You can listen to Amazon Music music and podcasts through your car's speakers with Android Auto now.
Part 2. How to Play Amazon Music on Android Auto
To play Amazon Music playlists on Android Auto, there are some prerequisites you should check out below:
Requirements to Use Amazon Music on Android Auto on the Car Display
Check whether your car or stereo is compatible with Android Auto.
Prepare a high-quality USB cable. Or your car supports Bluetooth function.
Create an Amazon Music Unlimited or Amazon Music Prime account if you don't have one.
How to Connect to Android Auto on Your Vehicle
There are two ways to connect your phone to your vehicle to use Android Auto, USB cable and wirelessly. Here's how to.
via USB Cable
Step 1. Your vehicle must be parked well and then use a USB cable to connect your Android phone and car's USB port.
Step 2. Your Android Auto will be launched automatically. If not, touch the Projection icon or the Android Auto icon on your vehicle's touchscreen. An on-screen instruction is available. You can refer to it to set up Android Auto well on your car.
Step 3. It requires you to accept the Terms and Conditions before using this feature. After that, your Android Auto is active, and all phone apps you set before will show on the infotainment screen.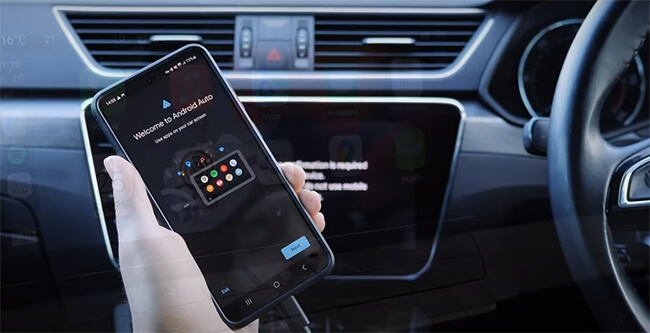 via Wirelessly
Step 1. Make your car in Park or P mode and then tap the gray 'Android Auto' icon on the car touchscreen.
Step 2. Pair your Android phone to the car system via Bluetooth. Follow the prompts on the car and on your phone to get started.
Step 3. Accept all Terms to activate Android Auto on your car.
How to Play Amazon Music on Android Auto
Since Amazon Music is an Android Auto-compatible app, you can now directly find the Amazon Music app on the vehicle's touchscreen. Let's see how to do it now.
Step 1. Scroll down and tap the "Amazon Music" app on the car's infotainment system.
Step 2. Browse your Amazon Music library and select the playlists you want to play in the car while driving.

Step 3. You can also control Amazon Music playback on Android Auto via voice commands. Activate voice commands by saying "OK Google" or "Hey Google," followed by commands like "Play [song/artist/album] on Amazon Music."
Part 3. How to Use Amazon Music on Android Auto Offline via DRmare iMazonKit
Even though Amazon Music links perfectly with Android Auto, quite a huge number of people prefer the old-school way of listening to music - using a USB flash drive. However, there is a problem that - you cannot directly download Amazon songs to your flash drive. Amazon Music songs are copy-restricted, meaning that you cannot download or play Amazon tunes on unauthorized devices. That, however, does not mean it is entirely impossible!
Here, we will introduce you to a tool that will let you bypass copy restrictions, download and convert Amazon Music for offline playback - the DRmare iMazonKit Music Converter. The software works fast and lets you download and convert Amazon Music to more playable music formats such as MP3, FLAC, WAV, M4A, etc. without loss of sound quality. It is, in fact, a top-rated Amazon Music downloader not only for premium users but also for free Amazon account users. With the help of this software, you are able to play Amazon Music playlist on Android Auto offline without a problem.
DRmare iMazonKit Amazon Music Converter
How to Play Amazon Music Playlists and Podcasts on Android Auto Offline
Step 1

Download, install and launch DRmare iMazonKit

Visit the official website to download and install the DRmare iMazonKit Music Converter app on your desktop. Make sure that you download the right software version for your system software. Click on the software's icon to launch. Select the "Sign In" option to access your Amazon account. If you do not have one, you can create one for free on their site.
Step 2

Register DRmare iMazonKit Music Converter

DRmare iMazonKit Music Converter comes with a free version that only lets you convert a minute of each Amazon song. You will need to purchase the application for complete software services. After purchasing, head to the menu icon on the top right corner and select the "Register" option. Enter your licensed email and registration code to complete the registration.
Step 3

Change Amazon Music audio format and music parameters for Android Auto

With the application, you can easily alter Amazon Music to popular music formats for Android Auto. To do that, go on the Menu icon and select "Preferences" and then "Convert." Here you can customize your audio format as well as change a few music specs such as audio channel, bit rate, sample rate, etc. You can also organize your songs by Artist or Album, etc.
Step 4

Select and download Amazon Music for Android Auto

Find your favorite Amazon Music playlist and click on it to open. Copy the playlist URL and paste it to address text bar to add songs to DRmare iMazonKit. Once you have selected your songs, click on "Covert" at the bottom. The DRmare iMazonKit Music Converter will automatically and simultaneously download and convert Amazon Music to MP3 to your PC for Android Auto.
Step 5

Transfer Amazon Music to USB for playing on Android Auto

Plugin your USB flash drive to your PC and find the downloaded Amazon playlist by hitting the "History" option. Proceed to copy and paste the Amazon Music playlist to your USB flash drive. Once it is complete, unplug your USB, plug it into your car stereo system, and select "Play". That's it! You can now play Amazon Music songs on Android Auto offline.
Part 4. Troubleshooting of Amazon Music Not Working on Android Auto
That's all to make Amazon Music work on Android Auto. But you will still experience some Android Auto not playing Amazon Music problems. Here, we also introduce some troubleshooting methods to help you resolve the issue.
✅1. Check for Updates: Check the versions of your Amazon Music app and Andriod Auto apps and update them to the latest versions.
✅2. Permissions and Settings: Make sure you have already added Amazon Music to show on Android Auto. Authorizing necessary permissions is possible to fix Amazon Music not showing on Android Auto issue.
✅3. Bluetooth Connection: Connectivity issues can prevent Amazon Music from working correctly with Android Auto. Please properly connect your phone to your car's head unit via Bluetooth again.
✅4. Internet Connection: A stable internet connection is essential for streaming Amazon Music. Check your cellular or Wi-Fi connection is stable while using Amazon Music with Android Auto.
✅5. Restart and Reconnect: Restart your Android phone and your car's infotainment system and reconnect them again.
✅6. Clear Cache and Data: You can also try to clear the Amazon Music cache and data and Android Auto cache. This action can often fix some app-related issues.
Notes: To troubleshoot Amazon Music Android Auto issues while driving, please make sure your vehicle is parked to prioritize safety.
Part 5. Conclusion
With the two listed methods and effective troubleshootings, you can now easily play Amazon Music on Android Auto. You only have to find out with works for you best. However, directly listening to music on Android Auto may sometimes be limited by lack of internet. To avoid such an eventuality, we highly recommend that you go the easier way - download Amazon Music to computer using DRmare iMazonKit Music Converter for unlimited offline music playback on Android Auto.