iOS 12 has been released this fall. Although it has been out for several months, some users may still don't know the the improved secret features of it. Such as 3D Touch, AirPods, Apple Music, Battery, Camera, Face ID, Gestures, iPad, Keyboard, Messages.
Among them, lyrics search is one great feature of Apple Music. It enables users to search songs by lyrics in iPhone, iPad. This is extremely useful when you are singing a song in your head and want to find it on Apple Music app but can't think of its name or artist. It makes the already great streaming service better in the competition.
This new feature works for both paid and free-trial subscribers. Now please continue to read the tips to find songs by lyrics.
View also: How to Play Apple Music on iPhone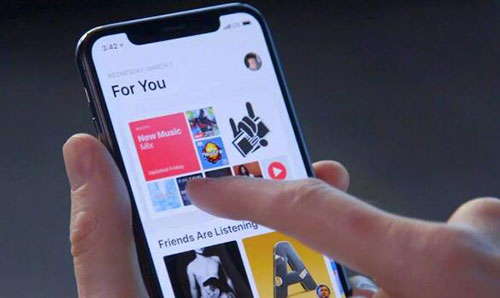 Part 1. How Does Apple Music Lyrics Search Work
If you have already upgraded to iOS, it is a breeze to use this lyrics search feature to locate songs from the large Apple Music category. Please refer to the steps:
1. Launch Music app on your iOS device such as iPhone, iPad or iPod Touch.
2. Tap the "Search" icon from the top right, you will see the search box where you can input the artists, songs, lyrics, album and so on.
3. Just type a few words or lines from a song you'd like to listen to. For example, you can type the phrase "No more no more taking it slow".
4. You can select the option to search from Your Library if you have already downloaded it before or select Apple Music if it is a new song.
5. You should see several matched results show up below the search box. You can click the songs you want to start listening.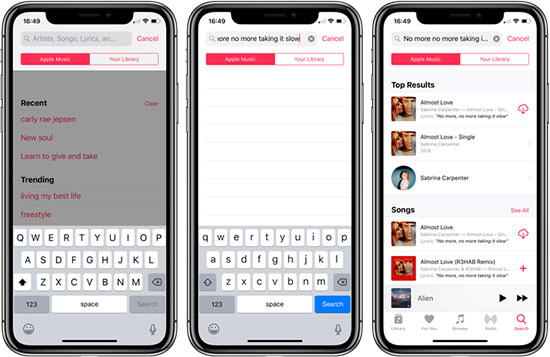 Part 2. How to Upgrade Your iPhone/iPad System to iOS 12
Can't find the feature to locate songs by lyrics on your iOS device? No worries, maybe you still haven't upgraded to iOS 12. The feature to display song lyrics had already in iOS 10 2 years ago. But to search songs by lyrics is only added on the latest iOS 12 system not long ago.
iOS 12 is compatible with iPhone 5S/6/6 Plus/6S/6S Plus/SE/7/7Plus/8/8 Plus/X, iPad Air/Air 2/Mini 2/Mini 3/Mini 4, iPad 9.7 inch, iPad Pro 9.7 inch/12.9 inch/10.5 inch, iPod Touch six generation.
Here is the detailed instruction on how to upgrade to iOS 12. Note: Upgrade will wipe your device's data, so please make sure to backup your import data first. You can do the update from your mobile device directly or by using iTunes in your computer. Personally I'd prefer the first one.
Step 1. Launch your iOS device and connect it to a a local Wi-Fi network.
Step 2. Click "Settings" > "General" > "Software Update", you will see a notification of IOS 12.
Step 3. You can tap "Download and Install". During installing, you won't be able to use the device. So you can choose to postpone the installation later.
After the 3 steps, you can open Apple Music app again and you should see the "search music by lyrics" feature.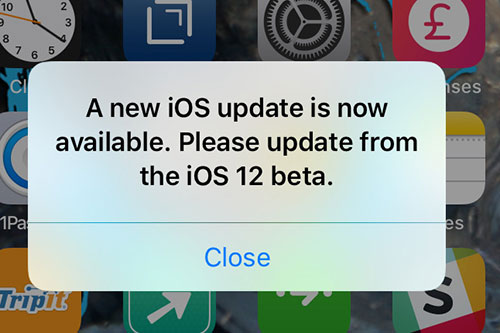 Part 3. Search by Lyrics in Apple Music Not Working
Sometimes even if you have already upgraded to iOS 12, you still can't locate your songs. Why? There are still a few caveats on finding songs by lyrics in Apple Music.
1. After searching, if you can't find the songs you want from the displayed result, you can click "See All" menu to check more songs.
2. Not all songs in Apple Music library contain lyrics, so this reverse-lyrics search won't work all the time.
3. Make sure you have spell the phrase right when searching by lyrics and you can reduce the length of the phrase to get more result songs.
4. The feature doesn't work for users without a subscription or the subscription is expired.
Part 4. Summary
With this new lyrics search feature, it should be easier for you to find the songs you like. Besides this new features, there are other new features such as artist pages and billboard playlists come with iOS 12. I won't illustrate them anymore here.
Finally, if you'd like to backup your favorite Apple Music songs forever, you can use DRmare Apple Music Playlist Converter for Windows/Mac. It is a comprehensive tool which can get rid of DRM protection from Apple Music M4P files and encode the M4P to MP3 within a few clicks.