Apple is well known for its user friendly and well-designed mobile devices iPhone, iPad and iPod. If you are a music lover and have subscribed to the Apple Music family plan, you got many helpful tools and features to mange the music playback settings on your iOS devices. For example, if you want to set a volume limit on iOS for Apple Music, you just need to do a few clicks.
Here we will show you why it is important to set an iPhone volume limit and the comprehensive tips for it.
View also: How to Remove DRM Protection from Apple Music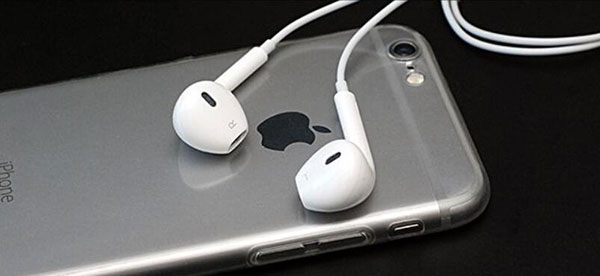 Part 1. Why You Need to Set a Volume Limit for iOS
The most important thing for everyone in the world is health especially hearing. If you lose it, you won't get it back. But many factors may do damage to our hearing if we don't pay attention to it.
Commercial Music Tends to Have Loud Sound
Most commercial music such as Spotify, Apple Music is compressed to make the entire songs sound louder and more attractive just like the radio stations, broadcasting. It is good for grabbing listeners' attention, but not good for their ears.
Some Headphones Don't Have Noise Reduction Feature
When you are in a noisy environment, you may turn the volume up to hear the sound especially if you are using a headphone without noise reduction like AirPods for iPhone. This is dangerous to hurt out eardrums without realizing it.
Kids Are Lacking Of Self-Control
When using mobile devices iPhone, Android phones or tablets, , kids usually don't have self-control. They want things funny and may unconciously turn the sound as loud as possible. In order to protect their hearing, we should limit the maximum volume. Usually you'd better set it to 70% of the maximum according to the Euro standard.
Part 2. How to Limit the Maximum Volume on Your iPhone/iPad/iPod for Your Kids
If the volume of your Apple Music on iOS 12 devices is too high, you can adjust the volume directly. Also, you can try the 3 ways to change it by EQ settings, Apple Music sound check and set a volume limit. The settings is more or less the same across iPhone, iPad and iPod. Here I will illustrate how does it work with iPhone.
EQ Settings
Equalization settings will apply to the music played from Music app such as Apple Music or the iTunes songs that are synced to the iCloud.
Step 1. Open your iPhone and click "Settings".
Step 2. Find and click "Music" app and click "EQ".
Step 3. Open the opened windows, you can change the equalization which will affect the output volume too.
Apple Music Sound Check
This is a feature built into iPhone, iPad and Mac for adjusting the volume of all the songs of the album to the same level automatically.
If you don't want to keep turning the volume of your Apple Music up or down time from time, now it is time to enable it.
Similarly, you can click "Settings" on your iPhone, scroll to find the "Sound Check" option and then switch the button on.
Set An Apple Music Volume Limit for Kids
Even if you have changed the volume, your kids may still be able to adjust the volume by themselves. To prevent this, you can set a volume limit.
Step 1. Open the Settings app from your iOS 12 device like iPhone.
Step 2. Scroll down to the "Playback" category, there will be an option "Volume Limit".
Step 3. With the slider, you can set a volume limit. After them, not matter how did you adjust the volume, it won't exceed the value you have just set. Generally, it is recommended to set to 70% of the default maximum volume.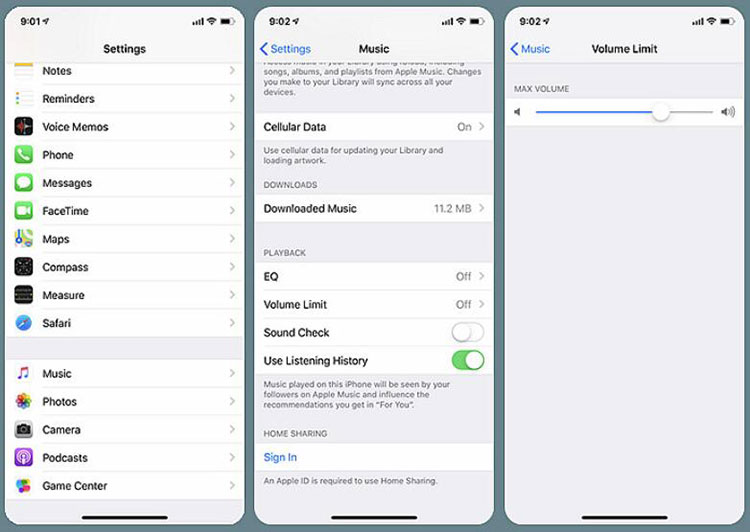 Part 3. More Tips Protect Your Kids When Listening to Apple Music
Setting a volume limit of Apple Music on iPhone is a great way to protect the ear of your child. But that maybe not enough. As there many be some explicit contents that are not proper for kids from Apple Music, you can also follow the tips to disable Apple Music explicit contents.
In addition, you can also use the parental control under "Content & Privacy Restrictions" to limit the contents which your child can access to.
Step 1. Go to "Settings" of your iPhone and click "Screen Time" and "Continue".
Step 2. You can select "This is My iPhone " or "This is My Child's iPhone" to start to do the settings separately. After that, you can create a passcode by clicking "Use Screen Time Passcode".
Step 3. Finally, you can click "Content & Privacy Restrictions" to choose which apps, contents your kid can access to.
Finally, I want to pint out that Apple Music is DRM protected, so you can't copy them to MP3 players directly. If you'd like to get the most out of Apple Music, you can use the DRmare Apple Music to MP3 Converter for Mac/Windows to convert them to MP3.
DRmare Apple Music Converter