The invention of Bluetooth technology changes the way of digital entertainment and file sharing. As a short-range wireless technology, it replaces the cables connecting devices for exchanging data. It has also made an important influence on the Apple Music listening experience. People can play Apple Music from a device to the other through Bluetooth directly.
But Apple Music users always overlook the Bluetooth function to enjoy music better. It is able to connect the device to an independent Bluetooth product and play Apple Music easily. So here, in this article, we will show you a detailed tutorial on how to play Apple Music on Bluetooth devices.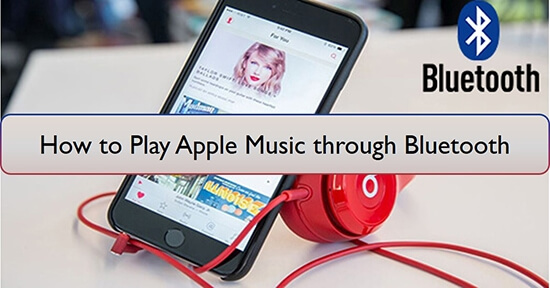 Part 1.How to Pair iPhone with a Bluetooth Device to Play Apple Music
In this part, we will introduce the simple tutorial of pairing an iPhone and a Bluetooth device. By doing it, you can play Apple Music on the selected Bluetooth device through Bluetooth. The only premise is the device is compatible with Apple Music and supports Bluetooth. Let's see how to do that so that you can Bluetooth music via iPhone.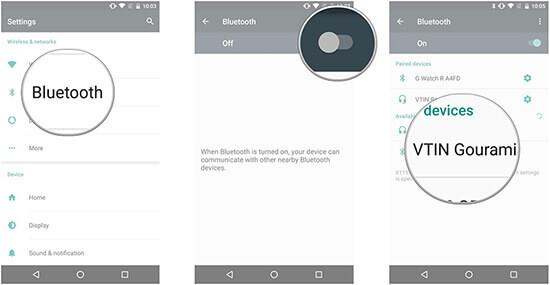 Step 1. Turn on Bluetooth for the iPhone. Enter to 'Settings' in the iPhone, click the 'Bluetooth' menu near the top of the list. Then you can launch the Bluetooth feature by tapping the toggle button on the next screen.
Step 2. Pair the iPhone with a Bluetooth device. There is a list of Bluetooth devices on the iPhone. Please choose the favorite device that you'd like to connect to. You will see a Bluetooth Pairing Request on your phone. You need to confirm the code that's shown on the Bluetooth device. If the characters are the same, please tap Pair.
Step 3. Connect Apple Music to Bluetooth device. Once the Bluetooth pairing process is successful, it will read 'Connected' on the phone. Now, you can start to let iPhone play Apple Music when Bluetooth connects. And the paired Bluetooth device will Bluetooth Apple Music automatically.
Part 2. How to Play Apple Music on Bluetooth Speaker
Different Bluetooth devices have slight differences when it comes to Apple Music Bluetooth. Given that there are a lot of compatible Apple Music Bluetooth speakers here, let's show this tutorial first.
It doesn't matter for your devices without an Apple Music app. We can still use the Bluetooth function to get Apple Music to play on Bluetooth speaker. Take Amazon Echo as an example, we will show you how to play Apple Music on Alexa via Bluetooth.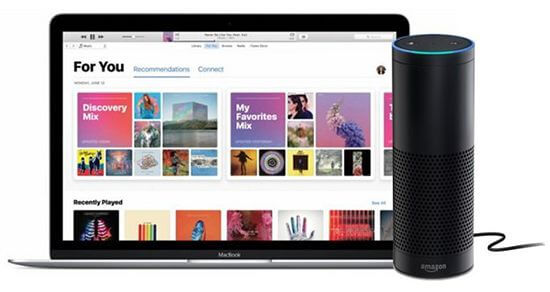 Play Apple Music on Bluetooth Speaker
Step 1. Turn on Amazon Echo and say "Alexa, pair" to make Echo in Bluetooth mode. If it is under the existing current Bluetooth pairing mode, you can say "Alexa, cancel." to unpair it.
Step 2. Enter the 'Settings' > 'Bluetooth' menu on your mobile device. Then you can choose the Echo as the target device. Once paired completely, Alexa will tell you that the connection is successful.
Step 3. Now, you can use Amazon Echo as the Bluetooth music player for Apple Music. Please play Apple Music on mobile devices, it will come out of the Apple Music speaker. To finish the connection, please say "Alexa, disconnect."
Part 3. How to Play Apple Music in the Car through Bluetooth
There are many ways to play Apple Music in the car. Bluetooth is one of the easy and effective solutions. Only if your car supports Bluetooth, you can play music through Bluetooth in the car from your iPhone.
There is no doubt that playing Apple Music using a car stereo is amazing entertainment. It will keep the brain active while long-distance driving. Bluetooth technology can solve the problem of no network connection. The following are the steps on how to use Apple Music as Bluetooth music for playback in the car.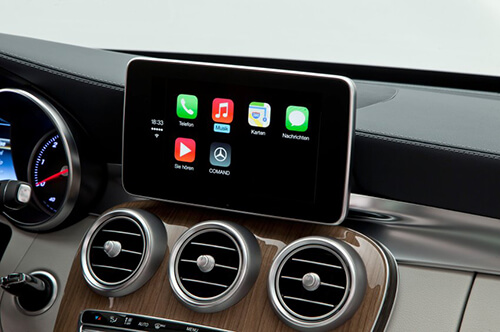 How to Play Apple Music through Bluetooth in the Car
Step 1. Check the user manual of your car stereo firstly. There is a complete guide on how to pair it with a Bluetooth device.
Step 2. Enter to the 'Settings' app and tap the 'Bluetooth' button twice to turn Bluetooth off and back on.
Step 3. On your iOS device, unpaired your car stereo. On your car's display, unpaired your iOS device and any other devices.
Step 4. Restart your car and your iOS device, then pair and connect again.
Step 5. Once pairing, Apple Music playing on iPhone can be streamed to car audio system automatically.
Part 4. How to Play Apple Music from iPhone to Mac via Bluetooth
One of the advantages of Bluetooth is connecting your iPhone to Mac without using the hassle of wires. By doing that, it's easy to control all content of the iPhone on Mac, including the Apple Music playback. This way also works on playing other music files from iPhone to Mac.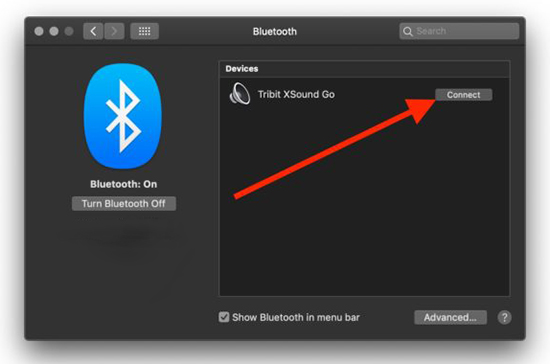 Play Apple Music from iPhone to Mac via Bluetooth
Step 1. Navigate to the iPhone's 'Setting' section. In the new window, please select the 'General' > 'Bluetooth' menu to turn it on.
Step 2. Please do the same time on your Mac. And then, you can choose your iPhone as the target device under the 'Devices' option.
Step 3. Click the 'Connect' button to pair your iPhone with Macbook. Now, you should go to the Apple menu > 'System Preferences' > 'Sound' > 'Output' to set Mac as the sound output device.
Part 5. How to Bluetooth Apple Music Anywhere
Bluetooth is really a popular and easy way for users to play Apple Music. But it's not the best solution for listening to Apple Music via Bluetooth. Because if your Apple Music on your iPhone is not offline, you will use a lot of mobile data.
To use the Bluetooth feature smoothly, you need to draw support from an inevitable assistant. It's namely DRmare Apple Music Converter. It can convert Apple Music to MP3, AAC, FLAC, and more other files. In this case, Apple Music can be playback on all devices via Bluetooth offline anywhere.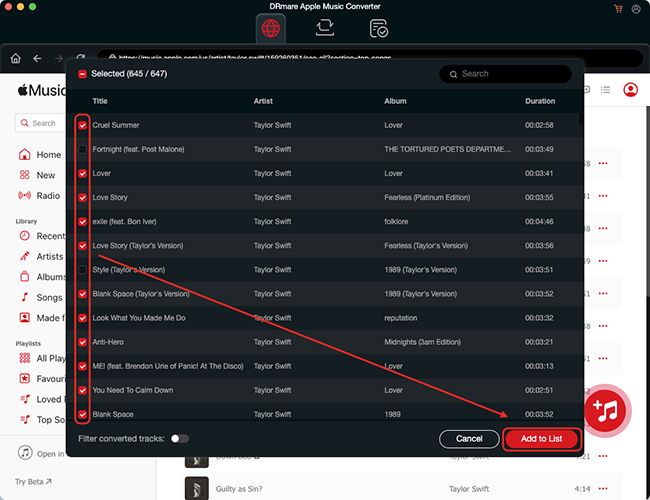 To convert Apple Music files with DRmare software, there is a useful source page for your reference: How to Convert Apple Music to MP3.
Extra Tips: Fix Apple Music Won't Play on Bluetooth
Many users report that Apple Music won't play through Bluetooth. In this case, we will show you some solutions on Apple Music not playing on Bluetooth.
Method 1. Reset your Bluetooth headphones. If you can't play Apple Music via Bluetooth on headphones, you could reset your Bluetooth headphones to the default properly.
Method 2. Try to turn Bluetooth off and back on again on your computer and iPhone.
Method 3. Try to reset the network setting on your iPhone and computer.
Method 4. Disconnect the current Bluetooth device.
On Mac Computer: Please open the 'Apple Menu' > 'System Preference' and choose 'Bluetooth'. Then choose the device you want to disconnect and hit the 'X' button to remove it. And then repeat the first two steps and select the device you like to connect and hit 'Connect'.
On iPhone: Open 'Setting' > 'Bluetooth' option. Then choose the linked Bluetooth device and touch the 'Disconnect' option. Next, turn off the Bluetooth device and turn it back on to reconnect.
Besides, to forget the currently connected device, you can go to the 'Settings' > 'Bluetooth' option. Please choose the device that has an issue with and click on the info button. Then you need to hit on the 'Forget This Device' tab.
If you have met other situations on Apple Music not playing on Bluetooth, please share with us in the comment area. We will try our best to provide a possible workaround. Besides, if you want to get the tutorial on playing Apple Music on other Bluetooth devices, please list them below.