"When I tried to upload my audiobooks to iCloud Music Library with iTunes Match, I got the error that "This item is not eligible for iCloud". What is wrong with that?"
If you purchase audiobooks from Audible or iTunes, they are already in the cloud. But they are shunted to different apps. For iTunes audiobooks or other CD version audiobooks, you can sync and listen to them on iBooks. For Audible audiobooks, you can download and listen to them on Audible app. This prevents you from enjoying both your audiobooks and music together.
In an effort to listen to audibooks with your music together on the Music app, here I'd glad to show you the tips to upload any audiobooks iCloud with iTunes Match easily.
View also: How to Backup iTunes Library to iCloud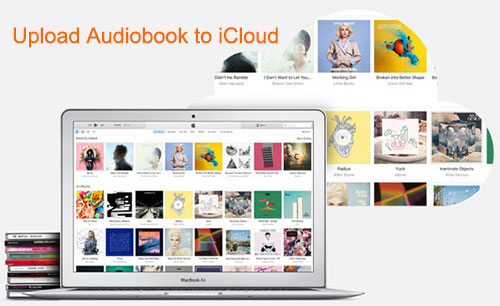 Part 1. Everything About iCloud Music Library and iTunes Match
What Is iCloud and iTunes Match
iCloud is a cloud storage and service provided by Apple. It enables you to store data such as documents, photos, music, movies on the server and get access to them via any iOS, Mac OS or Windows devices.
And the iTunes Match is part of iCloud service. It is special for uploading and managing music on iCloud. When matching your songs, if they are already in the iCloud Music Library, apple will enhance them to a better version with higher bit rate. If they don't exist, Apple will store them directly.
Why Audiobooks Are Not Valid for iCloud
As its name suggest, iCloud Music library is designed for music files. That is why the audibooks files with the formats AA, AAX, M4B are not supported. What's more, nowadays digital audiobook files you bought online are usually combined with DRM protection.
File Standards of iCloud Music Library
But what if you have already converted the audiobooks to MP3 but still get the error "This item is not eligible for iCloud"? Well, iCloud Music has very strict standards.
1. iTunes Match only supports AAC, MP3, AIFF, WAV, M4P, M4A, H.264, Apple Lossless and more. Among them, the AIFF, WAV, Apple Lossless will be converted to AAC files with 256Kbps. Files with specific formats which are not on the list won't be supported.
2. iCloud only supports the songs with bit rate higher than 96 Kbps, size small than 200Mb, length less than 2 Hours. For any audio files which doesn't meet the criteria, you can enhance the bit rate and reduce the file length and size.
3. It won't upload your DRM files from other sources unless it is the iTunes songs purchased before 2009. During upload, these DRM songs will be replaced with DRM free version.
4. iTunes Match is limited to 100,000 songs. Songs you purchased from iTunes are not counted towards the limit. But please make sure the iTunes Genius is turned on so that to detect your library well.
Part 2. Convert Audible Audiobooks to iCloud Compatible Format
With the things in mind, we have to convert audiobooks to music files such as MP3 and AAC without DRM protection so that to turn them to iCloud Music Library compatible files. In addition, we need to reduce the size and length of audiobooks by splitting them by time/chapters as they are usually pretty large and hours long. Besides, audibooks are recorded at a low bit rate, you need to enhance them to 96Kbps at least.
There are many audiobook converters in the market. But not all of them are created same. I have actually tried many software of many brands like NoteBurner, Ondesoft, Sidify, TuneFab. They either lack the features or simply don't work stable.
I didn't get the job done unless I meet the DRmare Audiobook Converter for Windows/Mac. The first time I used it and I fall in love it immediately. I am so surprised that it converts my audiobooks so fast with only 3 steps. With it, now I can dutch any other similar tools I got in the past time of my life.
Powerful Audiobook Converter of 2018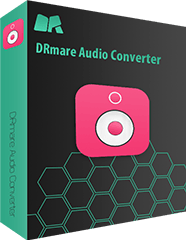 Get rid of DRM from not only audiobook, but also Apple Music, iTunes podcasts
Split large Audible audiobooks to small parts by chapters or by time for iCloud
Customize the output playback parameters such as bit rate, frame rate
30 faster speed, lossless output quality, lifetime free update and technical support
DRmare software supports most popular audiobooks, here I will take the Audible files to show you how does it work.
Step 1

Add AA/AAX files

If you have AA/AAX Audible audiobooks downloaded online, received from your friends or got by any means, you can simply drag and drop them to the DRmare software. Even if you don't have the original account and password, they will supported perfectly by DRmare. This is one great advantage compared to other rivals which keep asking you for the account info to work.
Step 2

Customize output audiobooks

AAC and MP3 are both supported by iTunes Match perfectly, so please make sure to select the format as AAC or MP3. Besides, please change the bit rate to a higher value at least 96Kbps. After that, you can click the "Edit" icon beside the audiobook you imported. It will prompt you the option to split your Audible audiobooks as well as other editing features.
Step 3

Output common audio files

Next, please press "Convert" button from the bottom right. DRmare will convert your Audible audiobooks to the new music files with all the parameters you have set.
Part 3. Quick Tips to Transfer Audiobook to iCloud
Now you should not meet the same error when using iTunes match any more. If you are a veteran user, just skip this part. Else you can take a look at this step by step tutorial.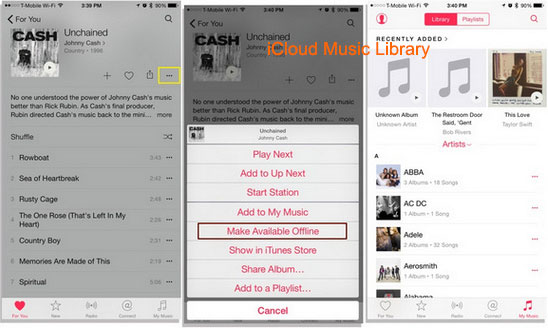 1. Turn on iCloud Music Library.
To make sure you can access the uploaded songs anywhere, please turned on the iCloud on all your devices. For an iOS device such as iPhone, iPad Pro, iPod Touch, please click "Settings" > "Music" > turn the toggle button on. For a computer, you can turn on iTunes > "Preferences" > "General" > select the option "iCloud Music Library".
2. Import your music to iTunes to match automatically.
After converting your audiobooks, they will be detected as common music. You just need to open iTunes > "File" > "Add File to Library" to import the audio files. iTunes Match will scan all the new imported files and import them as new music files to iCloud.
3. Listen to Music and audiobooks together from iCloud.
After matching the audiobooks, they will be available on the iCloud Music Library with other music songs. Just tap the files you want to listen online directly. Or alternatively you can click the menu "Make Available Offline" download the audiobooks on your local devices.