If you want to convert AA/AAX to MP3, you may have been told to use the inAudible Audiobook Converter already. It allows you to convert Audible audiobooks to usual audio files. The converted audiobooks can be played on other devices that don't support Audible.
But what is the official website of inAudible and what are the good features of inAudible? How to download the latest version of inAudible? Is this software worth trying? We will answer all of these questions. Also, in case of inAudible is no longer updated, we have found the best inAudible Converter alternative.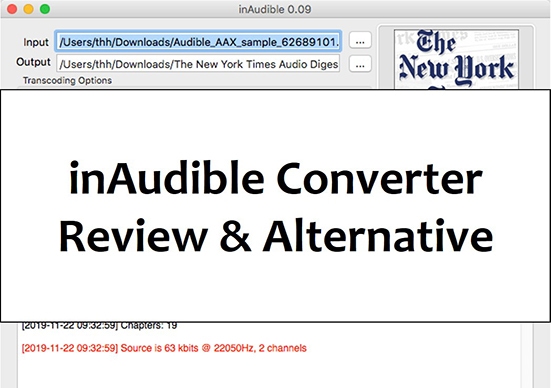 Part 1. What Is inAudible Converter
You may have found that Audible audiobooks are not recognized by MP3 players. This is because Audible AAX and AA files come with Digital Rights Management (DRM) encryption. This prevents illegal sharing and playback of audiobooks.
inAudible software happens to be a tool for removing Audible DRM. It is also a useful audiobook converter. This free and open-source software is available on both Windows and Mac computers.
In addition to Audible's AA/AAX format, it is also support ADH format for conversion. For the Windows version of inAudible, the output formats can be MP3, WAV, AAC, and M4B. On Mac, the output formats include MP3, AAC, and M4B.
With inAudible, it is possible to split Audible audiobooks into smaller segments. In this way, you can save the storage space of your device. It will also keep the ID3 tags of the original Audible books including cover, title, chapter, etc. Besides, the Windows version has more features like ripping CDs than the Mac version.
Main Features of inAudible Audible Converter:
Convert Audible AA/AAX to MP3, AAC, M4B, etc.
Keep original ID3 tags after conversion.
Split audiobooks into segments.
Customize the output parameters including sample rate, VBR mode, etc.
Able to rip CDs (Windows only).
Support batch conversion (Windows only).
Edit audiobook tags, rename files, and join MP3/M4B files (Windows only).
Pros:
It is free to use.
A powerful Audible converter for Windows/Mac.
Cons:
Infrequently updated, especially the Mac version.
The interface is a bit complicated and difficult for novices to use.
Does not work on Mac Catalina or higher.
Part 2. How to Download inAudible Software
inAudible does not have its own website or official download links. If you can't find a safe place to download inAudible, we have listed some ways to do so.
Note: There is only one version for Mac, inAudible v0.09. As for Windows, the latest version is inAudible v1.98. However, the most common version is inAudible v1.97.
Way 1. inAudible Converter Download from Torrent Sites
Thepiratebay and MyAnonamouse offer downloads of inAudible. Just go to the site, search for inAudible, and it will give you the seeds to download. (Note: Be careful because many torrents may contain viruses.) Below is download links from Thepiratebay.
Way 2. inAudible Software Download from GitHub
Since inAudible is an open-source software, you can also download and install it from GitHub. It supports Mac version v0.09, and Windows version v1.702 - v1.97.
Way 3. inAudible Download from a Cloud Storage
Part 3. How to Use inAudible Audiobook Converter
Maybe many people think it is very difficult to use inAudible. But don't worry, we will show you how to use inAudible v1.97 for Windows and inAudible v0.09 for Mac.
On Windows:
Step 1. Open inAudible and click 'File' > 'Open' > 'Audible/M4B' to add the audiobook files you want to convert.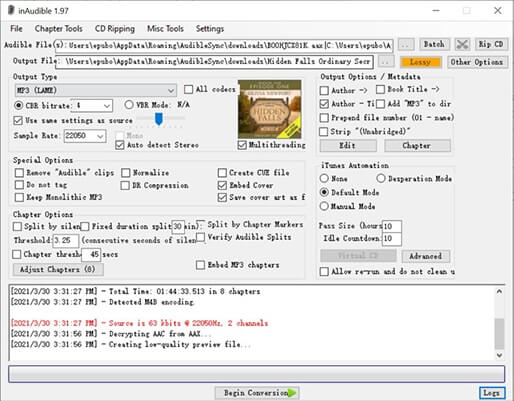 Step 2. Choose the output file location.
Step 3. Select the output type and you can also customize other audio settings.
Step 4. You are allowed to click 'Adjust Chapters' to open the 'Advanced Cutter/Chapterizer' window. Here you can split audiobooks if you want.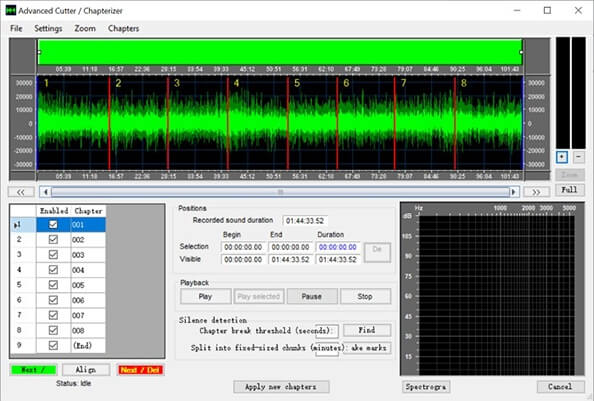 Step 5. Now you can click on the 'Begin Conversion' button at the bottom to start conversion.
On Mac:
Step 1. Open inAudible and click the 'three dots' icon at the end of 'Input' to import your audiobook files.
Step 2. Choose the output folder that you want to store.
Step 3. You can customize the output format and do other settings.
Step 4. Click on the 'Begin Conversion' button to start conversion.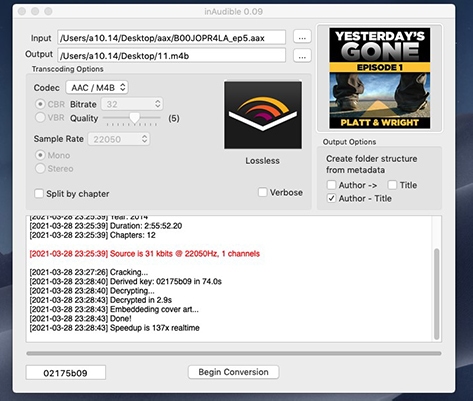 Note: There is no inAudible for macOS Catalina or later. Please go to Part 4 to get the best inAudible alternative.
Part 4. Which Software Is the Best Alternative to inAudible
inAudible software has now stopped upgrading, and the latest version was still released in 2017. And inAudible doesn't even work properly for macOS Catalina users. Therefore, it is necessary to find a replacement.
We have tested all the popular Audible converters on the market and picked out the best inAudible alternative, DRmare Audio Converter. It has all the features of the inAudible converter and improves on its drawbacks. It works perfectly on any Windows and Mac computer, and has free regular updates. And it is easier to use than inAudible. Besides, it converts faster than inAudible, up to 30 times faster.
The DRmare Audio Converter supports 6 output formats, including MP3, FLAC, WAV, M4A, AAC, and M4B. You can convert Audible books and store them on your computer with lossless quality. It can retain all ID3 tags and metadata information intact. It is also very good at splitting Audible books into chapters.
DRmare Audible Audio Converter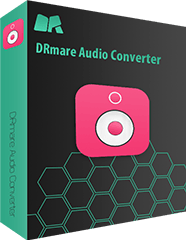 Convert Audible audiobooks to MP3, M4A, AAC, WAV, and more
Split audiobooks into small segments, edit audiobook tags
Work at a faster speed of 30X, keep 100% lossless audio quality
Batch download and convert audiobooks on Windows and Mac
How to Use the Best inAudible Alternative - DRmare Audio Converter
Please first download the DRmare Audio Converter by clicking the 'Download' button above. Then we will show you how to use it to convert Audible audiobooks.
Step 1

Import audio files to the converter

Open DRmare Audible Audio Converter and you can import Audible audiobooks to it easily. Simply click the first 'Add Files' button to add Audible audiobooks. Or, you can directly drag and drop audiobook files from your computer to it.
Step 2

Customize the output settings

Click the 'Format' tab at the bottom to customize the output settings. You can choose the output format to MP3, WAV, FLAC, AAC, M4A, or M4B. You can also change other parameters like the channel, bit rate, and so on. You can also split the audio file if you want.
Step 3

Start to convert Audible audiobooks

Click the 'Convert' button from the bottom-left corner to start conversion. The conversion is speed is 30X depending on the number of files that you are converting. You can follow the red tip to locate the converted files. You can also find them in your computer's local folder.
Part 5. Comparison between inAudible and DRmare Audio Converter
As we mentioned above, DRmare Audio Converter has all the features of inAudible and has other features that inAudible does not have. To give you a clearer picture of the differences, we made a comparison table.
| | | |
| --- | --- | --- |
| | DRmare Audio Converter | inAudible Converter |
| Supported OS | Windows/Mac | Windows/Mac (except Mac Catalina or higher) |
| Supported Input Formats | Audible AA/AAX, Apple Music, iTunes M4P songs and audiobooks, and common audio tracks | AA/AAX/ADH |
| Supported Output Formats | MP3/M4B/AAC/FLAC/M4A/WAV | MP3/M4B/AAC for Mac, MP3/M4B/AAC/WAV for Win |
| Free Update and Support | ✔ | ✘ |
| Conversion Speed | 30X | 1X |
| Require iTunes | ✘ | ✔ |
| Keep ID3 Tags & Metadata | ✔ | ✔ |
| Split Audiobooks | ✔ | ✔ |
| Customize Parameters | ✔ | ✔ |
| Batch Conversion | ✔ | ✔ |
Part 6. FAQs about inAudible Converter
Q1: What Is inAudible App?
A: inAudible is an Audible converter. It can be used on both Windows and Mac computers.
Q2: Is inAudible Audiobook Converter Still Available?
A: Yes. Although inAudible doesn't have an official website, it can be downloaded from some torrent sites, GitHub, or cloud storage. But the latest update was released in 2017.
Q3: Is inAudible Free?
A: Yes. inAudible software is a free and open-source software.
Q4: Is inAudible Converter Safe to Use?
A: No, inAudible is not 100% safe. It has no official download link and you may get a virus. If you don't want to take the risk, you can use DRmare Audio Converter. It is better than inAudible and it is 100% safe to use. With it, you can convert audiobooks at 30 times faster while keeping the original sound quality.