Alan Walker, also known as DJ Walkzz, is one of the most popular DJs around the globe. His 2015 single "Faded" top the charts in over 10 countries and got more than 1.2 billion hits on YouTube. In 2018, Walker become the top YouTuber in Norway with 15 million subscribers.
And he has just released the new album Different World on 14th December. If you are a fan of Alan Walker, you should definitely read this page to learn more about Alan Walker songs and download them offline for free.
See also: How to Download Ariana Grande Songs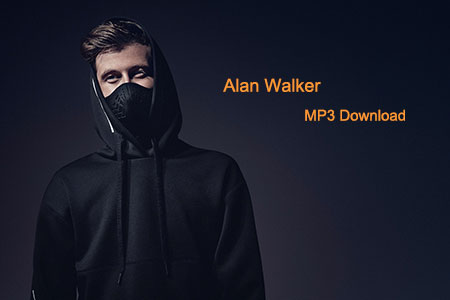 Part 1. Different World Album Quick Review
Different World is the first studio album of Alan Walker. It has been 3 years since the Alan Walker's hit single "Faded". The Nowegian producer spent all the time to push his sound toward cinematic heights.
This album is a EDM mix bag of great melodies. It contains the best tracks such as "Lily", "Diamond Hear" and "Faded". Following is the full track list of Different World album:
"Intro", "Lost Control", "I Don't Wanna Go", "Lily", "Lonely", "Do It All For You", "Different World", "Interlude", "Sing Me To Sleep", "All Falls Down", "Darkside", "Alone", "Diamond Heart", "Faded", "Faded".
Part 2. Best Songs & Remixes of Alan Walker
Alan Walker was interested in computers when he was young. He has no music background before. But he has great talent on DJ music and taught himself by tutorials from YouTube. Over the years, he have produced many best songs.
Faded
In 2014, Alan Walker became famous when he uploaded NoCopyrightSounds hit song "Fade" to YouTube when he was 18. It became the most popular track on YouTube channel. The track attracted 300 million of streams. Sony Music Sweden signed a record contract with him and help to transform the song into 2015 international hit "Faded".
Sing Me to Sleep
Walker quit high school to pursue his music career in 2016. In June 3, he released the single "Sing Me to Sleep". It featured Iselin Solheim who is also the same vocalist in "Faded". It reached 170 million plays on Spotify and over 400 million views.
Alone
It was released on December 1st, 2016. Featuring Swedish singer Noonie Bao. It is also a sensational song with 740 million views on YouTube and 210 million lays on Spotify.
Tired
Tired was released at the beginning of 2017. This is the first song Alan Walker has created with a male vocalist Gavin James, adding more dimensions to his music. This music video on YouTube reached 102 million views.
The Spectre
Alan Walker revamped his 2015 single "Spectre" and released "The Spectre" music video. It displays the footage of his concerts. This video had over 430 million views on YouTube.
All Falls Down
This song featured American singer Noah Cyrus and British DJ and record producer Digital Farm Animals. The video tells the story following the song "Tired".
Besides, Alan Walker also has the top tracks like "Dark side", "Diamond Hear", "Different World", "Routine", "Ignite", Hatful of Rain", "Flying Dreams".
Part 3. Free Ways to Download Alan Walker Music
Alan Walker songs and music videos are available on many streaming music platforms and video platforms such as Spotify, YouTube, Google Play, Apple Music and so on. Usually you can play them online without paying for a dime. But few of them offer free downloads.
Don't worry, you just need to use a free streaming audio or video recorder to help. Here I will offer the top two tools to download Alan Walker MP3 and Music Videos from YouTube.
Audacity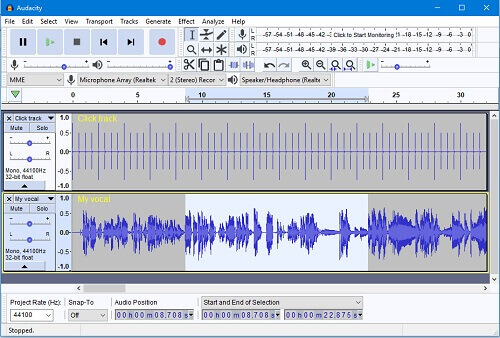 Audacity is a powerful and free streaming audio recording tool. It supports to record songs from almost any websites and edit them directly. Following is the steps to use it.
1. Launch Audacity, you will see the main screen.
2. Play Alan Walker songs from your computer. You can use Spotify, YouTube or any websites which offer the free streaming.
3. Click the red "Record" button to begin recording and click again when the song playback is ended.
4. You can edit the songs and then click "File" > "Export" > "Export Audio" to export the songs.
Savefrom Free YouTube Downloader

If you'd like to download Alan Walker music videos from YouTube, this tool will help you perfectly. Yet it is very easy to use. You don't even need to install it.
1. Find and copy the link of the Alan Walker music video from YouTube.
2. Visit Savefrom website and then paste the download link and click the arrow icon.
3. It will display the thumbnail of the video and then you can click the "Download" button to start downloading.
Part 4. More Tips: Get DRM Free Alan Walker Songs with Best Quality
Although you can get the Alan Walker songs for free with the freeware we mentioned above, the quality is not 100% lossless. That is because some audio bit rate is lost during record and some freeware has some limitations.
Generally speaking, Apple Music is stored in AAC codec. This kind of song will has better quality compared to the MP3 files with same bit rate. If you are an audiophile, I'd highly recommend you to subscribe to Apple Music. You will enjoy the natural and crystal clear songs. And if you'd like to download Alan Walker songs as well as music from any artists lossless as MP3, you can use the DRmare Apple Audio Converter for Mac/Windows.
It is a special tool for downloading streaming Apple Music for offline listening. With it you can get millions of high quality songs for free without the need to purchase them from iTunes.
Lossless Apple Music to MP3 Converter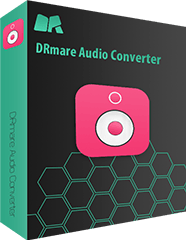 Unlock DRM copyright encryption from Apple Music, iTunes audiobooks, podcasts
Convert All Apple Music songs to MP3, M4A, FLAC, WAV, AAC in batch with 1 click
Keep lossless output quality, ID3 tags, 30X faster speed, lots of customization options
Lifetime free technical update, support the latest Mac/Windows systems and iTunes
Apple Music is combined with the FairPlay DRM protection, limiting any subscriber to distribute the songs elsewhere. DRmare use the same mechanism to reverse the process, so users can get better use of the software.
Converting Alan Walker Songs to MP3 from Apple Music
Step 1. Download Alan Walker songs to your iTunes from Apple Music.
Step 2. Drag & drop to import the M4P songs from iTunes to DRmare software.
Step 3. Select the output format as MP3 and customize the parameters you want.
Step 4. Pick up the output folder where you want to save the new MP3 files.
Step 5. Click "Convert" button to start convert all your songs.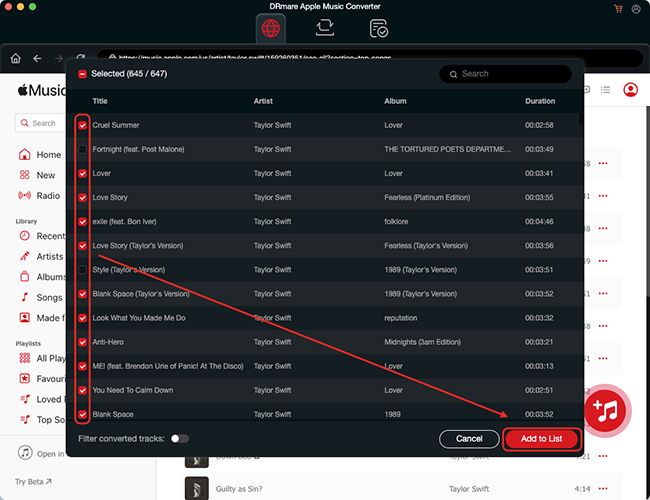 That is it. Compared to other free tools, downloading Alan Walker songs from Apple Music with DRmare will save you much more precious time. The software is one time purchase with lifetime free support and update. Is it worth to get it? I think so.
Note: This tool is only decided for personal use only, so please don't try to sell the converted songs elsewhere for making money or any other purposes.