Google Play music is a great source for buying music or streaming songs online. The service was announced and launched on 2011. A paid subscription will enable you to listen to any streaming songs on demand from the Google Play music catalog and access to the YouTube Music premium. The best feature of it is to allow any registered users to upload up to 50,000 songs for free. It is a central hug for all your audio files.
If you have been a long-time user, you must have collected a lot of favorite songs. And you may want transfer the music to other devices such as MP3 players, phones for playback. Here I take iPhone for instance to show you how to download Google Play Music to iPhone.
See also: How to Upload Apple Music to Google Play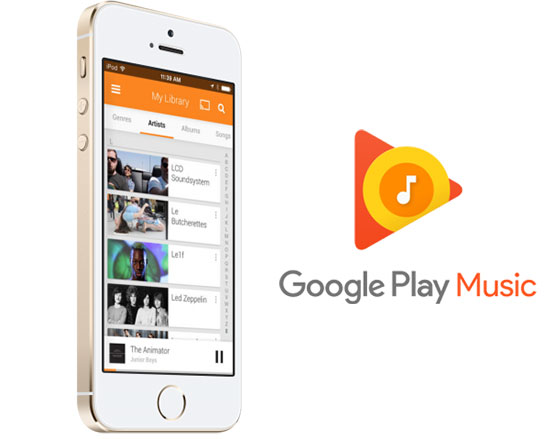 Part 1. How to Set Up Google Play Music Manager on Your iPhone
Nowadays smartphones has superseded MP3 players as the most popular music players. With the Google Play Music Manager, you can access to millions of on-demand songs as well as the music you purchased on your mobile phones such as Android, iPhone easily. Note: Before you get started, please make sure you have the Google account and password.
Install and Sync Google Play Music App to iOS
1. Launch your iPhone and search the Google Play Music from the App Store.
2. Click the "Get" button to install it into your phone, it takes a few seconds.
3. Open the Google Play Music app and sign in with the Google account and password.
4. Usually all your uploaded or purchased MP3 music will be synced automatically. If not, please scroll down to Google Play Music and make sure the checkbox is checked.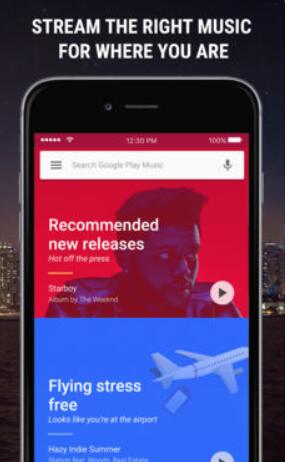 Part 2. How to Sync Google Play MP3 Songs to iPhone via iTunes
Just don't like to use the Google Play Music Manager? No worries. The music you bought from Google Play Music store are DRM free. You can download and transfer them to any phones you want for free.
Download Music from Google Play to Computer
You can use Safari, Internet Explorer or Firefox.
1. Visit and login the Google Play Music web player.
2. Click "My Library" icon > Click "Albums" or Songs" to find the songs you want to download.
3. Right click on the songs > "Download" or "Download album" to save the MP3 music to your computer. You can repeat the same process to download more songs or just click the "Download All" button to transfer all the songs from Google Play Music library to your computer.
One thing you need to note is that you can only transfer the songs you own to other devices. For the Google Play streaming music, it is still limited to the official app with DRM . To turn them to common files, you can try to use the top 5 streaming audio recorders to record them.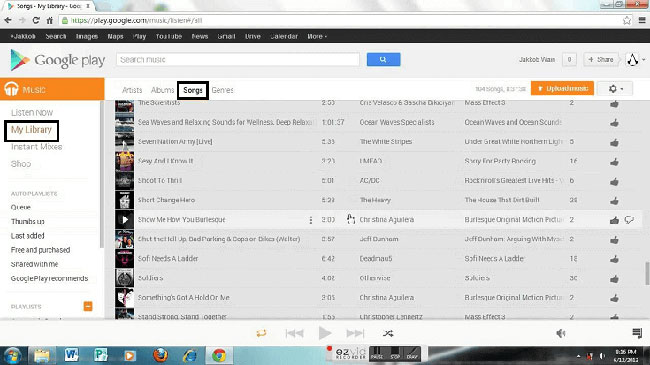 Sync Google Play Music to iPhone
1. Open iTunes, click "File" menu > "Add Files to Library" > Then browse the downloaded MP3 files to import to iTunes.
2. Connect your iPhone to the computer via the USB cable, you will see an device icon at the top left corner.
3. Click it to open the device, then you can can select the music files from your iTunes library and click "Sync".
4. You can play the music files with the default Apple Music player or other third party software.
Besides, you can also transfer the Google Play songs to your Android phones, CarPlay, Android Auto and so on. The instruction is basically the same.
Part 3. FAQs
Q1: Where to find the downloaded Google Play Songs on my phone?
A: Usually you can find it from the folder "/sdcard/Android/data/com.google.android.music/files/music" by default.
Q2: What audio formats are supported by Google Play Music?
A: It supports MP3, WAV, AIFF with up to 300MB size.
Q3: Does Google Play Music include YouTube Premium?
A: A $9.99 Google Play Music subscription only provides the YouTube Music Premium.
Q4: Will Google Play Music be discontinued?
A: There is not an official answer to it yet, but it is possible that it will be replaced by YouTube music.