When it comes to music, Taylor Swift is the most famous artist. Maybe she is used to all kinds of music breaking records. But this time her forthcoming album Lover has achieved a even more surprised world first before it is released.
The new album Lover is reported to has had the most worldwide pre-adds on Apple Music platform with 222,400 and it is growing, surpassing Ariana Grande who previously help the title with her hit album Thank U, Next. What makes Lover album so popular?
Maybe that is because of the lead single ME! of the new album Lover. In a review, The Independent said the song heralds a "bright new era" for Swift, suggesting this will be a pretty different album.
"ME!" broke a number of music industry records after release including the 24-hour debut on YouTube.
Are you excited about the upcoming Taylor Swift seventh album Lover? Here we will get you covered with all the essential things you want to know.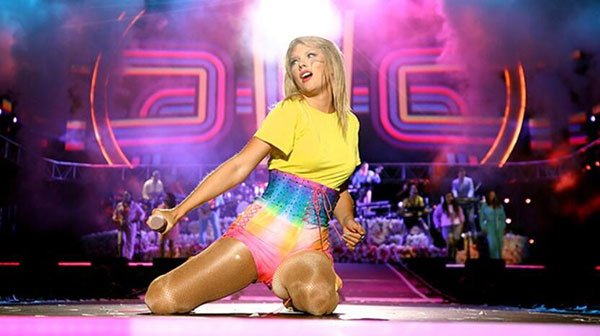 Part 1. Taylor Swift Seventh Album Lover Release Date
Lover is the upcoming seventh studio album by American singer Taylor Swift. During a live Instagram chat on Tuesday, Taylor Swift announced big news. Not only did she going to release the next single "You Need To Calm Down" but also add the release date of Lover as August 23. To date, two singles are released.
ME!
ME! is a lead single released by Republic Records on April 26, 2019. This song was written by Swift, Joel Little and Urie and produced by Little and Swift.
The music video for "ME!" premiered on YouTube on April 26 and amassed 65.2 million views within its first day, breaking the 24-hour Vevo record.
You Need To Calm Down
This is another new song from the Taylor Swift album Lover.Swift wrote and produced the song with the help of Joel Little. It is known as the song for the pride month. It was released on June 27 which is the birthday of Trump. And it debuted at number one in the charts in Scotland and reached top 5 in United States, Canada, Australia and so on.
The music video directed by Drew Kirsch and Swift was released on June 17, 2019. It features many celebrity cameos most of whom identify as LGBT. As of June 2019, it has amassed more than 51 million views on YouTube.
Part 2. Top 10 Things about Taylor Swift's Album Lover
Since the released date of Lover is about 2 months away, many details remain unknown. Here are the top 10 facts of the new album you maybe interested to know.
#1. The Lover album will consist of 18 songs which is the largest. It is already available for pre-sales on iTunes.
#2. The album cover was designed by Stella McCartney with different versions.
#3. The reason why Taylor Swift choose August 23th as the release data of Lover is because her fortunate number is 13.
#4. According to a picture shown, "Lover" will include a duet with Katy Perry.
#5. All the songs from Lover are romantic songs but not all are happy. They will cover different emotions.
#6. Taylor Swift advocate Equality Act in the Pride Month when he release the song You Need to Calm Down.
#7. Taylor Swift finished the record for the album on February 24.
#8. Radio Stations are already promoting the new single secretly.
#9. She is really excited about the new album and considered it as a new chapter of her life.
#10. Taylor's website is getting a makeover.
Part 3. How to Play and Download Taylor Swift New Songs
The two released songs ME! and You Need to Calm Down from Lover album are great hits. ME! broken 4 Amazon music records such as most first-day streams. On Spotify ME! opened at number one on the global Spotify charts. It also debuted at number 100 on the Billboard Hot 100. You Need to Calm Down debuted at number 35 and number 33 on the US Adult Top 40 and US Mainstream Top 40. In the UK, it debuted at number five of the UK Singles Chart.
If you are excited about the songs, you can stream ME! and You Need to Calm Down, you can stream them from Apple Music, iTunes and Spotify. However, unless you buy the tracks from iTunes, you are not possible to distribute the songs to other devices such as MP3 player and portable speakers.
It will be too expensive if you have too many songs to buy. Another best alternative solution is to use DRmare Spotify Song Downloader for Mac to help you extract music from Spotify to MP3 and save them to your local computer. It is well designed with easy usability yet powerful features such as 5X speed, lossless quality, multiple output formats MP3, M4A, AAC, WAV, FLAC and so on.
You can also download it to help you convert Taylor Swift New songs within 3 steps. First, locate and import Taylor Swift new music. Second, select output format and parameters. Finally, click "Convert" button to get all the songs offline. For more tips, you can visit: How to Convert Spotify Music to MP3 Format.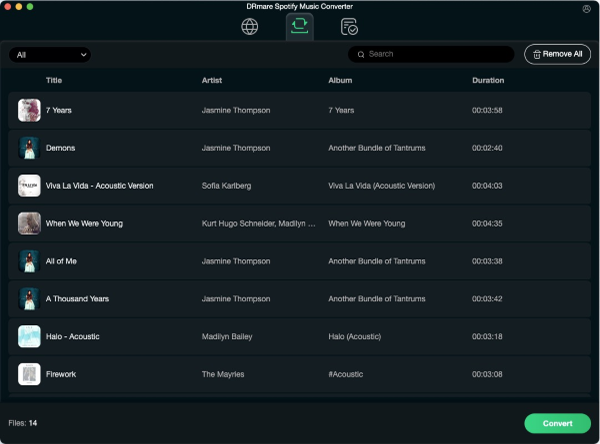 Video Tutorial - Learn the Tips in a Much Easier Way