Christmas is the most wonderful time of the year, I bet. You get to meet family and exchange gifts or simply spend your bucks on gifts. Apart from the red and green decorations, you can't also miss the festive music plays from every possible corner. And it could be that Spotify Christmas songs have a way of stealing the show due to their popularity. But can you ever run out of these songs? That's a story for another day.
What matters is that Christmas songs are part and parcel of us especially during festive holidays. Hearing them brings a relieving sensation down the spinal cord as you unwrap gifts and hold those get-together Christmas family parties. Follow this list for the top 20 songs that should not miss in your collection this coming festive season.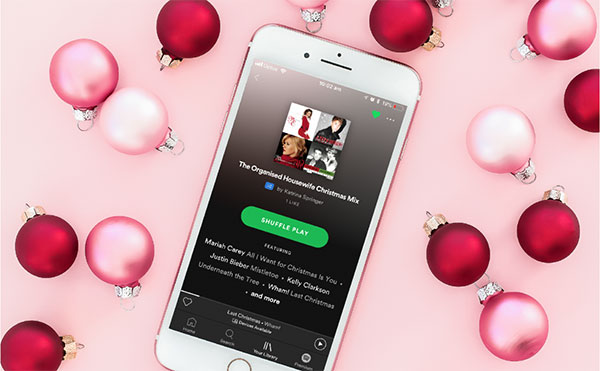 #1. Blue Christmas – Elvis Presley

Having been born in Mississippi, Elvis developed a love for music because of his origin's culture. His track, 'Blue Christmas' is loved by thousands of people within the United States, a gesture why it appears on his holiday album.
#2. A Holly Jolly Christmas – Burl Ives

This Spotify Christmas song has featured on a real country Christmas severally. It's indeed the best time of the year and so a cup of cheer and Holly Jolly Christmas is as good as saying hello to friends.
#3. White Christmas – Bing Crosby

Perhaps it's time for children to listen to sleigh bells in the snow for a merry and bright day. This funny Christmas songs on Spotify can't miss in your list this season.
#4. It's The Most Wonderful Time of the Year – Andy Williams

This song focuses on get-togethers, hosting parties and universal social gaiety among others. This is probably the reason why it has managed to stay at the top; that's what Christmas is all about, anyway!
#5. All I Want For Christmas Is You – Mariah Carey

Top Christmas songs on Spotify from a high-end celebrity, All I Want for Christmas is You, is another excellent pick from the talented American singer and songwriter together with Walter Afanasieff.
#6. Have Yourself a Merry Little Christmas – Michael Buble

Originally written by Hugh Martin, this Spotify Christmas music evolved severally to be finally polished by Michael Buble. Since then, it has continued to peak within various countries for all the good reasons.
#7. Unwrap You At Christmas – The Monkees

This is another must-like Spotify Christmas music to grace the beautiful occasion this coming festive. Find it among other songs within the 'Christmas Party' album for perfect holiday tunes.
#8. The First Noel – Josh Groban

It's better to start off with this track, way before the peak of Christmas. Full of Bible stories, this song will be loved by both the young and old alike. Listen to how the shepherds looked up and saw a star that coincided with the birth of the King of Israel.
#9. Driving Home For Christmas – Chris Rea

The best way to celebrate Christmas is to drive home and sing along with your feet on holy ground. This is like a classic festive story that has more to give than just a song.
#10. Santa Claus Is Coming to Town – Kylie Minogue

Santa Claus knows it all, whether you've been bad or good. Yes! When Santa is around, then Christmas is well around the corner. Listen to this song and feel secure as you watch out and not pout.
#11. I Believe in Father Christmas – Emerson, Lake & Palmer

How would you feel if peace was to reign on earth? This is among the Spotify Christmas songs that are full of fairy stories. It's a leeway to getting the Christmas that you truly deserve.
#12. I Wish It Could Be Christmas Everyday – Wizzard

This song was first released by the Wizzard's frontman Roy Wood. It is an awesome selection for your young ones especially when they start singing along. Just let the Christmas bells ring for a mighty King who is born.
#13. Christmas Lights – Coldplay

Wow! When Christmas lights shine on, all your troubles go away. This top Christmas song on Spotify is meant to top your ego for the whole festive season.
#14. Must Be Santa – Bob Dylan

When the lead singer posses a question, then it's time to look up to more insights. It goes merrier when it 'Must Be Santa' who laughs that way. Listen to this song on holidays for a fantastic celebration.
#15. Alone On Christmas Day – Phoenix

Have you ever found yourself all alone during Christmas? Then this is the song to cheer you up. Don't give room for sadness; remember there should be gladness. So keep moving because every pain will soon have its ending.
#16. Last Christmas – Wham!

When memories throng your mind and all you thought were light at the end of the tunnel go dim, what do you do? Don't repeat the same mistake. Give your heart to someone special and save your tears this Christmas. This song knows it best!
#17. Mistletoe – Justin Bieber

This is another best Christmas song Spotify to keep the family together. When you gather around the fire and as you roast chestnuts, isn't it a good thing that no member would wanna miss out?
#18. Jingle Bells – Michael Buble, The Puppini Sisters

If it's something to push you to sing then it's perfect for Christmas. Be ready and sing jingle all the way with your loved ones during this holiday.
#19. Merry Christmas Everyone – Shakin' Stevens

For this track, get your dancing shoes ready because it's time for parties and celebrations. Yes, it's parting all night long with Shakin' Stevens.
#20. Christmas Eve – Kelly Clarkson

This is a Spotify Christmas music that's about witnessing the joyous Christmas eve as you prepare to usher in the day that Christ was born. Enjoy it this holiday and every other Christmas Eve.
Conclusion
This collection is not in any order but the popularity is well attested with about 20 million Spotify Christmas songs each season. Michael Buble seems to be the most popular artists glued to the Christmas genre of music. Although other celebrities like Mariah Carey and Wham have some cool giving for your take.
Want to download such best Spotify Christmas songs? That is easy. Just use the DRmare Spotify Converter for Windows/Mac to help. It supports to download Spotify to MP3, M4A, AAC, WAV, FLAC and so on. The audio quality is lossless and the converting speed is 5X. What is better the trial version is totally free.