"Can you watch iTunes movies offline?" Many users complained that they can't play iTunes films in airplane mode or without WiFi connection. Without a doubt, it's available for doing that but the premise is that you have downloaded them to the device in advance.
In fact, there are also many other benefits of offline viewing, such as saving data usage and avoding buffering and interruptions that may occur when streaming movies online. Therefore, here, we will show some tips for you on watching movies purchased or rented on iTunes offline on different devices. Just check the detail below and learn how to do that.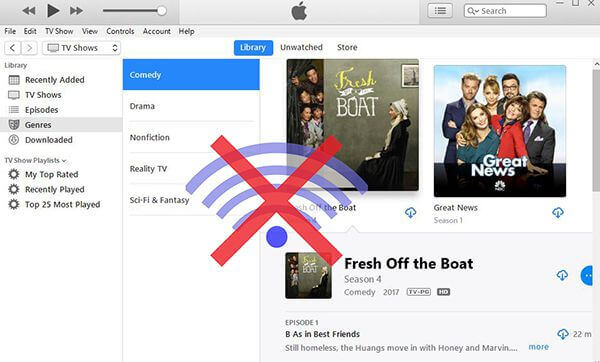 Part 1. Requirements for Downloading iTunes Movies to Watch Offlines
Not all users have the privilege of downloading movies for offline playback. Before doing that, please make sure you have prepared the following things already:
An Apple ID. If you don't have it, please create a new one.
You have purchased or rented iTunes movies that you'd like to play offline.
A device that supports the iTunes app or Apple TV app, such as an iPhone, iPad, iPod Touch, Mac, or Windows computer.
DRmare M4V Converter. If your devices don't support iTunes movies because of format compatibility, please convert downloaded iTunes movies to MP4 and then sync them to your device for viewing.
Have sufficient storage space on your device to store the downloaded iTunes movies.
Update your iTunes app or Apple TV app to the latest version on your device.
Get a stable Internet connection on your device.
Part 2. How to Watch Rented/Purchased iTunes Movies Offline Anywhere
To watch iTunes movies offline, you need to know that both purchases and rentals can't be played outside iTunes and Apple TV apps. Because iTunes videos are under protection and encoded in special M4V format. To fix this issue, here we'd recommend you to convert iTunes videos to unprotected common videos first. Then you can play them offline anywhere and keep them forever.
In this part, we'd suggest you use a professional iTunes M4V converter to unlock protection from iTunes movies and do video format conversion. DRmare M4V Converter is the right tool for you. With very intuitive interface, it takes only a few clicks to get rid of DRM protection of all your iTunes movies. And then it can convert iTunes to MP4, MOV, WMV, or other common formats for playing offline on all devices.
It integrates the parallel video converting and acceleration technology to batch convert iTunes purchases and rentals at an up to 30X faster speed. During the converting process, the source videos won't be touched but extracted to keep the lossless quality including Dolby 5.1 AC 3 audio tracks, subtitles.
How to Convert Purchared and Rented iTunes Movies
Here let's see how to use DRmare M4V Converter to convert iTunes movies as local files for use offline.
Download and install the DRmare M4V Converter on your computer from DRmare website or clicking the above 'Download' button. Then open it.
Click on the 'add files' button to load the downloaded iTunes purchased or rented videos into DRmare program.
Touch on the 'audio format' icon to start to set the output format as MP4 and customize other video parameters for iTunes movies.
Press on the 'Convert' button to remove DRM from iTunes movies and convert them to MP4. Hit on the 'converted' icon to check the converted iTunes movies on your computer.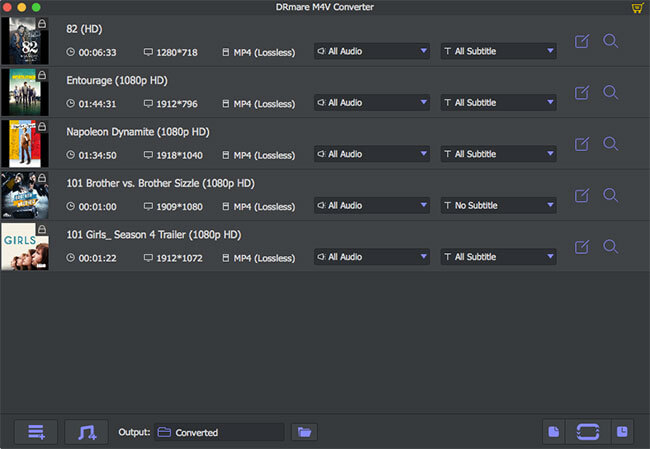 How to Sync Downloaded iTunes Movies to Mobile Devices for Offline Viewing
Now, you can start to transfer iTunes movies and TV shows to other devices, like Android phones, iPhones, iPad, and so on. For Android users, you can draw support from a USB cable. For iOS users, you can sync them via iTunes, iCloud, or Finder app. Let's see how to achieve them respectively.
Move Downloaded iTunes Purchases and Rentals to iPhone and iPad
Open iTunes app on your computer and then connect your iOS device to it via the USB cable.
And then there is a 'Device' icon at the upper-left corner of the main interface of iTunes.
Please choose the 'Movies' under the 'Settings' section and click the 'Sync' button to open the syncing function. You can start to select movies to sync by hitting on the 'Apply' icon next to each movie.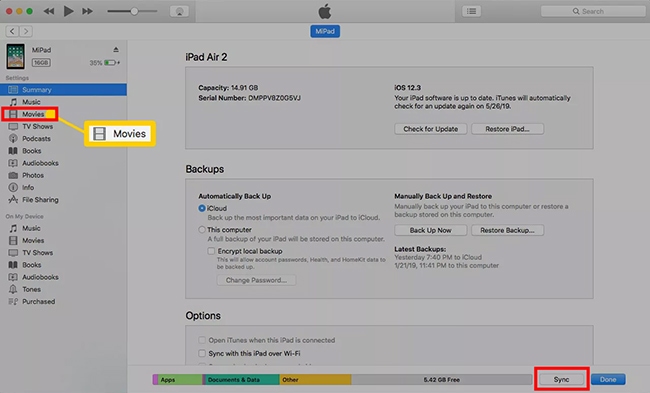 Sync Downloaded iTunes Purchases and Rentals to Android
Connect your Android device to your computer via a USB cable or WiFi connection. And then open the Android folder on your computer.
Locate the downloaded iTunes files and copy and paste them to video folder on your Android device.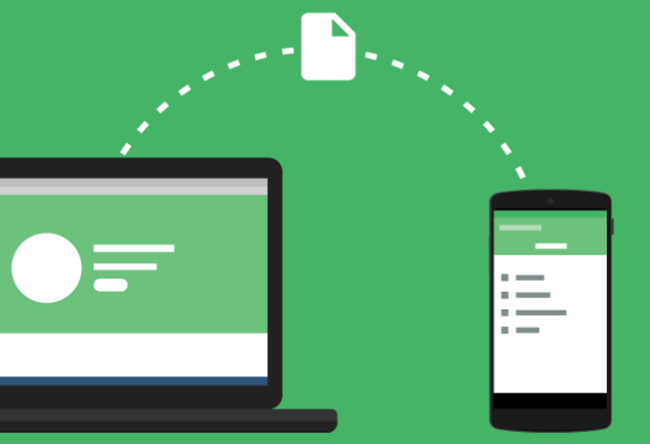 To see how to download and watch iTunes movies offline, you can check the video below.
Pros:
1. Fastest video converting speed up to 30X faster.
2. 1:1 output video quality.
3. Batch convert iTunes M4V videos to MP4 as well as other plain videos.
4. Support to edit effects, watermark, etc. for video files.
5. Support to watch rented and purchased iTunes movies offline on any other devices or platforms.
6. Instant 24/7 technical support.
7. Lifetime free technical support.
Cons:
1. The free trial version is limited to convert a portion of your videos.
Part 3. How to Watch Purchased iTunes Movies Offline Officially
For any common videos, you can play them offline with ease once you download them to your devices. So do iTunes rentals and purchases. Although they are locked with the FairPlay digital rights management protection, only if you purchased or rented these iTunes films, and then you can download them on Apple-authorized devices for offline viewing. Just follow the quick steps below to see how to buy and watch iTunes movies offline in airplane mode.
How to Purchase iTunes Movies on iPhone/iPad/Computer
Step 1. Open the iTunes Store app on your Windows device or the Apple TV app on Apple devices, like iPhone, iPad, and Mac.
Step 2. Search for the film you want to buy by using the search bar or browsing the available categories.
Step 3. Once found, please tap the time to view its details. Click on the "Buy" button with a price to buy the movie on iTunes by authorizing your Apple ID password or using Touch ID or Face ID to confirm the purchase.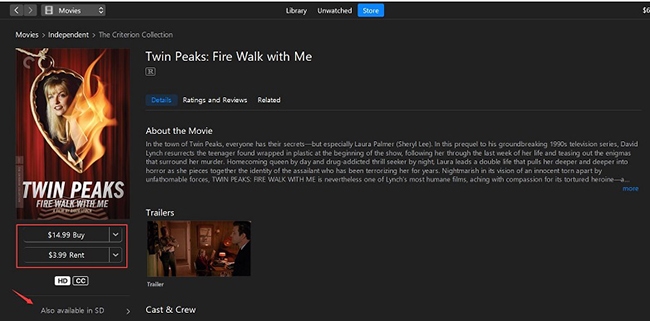 How to Watch Purchased iTunes Movies Offline
Step 1. Launch iTunes and log in with the iTunes account and password.
Step 2. Go to the 'Movies' or 'TV Shows' section to authorize and download the iTunes purchased videos to your local computers. If you are using iPhone, iPad or iPod Touch, the files will show on the Videos app after downloading.
Step 3. Initialize the playback with an internet connection. Just double-click the movie you want to start to play and then pause it. Once you have started playing the movie, an internet connection is not required.
Step 4. Please keep your devices on and don't close the iTunes or Videos app. When you are in a fight, you can click the playback button to continue to enjoy the iTunes film.
Limitations of Purchasing Movies on iTunes for Offline Viewing
1. You can only initialize one movie on a device.
2. You can't transfer and access downloaded iTunes purchases on authorized devices that don't support iTunes or Apple TV app.
Part 4. How to Watch Rented iTunes Movies Offline Officially
Besides the methods above, you can also rent movies on iTunes to watch offline. While it has some limitations for offline viewing, it's less expensive than other solutions. Without further ado, let's go!
How to Rent iTunes Movies on iOS Devices or Computer
Step 1. Launch the latest version of iTunes program on your Windows computer or the Apple TV app on your Apple devices.
Step 2. Log in to your account with your Apple ID.
Step 3. Click on 'Movie' icon to find the movies you'd like to rent and choose it. Hit on 'Rent' with price button, it will require you to double click the Side button to confirm this action and your persosal payment information.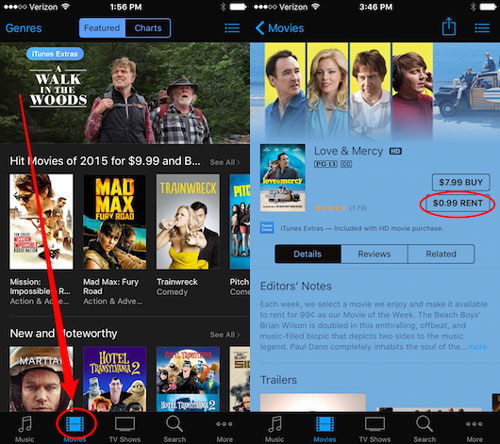 How to Watch Rented iTunes Movies Offline
via Apple TV App
Step 1. Open the Apple TV app again and then navigate to 'Library' option to choose 'Rentals' to access iTunes movies.
Step 2. Tap the 'Download' button to download iTunes rentals to your device. Please make sure that you had downloaded the video completely if you want to watch it offline.
via iTunes App
Step 1. Head to the iTunes app on your Mac or Windows computer. Hit on the pull-down menu to scroll down and choose 'Movies' listing.
Step 2. Press the 'Unwatched' icon to see all rentals on iTunes. Tap the 'Cloud' icon, and all movies will be downloaded to your computer for offline viewing.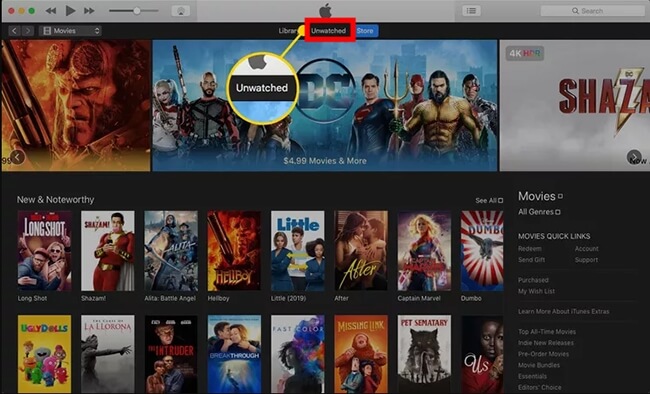 Limitations of Renting Movies on iTunes for Offline Viewing
1. After you rent movies, please watch them within 30 days. Otherwise, you will rent them again.
2. After you click the 'Play' button on rented movies, you need to finish watching them within 48 hours.
3. After you watched this movie, or the rental period expires, iTunes rentals will be removed automatically.
Part 5. Summary & Suggestion
From this post, you had learned how to watch iTunes movies offline in several ways. Next time, when people ask you 'if I rent or purchase a movie on iTunes can I watch it offline?', you can answer them. In brief, you can authorize and initialize the iTunes movies to play offline. But you have to keep the player open and your devices on. And you may end up failing to play iTunes movie if any errors occurred to the player.
Another way is to remove DRM from iTunes movies either by using the DRmare M4V Converter. It helps a lot if you do have multiple videos to convert time from time. And with it, you can get lossless video quality of iTunes movies. And then you can move iTunes movies to any device you want to play offline.