Can You Watch iTunes Movies Offline?
"Help! iTunes rental movies can't play in airplane mode. I had already rented and downloaded movies from iTunes for watching during a flight. However, the movies won't load while in airplane mode. Is there anyone here can help fix this?" - One user from Apple Communities.
"I am going to have a long distance trip tomorrow on a flight where there is no internet connection. Can I watch iTunes movies offline? If so, what do I need to do? It would be really fantastic if I could watch my purchased or rented m4v movies without WiFi." - Ian from Apple Communities.
Most iTunes users may come across with the similar issue above. In fact, besides on a flight, there are times when we can't get access to WiFi such as on a subway/bus and so on. So, to get rid of this pain, I will offer the detailed tutorial to watch iTunes movies offline.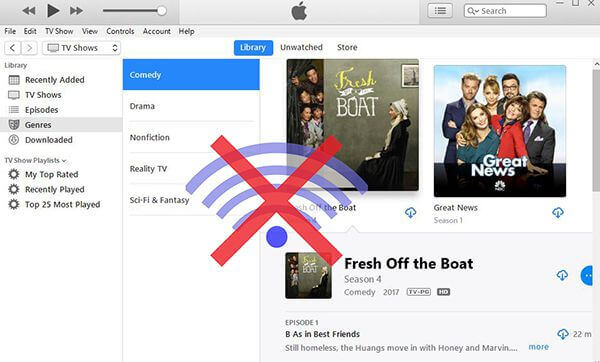 Part 1. How to Watch iTunes Movies Offline by Renting
For any common videos, you can play them freely offline once you download them to your devices. But this is not the case for iTunes rentals and purchases as they are locked with the FairPlay digital rights management protection. It is much harder to do that for iTunes film, but it's not impossible. Just follow the quick steps below to see how to rent and watch movies from iTunes offline.
How to Rent iTunes Movies for Watching Offline
On iOS Devices or Computer
Step 1. Launch the latest version of iTunes program on your computer or the iTunes Store app on your iOS devices.
Step 2. Log in your iTunes account with your Apple ID.
Step 3. Click on 'Movie' icon to find the movies you'd like to rent and choose it.
Step 4. Hit on 'Rent' and 'Download' button to download iTunes movies rental to your device. Please make sure that you had downloaded the video completely if you want to watch it offline.
Step 5. Go to the Apple TV app on your iOS devices or iTunes app on your computer to find the iTunes rental movies at the Library section under Rentals.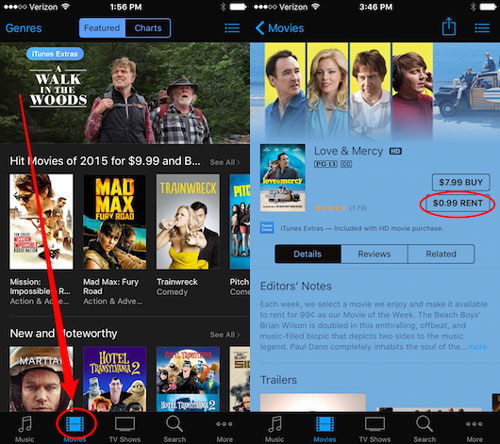 Please note that the movies you rented from iTunes on your iOS devices can only be watch on that iOS device or AirPlay it to your Apple TV.
Via Apple TV
Step 1. Open your iTunes Store from the main Apple TV menu.
Step 2. Browse the movies and find the movies you like to rent.
Step 3. Select one movie and click on 'Rent', then you are asked to enter your iTunes account.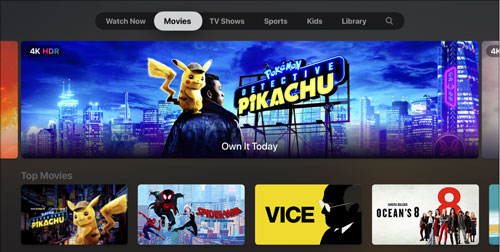 How to Watch iTunes Movies Offline
Step 1. Launch iTunes and login with the iTunes account and password.
Step 2. Go to the 'Movies' or 'TV Shows' section to authorize and download the iTunes rental or purchased videos to your local computers. If you are using iPhone, iPad or iPod Touch, the files will show on the Videos app after downloading.
Step 3. Initialize the playback with internet connection. Just double click the movie you want to start to play and then pause it. Once you have started playing the movie, internet connection is not required.
Step 4. Please keep your devices on and don't close the iTunes or Videos app. When you are on a fight, you can click the playback button to continue to enjoy the iTunes film.
Note: You can only initialize one movie on a device. For an iTunes rental, after initializing the playback, you have only 48 hours to finish watching. If unfortunately, you close the player by accident, you won't be able to initialize it again offline.
Part 2. How to Watch iTunes Movies Offline by Converting and Recording
From above, we had learned the way to rent and watch movies from iTunes offline. However, the rentals of iTunes have time limitation and the videos can't be played outside iTunes, which is not convenient.
To fix this issue, here we'd recommend you to remove DRM copy protection so that you can play them freely as well as keep iTunes rentals forever. You can either use a professional DRM remover to batch convert your iTunes movies or use a free screen recorder such as Game Bar/QuickTime Player to record.
Method 1. DRmare DRM M4V iTunes Video Converter
If you care about the output audio and video quality very much and want to save your precious time, we'd suggest you use a professional DRM cracker to help you unlock iTunes movies directly.
DRmare M4V Converter for Windows/Mac is the right tool that I used. The interface is very intuitive, and it takes only a few clicks to get rid of DRM protection of all your iTunes movies and then convert iTunes to MP4, MOV, WMV, or other common formats for playing offline.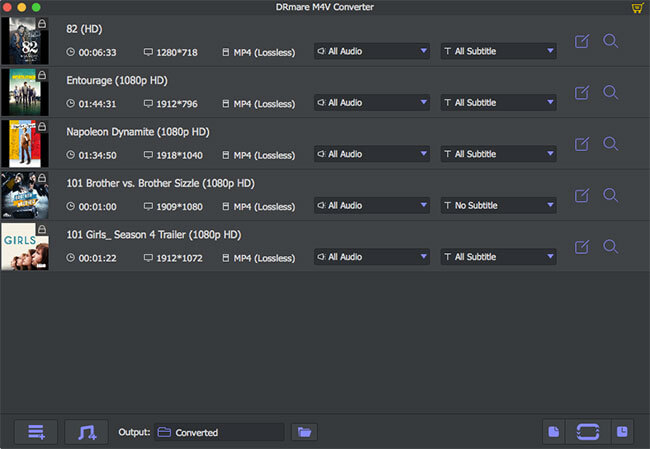 It integrates the parallel video converting and acceleration technology to batch convert iTunes purchases and rentals at an up to 30X faster speed. During the converting process, the source videos won't be touched but extracted directly to keep the lossless quality including Dolby 5.1 AC 3 audio tracks, subtitles.
For the detailed user manual, please visit: How to Remove DRM from iTunes M4V Movies.
Or you can watch this video tutorial directly.
Pros:
1. Fastest video converting speed up to 30X faster.
2. 1:1 output video quality.
3. Batch convert iTunes videos as well as other plain videos.
4. Support to edit effects, watermark, etc. for video files.
5. Support to play iTunes movies on any other devices or platforms.
6. Instant 24/7 technical support.
7. Lifetime free technical support.
Cons:
1. The free trial version is limited to convert a portion of your videos.
Method 2. Record iTunes Movies in Real Time
Another method to solve the problem of 'Can You Watch iTunes Movies Offline' is just to record them in real time by using useful video recorders.
1. Game Bar
On a Windows PC, you can use the free Game Bar. It is originally designed to record video games, but you can use it to record iTunes videos as well.
#1. Press the Windows + G keys, a popup will appear asking if you would like to open Game Bar.
#2. Choose 'Yes' and click the red 'Recording' button to start.
#3. Tap the red button again to stop. The videos will be saved to the 'Video Captures' folder on the computer for offline playback.

2. QuickTime Player
If you are using a Mac, you can use the built-in QuickTime player.
#1. Lunch QuickTime to play iTunes movie.
#2. Click the top 'File' menu and choose 'New Screen Recording'.
#3. Hit the recording button to stop and save the movie to the Finder on your Mac. You might import it into iMovie for some post-processing.

Pros:
1. It is totally free and easy to use.
Cons:
1. It is time-consuming, takes real time.
2. Sometimes the output video quality is not satisfactory with noise.
Part 3. Summary & Suggestion
Next time, when people ask you 'if I rent a movie on iTunes can I watch it offline?', you can answer them quickly. In brief, you can authorize and initialize the iTunes movies to play offline directly, but you have to keep the player open and your devices on. And you may end up fail to play iTunes movie if any errors occurred to the player.
Another alternative is to strip the DRM protection either by using a powerful DRM video decrypter or using a free recorder. Between a free recorder and a powerful DRM video converter, I'd recommend to use the DRmare M4V Converter if you do have multiple videos to convert time from time.