"My computer is old, it takes a long time to load iTunes on my Windows every time I try to watch an iTunes film. I don't want to swap it to a new computer now. Can I play iTunes M4V on other lightweight player without iTunes?" - Question asked by Ellie Perez.
It is known that iTunes is a notoriously bloated software with multiple features and a large number of media files. Undoubtedly it will take up high volume of computer memory. Also the complicated DRM authorization mechanism make it even more slowly. If we don't have the Apple ID, we will be out of luck on playing iTunes videos too. That is why many users are reluctant to use iTunes to play M4V movies etc.
It is a truth that we can't leave iTunes in our daily life for its irreplaceable library of fantastic digital media contents. But we can try to use iTunes less so that to reduce the hassles. Here I will show you how to play M4V movies, TV shows without iTunes.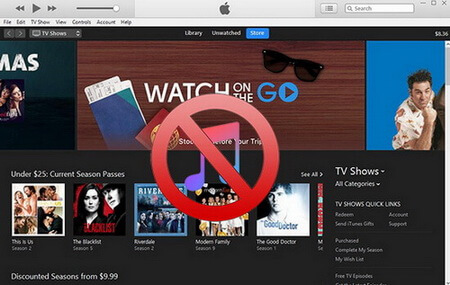 Part 1. Why iTunes Is Required for M4V Movies
Before we go further with the solution, we'd better find out why iTunes is required to play the iTunes video files. Differ from other episodes from YouTube or other home shoot videos, iTunes movies, TV shows, music videos are all in M4V format. M4V is a proprietary format which is protected with the FairPlay DRM scheme. How does it work?
1. When videos are uploaded and published to iTunes, they are added with DRM encryption. This DRM encryption prevents the videos from modifying or playing on any other players except iTunes.
2. After users buy a video, the unlocking key will be saved to the movie automatically and the key will also be recorded in the Apple server so that Apple can monitor how many devices you have used the video for.
3. You are required to authorize the video on the computer before you can play it well with iTunes. To authorize or deauthorize a device, please make sure you have a good internet connection and then input the Apple ID and password on the iTunes to confirm. It supports to authorize up to 5 devices in total.
Unless there is no DRM, you are not possible to play iTunes videos out of iTunes.
Part 2. Remove DRM to Play iTunes M4V Movies without iTunes
Now let's go into the process of bypassing iTunes DRM dilemma to play on any players. The key thing is to get a DRM removal software. Generally speaking, DRM removal has become very common nowadays and many high-tech companies have built up couples of DRM media converters in the market. The software quality may vary hugely with different features. If it is the first time you are to find such a tool, you may feel confused which one is better.
For my part, my only requirement is to remove DRM and don't need any other features, also I don't want to spend much time on converting videos. By comparing different software from Aimersoft, Noteburner, Tunebite, DRmare and so on, I made the conclusion that DRmare M4V Converter for Mac/Windows is the very tool I want. It has a clean and beautiful screen, no flaring things at all. The operating logic is very intuitive, just drag & drop to import your videos, select the output video format and one-click to convert iTunes movies. Even if you are a new user, you can handle it pretty well. What makes the DRmare software stands out is also for its 20X faster converting speed and lossless quality. The only drawback is that it requires a full version to convert entire videos. Anyway, you can download the trial version for free either on Windows PC or Mac computer. Once the DRM is removed, you don't need to authorize iTunes videos any more, just play them free without iTunes. Wanna download it too? Just click the download button. For more tutorial, please visit: How to Remove DRM from iTunes M4V Movies.
Part 3. iTunes Movie Tips
Q1: What players can I use to play iTunes movies after removing DRM?
A1: Generally you can use it on almost any players , if not all, such as VLC player, KMPlayer, Windows Media Player and so on.
Q2: Can I still transfer iTunes movies, TV shows, music videos to my IOS devices without iTunes?
A2: Yes, that is all about iCloud, you can simply upload the digital medial files to iCloud and then you will get access to them from any IOS devices like iPhone, iPad, iPod touch.
Q3: Will I lose my original video files on iTunes after removing DRM protection?
A3: When converting your media files, DRmare software will only make a copy and transform them to new DRM free files, your original files will still in your iTunes.