Many entertaining digital platforms triggers the users to make a quality download without any issues. You would have come across ample tools but choosing the reliable one is quite challenging. The AllToMP3 is one such program that converts and downloads content from the entertaining environment like YouTube, SoundCloud, Spotify and Deezer.
In this article, you will discover the perfect AllToMP3 alternative app and check the built-in functionalities to enjoy its benefits without any compromises. Here, you will learn how to use the AllToMP3 app and a short overview of this program. We will analyze the pros and cons of this app and proceed with reliable alternative programs. There is much third-party software available to assist in the quick download of content from engaging applications like Spotify, YouTube and Deezer. Surf below for detailed insights about it.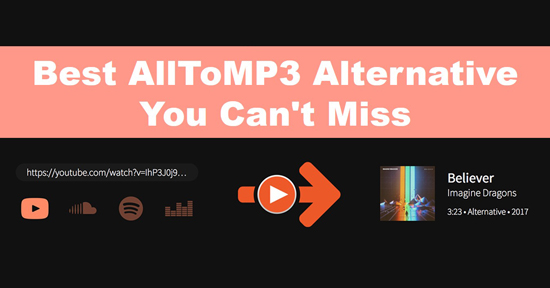 Part 1. What Is AllToMP3 and How to Use It
Here, in this section, you will learn about what is meant by the AllToMP3 program and the optimal usage of this application. Figure out its pros and cons to obtain detailed knowledge about this software.
AllToMP3 Overview
The AllToMP3 program serves as a desktop program that aids in a quality download of various entertaining platforms like Spotify, YouTube and Deezer. This program has separate versions to support a wide range of system OS like Windows, macOS, and Linux. You can step into its official website "https://alltomp3.org" to acquire detailed knowledge about its download process.
Like the other applications, you must download and install the app to create a copy of your favorite playlist on your PC in desired file format. During the conversion, this app retains metadata, ID3 tags like lyrics, artists, album name. It comes with the search engine option so that you can reach for the desired soundtracks quickly.
How to Use AllToMP3
The process is simple and you can complete the download and conversion steps in a few clicks. Here, you will be exploring how to use the AllToMP3 app to download Spotify playlists onto your PC. In case, if you feel whether this app is safe or not, many experts advise storing the program in other drives rather opting for a C drive.
Step 1. Install the AllToMP3 app and launch it on your PC.
Step 2. In the Spotify platform, choose the playlists that require the download process. Make a right-click on it and choose Playlist name > Share > Copy Song/Playlist link.
Step 3. Next, insert the copied link on the search bar.
Step 4. Finally, click the Enter button to trigger the download process.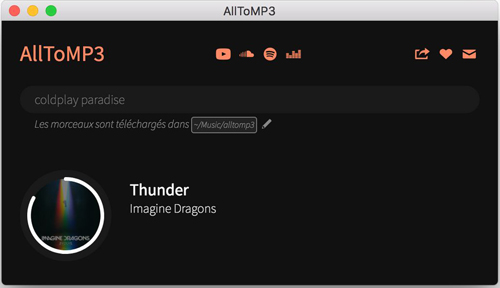 The above steps download the desired songs from any entertaining platform in no time. Follow up-to store the albums on your PC for offline listening.
Pros and Cons of AllToMP3
As for AllToMP3, here it is high time to check out its pros and cons in detail.
Pros:
It has a simple interface and the users can work on it precisely
The playlists are stored at the desired storage location for quick access
During the download, the app preserves data like lyrics, artists, and album names
Cons:
Few bugs interrupt the successful completion of the download process
The link provided for Spotify download may direct to the YouTube platform and extract songs from that environment. You will find the difference in the soundtracks in the downloaded playlists from the Spotify space
These are the pros and cons of the AllToMP3 app. You can surf them carefully and get some valuable insights about the program in detail.
Part 2. Best AllToMP3 Alternative to Download Spotify Music
In this part, let's move to check the best AllToMP3 alternative to Spotify music downloads. This tool is DRmare Music Converter.
This AllToMP3 alternative for Windows and Mac has a simple interface and provides explicit controls for easy access. It can remove the DRM from the protected files from Spotify and downloads them as local files into the system storage drive in no time. With this tool, you can get the Spotify audio file format like MP3, FLAC, WAV and more. Then you can store the songs onto your computer for quick access.
In this program, you just need to download Spotify songs using the songs links. Or you can directly drag the songs into DRmare for converting. The DRmare program can preserve metadata, ID3 tags like album from Spotify. The conversion occurs at a faster rate and converts without any quality loss.
Main Features of DRmare Spotify Music Converter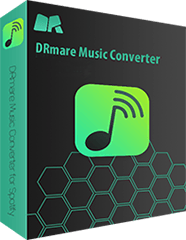 The Spotify audio tracks can be converted to any file type to overcome compatible issues
Professionally removes the protection of Spotify songs and enables to play them on any media player
The Spotify conversion takes place at a rapid rate with lossless audio quality kept
The simple interface assists the newbie users to work comfortably
Here you can see how to use DRmare Music Converter to download Spotify songs into your system drive effortlessly. Let's find them out.
Step 1

Install the DRmare Music Converter program and add Spotify songs

Download the DRmare Spotify Music Converter software and install it. Then, launch the app and choose the desired playlists from the Spotify. You can copy and paste the link of Spotify songs into search bar of the DRmare Music Converter platform nearby the '+' icon. And then click on the '+' button to import songs from Spotify to DRmare. Or you can drag or drop Spotify music files into DRmare program.
Step 2

Set the output parameters for Spotify songs

Click the Menu > Preferences option to choose the perfect values for the Spotify music conversion. You can choose from output file format, bit rate, sample rate, and channel. To let Spotify music compatible to any device, you can choose to convert Spotify to MP3. After then, press the 'OK' button and hit the 'Convert' button to start to convert Spotify audio files.
Step 3

Find downloaded Spotify music on DRmare

Wait for a few minutes until the conversion and download process completes. Then, click the History menu to access the downloaded Spotify soundtracks. You can also find the playlists on the system drive on your PC.
Part 3. Other AllToMP3 Alternative for You to Choose
Besides DRmare Music Converter, here are some other AllToMP3 alternative for you to select. They are Audacity, TunesKit Audio Capture, Cinch Audio Recorder and Tunelf Spotibeat Music Converter. These are the alternative to AllToMP3 also. Now, learn about them in detail in the below discussion.
1. Audacity
Audacity is an open-source program that helps to download and record Spotify music precisely into your system without any data loss. It has a high compatible feature that supports optimal working on Windows, Linux and Mac OS. So, it should be a nice free and online AllToMP3 alternative for Linux/Windows/Mac.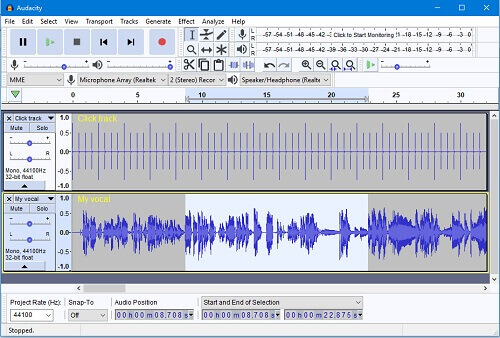 Pros:
A free application and performs efficiently with lossless data download
The compatibility feature is remarkable
Cons:
It has a complex interface
The newbie users struggle to use this app
2. TunesKit Audio Capture
TunesKit Audio Capture is an efficient program that downloads the audio tracks from a wide range of entertaining platforms like Spotify. It helps you to convert the file format to any required type flawlessly.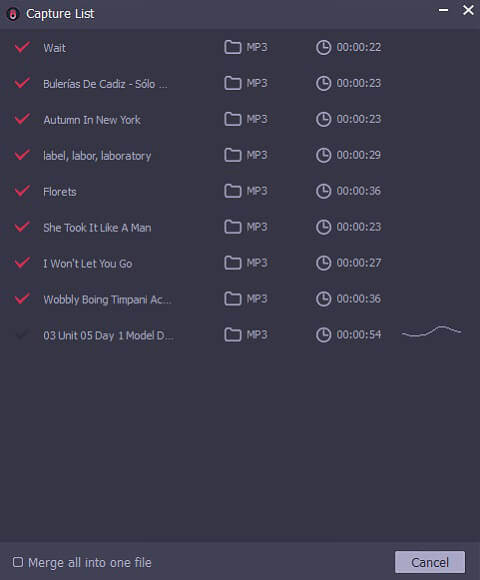 Pros:
It captures the audio and converts it to the necessary file format to overcome compatibility issues while playing them on any device
The process happens by retaining the quality factors and you will not witness any data loss even handling long file sizes
Cons:
The conversion speed restricts up to 1X
3. Cinch Audio Recorder
Cinch Audio Recorder can download Spotify songs flawlessly in no time. If the AllToMP3 program does not work, then immediately switch to this program without any hesitation.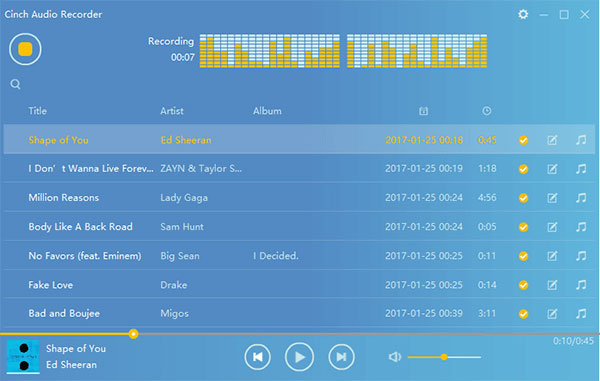 Pros:
Download the soundtracks from any entertaining environment
Preserves the ID3 tags like artist names, album titles, lyrics for future reference
Cons:
To end the recording action, when you tap the Stop button, the app responds after 10-15 seconds of lag resulting in excess recorded data
4. Tunelf Spotibeat Music Converter
Tunelf Spotibeat Music Converter can download Spotify playlists effortlessly and you can convert them to any file type like MP3, M4A, M4B. This app assists in the offline listening of the favorite songs from Spotify by downloading them to the local system drive.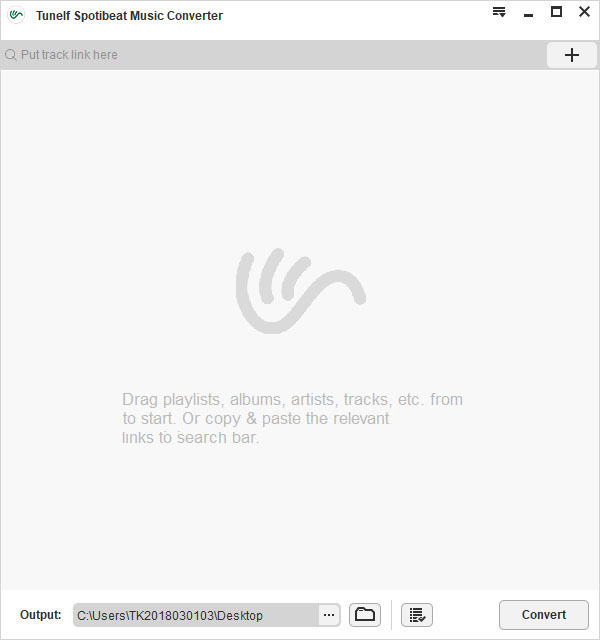 Pros:
The conversion speed is 5X times faster
The downloaded soundtracks can be easily streamed to any music player for flawless listening
Cons:
It is not compatible with the Linux platform
Part 4. Conclusion
This article had given valuable insights on AllToMP3 alternative. You can choose the one that inspires you and perform astonishingly to get music from Spotify. In a word, the DRmare Music Converter works well with limited controls and incredible performances. By using this tool, you can easily get songs from Spotify and listen to Spotify offline anywhere as you want.