As one of the biggest music streaming services, Spotify provides millions of songs to explore. And it has been more and more popular among music lovers. On Spotify, you can find almost all favorite songs and discover new music.
Yet, if the network speed is unstable, you will get a poor listening experience. So, the best way is to record Spotify music for offline listening. There are many Spotify recorders in the market to help. But, which one is the best Spotify recorder?
Here, we list top 13 Spotify recorder to help you choose the right one. They are for Windows, Mac, Android, online, and free. Just dive in with us and learn more.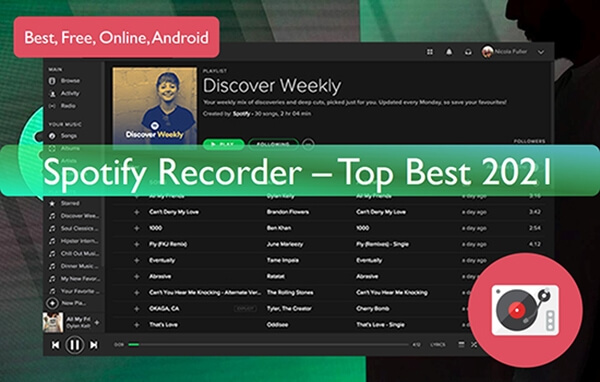 Part 1. Best Spotify Recorder - DRmare Spotify Music Converter
As for the best Spotify music recorder, DRmare Spotify Music Converter takes the throne. That's because it has overall features and performance. The screen is so clean and beautiful, you won't be confused with any bells and rings.
It can download Spotify songs, playlists, albums, artists, podcasts, and audiobooks. To meet the requirements of different users, it supports multiple output format options. They are MP3, M4A, M4B, AAC, FLAC, and WAV format. That's to say, you can download Spotify songs to MP3 and other common files.
Also, it is easy to customize the bit rate, channel and sample rate. And you can archive output files by album/artist. The stunning feature of this smart tool is its conversion speed. Different from the traditional Spotify recorder, it runs at up to 5X faster speed. At the same time, it keeps original quality including all the ID3 tags like the album, artist, and so on.
And you don't need to sign up for Spotify premium membership to use it. Though it is not free, it saves you a lot of time and energy. If you care about your time and the music quality, you should definitely take a look at it.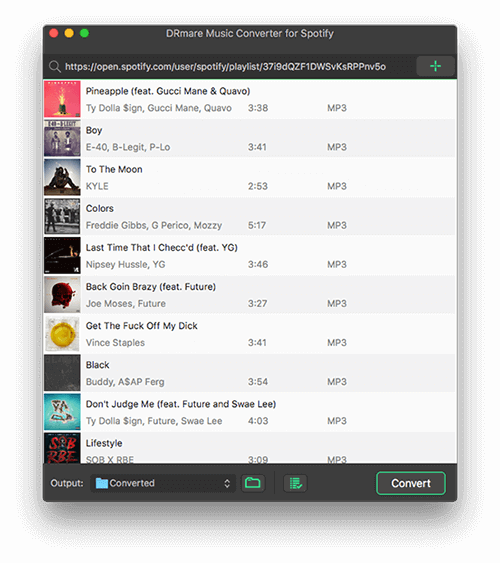 Pros:
* Losslessly record and download music from Spotify without Premium
* Extract music from Spotify with 100% original quality kept at 5X faster speed
* Convert Spotify to MP3, M4A, WAV, FLAC for any players and devices
* Automatically detect the ID3 tag info and archive songs by albums/artists
* Listen to Spotify songs offline anywhere and anytime

Cons:
* Don't work for other streaming music services, such as Tidal, Pandora
* Not free
How to Use DRmare Spotify Music Converter
Install and then open the DRmare Spotify Music Converter.
Go to the pop-up Spotify program to find the songs you like to download.
Copy the link of the track > hit '+' icon or drag the track to DRmare main screen.
Touch the menu icon. Then choose 'Preferences' > 'Convert'. Here you can set the output parameters for Spotify music.
Press the 'Convert' to start to convert and download Spotify songs to computer as local files.
Part 2. Spotify Recorder Mac/Windows - Top 6
No.1. Cinch Audio Recorder (Windows)
Cinch Audio Recorder (CAR) is an all-in-one streaming music recorder. It can record songs from many audio sites with the accuracy of ID3 tags kept. There is no doubt that Spotify is one of the supported streaming music services. Thus, it's also a Cinch Spotify Recorder.
It's not a free Spotify recorder, but it has much more features than free recording programs. It combines two audio recording processing cores to analyze and cut out the noise during recording. Also, it has useful features to block Spotify ads and make Spotify songs as ringtones.
Yet, Cinch Spotify Recorder Windows doesn't export 100% output quality. And it takes real time to record Spotify music.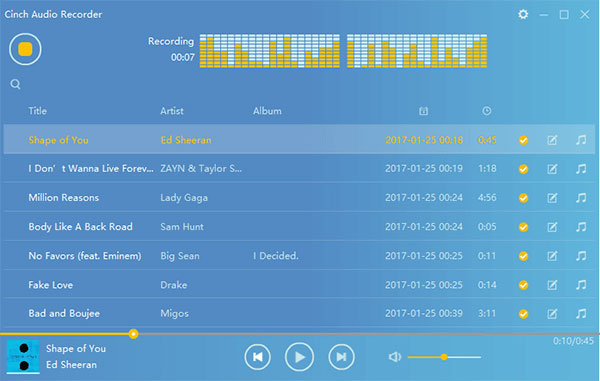 Pros:
* Record music from multiple streaming service providers with high quality
* Have extra features, which enables you to create a ringtone for iPhone/Android
* Rip ads from Spotify songs automatically
* Keep Spotify music files as a raw WAV file

Cons:
* Take real time to record each Spotify song
* It costs $25 to get the paid Cinch Audio Recorder full version
* Only works on Windows PC

How to Use Cinch Spotify Audio Recorder
Open the Cinch Audio Recorder. Click on the record button from the top-left.
Find and play a Spotify song that you would like to record.
Once played, the Cinch Audio Recorder Spotify will start to record music from Spotify for you.
When recorded, right-click the song in Cinch program. Then choose the output folder to save the Spotify track.
No.2. Replay Music (Windows)
Replay Music is also a Spotify recorder Windows. It can capture songs playing on your PC to high-quality MP3 files. It works with video, audio websites like Spotify, YouTube, or local players. So, you can use Replay Music to preserve high-quality Spotify files.
During recording, each Spotify song will be tagged with the artist, album, and any other info. Besides, it can split Spotify tracks into small clips and burn Spotify to CDs. Also, it supports previewing and playing tracks.
However, it is not perfect either. During our testing, it is not so stable, sometimes it just closes without any reason. Similarly, it also costs $29.95.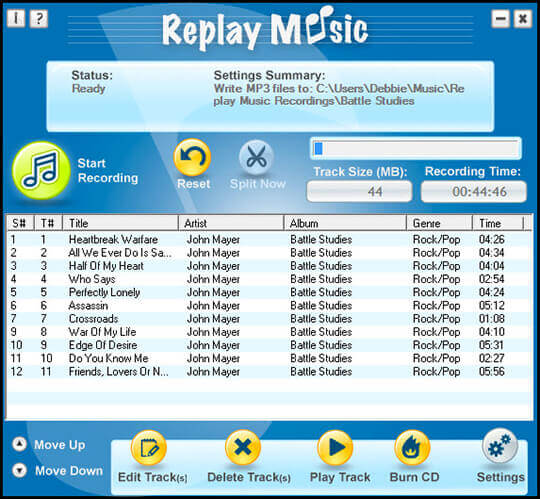 Pros:
* Keep the original high-quality songs with this Spotify recording software
* It combines the features to split your music, burn CDs
* Extract audio tracks from videos

Cons:
* It is not stable, sometimes it crashes without reasons
* It takes real time to download Spotify music
* It costs $29.95 to get the paid version
* No built-in music player
* Only for Windows OS
* Not work on all web browsers

How to Use Replay Music Recorder for Spotify
Launch the Replay Music program from your computer.
Hit on the RECORD button.
Enter the browser or music player app to play music you want to record.
Once finish recording, touch on the STOP button.
No.3. Audials Music 2021 (Windows)
Audials Music 2021 is a quite professional Spotify recorder. It is also an audio format converter and a music manager. You can use it to record and keep online audio files to MP3 and so on. Besides, it can download and convert audiobooks to MP3 at a fast speed. Also, it can help manage multiple music collections with ease.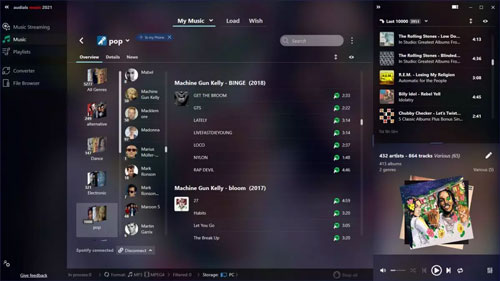 Pros:
* Support to output more than 40 audio formats
* Capture audio tracks from streaming music services
* Support to import and manage local audio files

Cons:
* Only available for Windows OS
* Cost a lot

No.4. Wondershare AllMyMusic (Mac)
For Mac users, Wondershare AllMyMusic is the best Spotify recorder Mac for you. It is an audio recorder to record any audio tracks that plays on your computer. It can support to capture audios from Spotify, and more other online sources.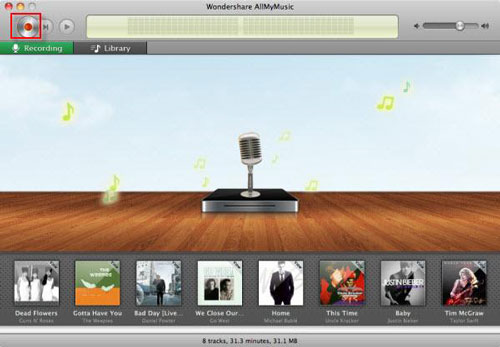 Pros:
* Capture and split audio tracks
* Support to extract audios from video files

Cons:
* Not work on Windows computers
* Need to work with a stable internet connection
* Only support to output two audio formats

How to Use Wondershare AllMyMusic
Set up the Wondershare AllMyMusic on your Mac computer.
Go to the browser to play the songs or video clips you want.
Touch on the Record button on Wondershare AllMyMusic. It will then capture the sounds.
No.5. Leawo Music Recorder (Windows/Mac)
Leawo Music Recorder can be also used as a Spotify recorder. It can record audio files on Windows and Mac computer. And it can help manage recorded audio files and edit the files with ease.
Besides, you can customize the recording time and duration as you want. And it can detect the recordings and keep audio files with metadata. Moreover, it allows users to share the recording audio files to iTunes.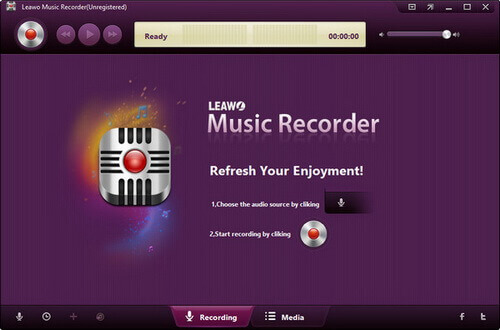 Pros:
* Support to define the recording start time and the duration
* Support to share recorded audio files to iTunes in one click
* Work on both Mac and Windows computer

Cons:
* Take much time to record music from Spotify
* Only two output audio formats available - MP3 and WAV
* Need to install a virtual sound card to use it
* Not free

How to Use Leawo Music Recorder
Open the Leawo Music Recorder for Spotify.
Hit on the Audio Source icon. Then choose Record Computer Audio icon.
Play the Spotify songs and hit on the Start button.
Press the Stop button. Then save the recorded audios to your computer.
No. 6. Apowersoft Streaming Audio Recorder
Apowersoft Streaming Audio Recorder can record streaming music tracks from all sources. It can also capture the sounds from audio chats easily. It supports to output audio files to MP3, FLAC and more audio formats. With it, you can keep the audio files for play on any platform.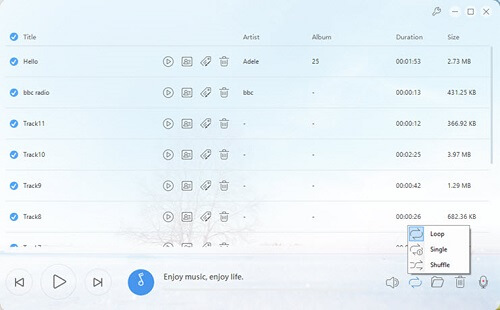 Pros:
* Allow to keep audio files to multiple audio formats
* Capture any sound from the computer
* Support to burn audio to CD

Cons:
* Take some time to record Spotify music
* Can't save audio tracks with original quality

How to Use Apowersoft Streaming Audio Recorder
Go to the Apowersoft Streaming Audio Recorder.
Press on the Start Recording button. Then choose the audio source.
Control the audio recording via the Start, Pause and Stop buttons.
Click on Show in Folder button to find the files recorded on your computer.
Part 3. Best Spotify Recorder Android
When I research Spotify recorder, I found that many Spotify users also want to get a Spotify recorder Android. With the advent of the digital age, there are more and more people who use mobile phones. Android phones account for a large portion of the market share.
As a consequence, many people use Android phones to explore digital entertainment. Also, it includes listening to Spotify music on Android phones. Then, let's get back to the key topic. Is there a smart Android Spotify recorder? It could be better to record from Spotify Android instead of syncing them from computer.
Syncios Audio Recorder is the answer here. It lets you record audio from Spotify Android.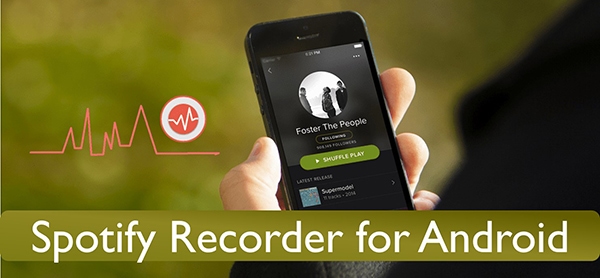 Pros:
* The only Spotify recorder Android to record Spotify music

Cons:
* It runs at a 1X conversion speed
How to Record Spotify on Android via Syncios Audio Recorder
Download the Syncios Spotify recorder on your Android devices.
Launch the Spotify app and Syncios app.
Find and play music on Spotify.
Click the 'Record' icon to detect playing songs and record Spotify music offline.
Part 4. Free Spotify Recorder - Top 4
No.1. Dojotech Spotify Recorder
Dojotech Spotify Recorder is a very simple Spotify recorder free. It can detect the tracks when Spotify is playing and save Spotify songs to MP3. Besides, it can tag the downloaded songs with the genre, album, and other info.
It also allows you to change the record folder, choose a recording device, and so forth. Unfortunately, only Windows XP and lower versions are supported. Unless you have an old Windows computer, this software might be of no use to you.
Anyway, it does offer a good solution for users with a free Spotify account to extract music from Spotify. With an old PC, it's a nice choice to download Dojotech Spotify Recorder. It helps you play Spotify music offline at no cost.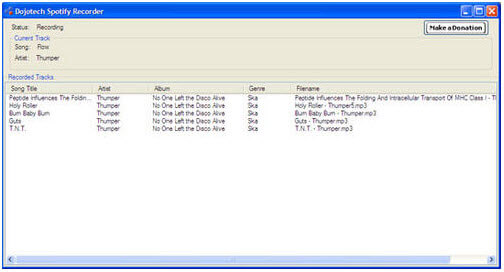 Pros:
* Free to get Dojotech Spotify Recorder download easily
* Provide an easy solution to record Spotify to MP3 offline on Windows XP, etc.
Cons:
* The user interface is too simple
* No Dojotech Spotify Recorder Windows 10, Mac, and Linux
No.2. Audacity
Audacity is originally known as a powerful and free audio recorder and editor. It's similar to Cinch Audio Recorder but more powerful than it. First, it runs on almost any platform, like Linux, Mac, and Windows OS. Then, it supports recording live audio through a microphone or mixer. Of course, it can digitize recordings from other media services like Spotify for free. Here, we will focus on the Spotify option.
With the audio wave display window, you can control Spotify recording in a better and easier way. After recording, you can trim, cut, and rearrange the Spotify tracks. With this free Spotify music recorder, you can record and convert Spotify to MP3, WAV, AIFF, or AAC.
But, it's also worth mentioning that the audio quality may be affected. You may hear some noise on the Spotify. If you accept this disadvantage, it could be the best free Spotify recorder 2021.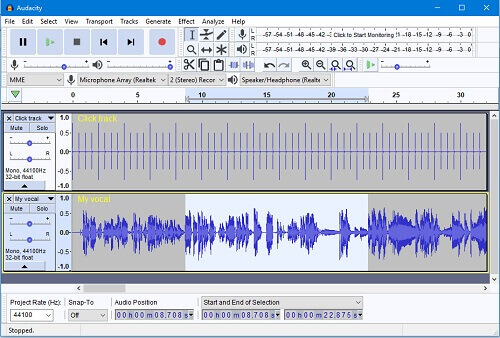 Pros:
* It is a totally free Spotify recorder
* Record audio from many sources, like online streaming websites, Mic, speakers
* Powerful editing features make it easy to edit Spotify music files
Cons:
* The output file quality is not satisfactory sometimes
* Only work for Windows computer
* Need to install plugin to export audios to MP3
* No ID3 tagger

No.3. Codeplex Spotify Recorder
Codeplex Spotify Recorder is probably the simplest Spotify ripper. It is developed by a person for converting Spotify songs for personal use.
You can one-click to record Spotify tracks directly from the sound card. It will add the artist info automatically. Like DRmare Spotify Music Converter, it doesn't need a premium Spotify account to do that.
Just play your Spotify songs. Then click "Start Recording" button, it will begin to record Spotify files. According to our test, it works perfectly on Windows 32/64 bit system.
Yet, it hasn't been updated for about 2 years. So, it may not be compatible with the latest Windows 10 system. As a free Spotify audio recorder, it is still eligible to be ranked in this article.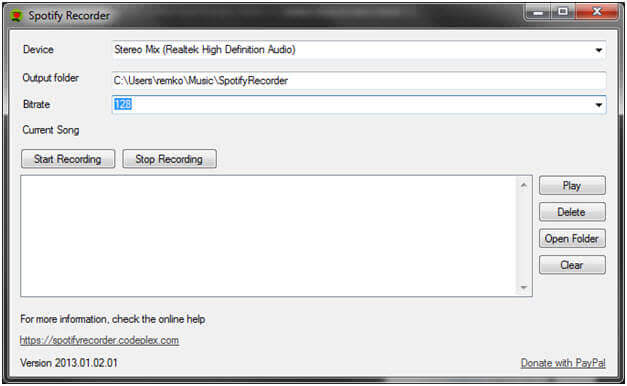 Pros:
* It's a freeware with a simplified interface, you don't have to be tech-savvy to use it
* Keep the ID 3 tag info such as title, artist, and so on
Cons:
* Don't work on Windows 8/10 and other kinds of computers
* Few tutorials, documentation, or support is available online
No.4. Free Sound Recorder
Free Sound Recorder is a free Spotify recording software. It also can be used to record other sounds for free. You can set the recording time with a duration to record audio tracks.
With it, you can record Spotify to other audio formats with high audio quality. Also, this tool allows you to edit the recorded audio files. You can cut and trim the audio tracks you want.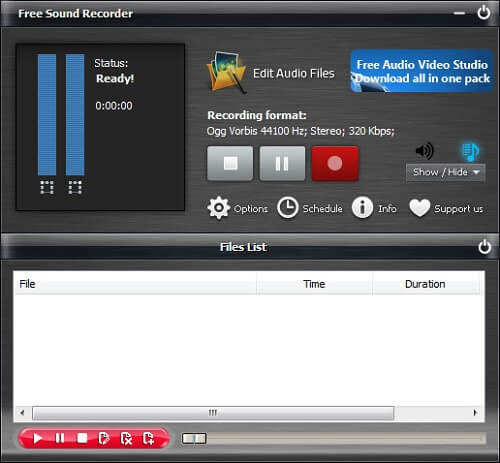 Pros:
* Easy to use
* Capture sound from sound card on computer
Cons:
* Can't batch recording and save ID3 tags
* Unable to detect and separate individual songs
Part 5. Spotify Recorder Online - Spotify Web Recorder
Here we will show a Spotify web recorder for you to record Spotify music without installing extra apps.
Spotify Deezer Music Downloader is one of the professional Spotify web recorders. It is a Chrome extension to download music from Spotify Web Player. You can find this online Spotify recorder on Google and add it to your Chrome browser.
After that, when you open it, it will bring you into the Spotify Web Player. When you tap the item that you'd like to record, it will show a 'Download' option for each file. It's simple to use it to listen to Spotify music offline. But as a web tool, the conversion process isn't stable and the output quality could be lower.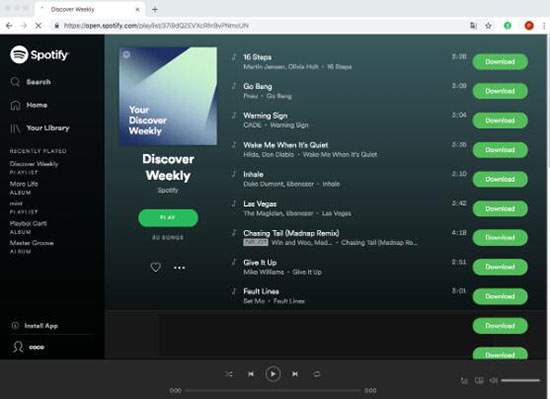 Pros:
* It's a free Spotify web recorder.
* No need to install extra apps
* Record music from Spotify Web Player

Cons:
* It could be crashed unexpectedly
* The Spotify music recordings are not good for listening
* Work on Windows only

Which Is the Best Spotify Recorder
We had listed 13 best Spotify recorder above. You can select one from them to record music from Spotify.
To get the best quality and the highest converting speed, you can choose DRmare Spotify Music Converter.
If you want a free Spotify recorder, you can try Dojotech, Audacity, Codeplex and Free Sound Recorder.
For looking for a Spotify web recorder or a Spotify recorder Android, they are both only an option.
Or you can share your favorite Spotify recorder in the comment area with us. Hope you can enjoy Spotify music you like without any problem.