Receiptify is an online open-source tool that displays receipts for your top 10 played songs. The statistical time period can be the past month, the past six months and all time. Many users like to use it to get Spotify receipts. The question is: does Receiptify work with Apple Music?
Yes, Receiptify works with Apple Music and Last.fm in addition to Spotify. Today in this post, we will mainly discuss how to use Receiptify Apple Music.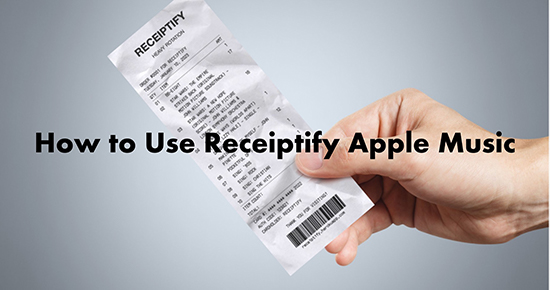 Part 1. How to Make Receiptify for Apple Music
There is no Apple Music Wrapped, and the closest thing is Apple Music Replay, but it doesn't suit everyone's needs. Therefore, the top track generator - Receiptify is very popular among Apple Music users. With it, you can get a list of the top 10 most played songs. Apple Music receipts also include other information, such as cumulative listening time for the top 10 songs, your name, data for receipt creation, and more.
However, unlike Spotify Receiptify, it only supports "Heavy Rotation", showing data for all time or an undefined time period. Anyway, if you like it, follow the steps below on how to make Receiptify Apple Music.
Step 1. Open any browser and navigate to the Receiptify website.
Step 2. Log in with your Apple Music account. Then click on 'Allow' to give Receiptify permission.

Step 3. Filter either by 'Top Tracks' or 'Top Artists'.
Step 4. Receiptify will automatically generate your Apple Music receipt.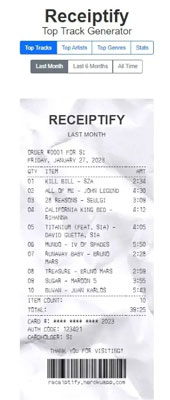 Part 2. How to Share Receiptify Apple Music
Can you share Receiptify for Apple Music? Yes, you can. To share your Apple Music receipt on social media platforms, all you need to do is download and post your receipt.
There is currently no functionality to share receipts directly on social media. And you can also skip to Part 3 to get a better way to share your receipts.
Step 1. Follow the steps in Part 1 to generate a receipt of Apple Music.
Step 2. Click on the 'Download Image' button beneath the Receiptify.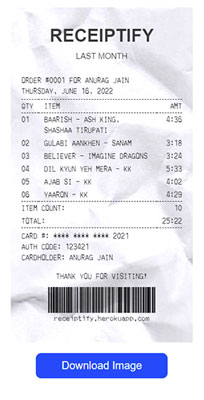 Step 3. Then you will be asked to view or download the image. Select 'Download' and it will save the Apple Music Receiptify to your device.
Alternatively, you can directly take a screenshot of the receipt.
Step 4. Then you can share the receipt with your friends on any social media platform.
Part 3. A Better Way to Share Apple Music Receiptify
As shown above, you can post your Apple Music receipt as a picture on your social media platforms. But the shared picture might not be clear, so here we want to show you a way to share your receipts with others as real songs. The tool you need is DRmare Apple Music Converter, which allows you to download and share your Apple Music songs losslessly.
With it, you can download any Apple Music track as a frequently used audio file and save it for as long as you want. It supports six output formats including MP3, AAC, M4A, M4B, WAV and FLAC. After converting Apple Music songs to popular formats, you truly own them and can share them with anyone. You can listen to the downloaded Apple Music songs even after your subscription expires. Best of all, the people you share with don't even need to have the Apple Music app installed to listen to the music.
DRmare Apple Music Converter
With DRmare Apple Music Converter, you can easily download and save your Apple Music Receiptify forever. After that, you can share your Top 10 Apple Music songs with your friends without any hassle.
Step 1

Load Receiptify Apple Music songs

After checking your Apple Music receipt, you can open the Apple Music app and download these top 10 songs. Then install and open the DRmare Apple Music Converter. You can click on the 'add files' button at the bottom left to import the downloaded Apple Music files.
Step 2

Alter the output settings for Apple Music

Now, you can click the 'format' icon at the bottom right to start changing the output parameters. You can alter the output format, channel, bit rate, etc. for your added Apple Music songs.
Step 3

Convert and share Apple Music Receiptify songs

Finally, click on the 'Convert' button on the right corner to start converting. It will immediately download and convert your added Apple Music songs at a super-fast 30X speed. When the conversion is end, you can hit the 'Converted' icon to locate your top 10 Apple Music songs.
You can then share these songs with your friends. And they can directly listen to the Apple Music songs even without a subscription. You can also keep these songs to listen to forever.
Part 4. FAQs about Apple Music Receiptify
Q1: Is There a Receiptify for Apple Music?
A: Yes, Receiptify is now available for Apple Music, Spotify, and Last.fm.
Q2: Is Receiptify Safe for Apple Music?
A: Yes. Receiptify is safe to use, it only has access to the listening habits of your Apple Music. None of the data used by Receiptify is shared with any third-parties.
Q3: Why Is Receiptify Apple Music Not Working?
A: If the traffic increase, Receiptify can go wrong. You can try refreshing the website or clearing your cookies and site date. Plus, you can check if you have enabled pop-ups in your browser.
Q4: How to Share Apple Music Receipts on Social Media?
A: All your need to do is to download your Apple Music receipts and post them on your social media. Alternatively, you can use DRmare Apple Music Converter to download and share your Top 10 songs.
Part 5. In Conclusion
Now you know how to use and share Receiptify Apple Music. We would like to recommend you to use DRmare Apple Music Converter to share your top 10 songs. Because it downloads your Apple Music songs and saves them as your own files. Then you can listen to them whenever you want or share them with whoever you want.