Spotify is one of the best music streaming apps and you can download its app on any device to listen to music. Also, there are several subscription plans of Spotify for you to choose from. Yet, sometimes you will meet some issues with Spotify. For example, it can be frustrating if you're an avid music lover and Spotify stops playing music.
Many music lovers mentioned that Spotify suddenly stops playing in the middle of a track or after one song. And sometimes even the Spotify app stops playing. Why does Spotify stop playing music? Today, in this post, you will learn why does Spotify randomly stop playing. Also, you will get tips on how to solve Spotify stops playing iPhone/Android/PC/Mac. Now, let's learn more below.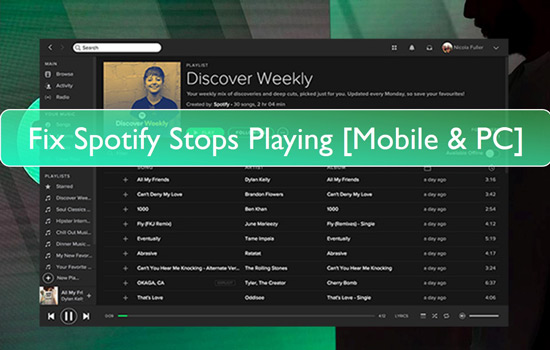 Part 1. Why Does Spotify Stop Playing?
Why Spotify stops playing? There can be several reasons to this issue. We list some of them below and you can check them out in detail.
1. Spotify music stops playing if your Internet connection is unstable, and the audio file will keep buffering.
2. Spotify stops playing in the background if you have installed the app on multiple devices. It would help if you managed the devices to ensure that the app functions correctly.
3. If you set the Spotify app as the sleeping app on your device, then you will face the Spotify stops streaming issue.
4. The Spotify app will stop playing if you use the old version.
5. If there is no enough storage on your device, the Spotify app won't play music well.
So, how to fix the Spotify app stops playing issue? Please don't worry. The following part will show some solutions for you to make it. Please read it and learn more.
Part 2. How to Fix Spotify Stops Playing Issue - Common Solutions
Now, in this part, we will show you how to resolve the Spotify stopping playing issue.
Solution 1. Check the Internet Connection
As Spotify is a music streaming app, you must ensure a stable internet connection to stream music. Spotify songs stop playing if the Internet connection is not stable and keeps switching off. So, you can try to disconnect and reconnect your internet connection.
On Android and iOS Devices:
Spotify stops playing Android and iOS if the internet connection is slow. If you are using data instead of a Broadband connection, you need to check the speed provided by your service provider. As Spotify is a streaming app, you need to convert the speed from Mbps to MB to understand the download rate. If your service provider's speed is sufficiently high, you will not face the problem of Spotify stopping playing on iPhone or Android after a few seconds.
On Windows and Mac Computers:
Spotify randomly stops playing on Windows and Mac computers if your Broadband connection is not stable. First, you should check the router in your home and the signal strength. Then, to ensure smooth streaming of the songs, switch off and switch on the router. You can also sign out and sign in again into the Broadband connection. This usually solves the problem if it is caused due to poor signal strength.
Solution 2. Restart Your Device and the Spotify App
Sometimes the Spotify app stops playing because you have not closed it. In this case, you need to force close the app and restart your device. The simplest way would be to go to the 'Home Screen' and swipe left till you find the apps menu on your mobile. Then select the apps which are at the bottom of the page. Next, tap on the triple dot and select the app that you want to force close. In this case, it would be the Spotify app and then restart your device. This is one way of resolving the problem of Spotify stopping playing music.
Solution 3. Clear the Spotify App Cache
Spotify stops playing music can happen if you have not cleared the app cache. The Spotify app's interface for Android and iPhone are the same. To clear the cache, you need to locate the app's storage. It is usually in the top right corner under the 'settings' of the app. Once you have located the storage section, clear Spotify cache and clear it again when prompted.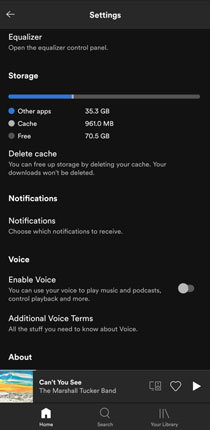 Solution 4. Uninstall and Reinstall the Spotify App
If Spotify stops playing after 10 seconds or a few seconds, then you can try to uninstall and reinstall the Spotify app. Once you uninstalled the app, you must download and reinstall it. This will update the app to the latest version. After that, you must log into the app and clear the cache automatically.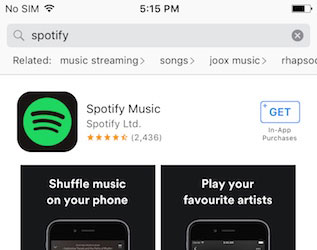 Spotify allows you to sign into multiple devices to stream music. But if you have logged into multiple devices, then Spotify will stop playing. So, if Spotify stops playing after a few seconds Windows 10 or other devices, you must check the devices you have logged into. And then you need to sign out of all devices.
Step 1. First, you can check the Spotify website and log into your account.
Step 2. Then, expand the profile menu, select the Account option.
Step 3. Next, hit on the 'sign out or everywhere' option to sign out of all devices.
After that, you can sign into your Spotify app again on your Android or iPhone.

Solution 6. Turn Off Battery Saver on Your Mobile Phones
If Spotify stops playing when screen is off iPhone/iPad/Android, you might have switched on the battery saver modes on device. In this case, you need to turn if off. Please follow the steps below.
On Android:
On your Android device, open Settings and navigate to Battery. Then turn off the Battery saver option. After that, it should resolve the Spotify keeps stopping playing songs problem.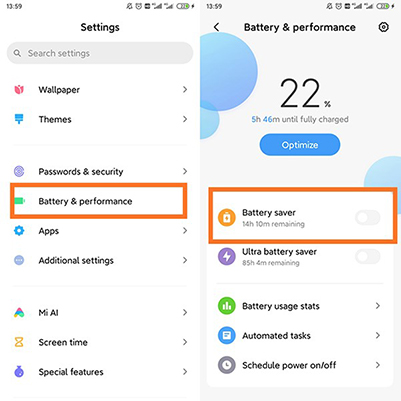 On iPhone:
To turn off battery saver on iPhone, open the Settings app and go to Battery. After that, turn off the switch next to Low Power Mode. This should resolve your Spotify suddenly stops playing iPhone problem.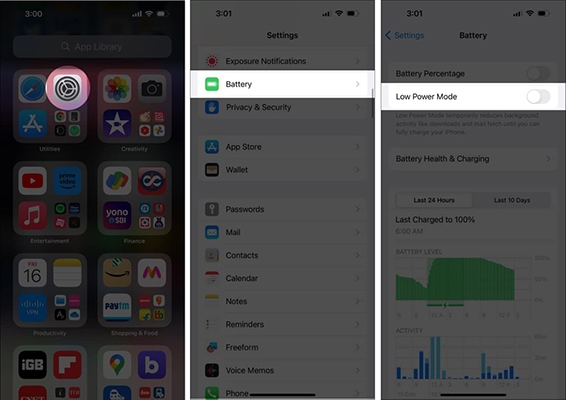 Solution 7. Log out and Log in Your Spotify Account Again
If Spotify stops playing when screen is off, you should try logging out and logging in to your Spotify account. You can do it simply by opening the app and go to your profile. After that, scroll down to the bottom left to log out of the app. Once you have logged out, you must follow the same process to log into your account.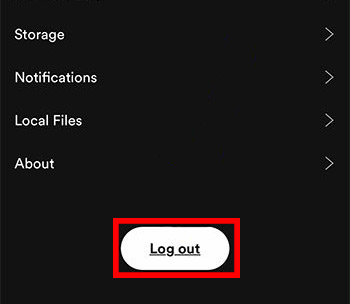 Solution 8. Update the Spotify App
This is one of the simplest ways to ensure that the Spotify app works properly. You can update the app from Play Store if you use an Android device or from App Store if you use an iPhone/iPad. Or, go to the Spotify website to get its latest version.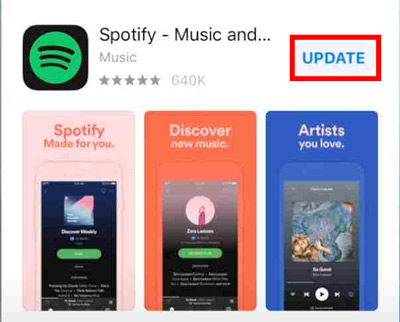 Solution 9. Check Whether Spotify App Is Added as Sleeping App
If you have set a rule to put some apps to sleep before going to bed, and Spotify is one of those apps. If so, it might cause problems while playing music in the app. Hence, you should check which apps you have put to sleep and remove Spotify from them.
Solution 10. Turn on Offline Mode on Spotify
You can also try to turn on Offline Mode on Spotify to play music if you are a premium user.
On Windows, click on the '...' dots on the Spotify app. Then choose 'File' > 'Offline Mode'. While on Mac, hit on 'Spotify' icon from the Apple menu, then click 'Offline'.
On Android or iOS, head to Settings on the Spotify app. Then click 'Playback'. If the Offline Mode is off, then turn it on.
Part 3. How to Solve Spotify App Stops Playing Music Issue - Best Way
The methods above are the common solutions to fix Spotify stops playing PC/Mac/Android/iPhone issue. If you try out them all, and still can't fix the issue, then you can check the best and last way here.
To do that, you need to download and convert Spotify music as local files on your device. Then you can use any other device and player to play Spotify songs. Yet, to download and save Spotify to your local device, you need a Spotify music converter. That's because Spotify music are protected and in a unique audio format.
Here you can use the DRmare Spotify Music Converter for help. With this tool, you can convert and keep music from Spotify as local files on your device. And then you can move Spotify music to any device for use offline without any limit. And you won't meet the Spotify keeps stop playing issue.
What's more, by using this tool, you can alter the output audio quality of Spotify songs as you want. And you can choose to convert Spotify music to MP3, WAV and more for use on different platforms. Also, you can reset audio channel and so on and this tool can work at a fast rate.
Now, let's see how to use DRmare Music Converter to convert and download music from Spotify to solve Spotify stops playing after one song issue.
Step 1. Go to the DRmare Music Converter official webpage. Then locate the 'Download' button and click on it to start to install the program on your computer.
Step 2. Once installed, then open the DRmare Music Converter. At the same time, the Spotify platform will show as well. This will help you add music to DRmare program for converting easily.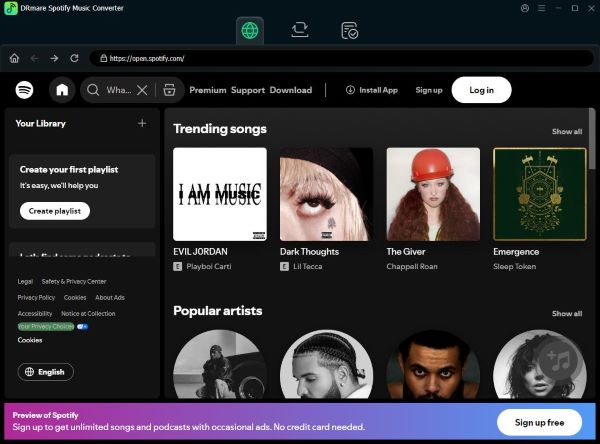 Step 3. Go to the Spotify app to drag and drag the songs you like to the DRmare program. Or you can put the song's link to the search bar on the DRmare program. And then hit on the '+' icon.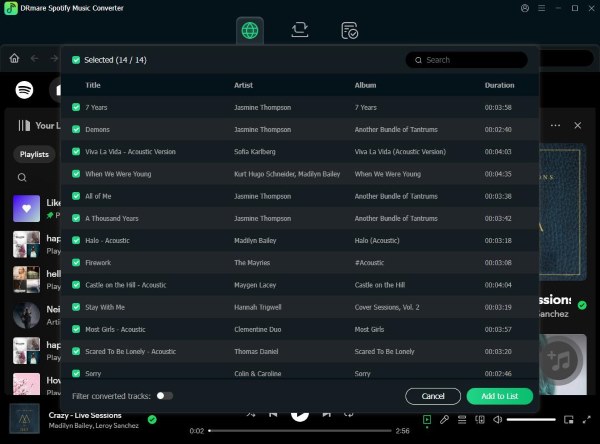 Step 4. Touch the menu icon and choose the 'Preferences' option. And then you can start to reset the output audio format and other parameters for Spotify songs.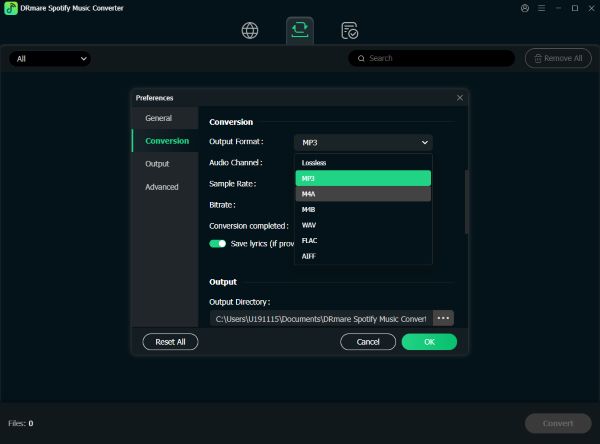 Step 5. Click on the 'Convert' button to download music from Spotify. A while later, you can go to the 'history' icon to find the local Spotify music files. After that, you can move Spotify songs to any device for playing. In this case, you won't meet the Spotify music stops playing iPhone/Android/Windows/Mac issue.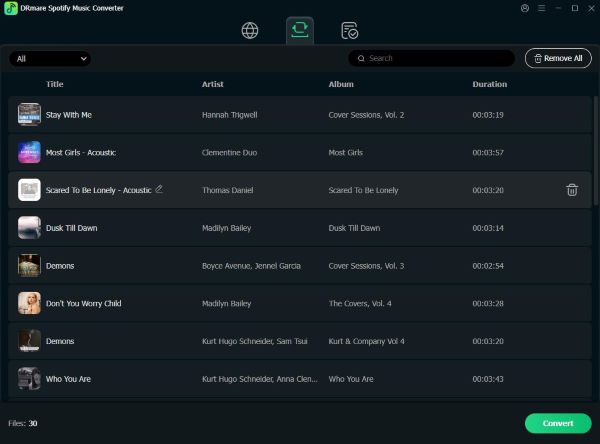 Part 4. In Conclusion
There are 11 solutions for you to fix Spotify stops playing issue. The 10 ways in Part 2 is the common methods. You can try them out one by one to solve the issue. If they still can't work, then you can try the last way in Part 3. You can use the DRmare Spotify Music Converter to help fix Spotify keeps stopping playing issue. With this tool, Spotify songs can be saved as local files on your device. And then you can move them to your desired platforms for listening offline without any limitation. Also, you won't face the Spotify music stops playing problem.