"Hello, I am an active user of Spotify and DJ Player Pro. The difficulty I am facing nowadays is that I cannot download Spotify music tracks for DJ Player Pro. I am looking for any useful tool that can convert and download Spotify music so that I can use them for DJ Player Pro. Please suggest me such software or tool for downloading Spotify music." - A User on the Internet.
Are you a Spotify user and want to use the Spotify music tracks for DJ Player Pro? If yes, you are at a perfect place because this article provides information about is it possible to use Spotify with DJ Player Pro. And to introduce to you the best Spotify music converter for help.
Moreover, the step-by-step guide is also there to help you out with the difficulty of downloading Spotify music for DJ Player Pro. Go through the article and see how to get DJ Player Pro Spotify to work.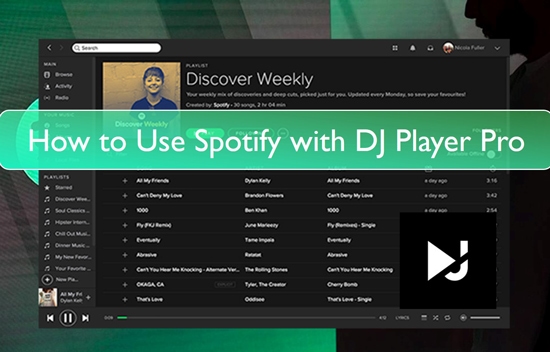 Part 1. Can you Use Spotify with DJ Player Pro?
Before knowing about using Spotify with DJ Player Pro, the first thing is knowing what DJ Player Pro is? Let's understand what DJ Player Pro really is.
DJ Player Pro is the largest DJ software, well-known across the globe, used for mixing music and creating new innovative tracks. This DJ software is specifically made for iOS system, and compatible with iPhone, iPad and iPod Touch. It gives you access to hundreds of songs present in your music library. It provides a variety of advanced tasks and benefits, including the best quality of music by audio effects.
With DJ Player Pro, DJs can be more efficient in their work. They can utilize the easy integration options and control the music list through the headset. Now back to our main question, "Can you use Spotify with DJ Player Pro?" The answer is a big Yes because DJ Player Pro needs a massive library to perform at its best capacity. And the massive music library is the one and only "Spotify".
Spotify is an online streaming music app that brings you millions of songs from the whole globe. But to mix Spotify music with DJ Player Pro, you need to have a useful and efficient tool that will download sounds and music tracks from Spotify on the computer.
The next section will provide you with this best tool to use Spotify music with DJ Player Pro.