Algoriddim announced that the Spotify integration with djay Pro would end on July 1, 2020. The announcement has confirmed by a spokesman of Spotify.
It was a great blow for djay. But for the users of djay Pro, they don't need to overly worry about it. "In the meantime, we've introduced new streaming services that will enable you to continue mixing all of the great music you love, plus give you extended access to new content and features," reads Algoriddim's announcement. And as we can see in the latest updates, djay Pro has made further cooperation with Tidal and SoundCloud to keep offering the streaming content.
No matter you are just starting to use djay Pro, or you have been using djay Pro for a long time, you should not miss this article. In the following sections, there are 3 sustainable methods to help you mix Spotify music with djay Pro. Choose the one that works best for you.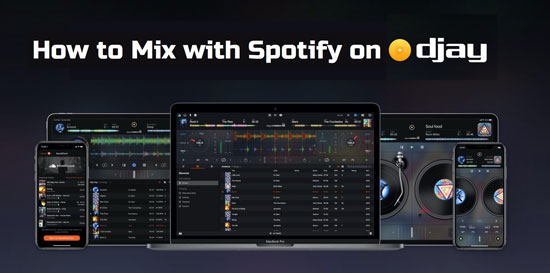 Part 1. How to Mix Spotify Music with djay Pro: Only for Spotify Premium
If you are already Spotify Premium subscribers, just directly get Spotify tracks in djay Pro. Here is a simple guide for you to refer to.
Step 1. Upgrade to the latest version of djay Pro.
Step 2. On the left of the library, find the music sources panel and click the Spotify option.
Step 3. Follow the on-screen tips to input your Spotify ID and password.
Now you can directly access your Spotify music library in the djay Pro app. Besides, there are other 2 tabs on the bottom bar for you to visit the music categories and the hit songs playlist.
Part 2. How to Download Spotify Songs to djay Pro: for Spotify Free and Premium
This method is workable for Spotify free users and Spotify Premium users. And it is one of the usable methods after the Spotify integration ends.
What you need is an additional tool called DRmare Spotify Music Converter. This powerful tool will help convert Spotify music to MP3, AAC, WAV, FLAC, M4A, M4B, and other universal formats. The converted Spotify tracks are also downloaded as local files and saved on your computer. Now let's check a simple tutorial on how to use this almighty software.
DRmare Spotify Music Converter
Step 1

Import Spotify playlists to DRmare

Download and install DRmare on your computer. After you launch it, the Spotify desktop app will also open. If you don't have the Spotify desktop client, DRmare also supports the Spotify web player. Log into your Spotify account and pick any track, playlist or album in Spotify. Now select the track or playlist then drag and drop it to the DRmare's interface.
Step 2

Reset the output sound parameters for djay Pro

DRmare allows you to change the output settings as you need. Just click the menu icon > 'Preference' > 'Convert'. The display parameters are available to reset. As a reminder for beginners, here are the best output settings for Spotify tracks: MP3, 48000 Hz, 320 kbps.
Step 3

Start to convert Spotify music for djay Pro

Now directly hit the 'Convert' button on the right side of DRmare's main page. The program will automatically finish the conversion. To speed up the conversion process, please don't run other apps during the conversion. When all added tracks are converted successfully, you can hit the 'History' icon to check the list and visit. You can also locate the locally stored folder by clicking the search icon next to the song.
Step 4

Load Spotify music to djay Pro

Open the djay app and visit the music library browser. Click the Files tab. Then choose the '+' icon to select the locally stored folder. Then hit 'Done'. After that, the local Spotify tracks are imported into djay Pro for further mixing.
Part 3. How to Add Spotify Music to djay Pro from Tidal and SoundCloud
As we mentioned before, djay Pro now integrates with Tidal and SoundCloud. For djay's new starters, go to register a Tidal account or SoundCloud account and get the related benefits. For djay's frequent users, you can choose to sync Spotify playlists to Tidal or SoundCloud. There are some online syncing tools like Soundizz or TuneMyMusic that can migrate your playlists.
NOTE: You can't sync the exclusive Spotify songs to Tidal and SoundCloud. You have to download these specific tracks via DRmare Spotify Music Converter for further sync.