At the Apple Event on September 12, 2017, Apple officially announced that the new anticipated Apple TV will enter people's views soon, which is the successor of the four-generation Apple TV that maxed out at 1080p resolution and was not available for HDR color technology. Bring on the HD HDR videos binge watching, the smart Apple TV 4K was out on September 22 and this new Apple streaming box already has graced your living rooms that takes movie night to the next level.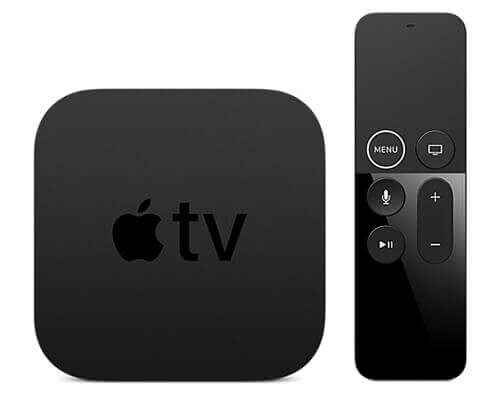 Although some customers think Apple TV 4K is the leading box on the market, its premium price is not a good news for everyone, since the company has raised the price that Apple TV 4K costs $179 with the support of 4K HDR vision, which is $30 more than the previous one, and much more than the competitive 4K HDR-capable set-top boxes, like the $69 Chromecast Ultra as well as the $89 Roku Premiere+. However, it's worth mentioning that this standalone streaming device comes with various noteworthy features. Now, let's have a detailed introduction of its extraordinary features.
4K & HDR
When comes to the special features of Apple TV 4K, the first thing in my mind will be that this streaming media player supports 4K HDR and Dobly Vision with making full use of modern TV screen and monitor. As a consequence, iTunes store starts to sell 4K videos, such as movies and TV shows. If you have purchased HD videos form iTunes, you are allowed to upgrade these 1080p files to 4K vision for free. Besides, Apple TV 4K will have no problem in choosing the right screen resolution for your set, and it will automatically update the enable highest picture quality for playback according to your smart TV.
More Tips: Stream iTunes Movies to Apple TV
According to the Apple's support document, "HD movies are available for being downloaded to iPhone, iPad, iPod Touch, Mac, or PC, and you might be able to download HDR and Dolby Vision files to iOS devices, but 4K versions can be only streamed, no downloads." Then, how to stream iTunes 4K movies to Apple TV? There are two approaches for you to play iTunes 4K versions on Apple TV, which are respectively Home Sharing and AirPlay. For more detailed tutorial to watch iTunes 4K videos on Apple TV 4K, there is a useful source page for your reference: How to Stream iTunes Movies to Apple TV.
Overhauled tvOS
Compared to Apple TV's competitors, one thing Apple did better is that Apple TV 4K provides a straightforward and easy-to-use interface. In order to make it look clear on HD smart TVs and other end receivers, the whole menu of Apple TV 4K has improved to 4K resolution. Besides, with the Siri Remote that is also smart about 4K HDR, it will be unbelievably simple to find wanted TV shows and movies in highest picture quality for watching.
Apple TV Apps
Although Amazon Videos is not available on Apple TV, Apple says that it will come soon. Plus, Apple TV app offers an easy way for you to find and play your wanted digital content, which can support over 60 services on Apple TV. Therefore, you can get great content from apps, like Netflix, Hulu, and ESPN. What's more, the new streaming box supports streaming live sports and news. It's really excited news for sports fans in the US, since Apple TV 4K support them tracking their favorite teams and get timely notifications only if they have a match.
In Conclusion
Thanks to these amazing and powerful features, Apple TV 4K can handle high-resolution films, since it has entered to 4K world with support high dynamic range in HDR 10 or Dobly Vision. Apple TV 4K can bring users a high quality way to enjoy digital life by watching everything at home.