Cupertino, California – Apple announced the arrival of iTunes 4K content while introducing the new Apple TV 4K on September 22, 2017. As a consequence, Apple is now selling and renting digital 4K videos, HD as well as SD resolution versions via iTunes. These iTunes 4K videos are mainly designed to support the new Apple TV 4K, which is compatible with 4K HDR format for the first time. Put it another way, when the device finally supports 4K version, you'll be able to stream these said content, rather than downloading directly to a device. Besides, if you purchased HD movies from iTunes store that is available for 4K HDR now, Apple will automatically upgrade HD titles in existing iTunes library to 4K HDR versions for free.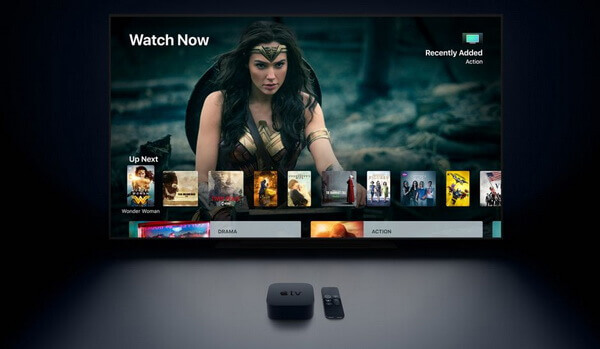 According to an Apple's support document, "You can buy or rent movies from the iTunes store in high-definition (HD) or 4K resolution formats. These videos might also feature high dynamic range (HDR) in HDR 10 or Dolby Vision." Besides, "You can download a local copy of a HD movie to iPhone, iPad, iPod touch, Mac, or PC, and you might be able to download HDR and Dolby Vision version to iOS devices, but you can't download a 4K version," the support document also states. When you watch videos purchased and rented from iTunes store, these iTunes digital content will automatically plays in the highest-quality format on compatible devices when available for the devices.
Things you Need to Play iTunes Highest-quality Videos
First of all, you should purchase or rent a movie from iTunes store with high-quality version. Then, you need to prepare a compatible device that is capable of watching high-quality iTunes video content for playback. What's more, please make sure that your Internet connection is enough fast to play the high-quality video version that you are streaming. If not, the compatible Apple device will switch the best quality of video to a lower quality version automatically.
* For how to check the video quality of your purchased iTunes videos, you can tap a movie that you want to watch, and look at the top of the page for 4K, HDR, or Dolby Version.
* HDR10 and Dolby Vision content can be playable on iPhone 8 and newer, iPad Pro (2017), and Apple TV 4K.
Useful Tips to Remove DRM from iTunes Movies
"It's really an excellent news that iTunes store can provide movies with 4K resolution, HDR and Dobly Vision version, even if iTunes 4K video content can be streamed only with the new Apple TV 4K," said David, the technical director from DRmare Studio, "what a pity is that since iTunes 4K content can't be downloaded locally, DRmare M4V Converter fails to work on 4K videos up to now, but our technician team will try their best to make it possible to remove DRM from iTunes 4K files." Movies and TV shows purchased and rented from iTunes are locked by FairPlay DRM technology that restricts iTunes customers' rights to enjoy iTunes videos freely, such as iTunes DRM videos are not able to watch on non-Apple devices. Therefore, if you want to sync your iTunes DRM movies to non-Apple devices, such as Android phones and tablets, you should have a professional iTunes DRM removal tool. Although DRmare M4V Converter don't support iTunes 4K movies, there is no doubt that DRmare M4V Converter is one of the most extraordinary iTunes DRM removal solutions, which can remove DRM protection from iTunes 1080p videos, as well as other HD and SD movies and TV shows with preserving 100% original quality. There is a complete and detailed tutorial for your reference to remove DRM protection from 1080p movies: How to Get Rid of DRM Restriction from iTunes 1080p Videos.
More about 4K & HDR & Dobly Vision
4K (also known as 4K resolution), refers to videos with a higher resolution. The high-definition format (short for HD) supports a resolution of 1920*1080, while the resolution of 4K video is 3840*2160, which has the horizontal and vertical resolution of 1080p HDTV format. But iTunes 4K content can be played on compatible devices.
With a dynamic range that is higher than standard dynamic range, HDR lets users enjoy unbelievably images, a broader range of colors and greater detail in both dark and bright scenes. Now, movies in iTunes store supports HDR and Dobly Vision. If there is a HDR icon or Dobly Vision icon, iTunes movies can be displayed in HDR or Dobly Vision.