YouTube Music is a streaming service that provides access to millions of YouTube tracks and videos. However, a monthly subscription charge is required to access premium features such as ad-free playback, offline downloads, and background play. But what if these features were available for free? The YouTube Music Premium APK serves this purpose.
YouTube Music Premium Mod APK is a modified version of the official YouTube Music app that grants free access to all premium features. You can obtain and install this application on your Android device to experience unlimited music and videos from YouTube Music with no advertising, interruptions, or restrictions.
But before you decide to use this app, you should know the risks and disadvantages of using it. This article will evaluate YouTube Music APK Mod for Premium and compare it to a safer and dependable alternative. Additionally, we will demonstrate how to install this modded app on your device.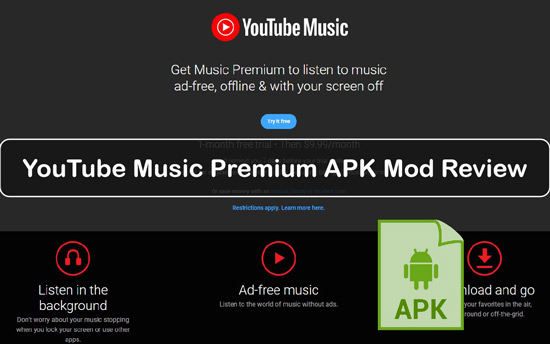 Part 1. YouTube Music Premium APK Mod: More You Need to Know
First, let's learn a bit about YouTube Music Premium Mod APK in this section. Here you will know what it is, how to use it and its pros and cons.
What Is YouTube Music Premium APK
It is an archive that includes the original app's source code and data and any customizations made by an external developer. These changes are made so that users don't have to pay a membership fee to use the app's premium features. If you have an Android smartphone, you can enjoy YouTube Music Premium for free by installing this app.
But remember that YouTube Music Premium free APK is neither a Google nor YouTube-endorsed app. YouTube Music does not approve of this app and is thus unlawful. Consequently, there are potential security and legal hazards associated with utilizing this program. These include, but are not limited to, malware infection, account suspension, and data theft. It's important to exercise extreme caution before installing and using this software since doing so might cause damage to your device and compromise your privacy.
How to Download YouTube Music Mod APK for Premium
Here you will see how to install this YouTube Music Premium APK cracked on your Android device step by step. Please check it out.
Step 1. Visit a reputable website that offers the YouTube Music Premium Mod APK download link. You can conduct a Google search.
Step 2. Tap the Download YouTube Music/APK button located in the middle of the screen. Then wait while the file is downloaded to your device. The file size can vary based on the application version.
Step 3. You must enable the installation of apps from unknown sources on your device before installing the file. To accomplish this, navigate to Settings > Security > Unknown Sources and enable it.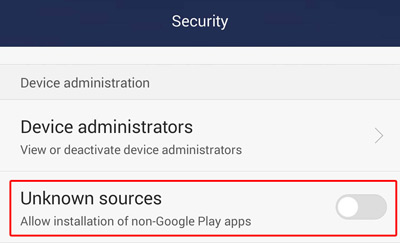 Step 4. Locate the downloaded file and select it to initiate installation. Follow the on-screen instructions and grant the app the required permissions.
Step 5. You can activate the application and sign in using your Google account after installation. You should have access to all premium YouTube Music features for free.
Pros and Cons of YouTube Music Premium Free APK
Here are some pros and cons of YouTube Music Premium APK. You can check them out in detail.
Pros:
✔ Listen to YouTube Music songs without ads or interruptions
✔ Download songs and videos from YouTube Music for offline playback
✔ Play music in the background while using other apps or locking your screen
✔ Access exclusive content and playlists from YouTube Music
✔ Enjoy high-quality audio and video streaming
Cons:
❌ Violate the terms and conditions of YouTube Music and risk legal action or account suspension
❌ Download a fake or malicious app that contains viruses or spyware that can damage your device or steal your data
❌ Receive regular updates or bug fixes from the official app developers
❌ Experience glitches or errors while using the app
Part 2. Best Alternative to YouTube Music APK for Premium
If you want a safer and more dependable method to enjoy YouTube Music premium features, DRmare Audio Capture is the best alternative. This powerful and professional audio recorder can capture and download any sound from YouTube Music in high quality on your computer.
This program is available for Windows and Mac computers. It also enables free recording and downloading of music from other streaming applications and websites. And you can save recorded music in various common audio formats, including MP3, M4A, AAC, M4B, WAV, and FLAC, and play them offline on your desired device.
Most importantly, DRmare Audio Capture can retain high-quality audio and full metadata information of the music. Furthermore, there is a sophisticated ID3 tag editor in the tool, which enables you to keep or customize the original title, album, artist, genre, cover, and other information of the soundtrack. This tool should be an ideal option for fans who wish to listen to endless music from YouTube Music and other sources without paying a membership fee or facing legal or security difficulties.
DRmare Audio Capture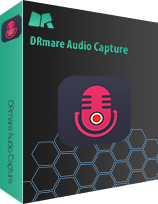 Capture and extract music from YouTube Music or any source
Save the recorded audio files in various popular audio formats
Maintain songs from YouTube Music with high quality and complete metadata
Support to listen to YouTube Music offline without a Premium account
Now, follow the step-by-step tutorial to learn how to use DRmare Audio Capture to download songs from YouTube Music for offline listening.
Step 1. Visit the official webpage of DRmare Audio Capture. Then download and install it on your PC or Mac by hitting on the 'Download' button. After installing, then launch it. And then click the "+" symbol to add the app from which you want to record YouTube Music.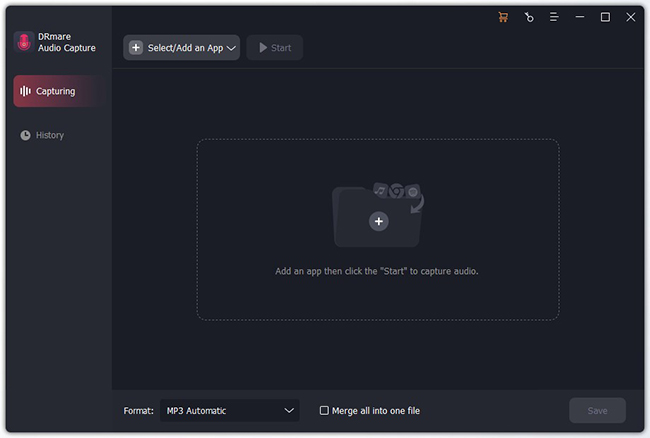 Step 2. Then tap the Format icon and go to the Format window. Here you can select your desired output format for YouTube Music from the drop down options. Simultaneously, you can customize other parameters including sample rate, channel, etc. for fine-tuning the final sound.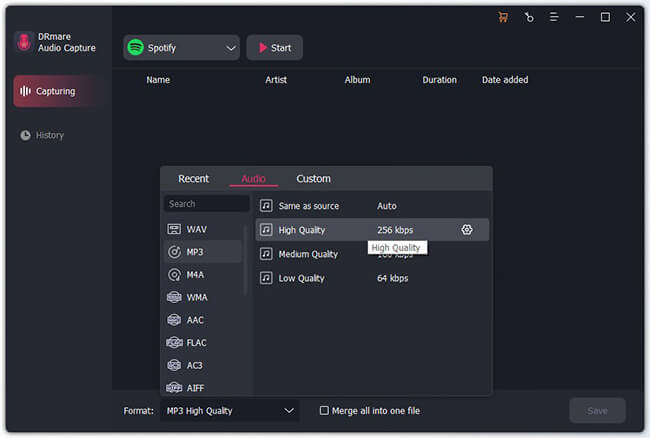 Step 3. Next, head to play the music in an app loaded into DRmare Audio Capture, and the software will detect and record it. With DRmare, you can record multiple songs at the same time by repeating the step.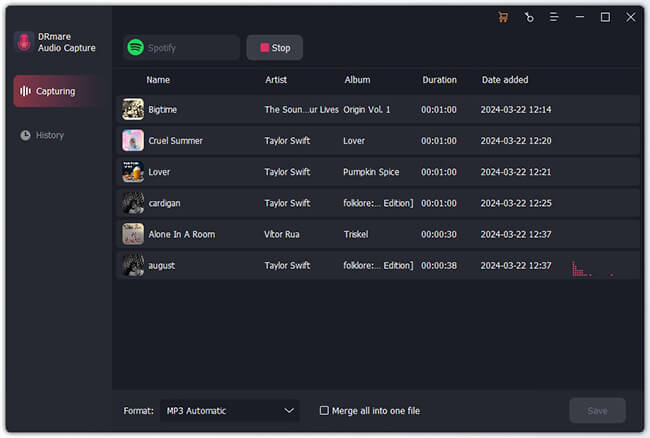 Step 4. The recording will stop automatically once the playing audio ends. To continue changing the audio track, hover the mouse pointer over it and click the pencil icon to start editing.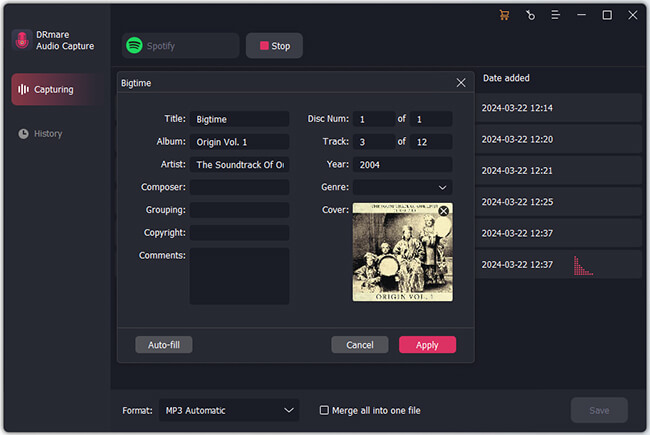 Step 5. Finally, click the Save button to download all the recorded YouTube Music audio on your PC. In the history window, click the Search icon to find the downloaded music files in your local folder. Then you can enjoy YouTube Music songs offline anytime like a Premium user.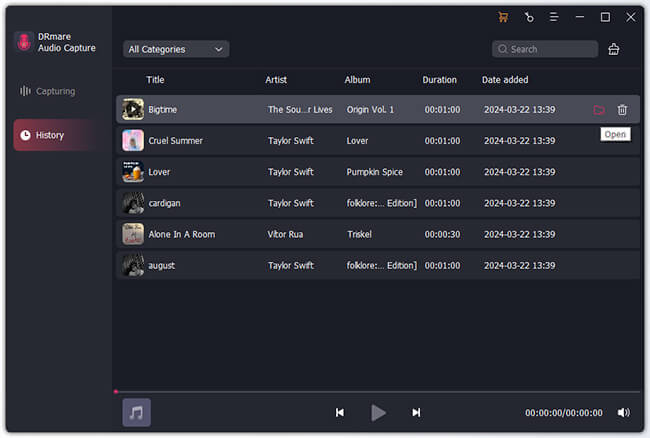 Part 3. Final Thoughts
From this post, you learned what is YouTube Music Premium APK and how to use it. And you should know that it is a risky and unreliable way to enjoy music from YouTube and other sources. It can violate the terms and conditions of YouTube Music and expose you to legal and security threats. Moreover, it might not provide you with the best quality and experience of listening to music.
However, DRmare Audio Capture is a superior alternative to YouTube Music APK. It is a safe and legal audio recorder that can capture and download music from YouTube Music or other sources for free. With it, you can save the recorded YouTube Music songs in various popular formats and edit the metadata you desire. And then you can even listen to YouTube Music on any device offline without subscribing to the Premium plan.