With the arrival of Spotify, Apple Music, users have entered the streaming media era. This streaming music service enable users to access to millions of of high quality songs by paying subscription fee.
Generally, there are 3 types of plans from Apple Music: personal, student, family. The latter 2 types will enable users to buy the service at a discount price. But if you are not a student and you don't live with your family, you will have to stick to the original personal subscription which charges $9.95/month.
Unlike the audio contents you bought from iTunes or local CD stores, you don't own the files downloaded such as Apple Music songs which are DRM protected. If you cancel the subscription, you will lose the access to the downloaded Apple Music songs immediately. That is why some users are complaining that it is not worth to subscribe to Apple Music and wondering if there is another way to reduce the subscription fee.
The answer is yes. Apple Music also come with a yearly plan $99 which can help you save $20/year. But it is hidden because Apple don't want you to pay less. As a result, many new users or veteran users haven't hear about that. Here I will show you how to get Apple Music yearly subscription.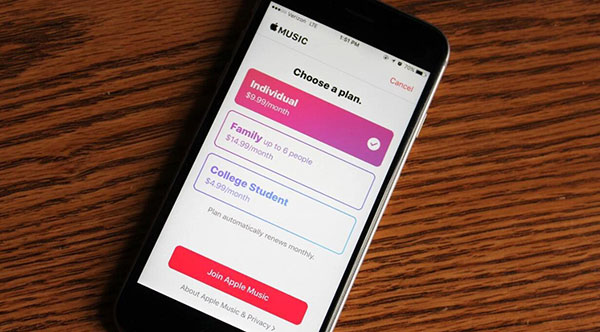 Part 1. How to Get Apple Music Year Plan
This yearly subscription plan is not promoted in public, so you can only subscribe to the normal plan if you are new to Apple Music. In this case, you can try to start 3 months Apple Music free trial version first. You can do that via iOS devices or computers with iTunes. Here I will take iPhone for example to show you how does it work.
Step 1. Open Apple Music app from your iPhone.
Step 2. Click start a trial and choose your subscription plan as "Individual (1 Month)".
Step 3. You can input your Apple ID and password.
Step 4. Input your payment details and confirm them.
And if you are already an Apple Music subscriber and you are going to keep using Apple Music for the foreseeable future, you can follow me to switch the year plan.
Step 1. Launch your iPhone and open the Music app.
Step 2. Tap "For You" tab > Tap the profile icon > Tap View Apple ID.
Step 3. Scroll to find and tap the "Subscription" menu > Tap "Apple Music Membership".
Step 4. From the shown options, you can choose Individual (1 Year) and confirm the subscription. If you want to save more money, you can also buy an Apple Music gift card $99 from the online stores such as Amazon at a discount price first too.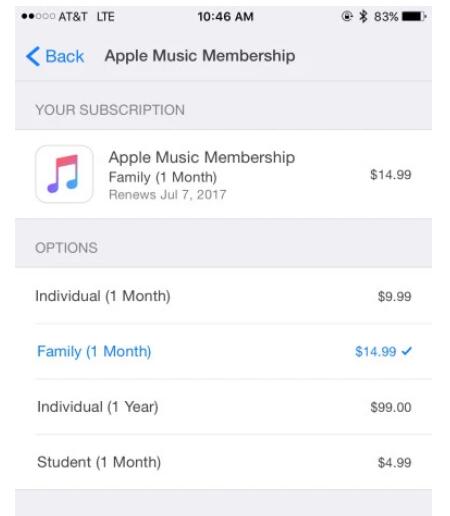 Part 2. Choices of Apple Music Subscriptions
Now let take a deep look at Apple Music subscription options first. Apple offers family, individual and student plans to meet the requirements of different users.
Individual
It is the standard plan which charges $9.95/month for single user just like other streaming sources Spotify, Amazon Unlimited Music, Google Play Music.
Family
This plan enables up to 6 persons or devices to use the Apple Music and it charges only a little bit higher than the personal plan at only $14.95/month. The average cost for each user will be lowest.
Student
This subscription only costs half of the individual plan. But you need to verify that you are a college student and this plan only lasts for up to 4 years.
Yearly Plan
This is a subscription for users who want to keep Apple Music for a longtime, it costs $99/year which is $20 lower than the individual plan.
From what we have listed above, obviously you can't use Apple Music annual subscription for family. Anyway, Apple Music student and family subscriptions are already at most preferential prices.
Part 3. Sum Up
So you have learned the tips on how to get Apple Music yearly plan? What do you think about it? If you are using student or family plan, you don't have to change it. But if you are using personal plan, you should consider swapping to the yearly subscription. It will save you a lot of money in the long run.
Still want more discount or just get Apple Music for free? That is possible. You can also use the DRmare Apple Music Converter for Mac to help you get rid of the DRM protection from M4P files and turn the M4P files to MP3. This software doesn't use any hacking technology but only recording with acceleration, so it is fast and totally legal.
Do you know other tips to save your money on Apple Music subscription? Please do not hesitate to share them with us.