Launched in 2007 as a forum for musicians to collaborate and share ideas, SoundCloud has grown and rebranded as one of the top online music streaming platforms. The Swedish-founded and German-based online platform is now a favorite competitor for Myspace, Spotify, and Amazon Music. As of 2021 SoundCloud, had over 30 million creators, 265 million tracks from all over the world, and at least 175 million monthly listeners.
For SoundCloud lovers, the platform is accessible in three tiers a free SoundCloud and two monthly premium account, i.e., SoundCloud Go and SoundCloud Go+. Like many other online streaming platforms, SoundCloud is dedicated to protecting creator music content and therefore does not allow listeners to download music audio files for offline playback directly. Instead, users can only listen to SoundCloud tracks online.
However, sometimes some situations may require that you download SoundCloud to WAV, which is a more compatible and playable audio file format on most devices. Considering that it is practically impossible to download SoundCloud music, this article will introduce you to a top software solution that will ultimately help download and convert SoundCloud to WAV. So, I suggest we jump right into it!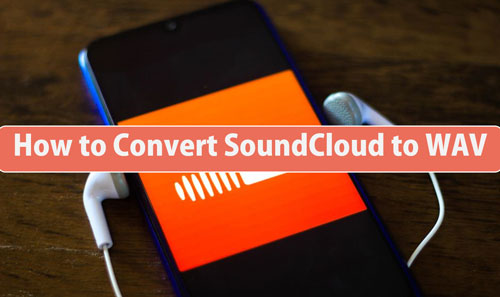 Part 1. How to Convert SoundCloud to WAV via DRmare Audio Capture
To download SoundCloud to WAV, you will need a third-party software and, in this case, we would like to introduce you to the perfect SoundCloud to WAV converter tool that will get the job done in a few minutes. It is the DRmare Audio Capture.
The DRmare Audio Capture is an all-time and all-around software designed to grab sounds from many media sources. With the app, you can freely capture sounds on websites from a million sources, including HD Music, Slacker Radio, Ogg Spotify music, HiFi and MQA music, Beat 1, iHeartRadio, to mention a few. Also, you can extract audio from movies on popular online movie streaming platforms such as Netflix, Hulu, HBO, etc.
DRmare is knit with lossless recording technology that ensures that all recorded audio files are 100% original and are off high-quality. At the same time, the app works to capture and reserve metadata info such as artist, ID3 tags, album cover, genre after recording. The program supports batch recording, meaning SoundCloud users can capture and convert several SoundCloud tracks to WAV.
Besides WAV, DRmare Audio Capture software support several other audio output formats, including MP3, M4A, M4B, AAC, and FLAC. It also features an audio editing function that allows users to perform basic editing such as merging and mixing for an enhanced music experience.
Below are additional features that make DRmare a top SoundCloud to WAV downloader tool for Windows users.
Key Features of DRmare Audio Capture
User Guide: How to Convert SoundCloud to WAV using DRmare Audio Capture
First, download the DRmare Audio Capture on your PC and proceed to the guide below.
Step 1

Install and launch DRmare Audio Capture

Install the software and click on the app's icon on your PC. By default, you are set to record tunes Chrome, Explorer, WMPlayer, and iTunes. Select the browser you want to use and log in to your SoundCloud account.
Step 2

Set output parameters of SoundCloud to WAV

DRmare supports a whole lot of audio output formats. From the new tab, you can select your preferred format. In this case, select WAV format. You can also tweak a few music parameters such as channel, sample rate, and bit rate for enhanced sound quality.
Step 3

Start to play and record SoundCloud music to WAV

Close the audio settings window and find and select the SoundCloud track you want to convert to WAV. Proceed to play the song, and the DRmare app will automatically record the song. You can open other browsers and play different tunes from SoundCloud - remember, DRmare supports batch recording.
Step 4

Trim and edit SoundCloud WAV songs

Once the song is over, the recording will automatically stop. If you want to make a few edits, move the cursor to the song and click the "Edit" icon. Here you can trim/merge/rearrange the song to preference.
Step 5

Save and locate the track

After downloading and converting the SoundCloud to WAV, click "Save" to save the songs to your PC. To find the downloaded SoundCloud songs, go to the main interface and hit the history icon. You can find the destination folder of each song on your PC by hovering the cursor on the song and clicking the "Search" icon.
That's how you convert SoundCloud to WAV in 5 easy steps!
Part 2. How to Convert SoundCloud to WAV Online
Besides using DRmare Audio Capture to download SoundCloud to WAV, here is a close software solution that allows you to download and convert SoundCloud to WAV online without installing any software on your PC. Isn't that great?
Well, Clideo is our next closest cloud-based alternative to DRmare Audio Capture. The software is available for free and also has a premium. However, the free version is just perfect - it's ad-free and supports files of up to 500MBs. You can use it either on your PC or any other device with internet connectivity. That said, here is a quick guide on how to download and convert SoundCloud to WAV online with Clideo.
Step 1. Upload Soundcloud Track to Clideo
Log in to your SoundCloud account. Select and copy the URL of the song you want to convert. Next, open the Clideo SoundCloud to WAV converter online. Select the "Choose file" button and paste the URL link on the drop-down search box. The song will automatically upload to the web-based app.
Step 2. Select the Snippet to Save
Here, you can use the slider to cut or trim out unwanted parts if need be. There are also other available features such as fade-in, fade-out, and crossfade that one can use to keep your track (s) smooth. Please select WAV format on the menu near the bottom left.
Step 3. Download and Convert Soundcloud to WAV
Preview your audio to make sure it's what you wanted. If it is okay, save it to your personal device or the available cloud storage platforms, i.e., Google Drive or Dropbox. Of course, you can always make corrections by hitting the "Edit result" option to fine-tune before saving it.
Part 3. In Conclusion
Now, we have already gifted perhaps one of the easiest ways to convert SoundCloud to WAV- using the DRmare Audio Capture software. The software is fitted with excellent features that guarantee you high-quality WAV formats songs. We have also featured a close alternative online software solution to DRmare software. It is now up to you to choose which solution works for you best. However, we confidently suggest that you try out the DRmare Audio Recorder - it is more comprehensive and has more features. And it is quick, and easy to use. Get the app and enjoy quality SoundCloud tracks offline!