There is no doubt that audiobook is a great invention, offering huge advances in expanding the way of learning and recreation. It is very convenient to fill spare time with knowledge by listening to audiobooks, such as doing housework, driving cars, taking a bath, and so many occasions. What I like most about audiobooks is that I can learn about the latest bestseller book in an effective way.
For starters to listen to audiobooks, it is very important to pick out the most suitable audiobooks app. In this article, I will introduce 5 best audiobook apps for Android users. Through detailed comparison or contrast, you can see their respective advantages and disadvantages.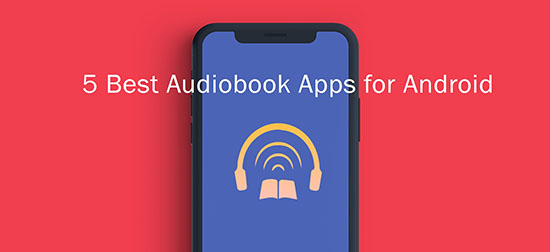 1. Audible
See also: Play Audible Books on Android
Audible is one of the best audiobook players for Android and iOS users, offering more than 200,000 audiobooks to download and purchase. You can find multiple features of playback in Audible audiobook player, including bookmarking, chapter navigation, variable playback speed, sleep timer, and multitask supporting for playing and downloading in the background.
Audible offers various ways for listeners to get their favorite audible content. In the subscription plan, every subscriber can obtain access to abundant free Audible contents, get 2 free original audiobooks from Audible per month and so many benefits. After using a 30-days free trial, members need to pay $14.95 a month to continue the membership. Customers who don't like the subscription models can choose to purchase audiobooks directly.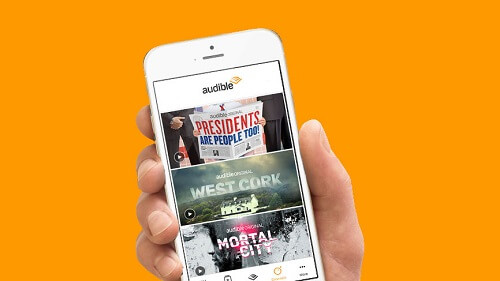 Except for the above methods, you can also use the DRmare Audible Audiobook Converter, one of the best android audiobook apps, to download any audio contents you like. This is not a regular audiobook app for that you can convert Audible audiobooks to MP3, M4A, M4B, WAV, AAC, FLAC, and such multiple unlocked formats without losing any original quality and any raw metadata.
Adopting the leading automatic identification skill, this DRmare Audible Audiobook Converter is able to split a huge audiobook into small segments depending on its original chapters.
2. Smart Audiobook Player
Speaking of unlocked audiobooks apps, Smart Audiobook Player must be one of the candidates. This best audiobook player app for Android can fit you with a series of good functions like an audio equalizer, playback speed configuration, bookmarks, sleep mode and basic features for collection management. In addition, the subscription fee is affordable for most listeners, which is priced at $1.99 per month. Also, you can make your final decision after the 30-days free trial.
3. LibriVox
Compared with other audiobook platforms, Librivox is special. Featured as non-profit and non-commercial, to some extent, Librivox can be called the best free audiobook app for Android and iOS users. Essentially, it is an international project, which is totally free for the public domain. All audio contents from it are supported by volunteers
Other than the basic playback features like variable speed, snooze timer, bookmarks and so on, Librivox provides more than one narrator so that listeners can choose their favorite narrative version when listening to the same book. Besides, this software supports users to listen to several audiobooks in the meantime.
4. Kobo
Kobo may not be as famous as the popular audiobook apps, but it surely gives us a resourceful library of audiobooks. It covers the basic functions like chapter navigation, variable playback speed, time skip, sleep timer and etc. Furthermore, Kobo has a built-in synchronization function that enables you to transfer eBooks across platforms.
Now you can go to browse the store and get the free 30-day audiobook trial. If you are satisfied with this app, just pay for $9.99 per month to become a subscribed member.
5. Listen Audiobooks Player
Listen Audiobooks Player is another well-designed android audiobook app, which is formerly known as Akimbo. With the multifunctional features, you can change the playback speed, bookmarks where you are listening to, use the built-in equalizer to customize the playback settings and so forth.
Moreover, you can sync the current position across different devices, configure skip times, set headset button shortcuts, change UI colors and others. There are many user-friendly functions that you can enjoy playing audiobooks without any hassle. The subscription price is relatively lower that only costs you $1.99 per month.
Conclusion
After comparing those 5 best audiobook apps for Android, I am sure that you have found the most appropriate one. On a final note, audiobooks are not regular audio files. An entire audiobooks file is large and contains lots of chapters. And that's why it is very necessary for you to look for the best audiobook player apps for your Android phone for downloading and playback. Next time, I am going to recommend you the best audiobook app for iOS and macOS. If you are using iPhone and Mac computer, please stay tuned.