Audiobooks can save you a lot of time. You can do other things while listening to your favorite authors. Two of the biggest names in audiobook services are Audible and Scribd. Audible has a large selection of exclusive audiobooks. Scribd, on the other hand, is quite popular for things other than audiobooks. It makes people wonder which one they should subscribe to.
Both services have their pros and cons, and it can be difficult to choose one over the other. Therefore, we have used both audiobook platforms and can compare the features each offers based on our experience. Let's take a look at the better choice between Audible vs Scribd.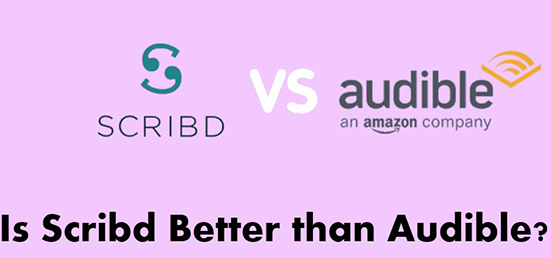 Part 1. Scribd vs Audible: Detailed Comparison
Which is better, Scribd or Audible? Before choosing the right service for audiobooks, it's essential to compare Scribd and Audible on all fronts. Because not everyone listens to the same types of audiobooks, a comparison can help you choose the right one for your exact needs.
1. Audible vs Scribd: Overview
Audible Review:
Audible was founded in 1995. After Amazon acquired the company in 2008, it grew to become the largest provider of audiobooks in the world.
Audible has more flexible pricing plans and a larger library than Scribd. It allows you to keep the books you download through a premium plan; Scribd only allows you to borrow books. Audible focuses strictly on audiobooks. There are hundreds of thousands of titles available for download and listening. However, it does not currently offer the option to download other types of audio content.
Scribd Review:
Launched in 2007, Scribd grew rapidly and expanded into many areas, including audiobooks. But it is not limited to audio and e-books. You can read magazines, documents, journal articles, sheet music, and research papers. You can also listen to original content that's only available to Scribd subscribers. For a flat monthly fee of $8.99, you can access a huge library of eBooks and audiobooks.
2. Scribd vs Audible: Pricing
Is Scribd better than Audible when it comes to pricing? Take a look at the comparison below and you'll see.
Audible Pricing: (Rating: 3/5)
After a 30-day free trial period, you'll have three Audible subscription options.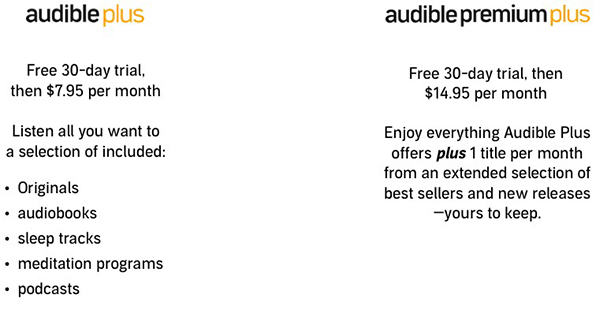 Audible Plus: $7.95 per month. You can listen to a selection of originals, audiobooks, podcasts, meditation programs, and sleep tracks.
Audible Premium Plus: $14.95 per month. You get one free audiobook, 30% off all audiobooks on Audible, and unlimited access to the Audible Plus catalog.
Audible Premium Plus for 2 credits: $22.95 per month. You can get two credits per month. And you are allowed to keep them in your library forever.
The audiobooks you buy with credit or money from your Audible subscription are your own. You can listen to them even if you don't have a valid subscription. Plus, if you don't like them, you can return Audible audiobooks within 365 days of purchase, no questions asked.
Scribd Pricing: (Rating 5/5)
Scribd's membership is cheaper than Audible's. It offers users a 30-day free trial, followed by a monthly subscription for a flat rate of $11.99. You then get access to a million e-books, audiobooks, magazines, and sheet music. But it doesn't like Audible, you don't actually own the audiobooks. You can only get them if you have an active subscription.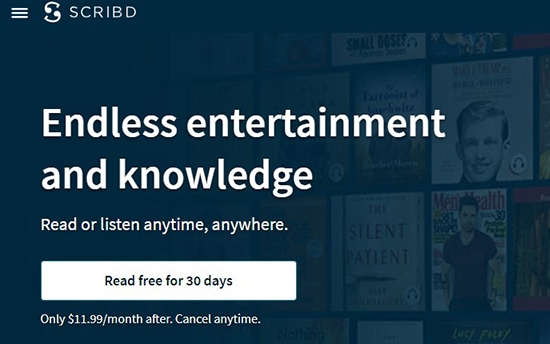 3. Audible vs Scribd: Content
Audible Content: (Rating 5/5)
Do you like fiction, non-fiction or magazines? If so, Audible is probably the best choice for you. Audible offers the largest selection of books and titles, including popular and newly released books that are well known.
Audible has a large selection of audiobooks for its members to choose from. There are over 200,000 audiobooks to choose from. The content offered is available in two main categories, Premium and Standard. There are some Audible-exclusive audiobooks available on the platform. Many audiobooks available on Audible are not available on any other platform.
Scribd Content: (Rating 3/5)
If you like everything when it comes to your listening habits, you may want to turn your attention to Scribd. Scribd provides users with access to over a million titles. In addition to traditional audiobooks, users can also access to additional magazines, PDF files, research papers, and screenshots or snapshots.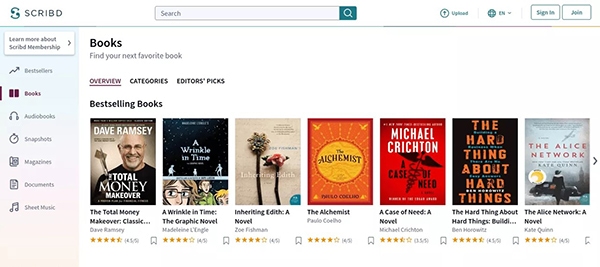 As a result, it is a better option for students, researchers, and anyone looking for the content beyond books. Scribd also allows for the conversion of PDF documents to HTML5 format. This helps load content faster without compromising the quality of the content.
4. Scribd vs Audible: Apps
When it comes to the Scribd and Audible audiobook apps, both have similar features such as adjustable speed and sleep timers. But the Scribd app can't set bookmarks from the tray. Every time you want to set a bookmark, you have to open the player.
Audible App: (Rating 5/5)
The Audible app is very user-friendly. With the search function, you can easily find the book you are looking for. You can search the library by name, genre or catalog. And you can easily control playback.
In addition, the application is generally easy to navigate. In listening mode, you can adjust the narration speed (0.50x - 3.50x) and chapters. You can also set sleep timers (5-60 minutes or custom) and bookmarks.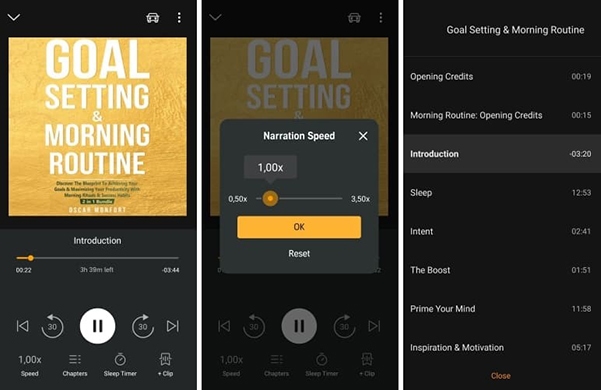 Scribd App: (Rating 4/5)
You are also allowed to download from Scribd. The Scribd app makes it very clear whether you are listening to or downloading a title. Switching to a downloadable version that can be listened to offline is easy. However, the download speed is a bit slower than on Audible.
You can scroll through the different categories and suggestions. In the listening mode, you can do the same with many controls. You can set sleep timers, make bookmarks, adjust playback speed, and more. You can skip to any chapter, but the chapters are named with numbers only.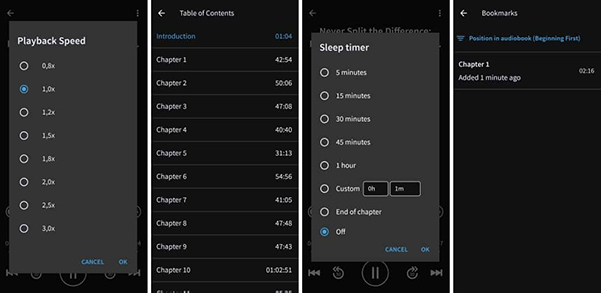 Overall, Scribd's application is rather cluttered and can be difficult to navigate at times. However, the application works smoothly and is easy to use for most features.
5. Audible vs Scribd: Audio Quality
Audible's default (standard) quality is 32 kbps, with a high-quality setting of 64 kbps. However, Scribd's audiobooks are capped at 32 kbps. There is no denying that Audible has better sound quality.
In order to store higher bite rates for audiobooks, you definitely need more storage space. The standard format for digital music is 32kbps, so the quality offered by Scribd is not bad.
You'll only notice the difference in sound quality when playing audiobooks on high-end speakers or headphones. So, if you already have a high-end speaker, then Audible is the way to go. However, if you have a device with limited storage space, then go for Scribd.
6. Scribd vs Audible: Key Features
Audible Key Features: (Rating 5/5)
(1) Free credits
The basic plan offers members points that they can exchange for audiobooks. If you're an Amazon prime member, you can enjoy some additional benefits. You get exclusive free content on prime video every time you buy an audiobook.
(2) Easy return policy
The Audible app allows users to download audiobooks and switch between audiobooks and eBooks. You can return an audiobook that you've read once and can trade it in for points. Buy an audiobook with credits, read it, then return it for credits and buy a new one.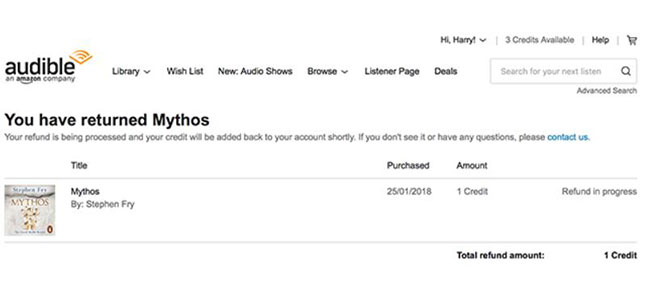 (3) Easy exit plan
Some audiobooks only allow you to borrow books, but Audible offers a different feature. Audible's downloads are all yours, and you can keep them forever. Meaning that even if you opt-out of the membership plan, your downloaded audiobooks will still be accessible through the app.
(4) Responsive customer service
If you are having problems with audible, you can ask them about it because they have 24-hour customer service support. If there is some problem on their side then those audiobooks will be removed from your library. Even the returns will be dropped from your audiobook library and they will restore your credit.
Scribd Key Features: (Rating 4/5)
(1) Overall interface
The overall interface of Scribd is quite good. It also has a separate section to browse summaries, reviews, recommendations, etc. These can help you find the most appropriate and popular reads. In addition, each audiobook comes with a five-minute audio clip so that members can make an informed decision.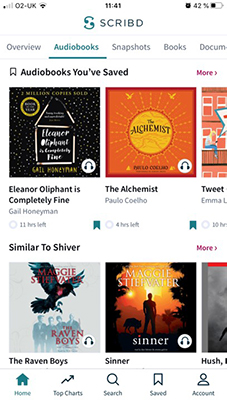 (2) Wishlist Corner
It allows you to save your favorite audiobooks to a wish list and read them once you have completed your current book.
(3) There are monthly memberships available
There is a monthly membership option on Scribd. By becoming a member of the platform, users can access its website as well as its mobile app. You also have the option to easily and seamlessly switch between eBooks or audiobooks through the app.
7. Audible vs Scribd: Compatibility
With both Scribd and Audible, once you've successfully logged in, you can sync multiple devices simultaneously. Both Audible and Scribd are available on iOS, Android, Windows, and Mac devices.
However, access to Scribd is restricted, allowing access to its content on only three devices within a 24-hour period. Downloads from the app are also limited to four devices. Audible, however, has no limit on the number of devices that can be used with an Audible account.
Plus, Audible can be used on some smart TVs, smart speakers, Kindles, and so on. However, Scribd doesn't support these.
Part 2. Audible and Scribd: Pros and Cons
We will compare the pros and cons of Scribd and Audible, and hope to help you find an audiobook platform that really works for you.
Audible Pros:
Audiobooks can be downloaded via mobile data or Wi-Fi.
Switch between listening and reading.
Points can be redeemed for free books.
Top-notch audiobook library selection.
Provides high-quality audio.
Multiple plans and payment options are available for different memberships.
You can always access all the books you have downloaded.
It can be synced across multiple devices, knowing where you stopped the last time you read.
You can carry over your credits to the next month.
No questions asked return policy.
Audible Cons:
Content types and formats are minimal, and users are limited to libraries of audiobooks.
Subscription prices are high for those who want to listen to three to four books a month.
Points will eventually expire.
Only offers audio content
Scribd Pros:
Multiple content types, including music, audiobooks, documents, podcasts, and more.
Available on both the website and mobile apps.
Off-line reading options are available.
Flat monthly fee of $9 for unlimited access to all content offered by Scribd
No membership levels.
Premium users get access to over one million titles.
Has the ability to share uploaded content with like-minded people.
Has the ability to open any saved title on up to 6 devices.
The app is very user-friendly.
Scribd Cons:
Once you cancel your subscription, all of the audiobooks are gone.
There aren't as many full-length audiobooks as Audible.
The audio quality is lower compared to premium Audible audiobooks.
There are fewer options for each content type.
You don't own any of the content you read.
Scribd limits the specific books you can read in a month.
Only provides online access to customer support.
Part 3. Comparison Table
We hope you can get a clearer understanding of Audible vs Scribd with the comparison table below.
| | Audible | Scribd |
| --- | --- | --- |
| Pricing | $7.95; $14.95; $22.95 | $11.99 |
| Audiobook Collection | 200,000+ | 100,000 |
| Audio Quality | 64kbps | 32kbps |
| Own the Audiobooks When Subscription Ends | ✔ | ✘ |
| Compatibility | Android, iOS, PC, TV, Alexa, and Kindle | Android, iOS, and PC |
| Catalog | Audiobooks, podcasts, and meditation programs | Audiobooks, e-books, magazines, music, PDF documents, and so on |
| Ease of Use | ✔ | ✘ |
| Books Return Policy | ✔ | ✘ |
Part 4. In Conclusion: Is Scribd Better than Audible
Overall, Scribd and Audible are both great services for listening to audiobooks. Scribd is less expensive than Audible. As for which one is better, it depends on what you are looking for.
If you're looking for more than just audiobooks, and you want more freedom in your choice of material, then Scribd is the better choice. If you're looking for top-notch narration quality, then Audible might be a better choice. If we're just talking about audiobooks, then Audible is the clear winner.
If you choose Audible and find that it doesn't support your device, you can use a converter called DRmare Audible Downloader. It allows you to convert and download Audible books to MP3 for playback on any device. It also supports other popular audio formats including FLAC, AAC, M4A, and so on. The original sound quality of your audiobooks will be kept. You can use this tool to download and save your Audible audiobooks forever. You can listen to Audible offline even if your subscription expires.